I adopted El Bob from Ceyey, Puerto Rico. I drove down there from San Juan to have some lechón (suckling pig) at local restaurants, or lechoneras. It only cost $3 to adopt this piggy from being eaten. Don't worry, I did't eat in front of him. Unfortunately Bob didn't get into any other photo opportunities other than Old San Juan. I'll post the other photos of my Puerto Rico trip next.
I dropped Bob near the water fountain when I was trying to take a picture, and his ear broke off. While doing some window shopping I spotted a butterfly store selling ugly yarn dolls. I met store owner Cirene, a gorgeous woman, who explained all the stories behind each yarn doll. I found her intimate knowledge of about 100 of these dolls extremely attractive, as I am attached to all of my ugly dolls back home. When she heard about Bob's accident, she was heart broken and immediately offered to help me reattach his ear on the spot. As her gratitude for making her day more interesting, she offered to let me take a picture of Bob with the butterflies, since her store has a "no photography" policy. I can easily say my experience with her was the best 20 minutes of my entire trip.
All photos were taken with my point and shoot, Sony DSC-W170. The trick is to use a tabletop tripod, set your ISO at the lowest possible, and use a timer to take longer exposure shots for the best quality. Of course in daylight, you can just snap away handheld. I also have grid display on my LCD so I can easily apply the rule of thirds. One of the very few advantages this Sony has over my Canon Elph is the wider lens.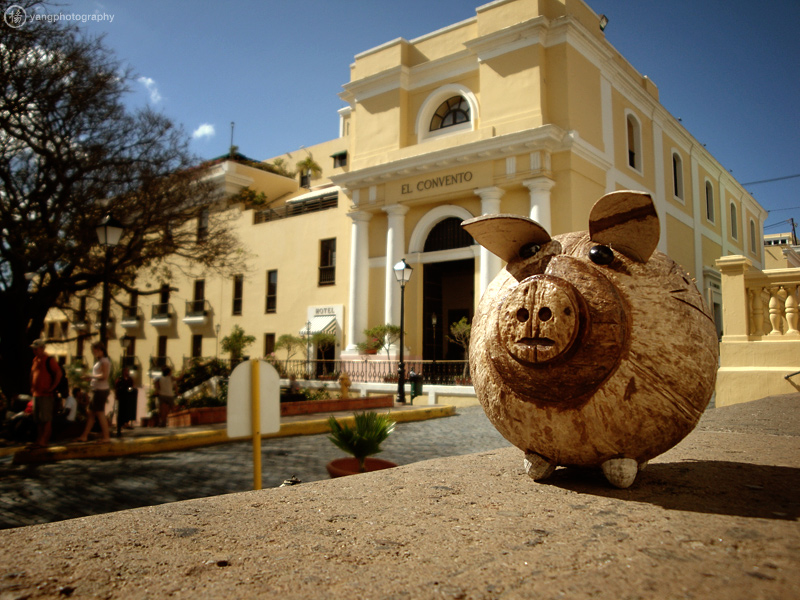 Bob stayed at Hotel El Convento.