Having the right accessories in your car changes your whole driving experience, which is why I am dedicating a whole post just to a phone car mount. I've seen many variations of universal phone mounts and brackets, some are universal and some are device specific. There are different mounting methods such as suction cups, vent mounts, dash mounts, and custom fits.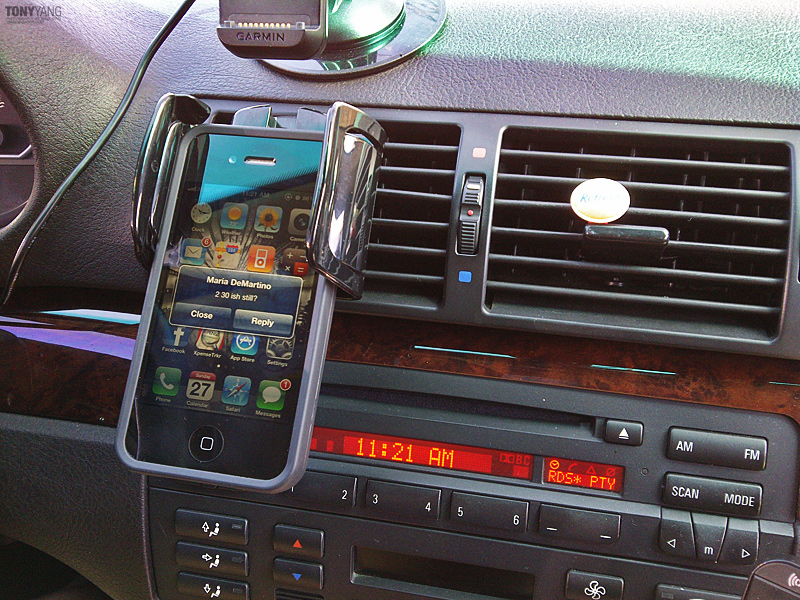 Location
For both my sedan and roadster, I have a ProClip vehicle mount that secures to the right hand side of the center console. It's great for mounting devices that are set-and-forget, such as iPods or XM radio. I don't think it's practical for a phone if you plan on using it a lot while driving, as you have to move your eyes too far to the right and then back to the road, it would be more ideal to have the phone closer to your instrument panel or line of sight with the road.
The sweet spot for the phone in my opinion would be the driver side center AC vent. Yes, you have to give up your primary AC vent, but there are still plenty of vents available (windshield, footwell, passenger side), and if you turn that vent to the off position, it increases airflow in the remaining open vents, so you still get the same CFM output. The way I position my phone also covers up the volume control, but I have steering wheel controls for that. Those are the only disadvantages I see.  The advantage is, if you are sitting in the proper upright driving position, the phone is instantly within reach with your right hand next to the steering wheel. The phone is easily glanced at with minimal time of eyes off the road, text is easier to read since it's closer, and it doesn't block any view of the road. You also avoid using ugly suction cups on your windshield with bulky arms and dirty residues.
Bracket
For those of you who want a clean install, you would usually opt for a dedicated mount to minimize footprint. I bought a ProClip iPhone mount along with their vehicle mount, but realized it will not allow any type of protective case on the phone, so I had to return it. I decided to try the Bracketron Mobile Device Kit, which I found for about $7 (compared to a dedicated mount at $30). Unlike most universal mounts, this slim contraption is very adjustable to fit anything from a slim Nano to my iPhone 4 with bumper case, it even holds my BlackBerry without any adjustments. It uses a simple clamp design to hold the device instead of a complicated spring loaded mechanism in other universal brackets. It's incredibly sturdy yet easy enough to slide the device out with one hand. The vent mount is also very sturdy, with three legs to form a tripod that avoids unwanted movement that could damage your vent blades.
You may notice in the photos that my bracket is installed upside down so the phone slides up into the bracket. The device can only slide into the bracket from one direction, there is a stopper that prevents a lose device from falling through. The main reason I flipped it was to avoid blocking my GPS mount above, but then I realized it was actually easier and more natural to remove the phone by pulling the phone down and in towards me, versus pulling up and away from me (which also tilts the vent mount away from the supporting leg).
For $7, I cannot think of a better bracket that can hold any phone and music player with such a slim profile. I am pretty sure you can even saw off the outer layer of the bracket arm (meant for larger devices) to create an even slimmer profile to hold an iPhone, Android or BlackBerry device.
Pros
Short distance away from steering wheel
Slim profile
Clam design fits all devices snugly
Very sturdy
Great price
Cons
Blocks one vent
If installed upside down, may block console controls