I was browsing Tamrac's website when I found a product of theirs called the ZipShot compact, ultra-light tripod. After watching their brief but effective video on how easy and fast the tripod is to assemble, I browsed for more YouTube reviews. This is a simple and effective technology, so I decided to buy one from B&H.
I purchased this tripod for the purpose of using my Canon S90 point and shoot. While I already have a Manfrotto aluminum tripod for DSLRs, it just looks silly using a tripod who's head is larger than the body of the S90, and impractical to carry around for light trips. I also have a Sony table top tripod perfect for dinner time, it's only a few inches tall and would be useless for outdoors. The ZipShot is only 15″ collapsed, and can fit in a woman's large purse. Expanded, the tripod stands 44″ tall. The maximum weight is 3lbs which is more than enough for a point and shoot. The whole tripod is made out of light weight aluminum.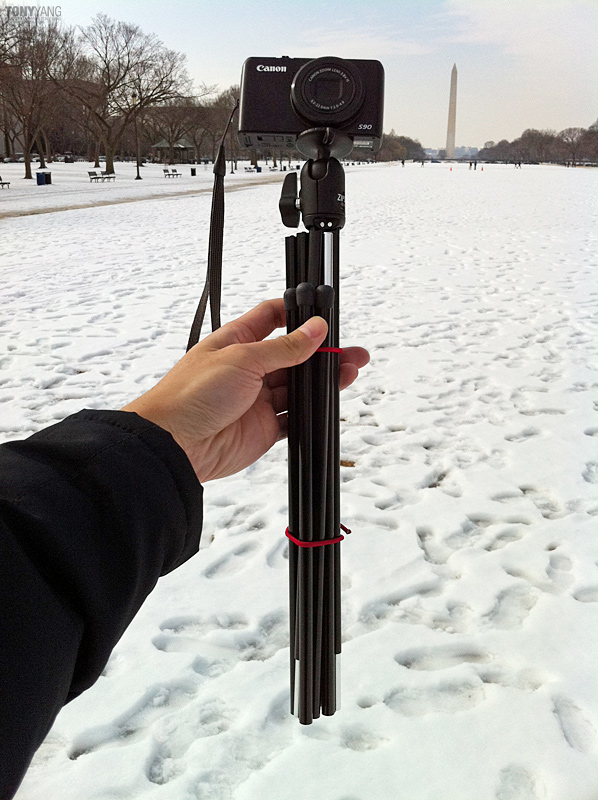 My first time using this tripod was during a trip down to Washington, D.C., if you're going to visit the National Mall area, you better be prepared to do a lot of walking and having a compact camera and tripod combo is ideal. Screwing the head to the camera was very easy, and I really like the large plate with two thumb tabs to allow easy tightening. A tripod is useless if you can't properly secure your camera to it. I also liked walking around carrying the tripod with the camera on the end, seems more substantial to hold than just dangling a small camera strap on your wrist.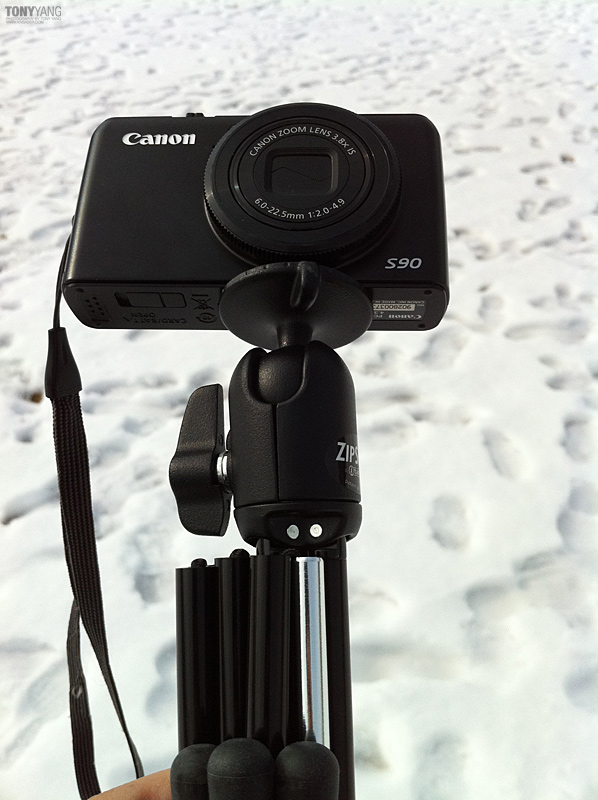 As shown in the video from Tamrac, you just slip the knot out both ends of the tripod and let the bungee cords do its magic! Doesn't get any easier and it's a fun trick to show people. In fact, while taking a timer photo of my friend and I inside the National Sculpture Garden, the security guard kindly told me tripods were not allowed. He watched me disassemble the tripod in about 5 seconds and he commented "that's a pretty cool tripod!"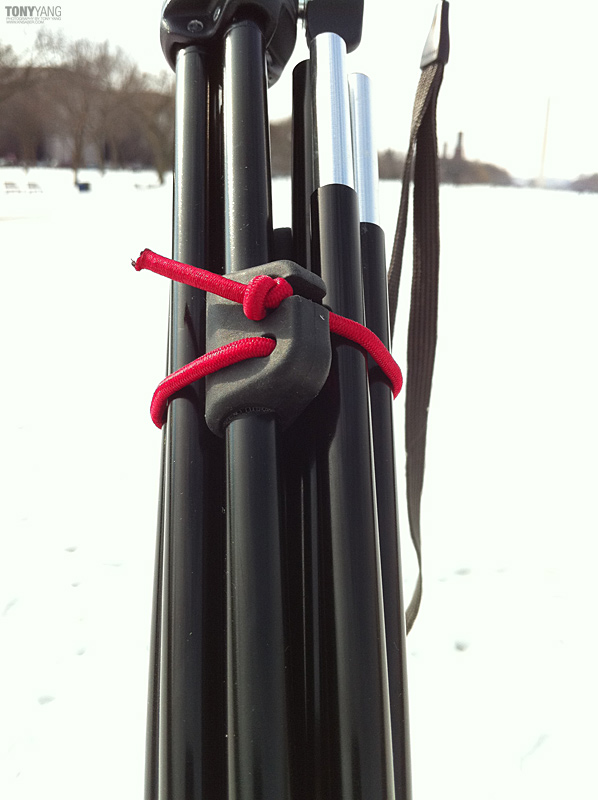 Once assembled, you can push the legs all the way out to a set position though it doesn't lock in place. The legs are sturdy and the ball head locks tightly. The ZipShot can definitely allow long exposures as long as there are no high winds, and it's wonderful for timer shots during the day. It's literally just pick-up-and-go! The only issue to consider is the tripod height is not adjustable, so no low-angle artsy shots.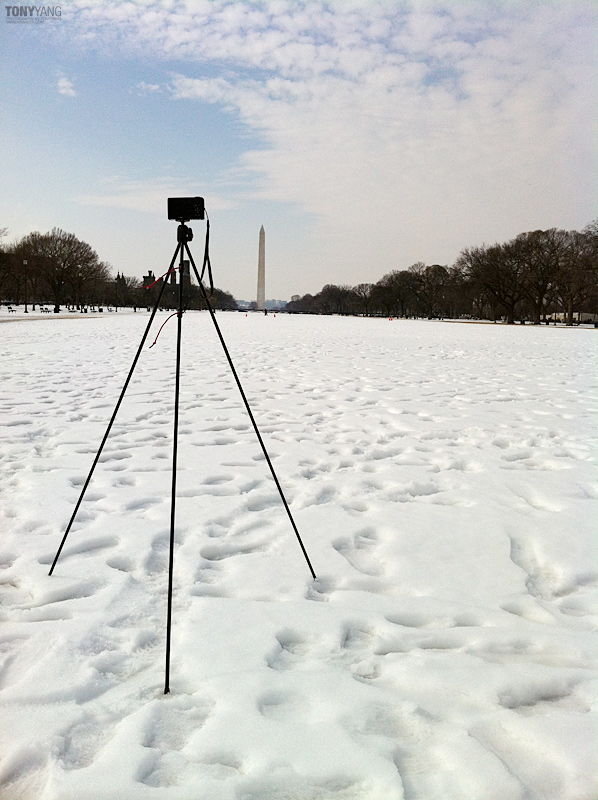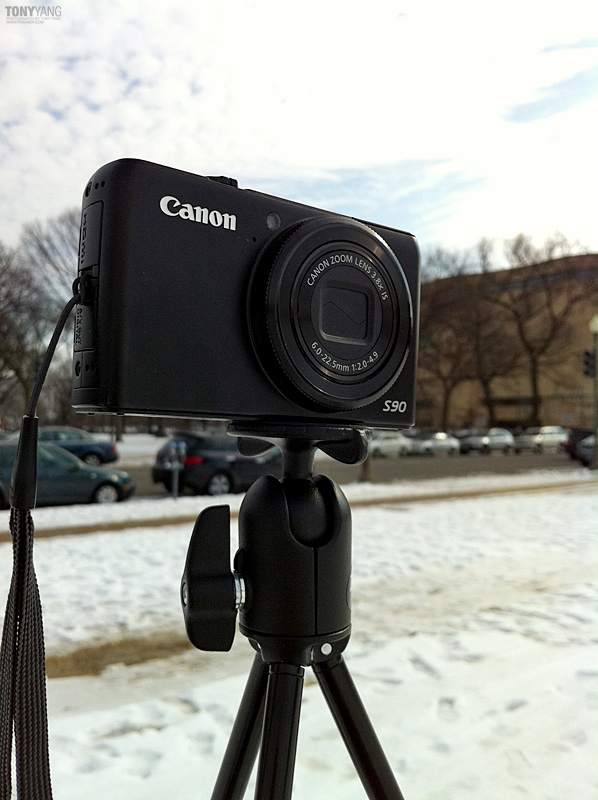 While the price tag of $50 may seem a little on the higher side for a compact tripod, and most table-top tripods or Gorilla tripods run for around $20, the ZipShot costs about the same as generic brand named full-size tripods you would find at electronic stores. I can see myself using the ZipShot everywhere and anywhere simply because of how easy it is to setup and breakdown and its portability. I will most likely be carrying my table-top tripod along with the ZipShot on my vacations.