It was almost a year ago when I took my (then) girlfriend, Olya, to the West Coast for the first time. Wanting to make it special, I didn't want to spare any expenses, time, or experience to make it one of the most memorable trips we will both ever have together. Our relationship was already serious and discussions about eloping wasn't unusual. She had no idea that I would use this opportunity to propose to her, and she wouldn't suspect a thing when the camera comes out to record our whole trip because that's what we do anyways. More details on the proposal in the story.
Day 1 – San Francisco
Day 2 – Ad Hoc
Day 3 – Big Basin Redwoods
Day 4 – Hearst Castle
Day 5 – Los Angeles
Day 6 – Krispy Kreme
Day 7 – San Diego
Day 8 – Palm Springs
Day 9 – Death Valley

I spent countless hours at home researching roads to drive (my biggest priority), and places to stay, and things to see. I always create a detailed spreadsheet for our trips to have a realistic expectation on how much we can explore, although we aren't the type to visit all the main attractions. It's more of a guide, and we usually deviate from the guide and end up finding better things. This is why a car is so important! This trip would also be the first time using Silvercar, a new type of rental car service and made our trip really fun. Their entire fleet of cars are Silver Audi A4 S-Lines, fully loaded with all the comforts you need. There is no guessing which car is available, and the cost is reasonable after using a first time discount. After making my reservations and wanting to take advantage of the unlimited miles, our West Coast mini road trip started from just driving the PCH to become over 1,700 miles of California exploration over the Thanksgiving holiday season.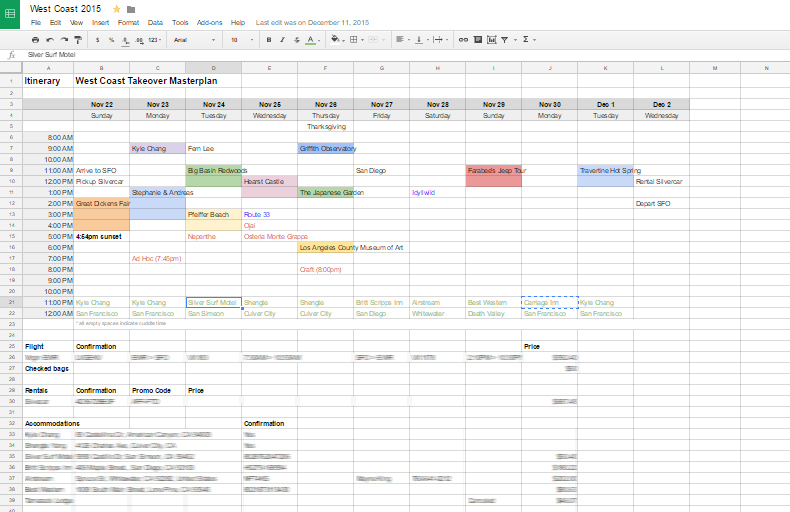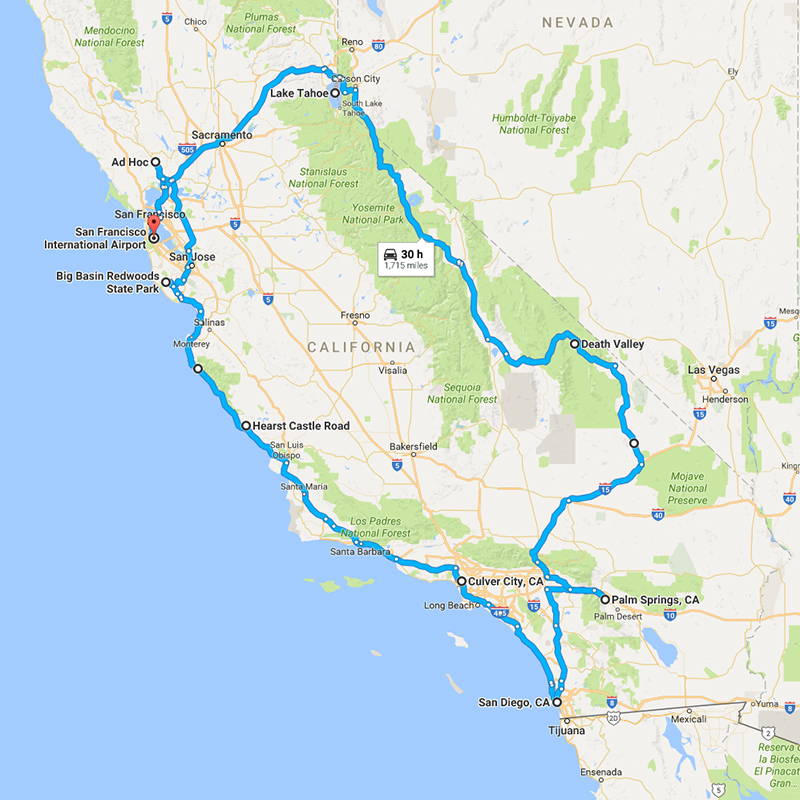 Once we arrived at SFO, we took a shuttle to the Silvercar rental lot, it was just a large plain warehouse with a small fleet of Silver Audi A4's. No paperwork, just load up the iPhone app, scan a car, and you're ready to go. There's no actual Silvercar sticker on the door like in the photo below. The fully loaded car includes heated seats, navigation, SiriusXM radio, 3G and WiFi, all of which we put to good use over the 1,700 miles of driving. I've owned a BMW 3 series for over 10 years, and I always expected German cars to have stiffer steering, especially owning a Mazda now with pretty light steering. However, the A4 had even lighter and easier steering than the Mazda. I enjoyed how easy it was both on local streets and highway with the active steering ratios. I didn't really like their multimedia system (MMI), and maybe the buttons needed some maintenance, but it felt like I had to press hard with little tactile feedback. The A4 goes so far as to estimate your fuel economy based on your AC and heated seat usage. The only stand out feature I liked from Audi was their volume dial on the steering wheel. Minor details aside, it felt really good to drive around town and mountain roads in a luxury sports class with all the creature comforts.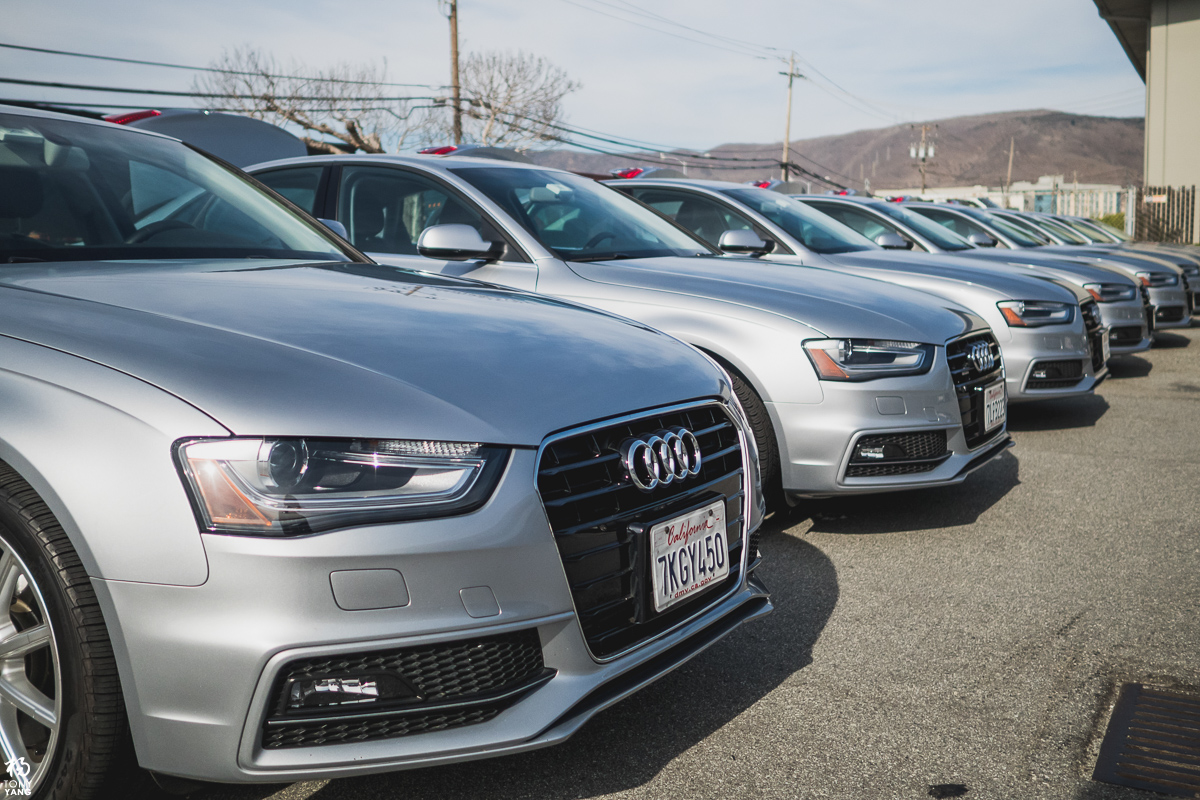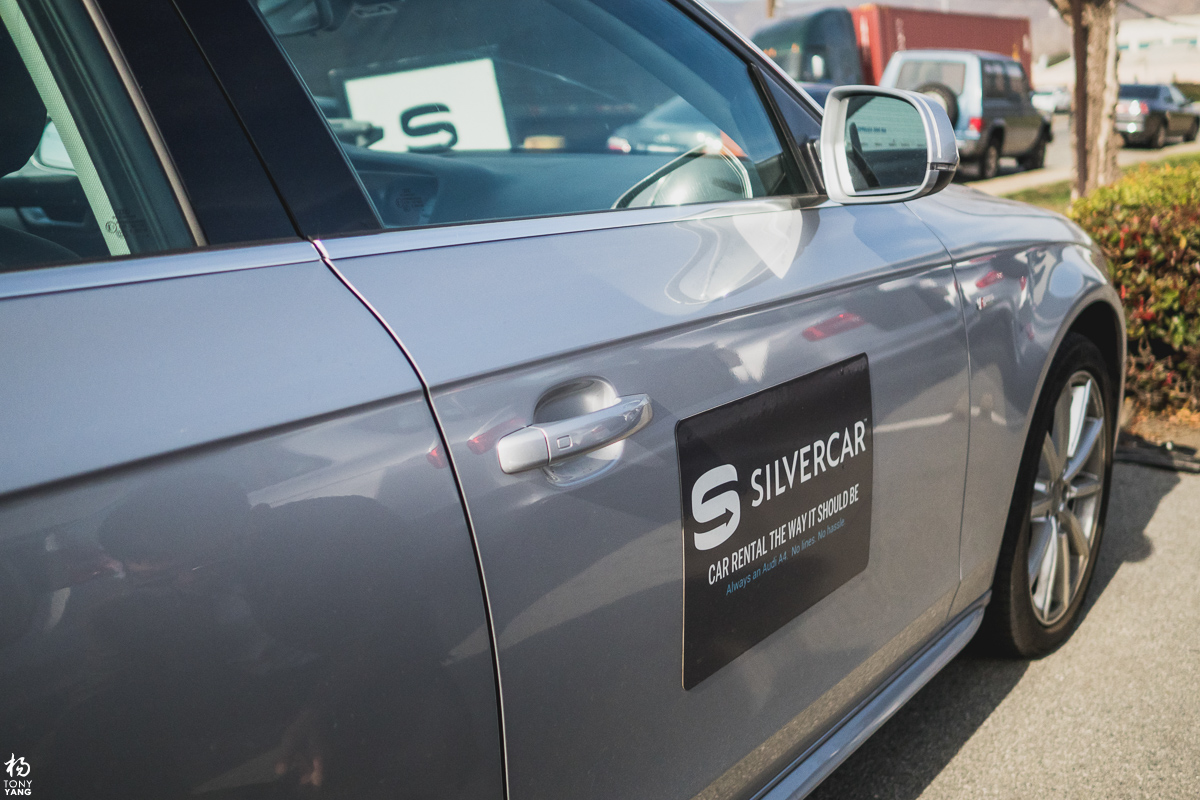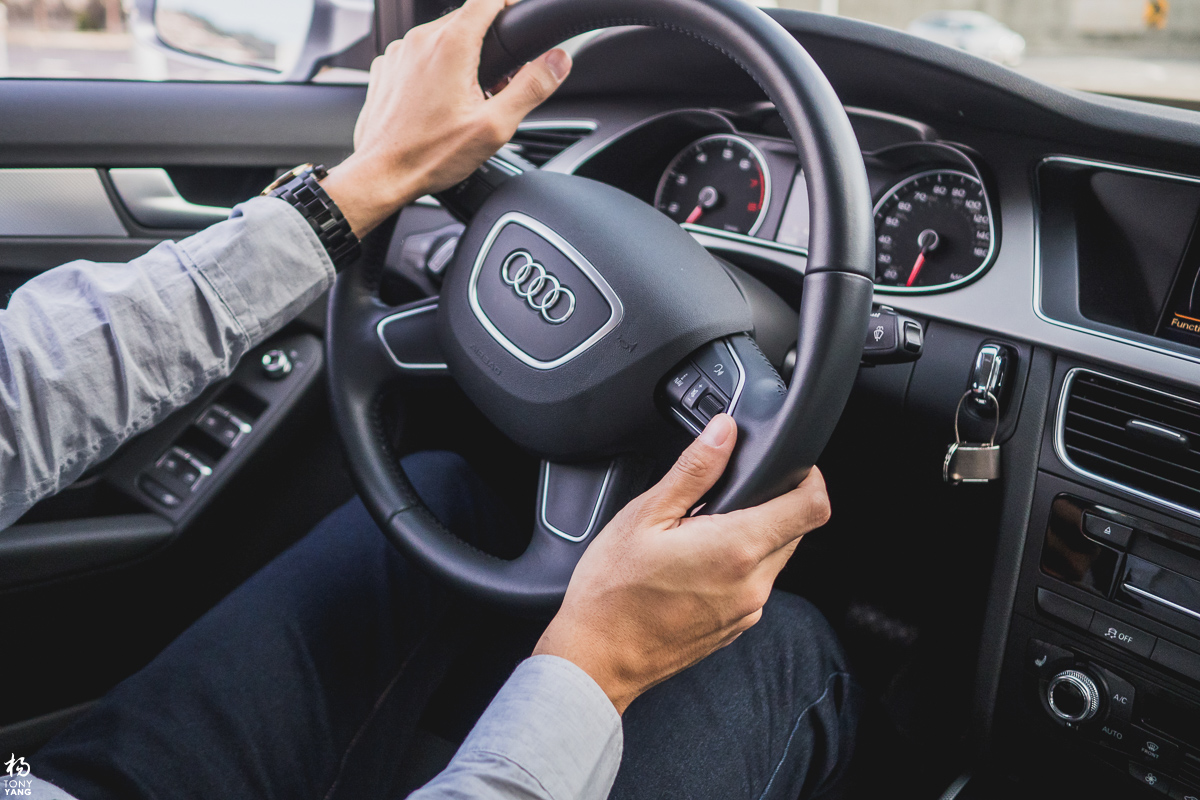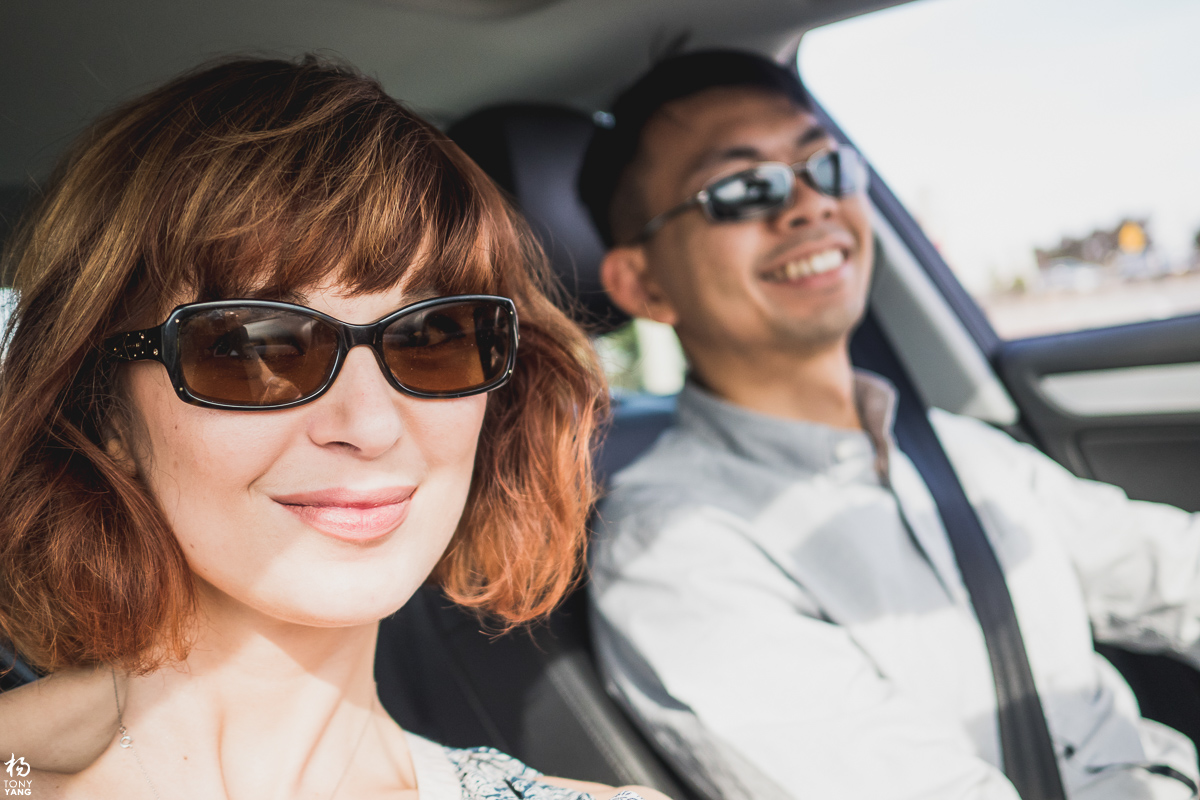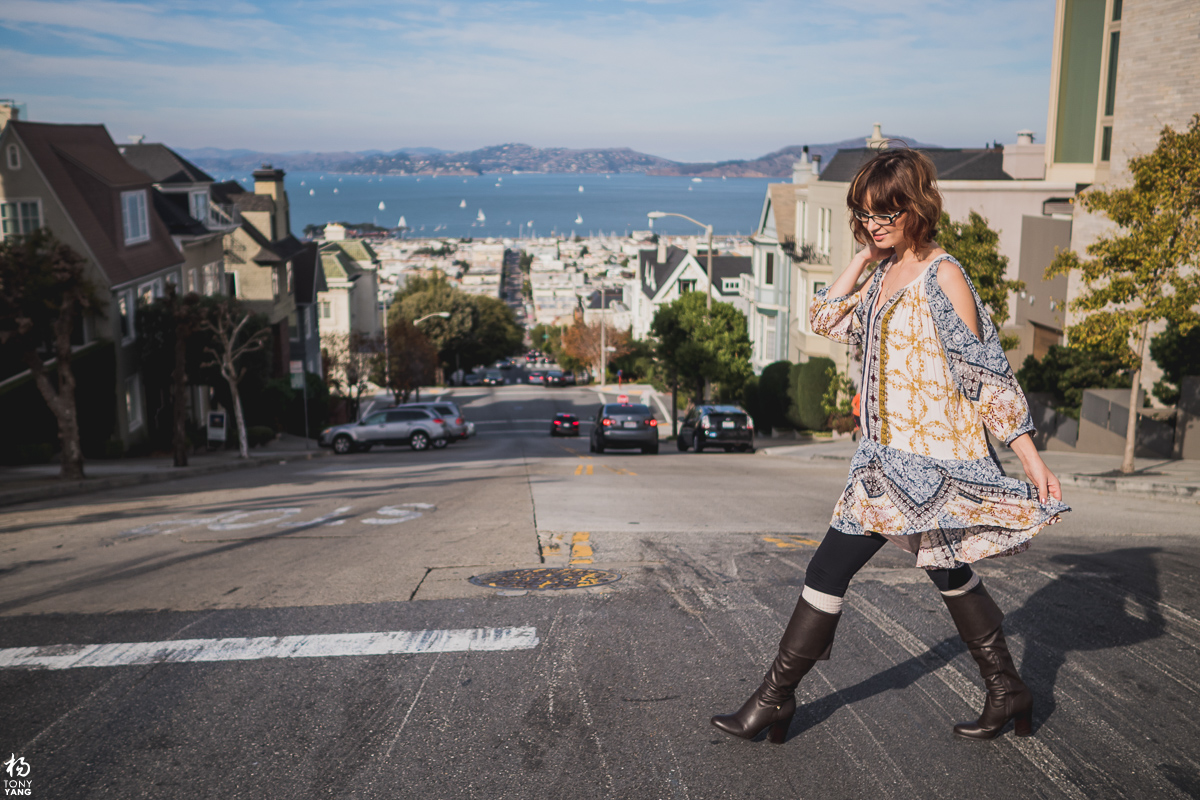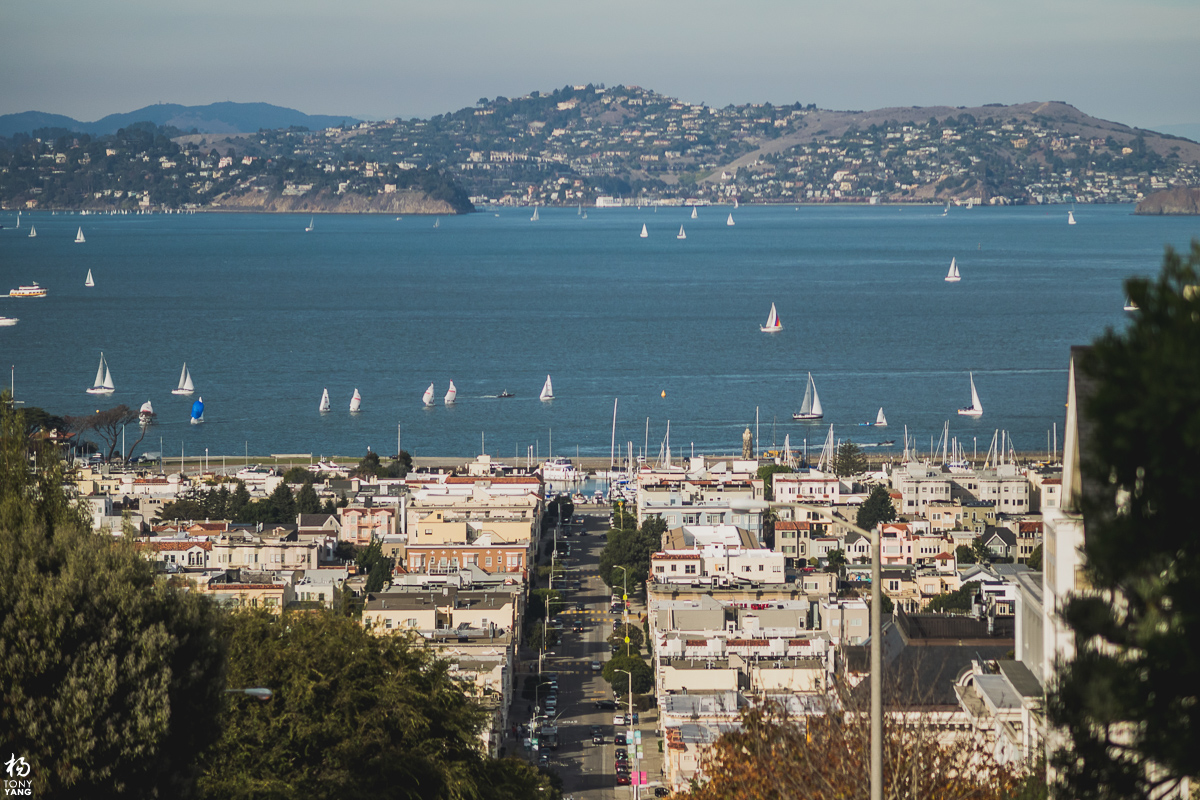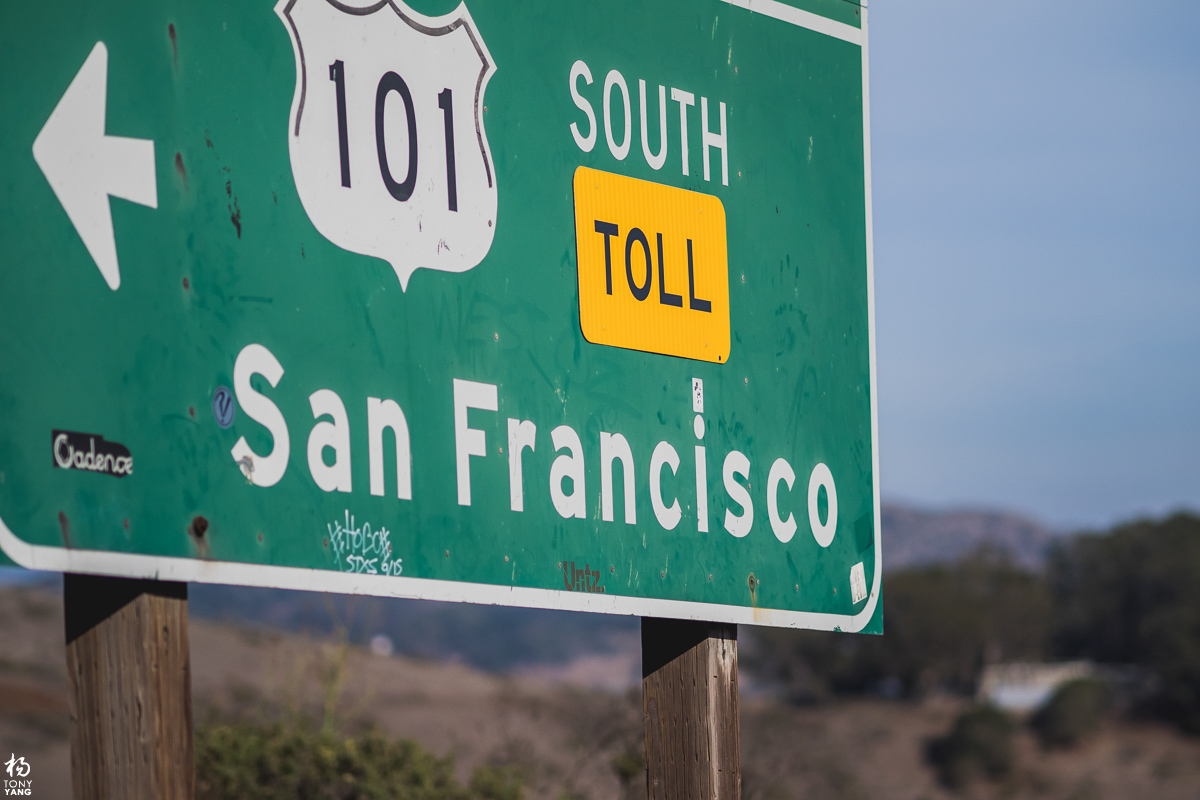 After a long flight, a meal is always our first stop. Cherimoya is the place I like to go near the airport for delicious pork banh mi. You can either sit in, although I prefer to drive to the nearby Burlingame Station for a nice view of some really tall trees and use your rental car as your dining tray!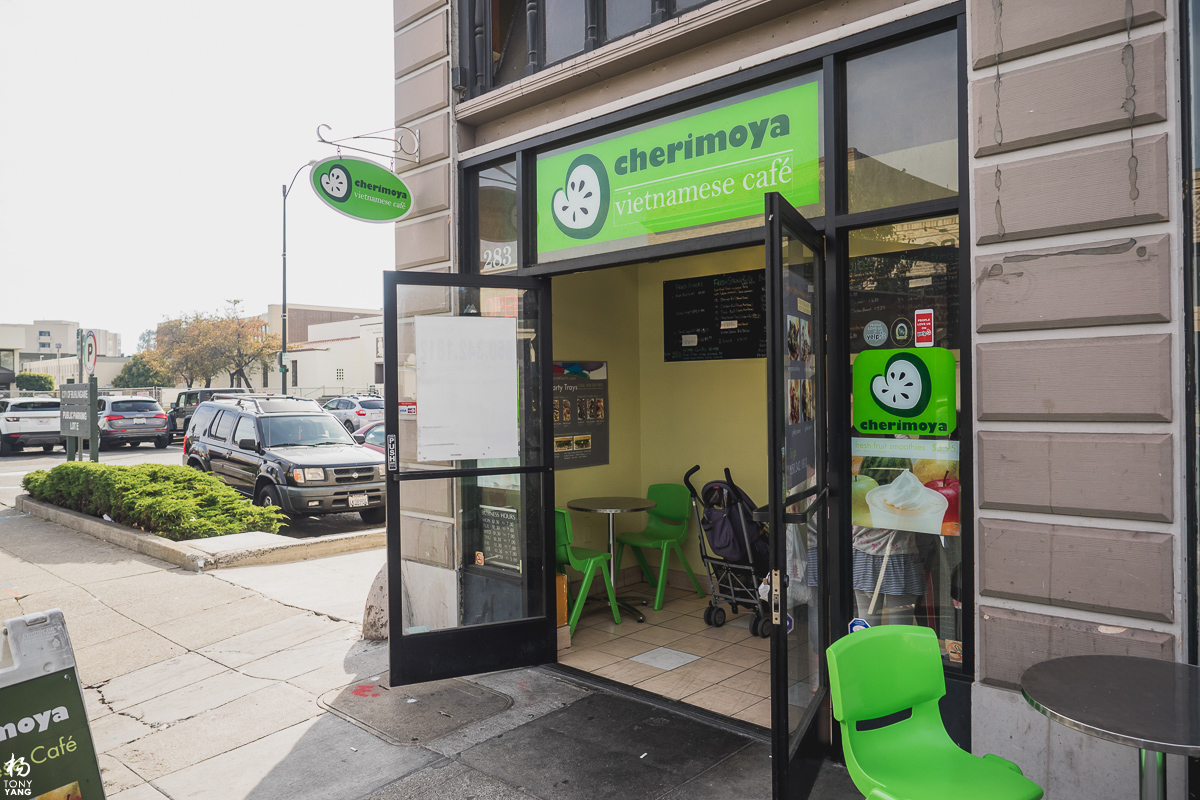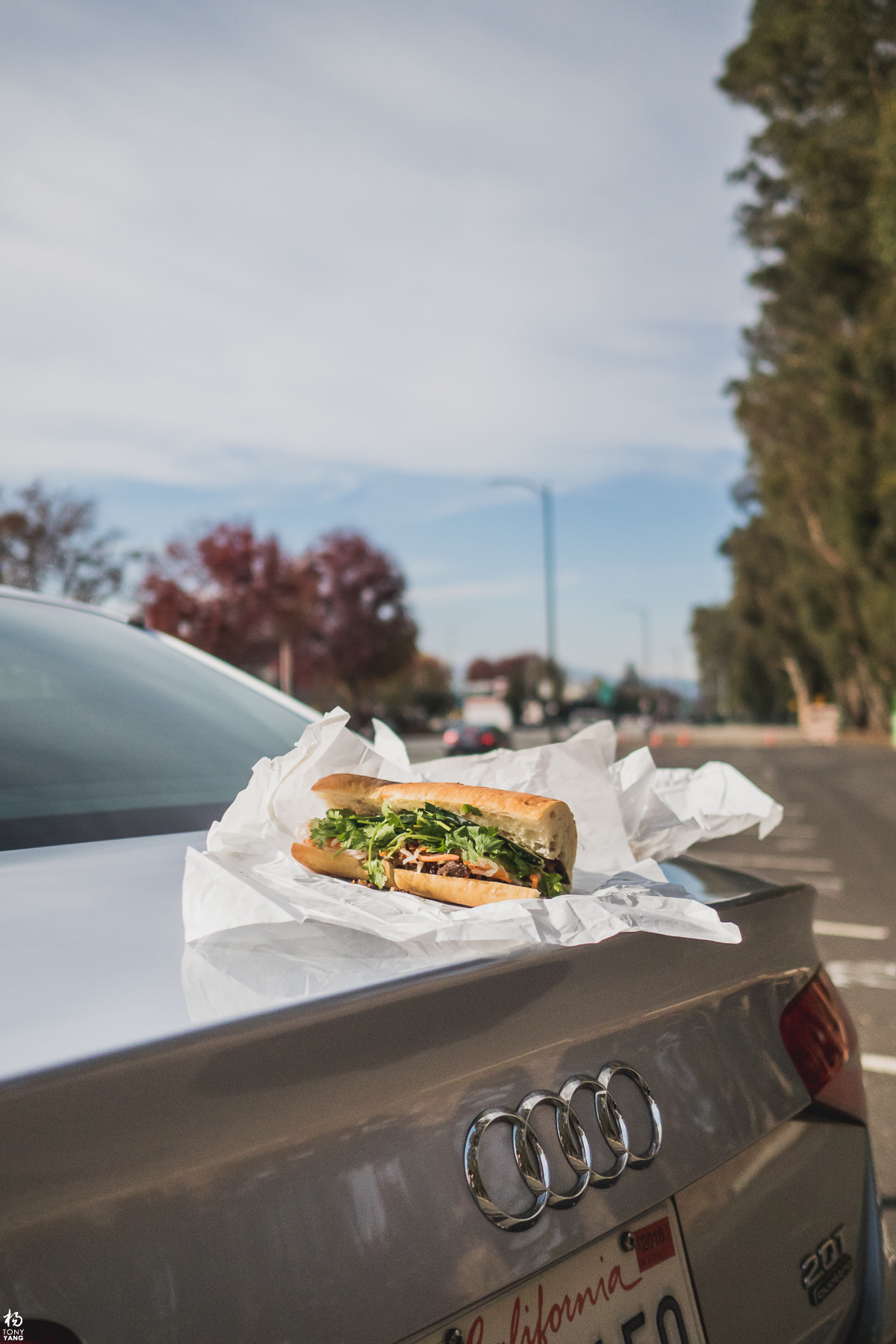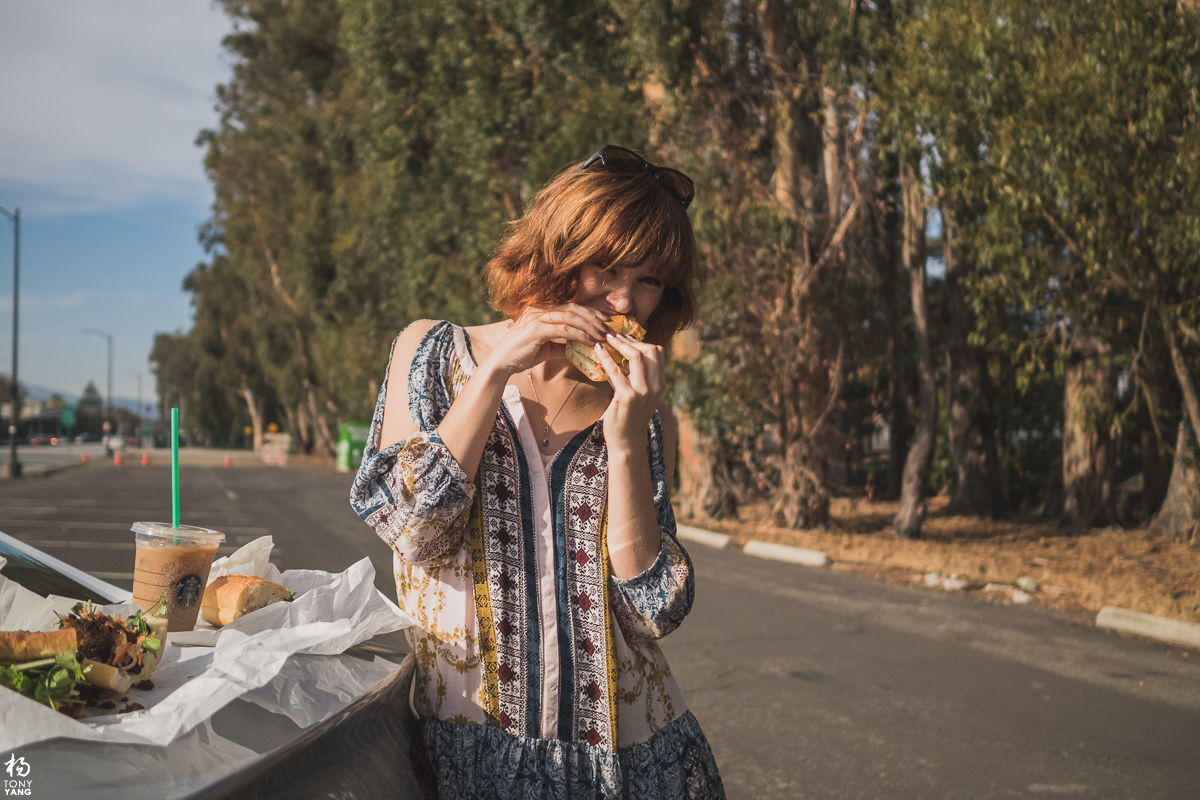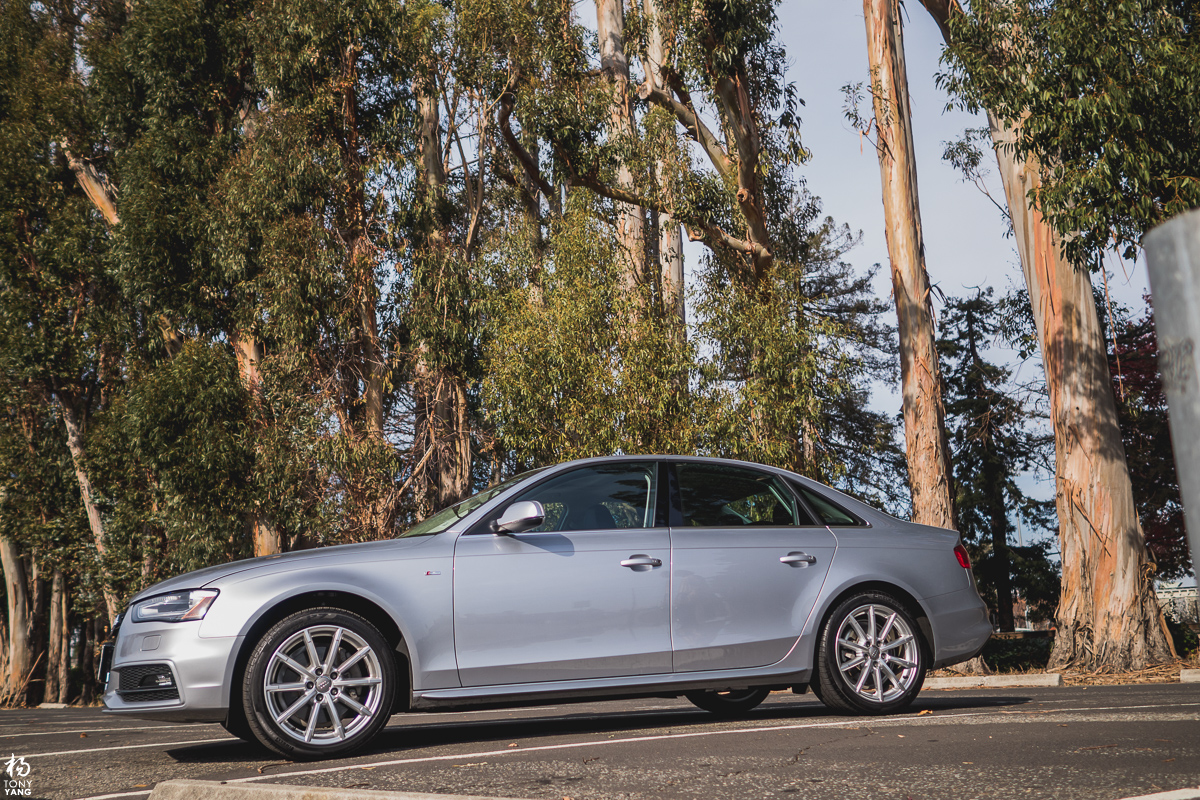 We are not the big city exploring type, but we had to check out Golden Gate Bridge for some photo ops. We got lucky with the sunny weather and great visibility of the bridge. Word of caution, take a thorough restroom stop before you do your bridge sight seeing, as the public stall on the North side of the bridge could very well be used as a torture chamber. If you're wondering who took our photos of us together, you can thank Olympus and their WiFi remote app for our mirrorless cameras. It has full live-view control of the camera from your smart phone. The hard part was trying to hide the phone while I took the photo.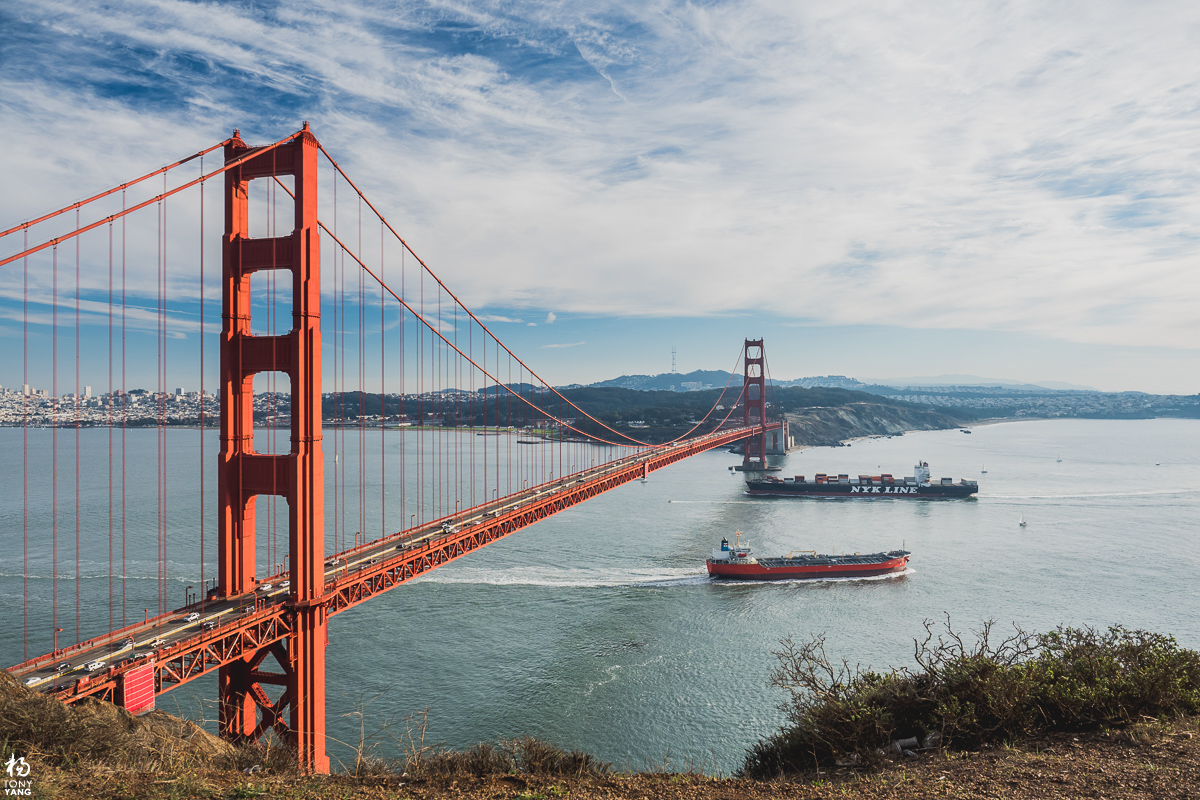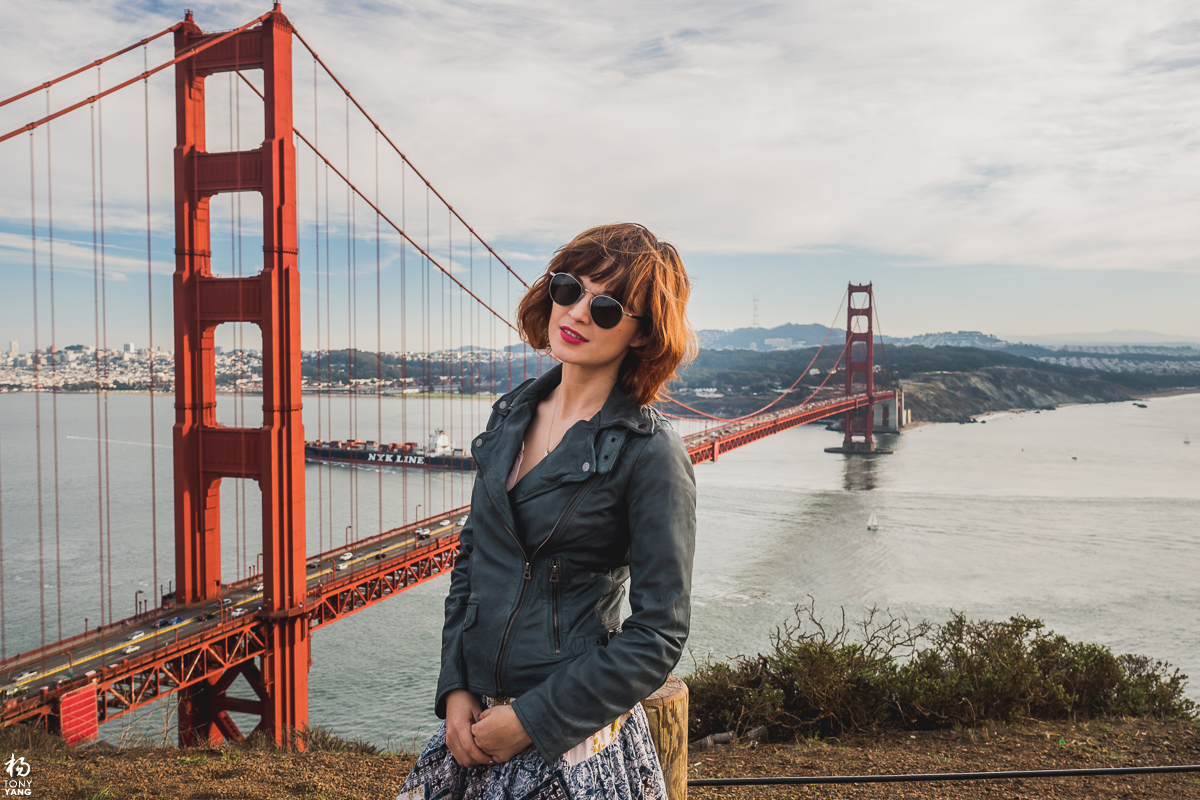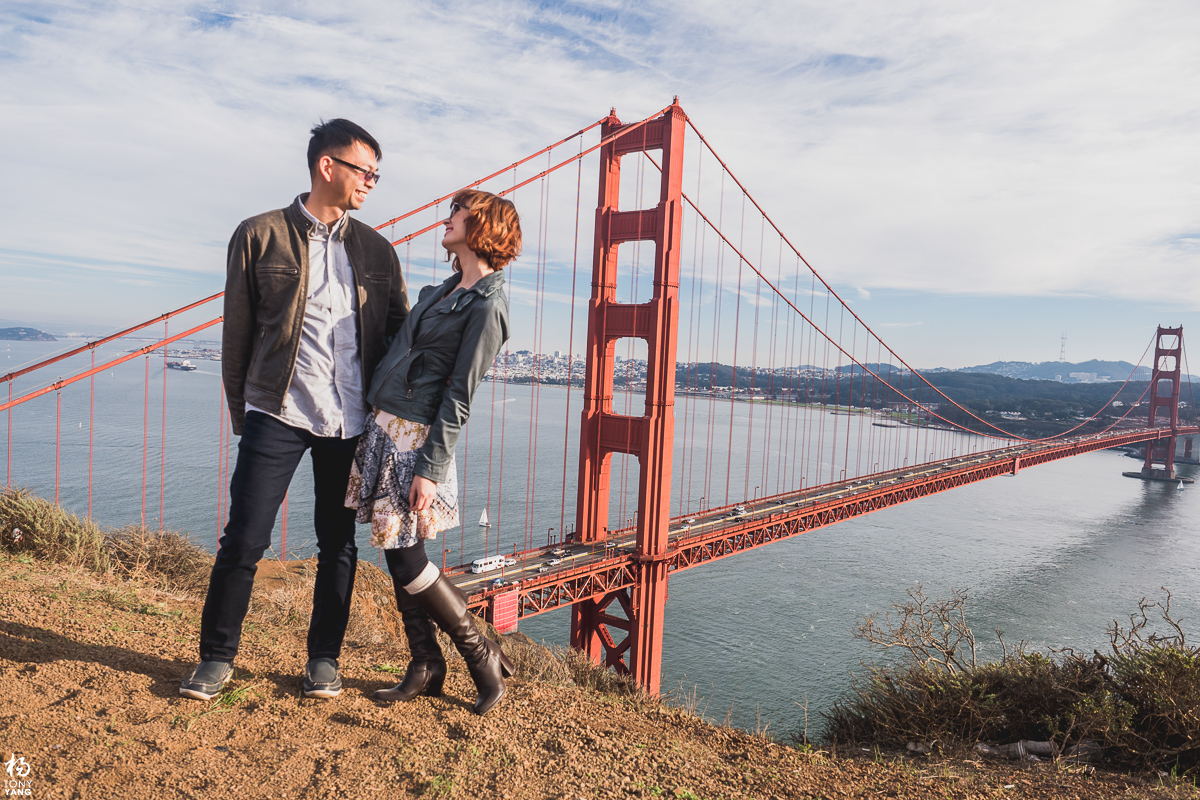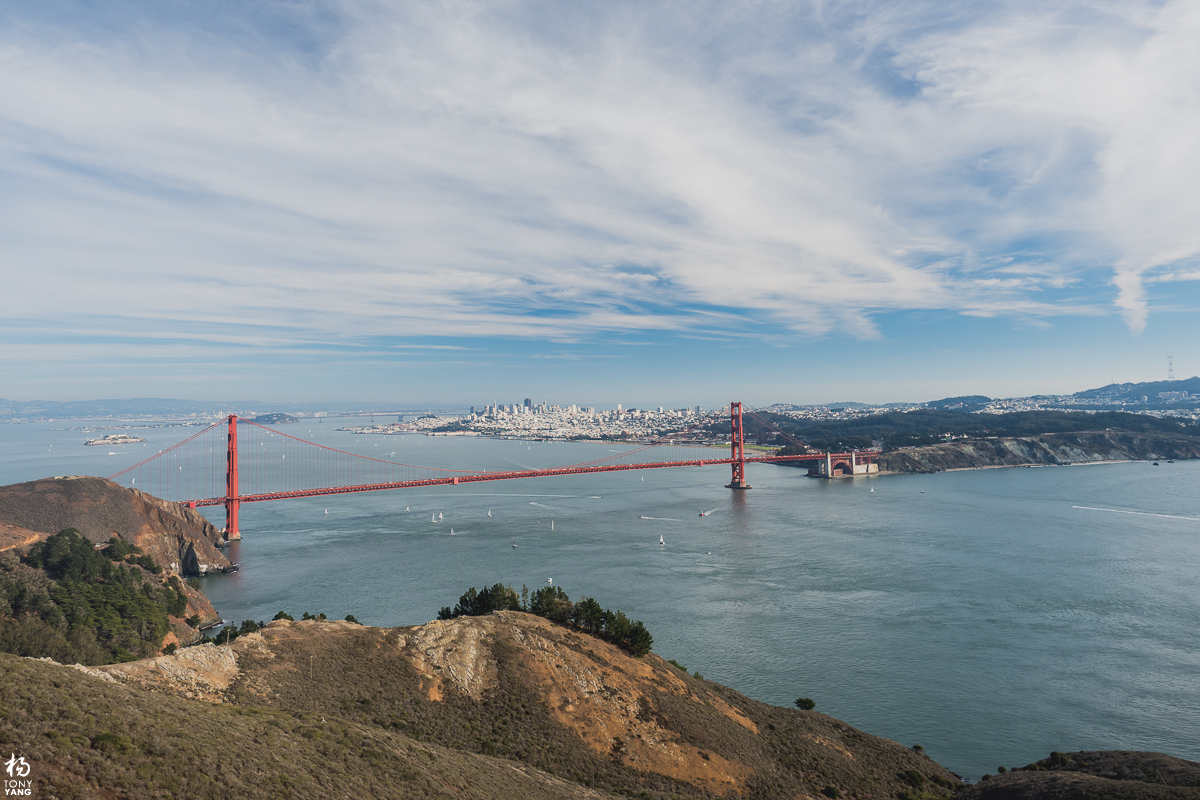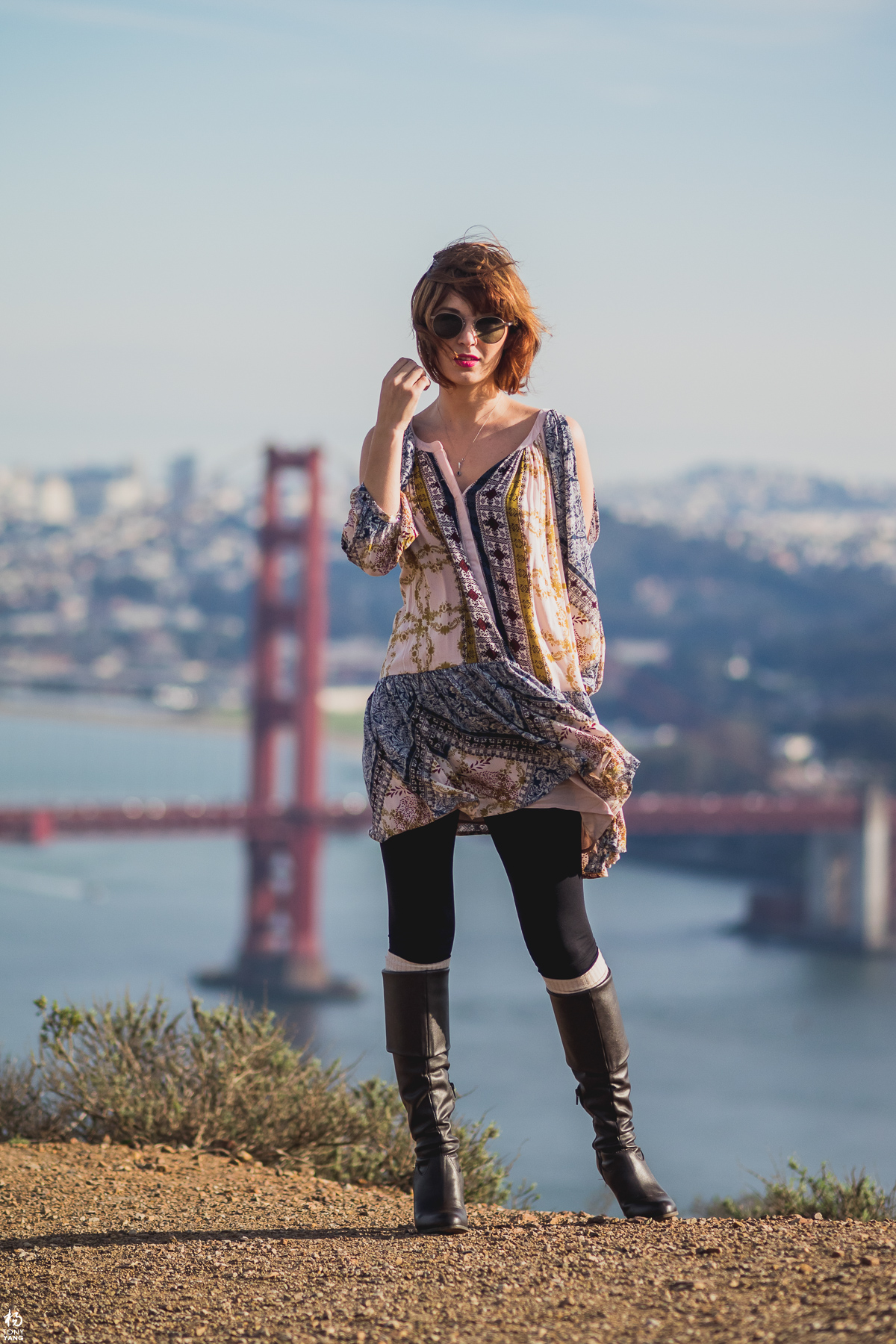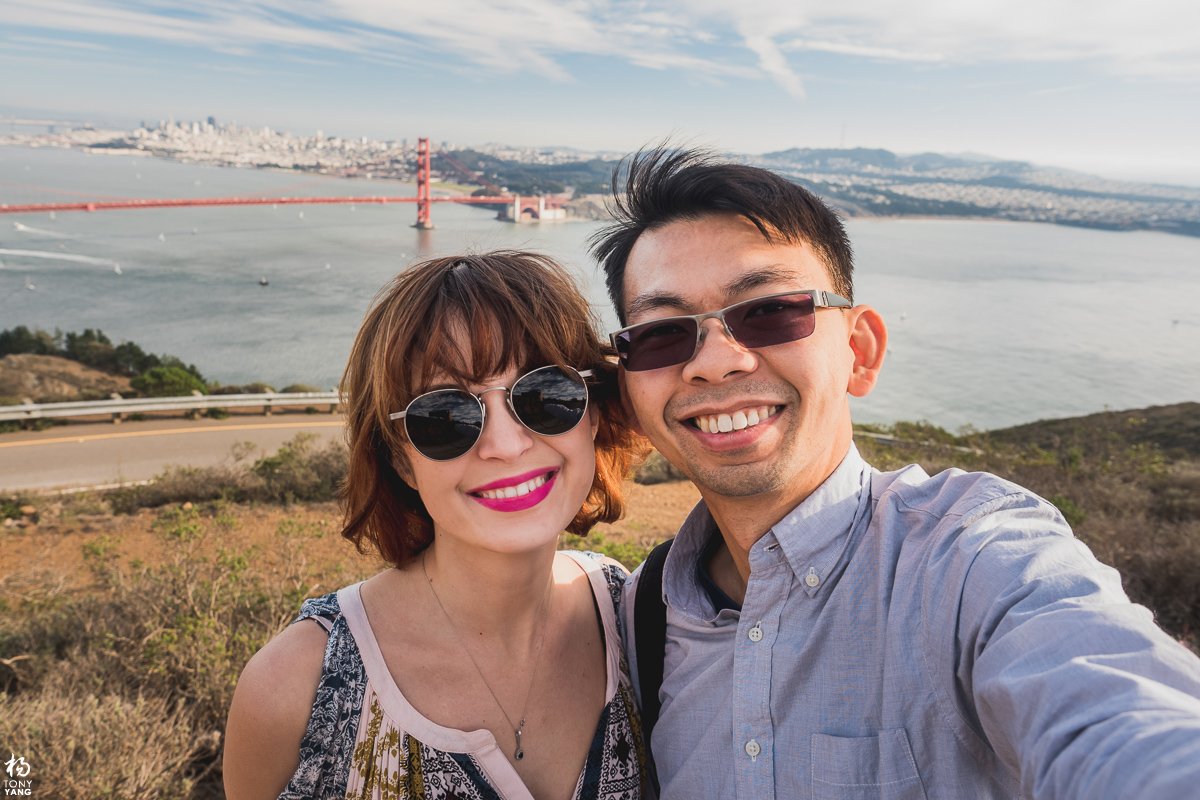 The first attraction recommended by one of our clients was The Great Dickens Christmas Fair, equivalent to the Renaissance Fair we have here in New York. All the patrons and staff dress up in period outfits and you're transported back to Victorian Christmas time.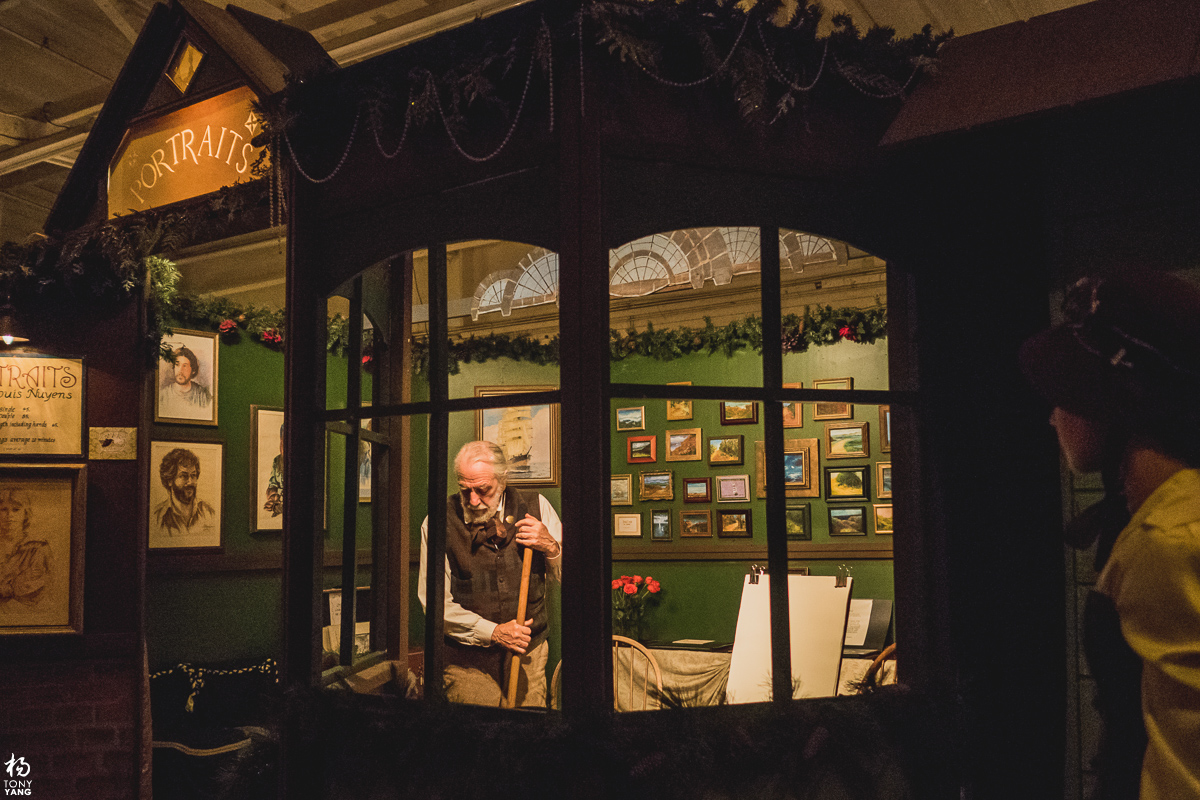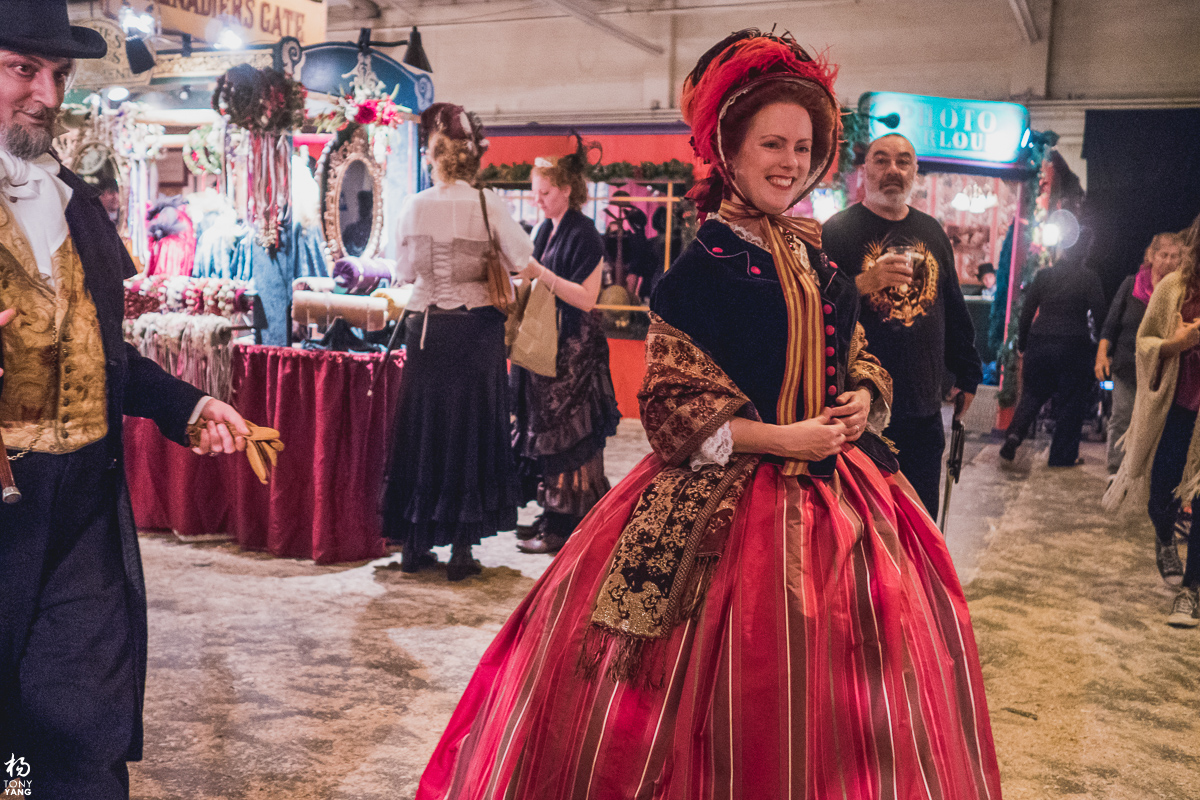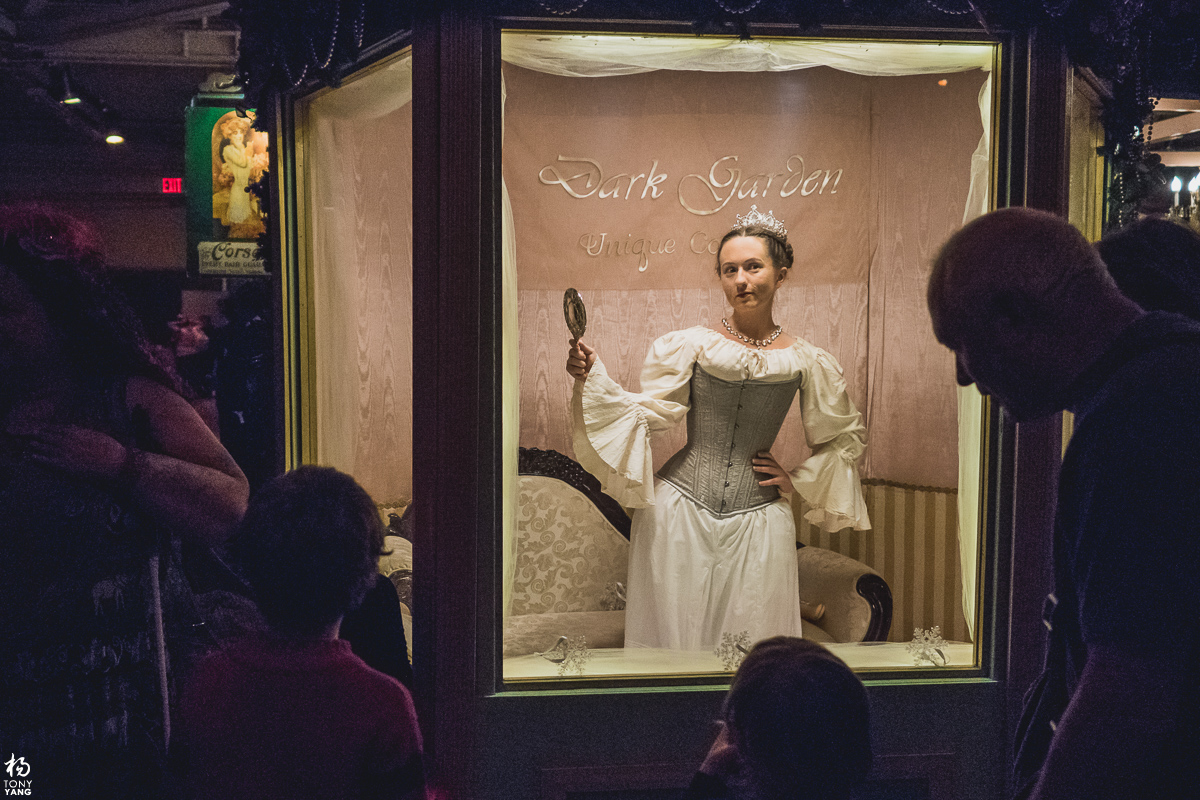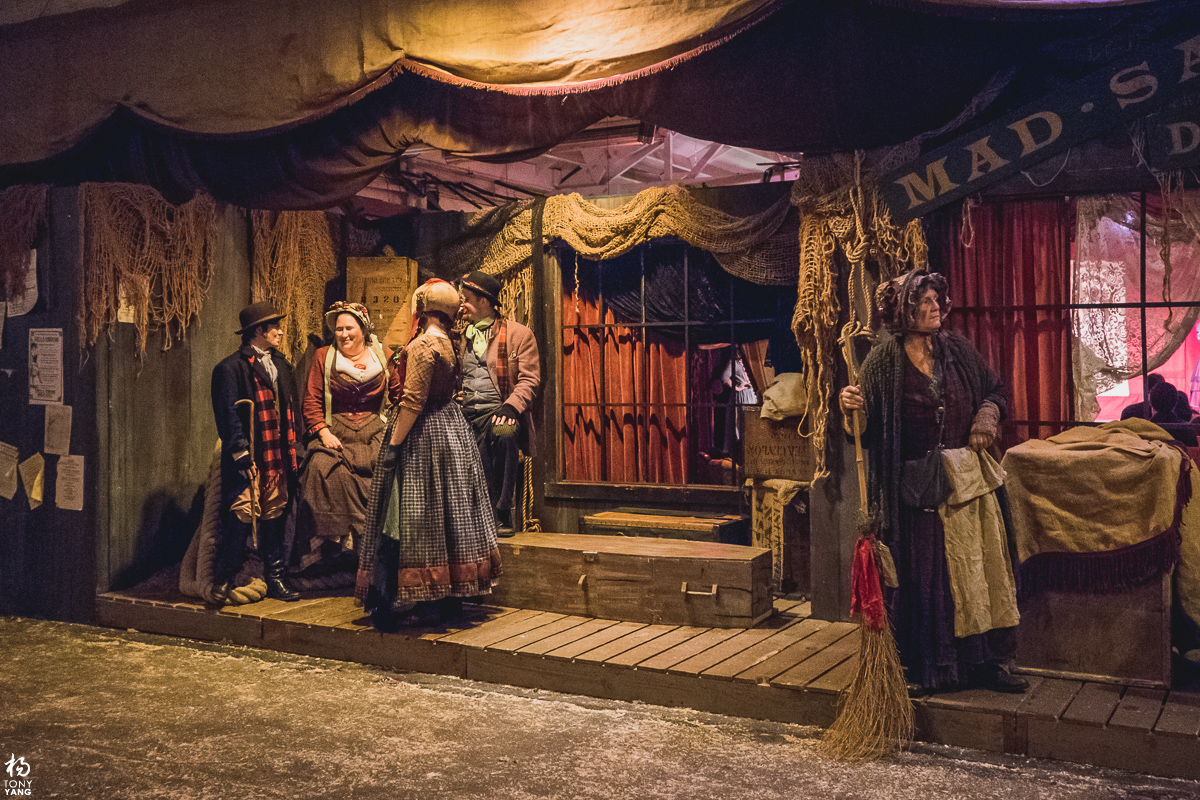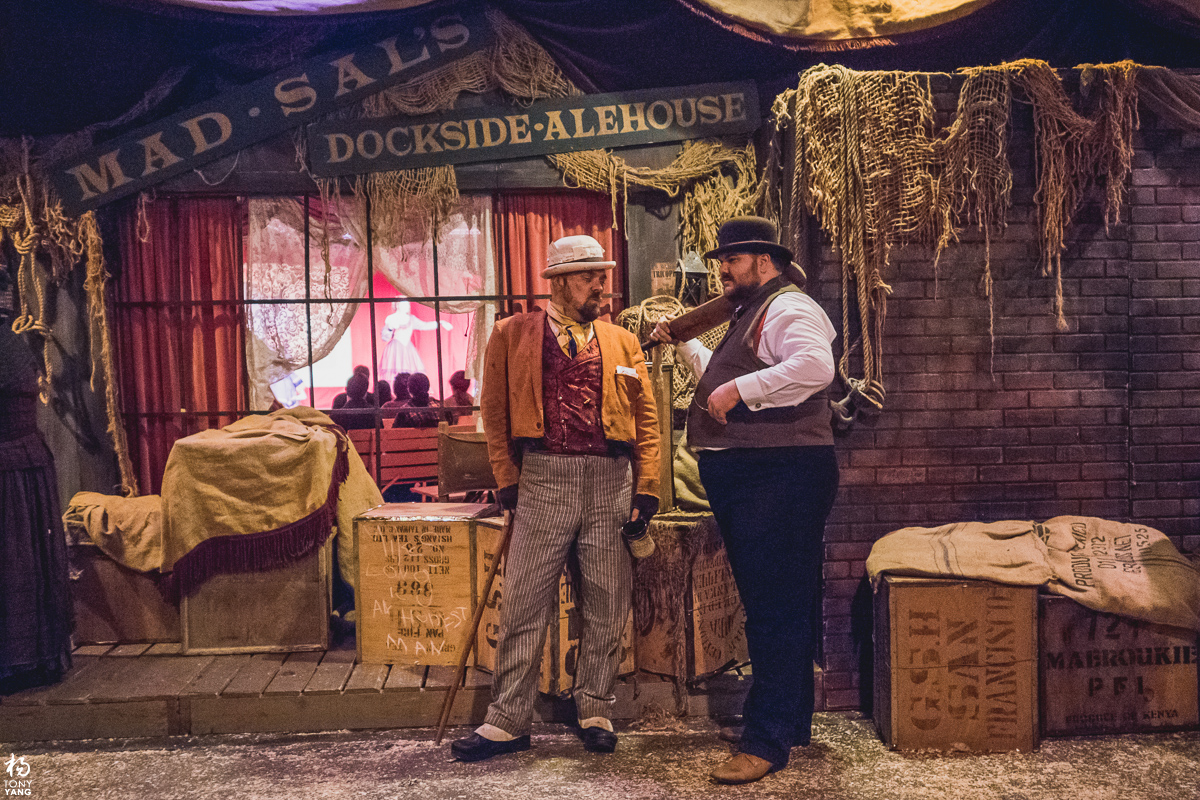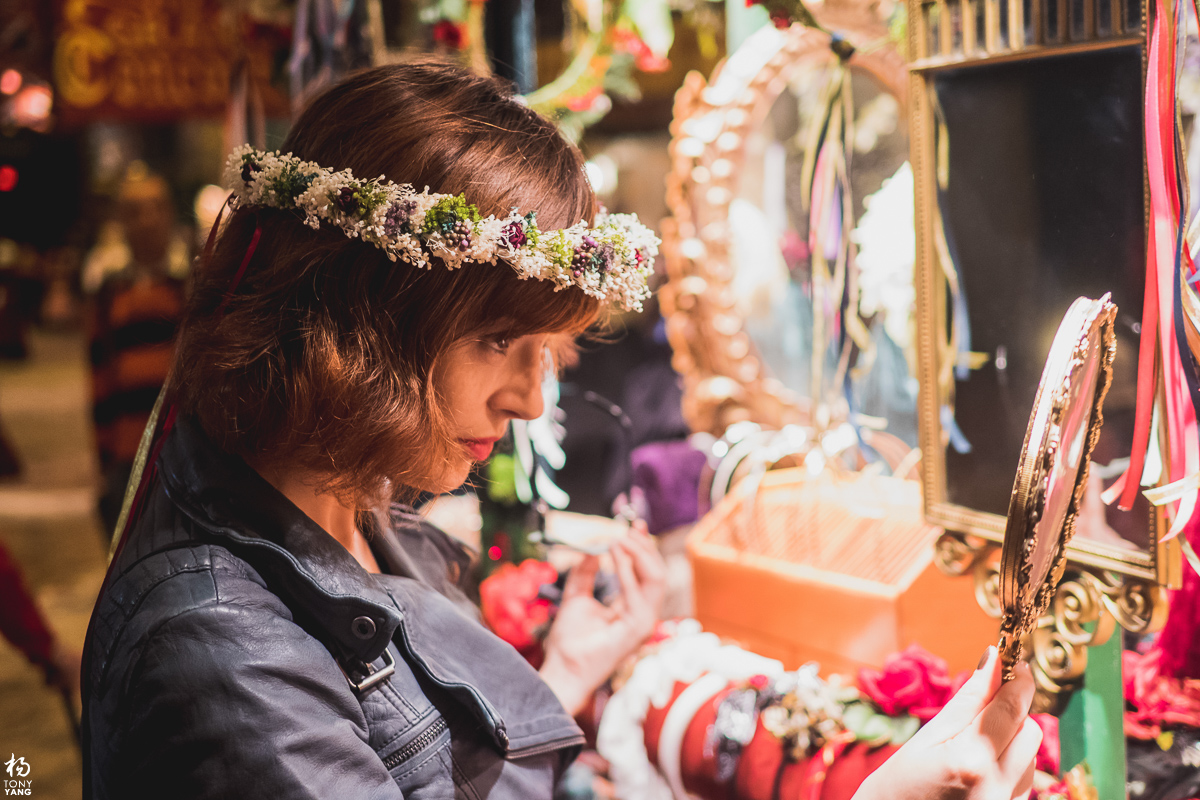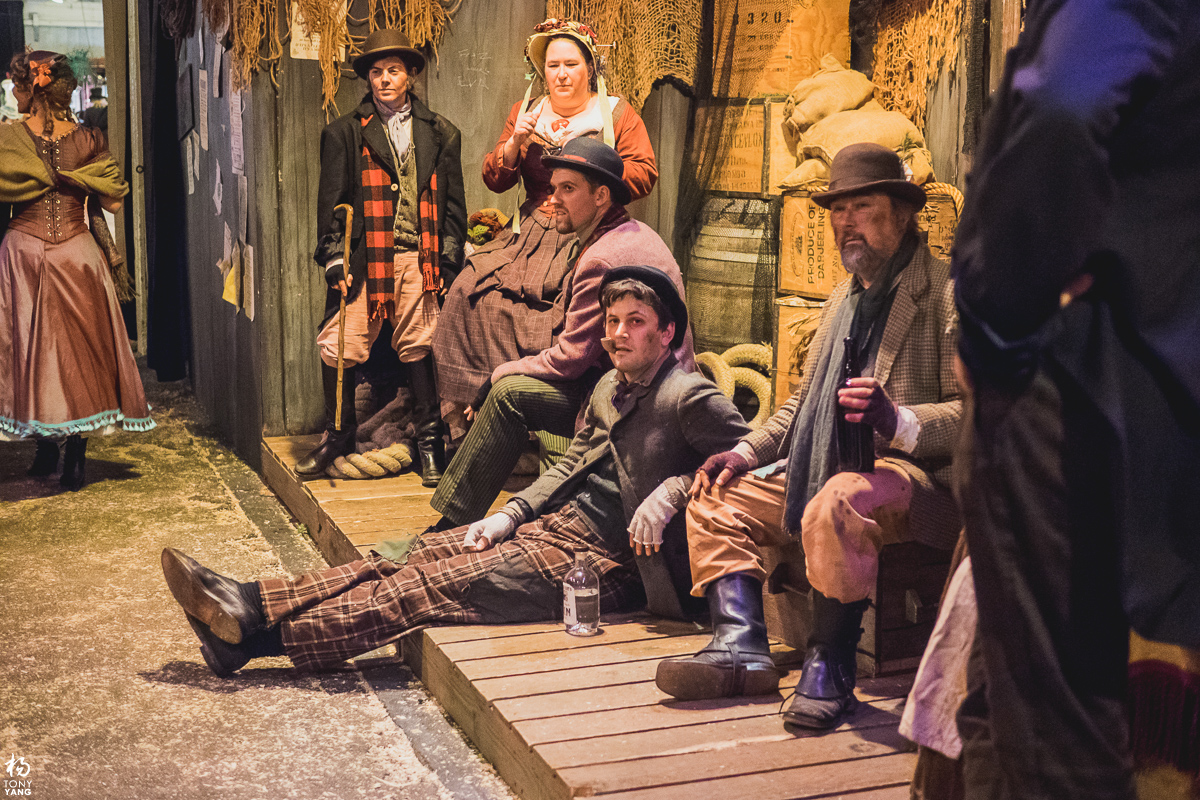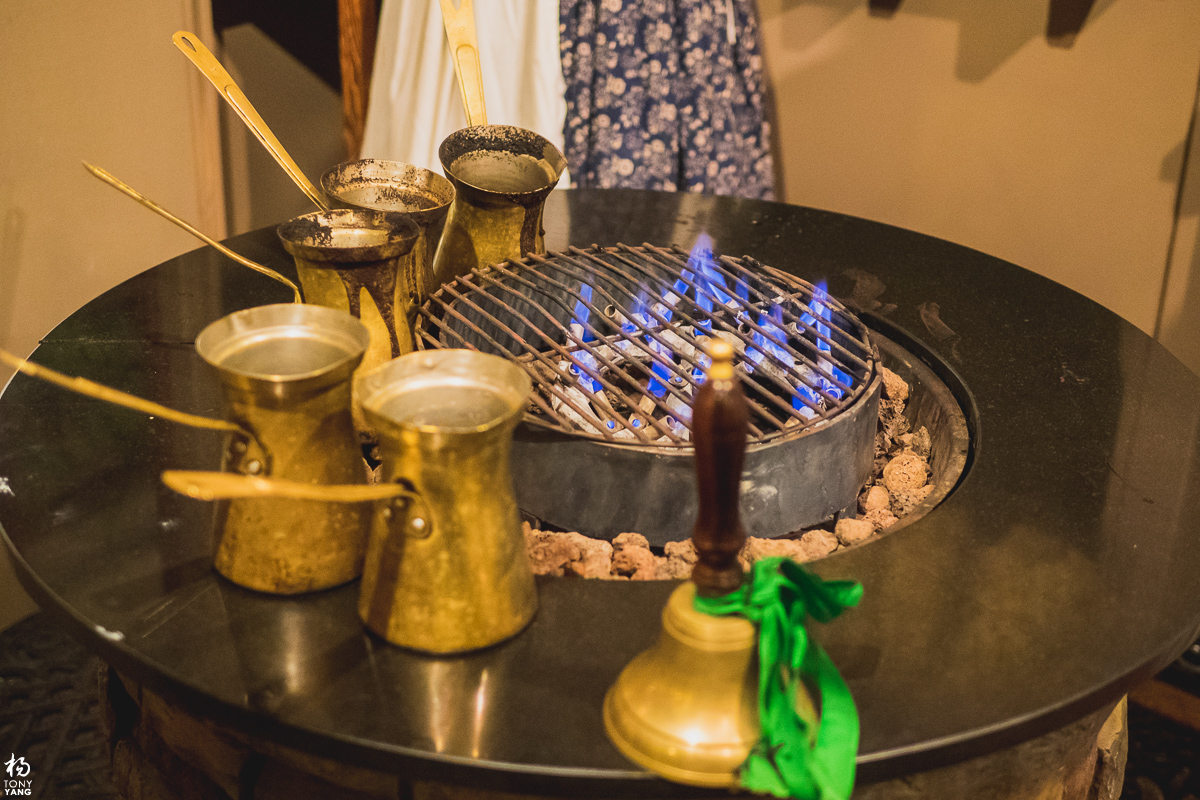 Our first morning we had breakfast at a diner in American Canyon where we stayed. Somehow eating at a diner with my significant other always reminds me of the scene from Pulp Fiction, maybe because I also call her honey bunny. We love breakfast foods and are always looking for a place that can make great eggs and bacon. After breakfast we were on our way back to San Francisco to meet our clients for an engagement session. While I was still getting used to the Audi's navigation, it was easier to use my iPhone. I know I'm not the only one who prefers to cover up their $1-2k navigation system with their smartphone. While Olya drove, I was able to do office work on my laptop thanks to the onboard 3G service. The Audi was a great office car!
We finished our day with a reservation at Ad Hoc for their well known buttermilk fried chicken. While it was a delicious and modern interpretation of soul food, the price made the whole experience a little harder to swallow. C'mon, it's just fried chicken!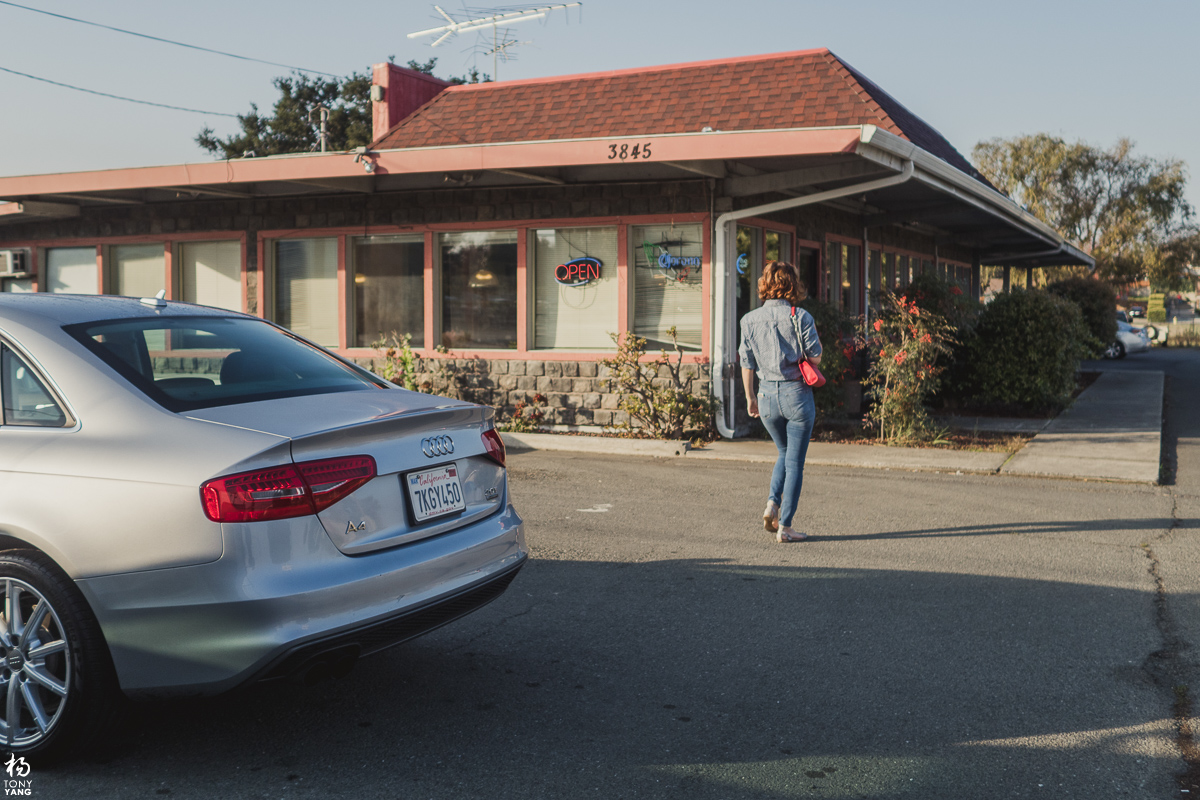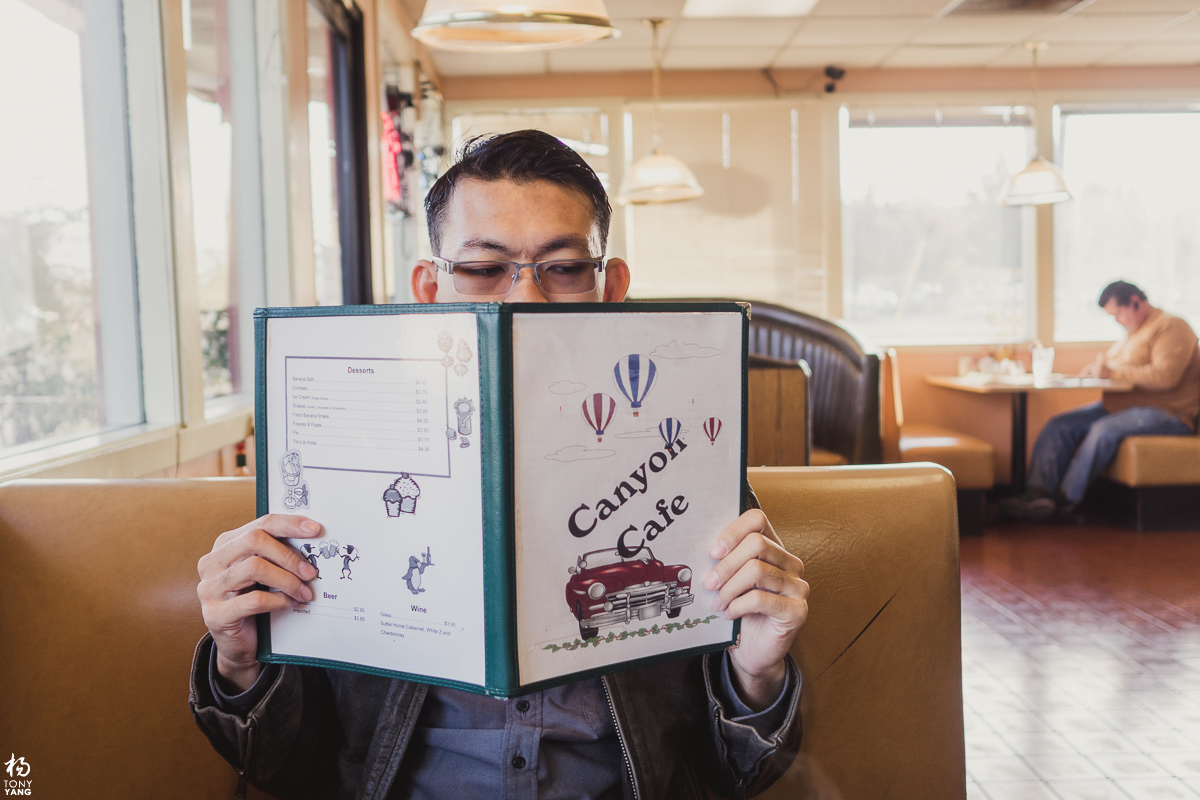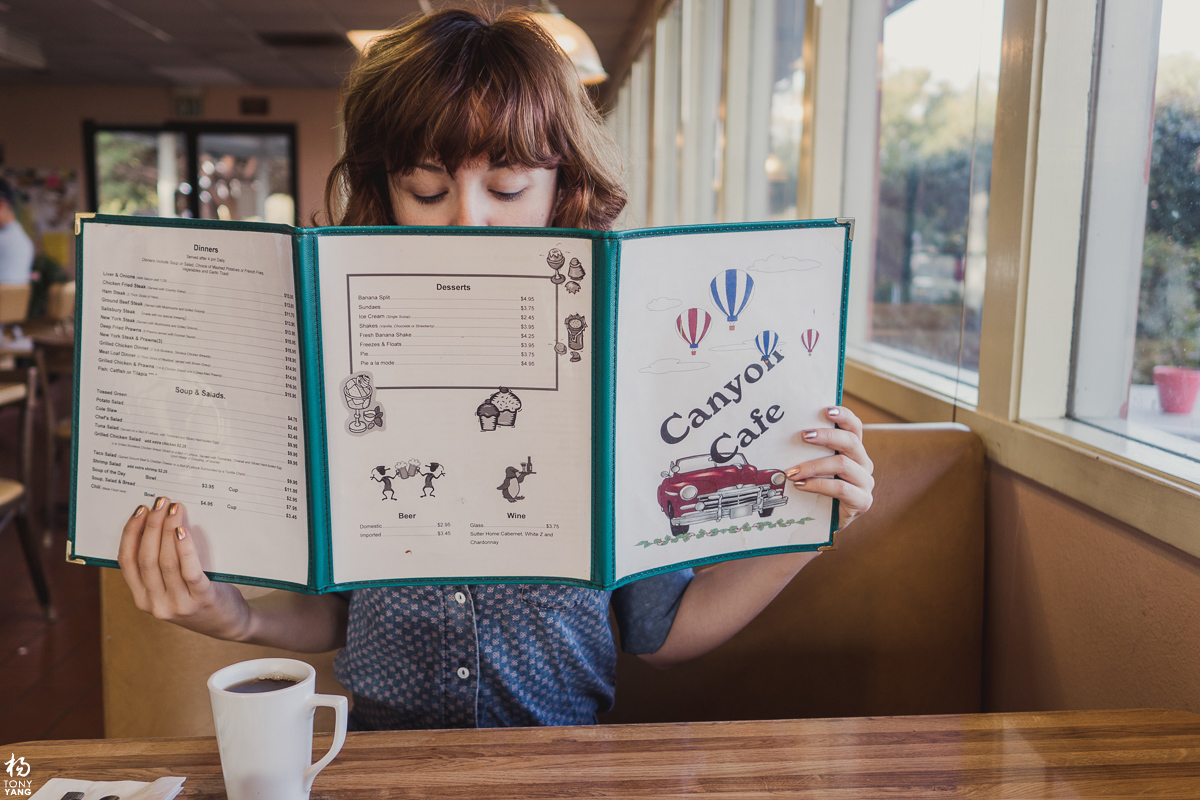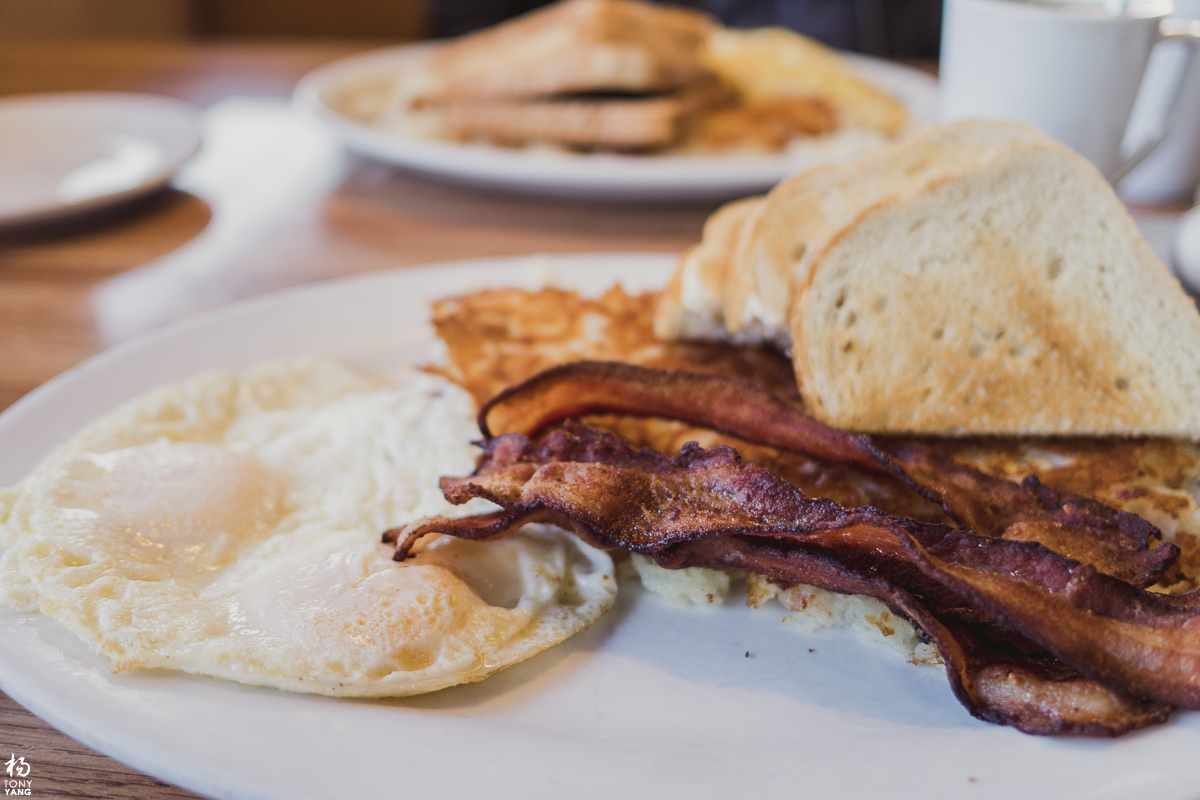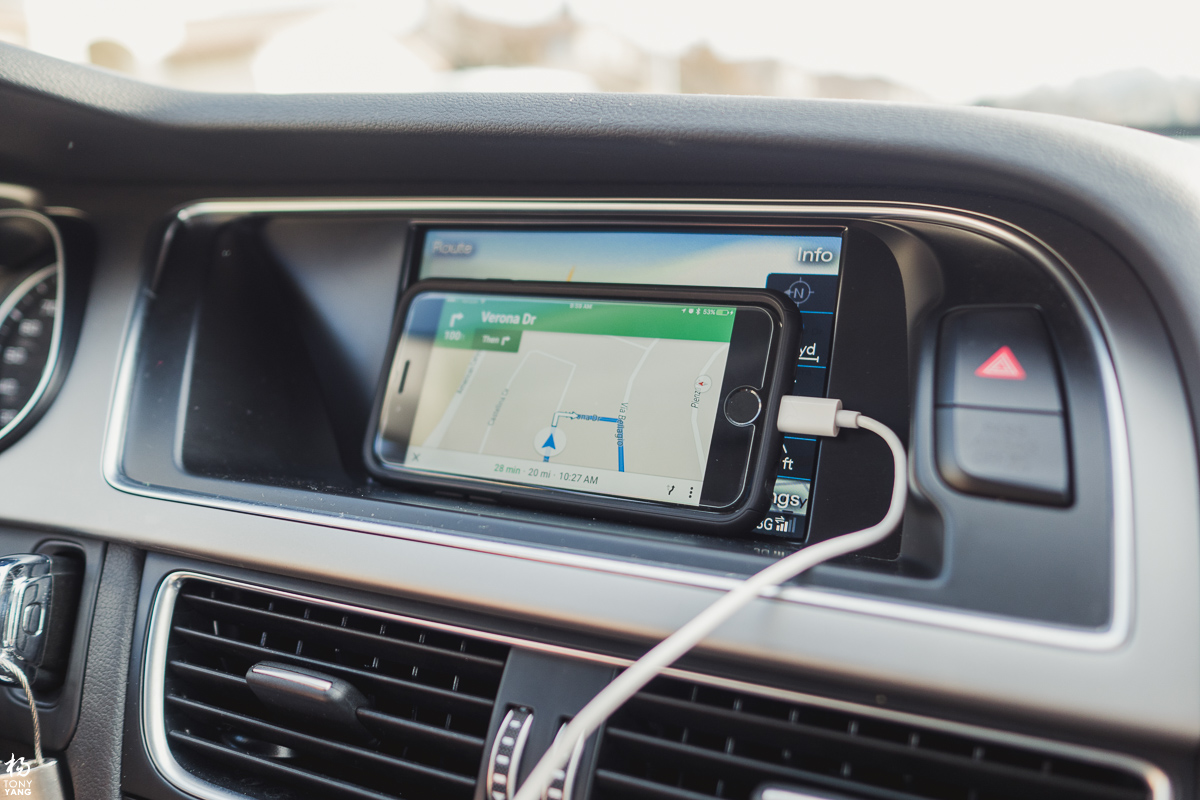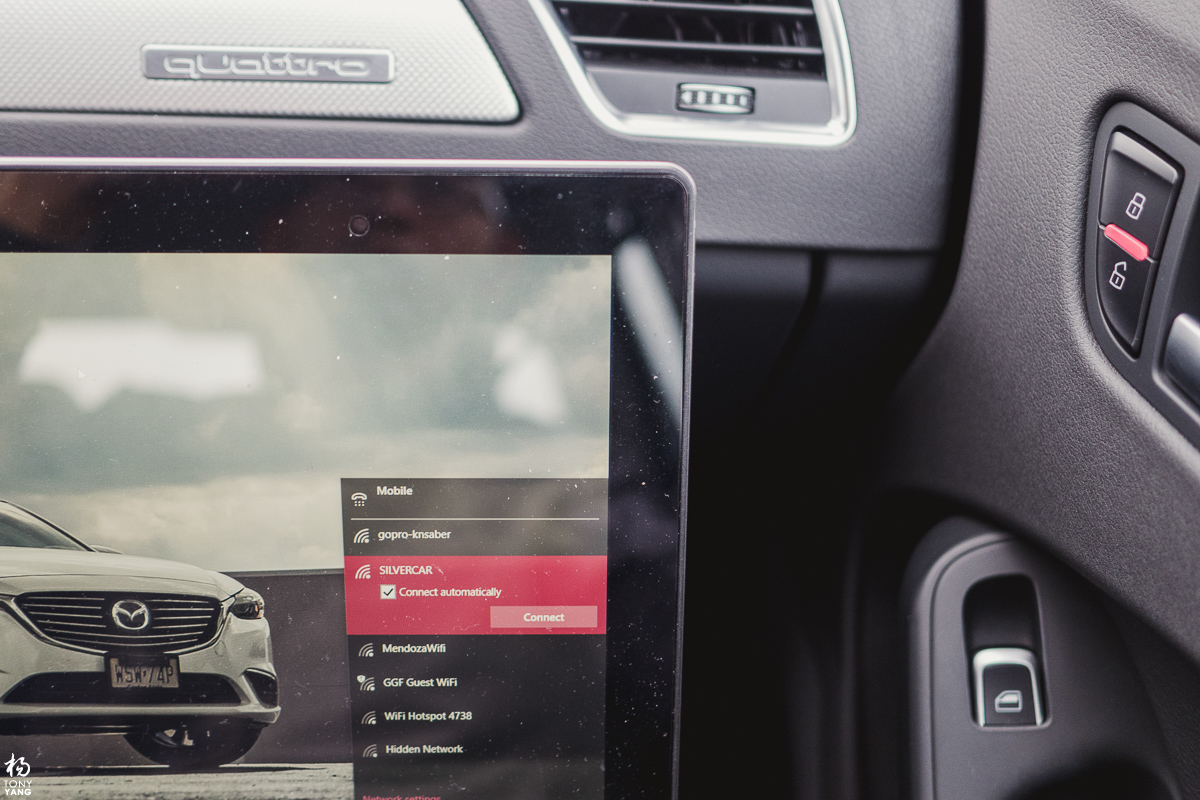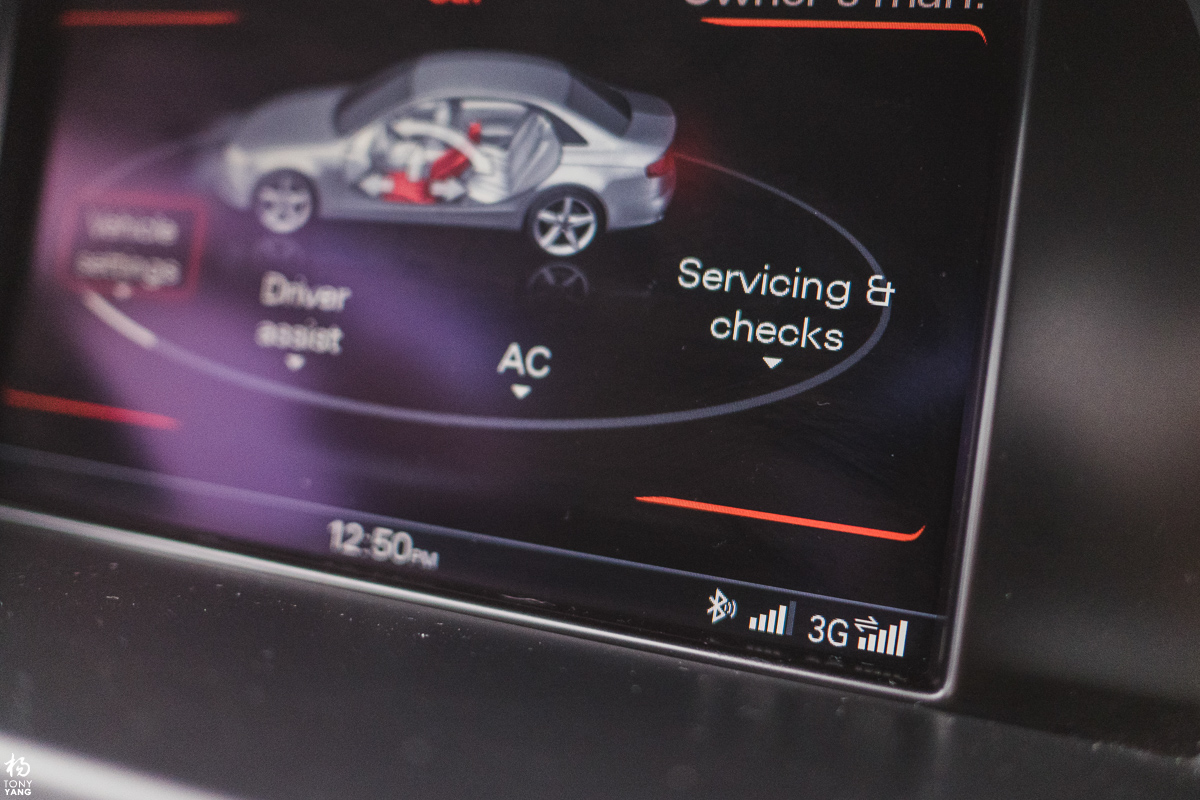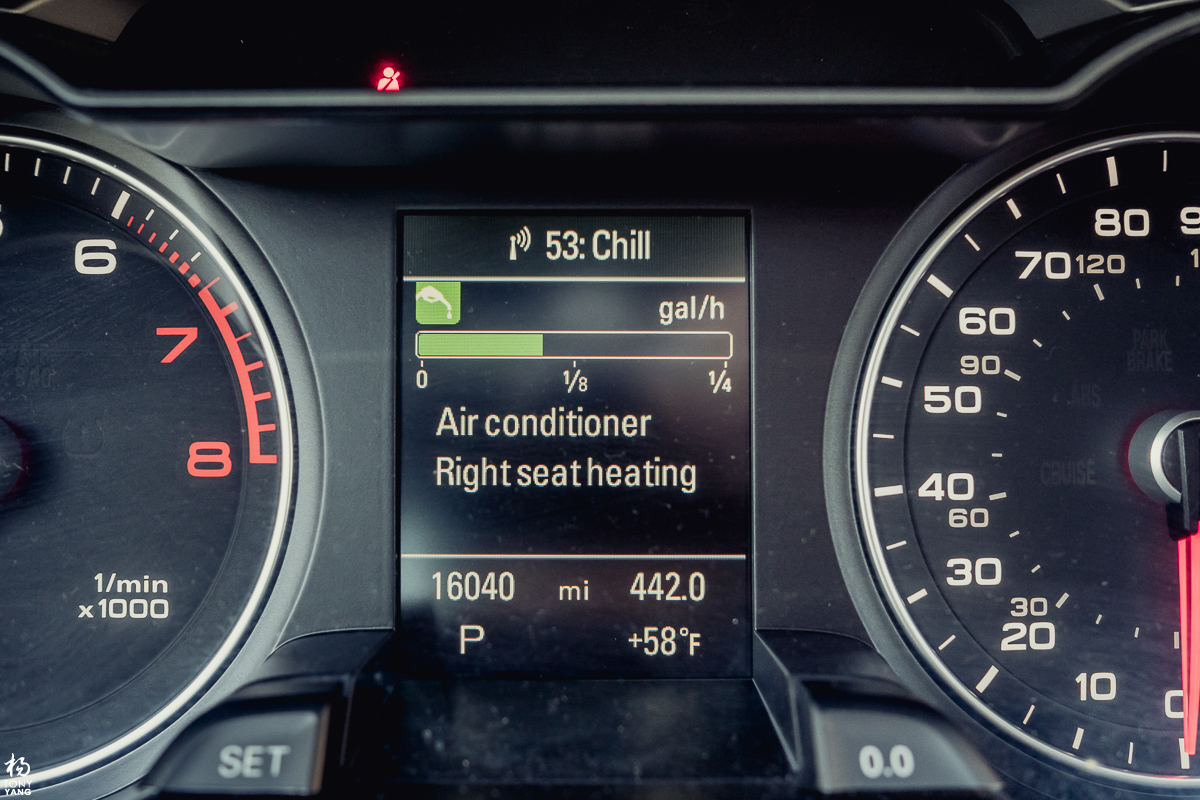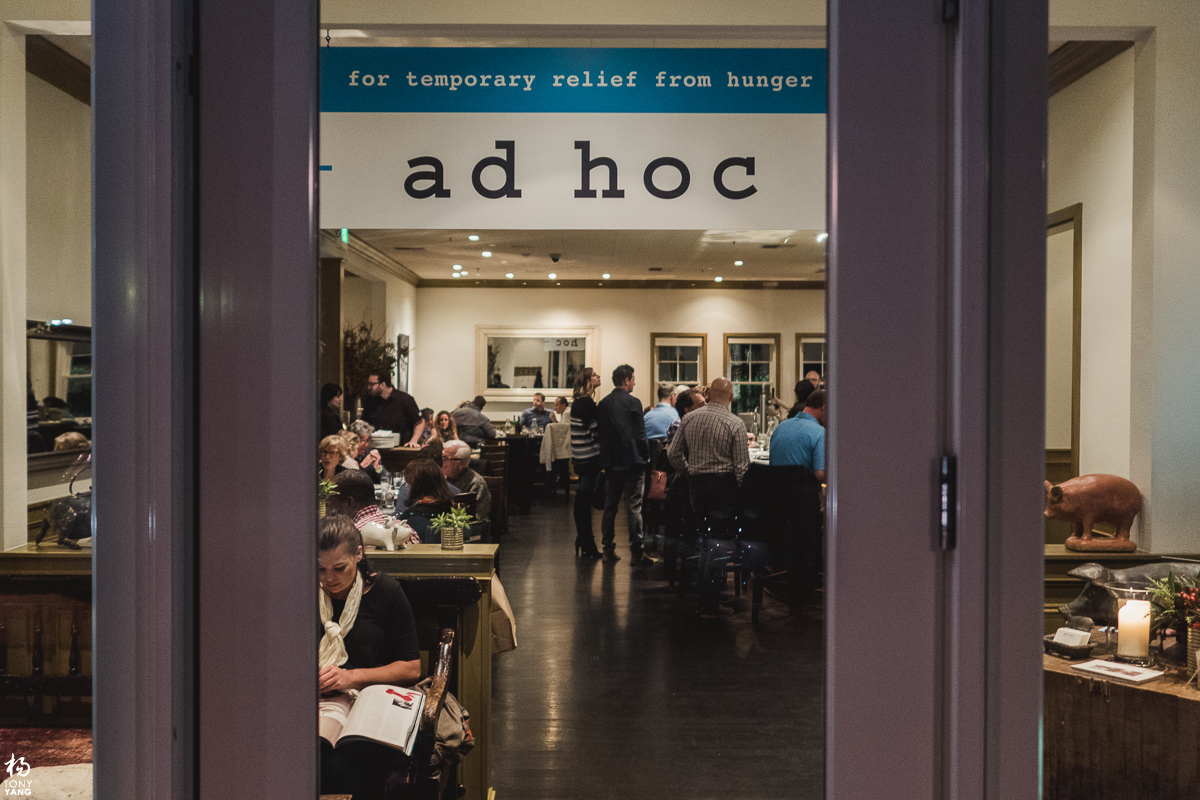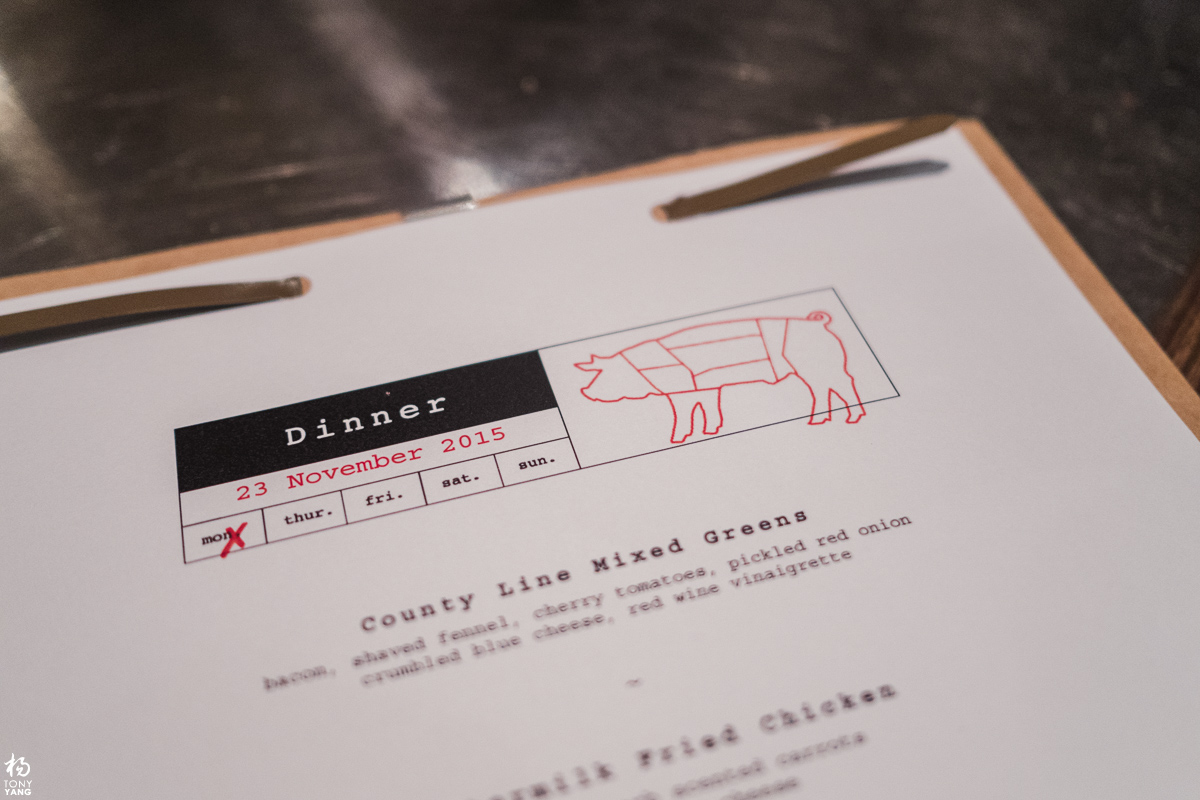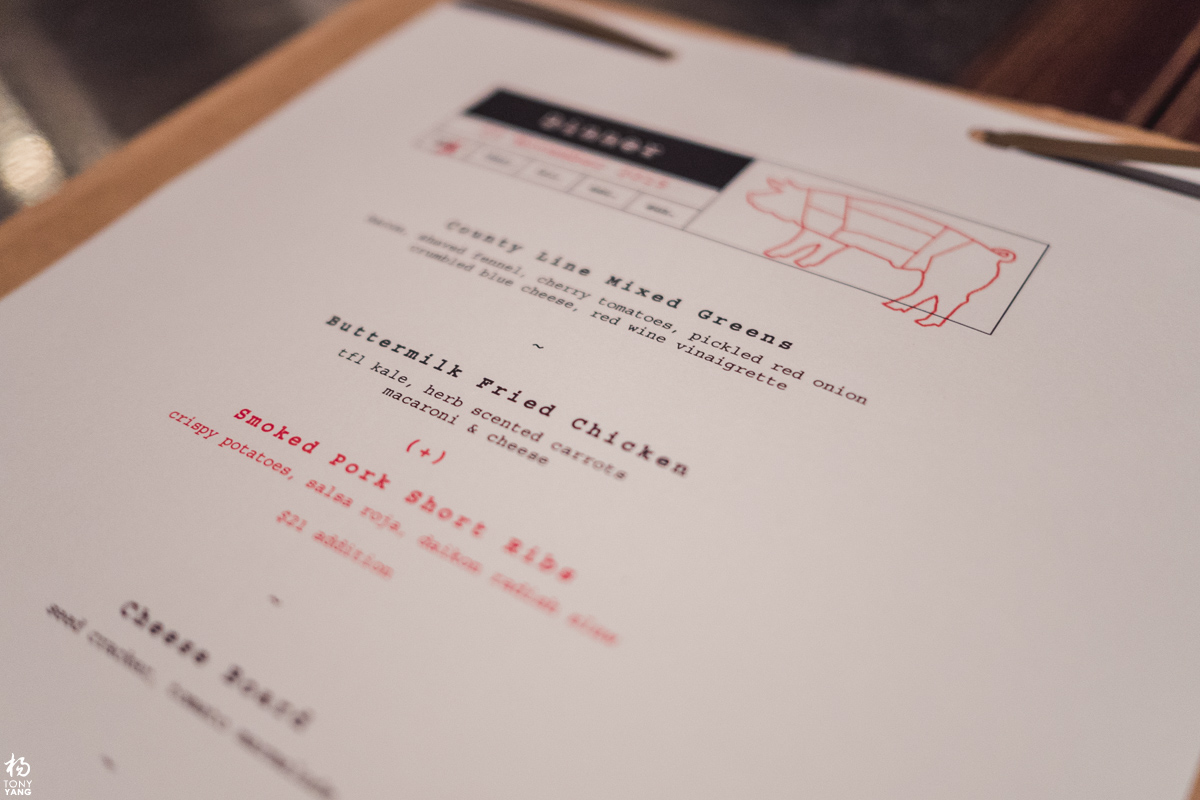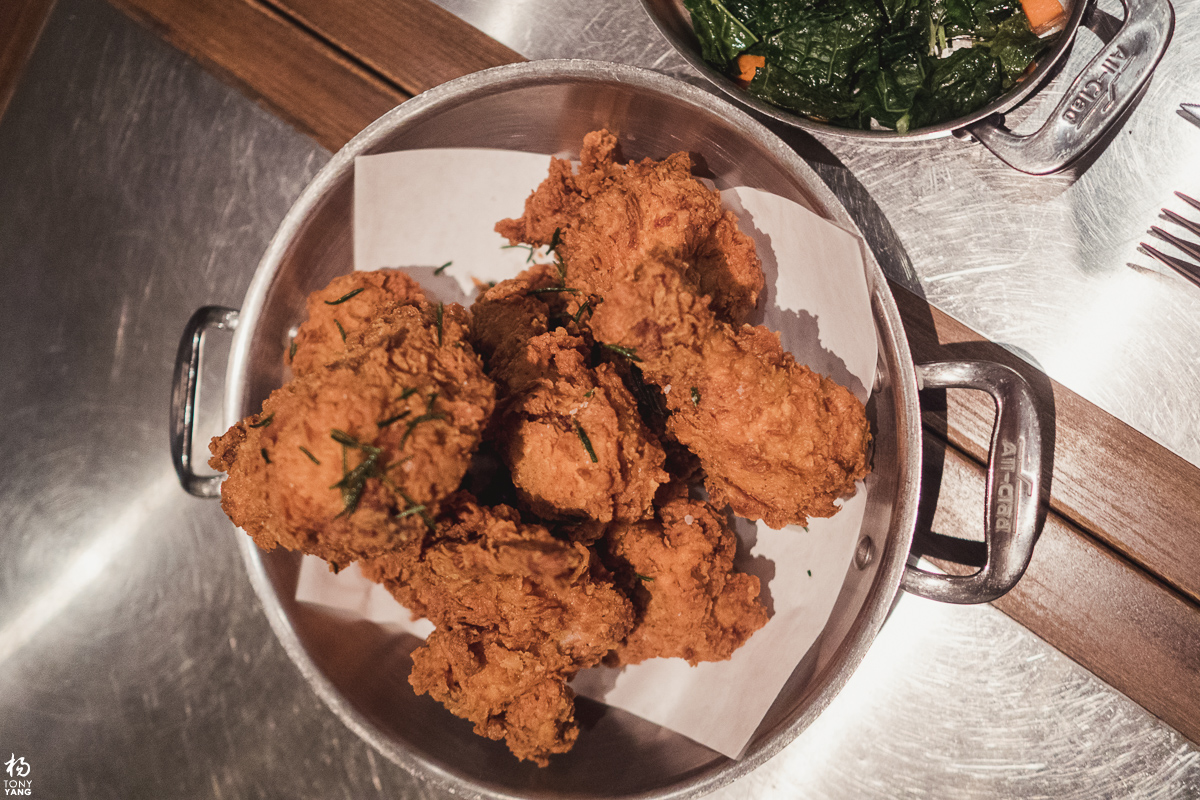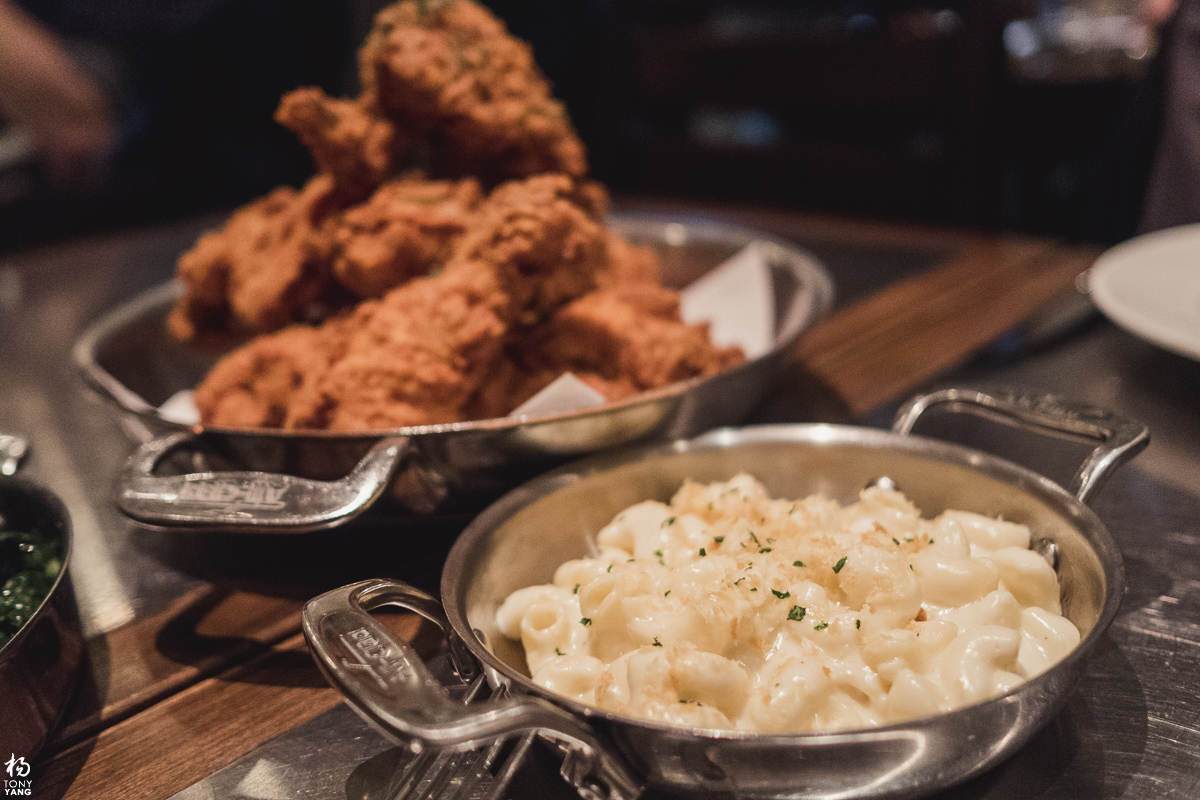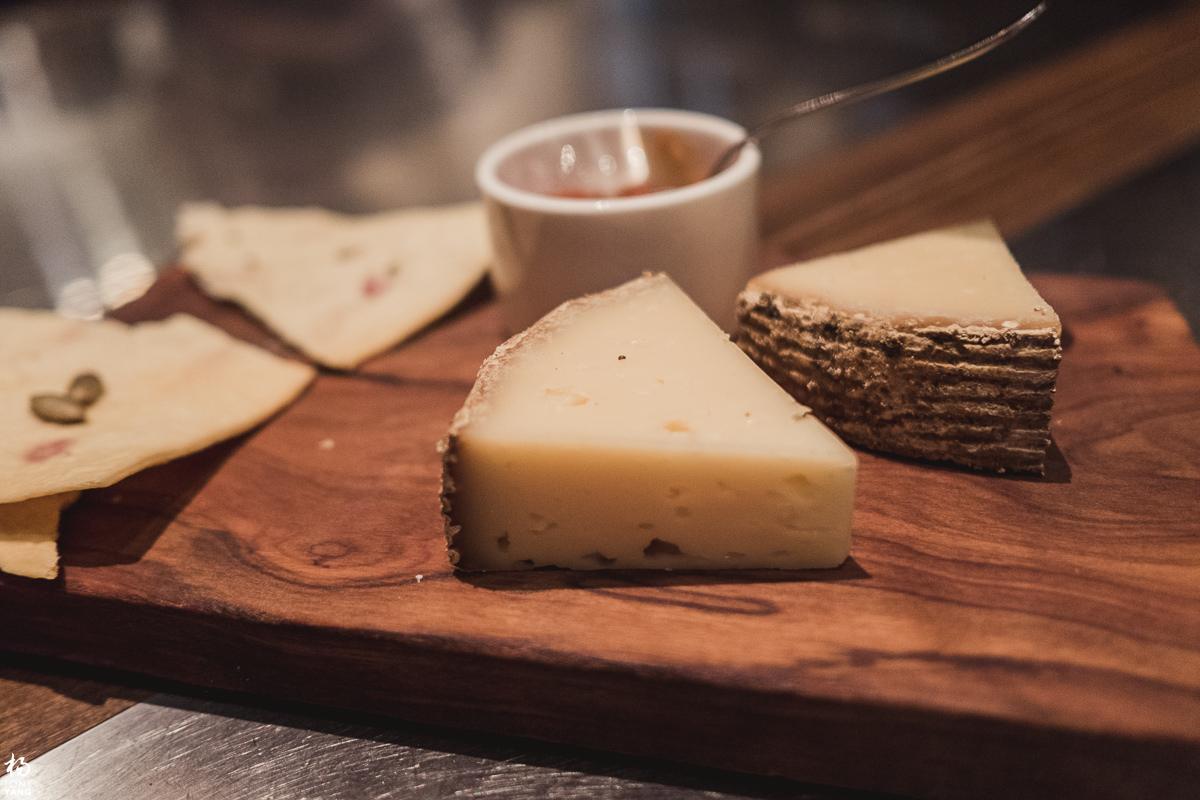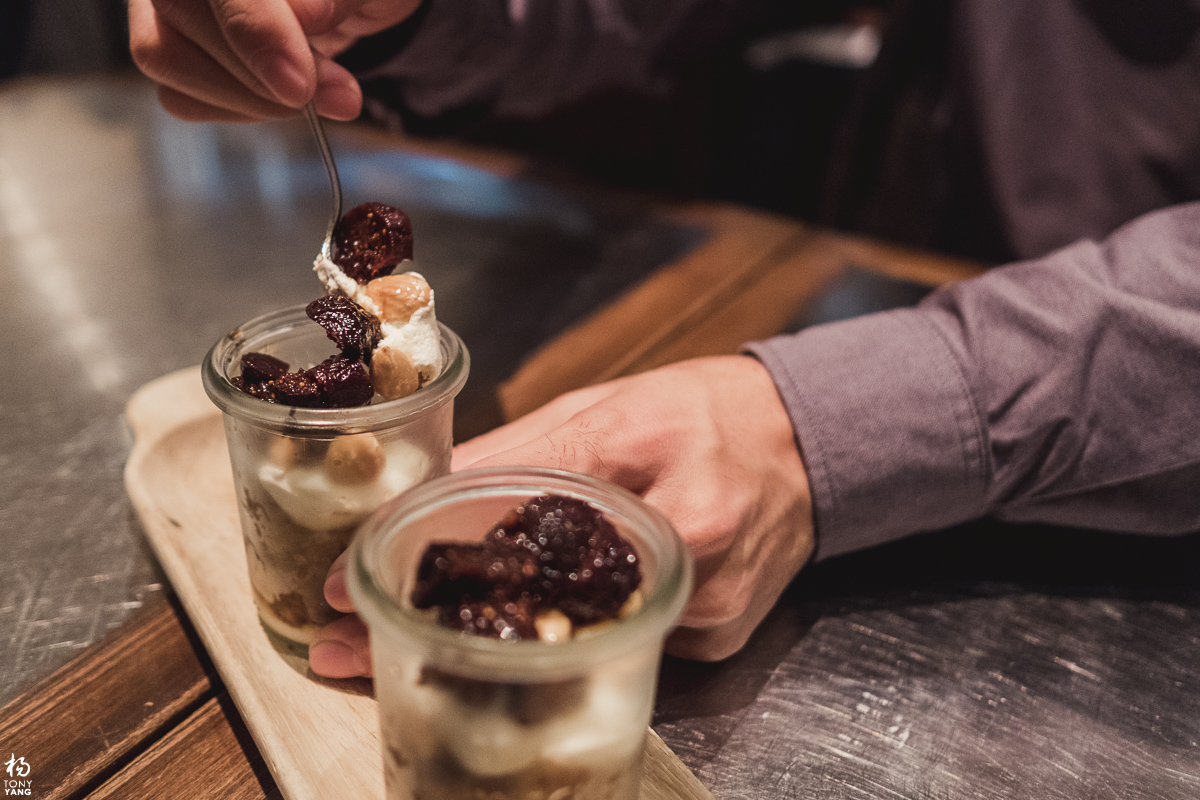 With our client engagement session done on the first day of the trip, we could relax and really enjoy ourselves for the rest of this road trip with no deadlines other than catching the flight home. We were headed south towards the Pacific Coast Highway, one of the most beautiful drives I had ever taken on my own, so I had to share the experience with the most beautiful woman in my life. On the way south was Big Basin Redwoods State Park, known for their giant Redwood trees. With my driving playlist ready, I was incredibly excited to take those endless slaloms and hairpin turns through some really large tree trunk obstacles with fall leaves blowing behind my trail.
When planning a massive road trip with a surprise proposal somewhere in the middle of the journey, I had to be flexible to make last minute changes to plans without making the significant other suspicious. My original proposal idea was to record our drive on the Pacific Coast Highway, pull over by the coast with her, pretend to take some selfies, then kneel down in front of the GoPro. I had already planned the vessel in which to carry her engagement ring, a ring bear! Technically it was a Rilakkuma purchased from Mitsuwa, with a convenient zipper pouch in his back. Luckily I was able to hide it in our luggage without her discovering it. During our spirited drive through the Redwoods, hours before we even hit the PCH, something about this magical location made me think it would be perfect for the proposal, since bears naturally live in the forest and not the beach. We drove to the center of the park at the visitor's center. I told Olya we should do a photo session with the trees, and her being my muse, never refuses a photo shoot. I planned ahead telling her to bring a white dress to shoot in the forest,  and even though it was cold and damp, it was a wonderful and magical experience being able to see her like a forest princess.
After she thought the session was done, I took her to the large hollow tree trunk where all the tourists take photos. I wanted to take selfies with my beautiful girlfriend inside the tree too, so I setup the tripod for us as she eagerly waited. Once the self timer started, I escorted her into the tree and practiced as many romantic poses as I could think of, trying to plan my move, eventually kneeling down on my knees, with my ring bear revealed, and told her the words I wanted her to hear. While you can see the whole video here, the most amazing moment was after she said yes, after the applause from the tourists, a random woman from a church group came up to us and asked to pray for our new journey together. The moment she started praying, the rain clouds parted for us, the warm sun hit our skin, and everything in the world felt like it was meant to be. I don't think the proposal could have happened any better. She didn't really cry until we were on our way to lunch, she called her mom with the good news and all the emotions poured out. Needless to say, our trip continued wonderfully because she said yes.
Why a sapphire engagement ring? I spent days going to every jewelry store to find a stone that would best represent how I felt about my princess, and what better ring than the same one that Princess Diana and Princess Kate wears?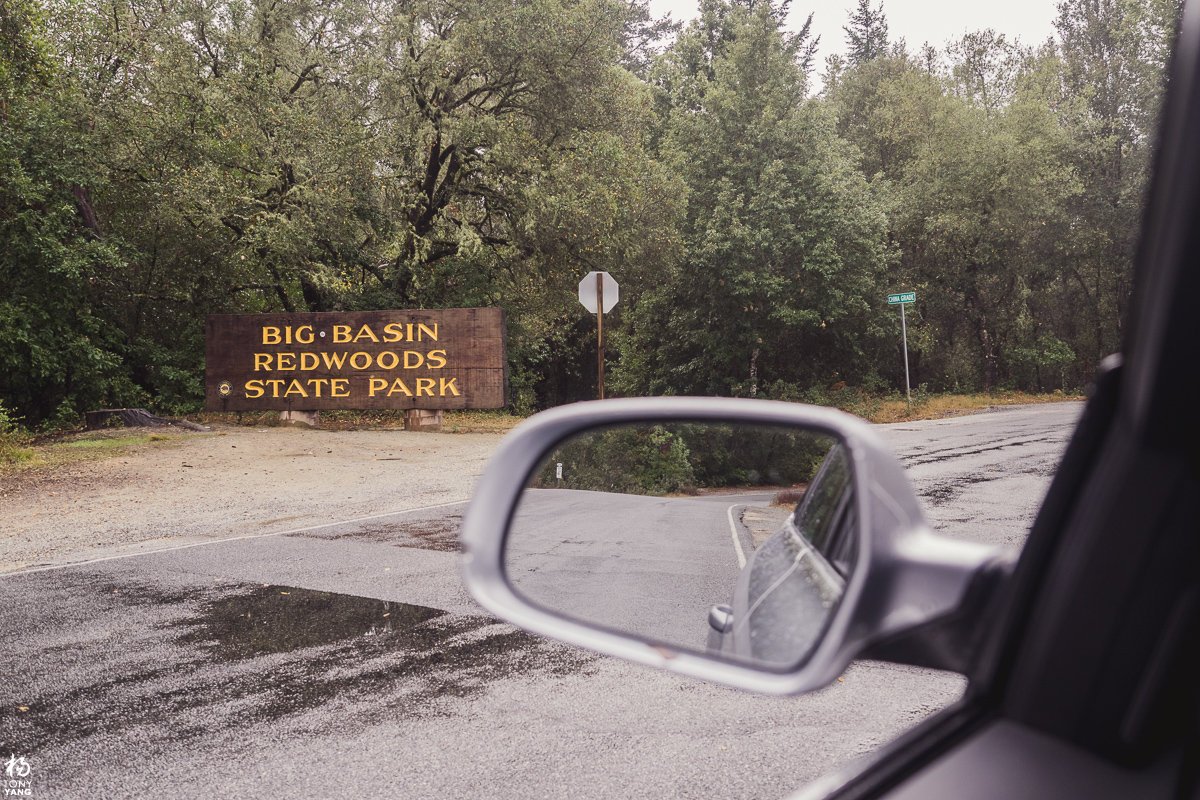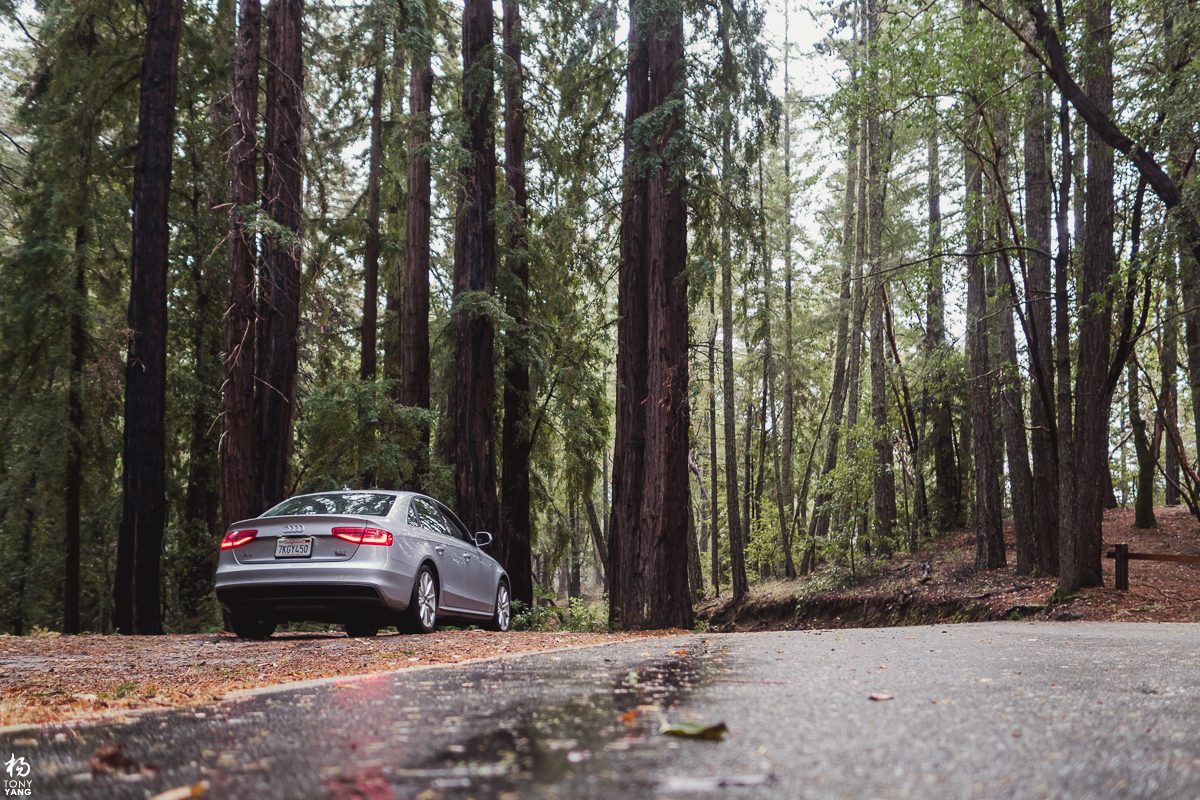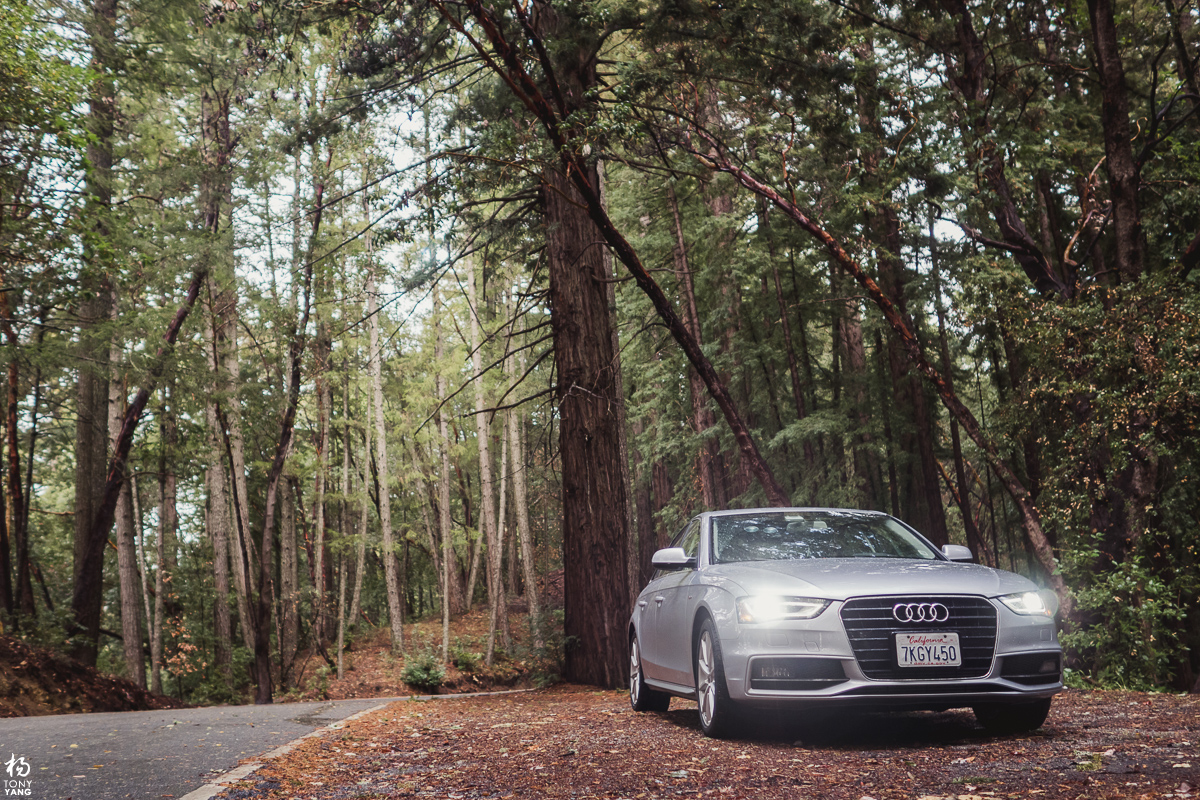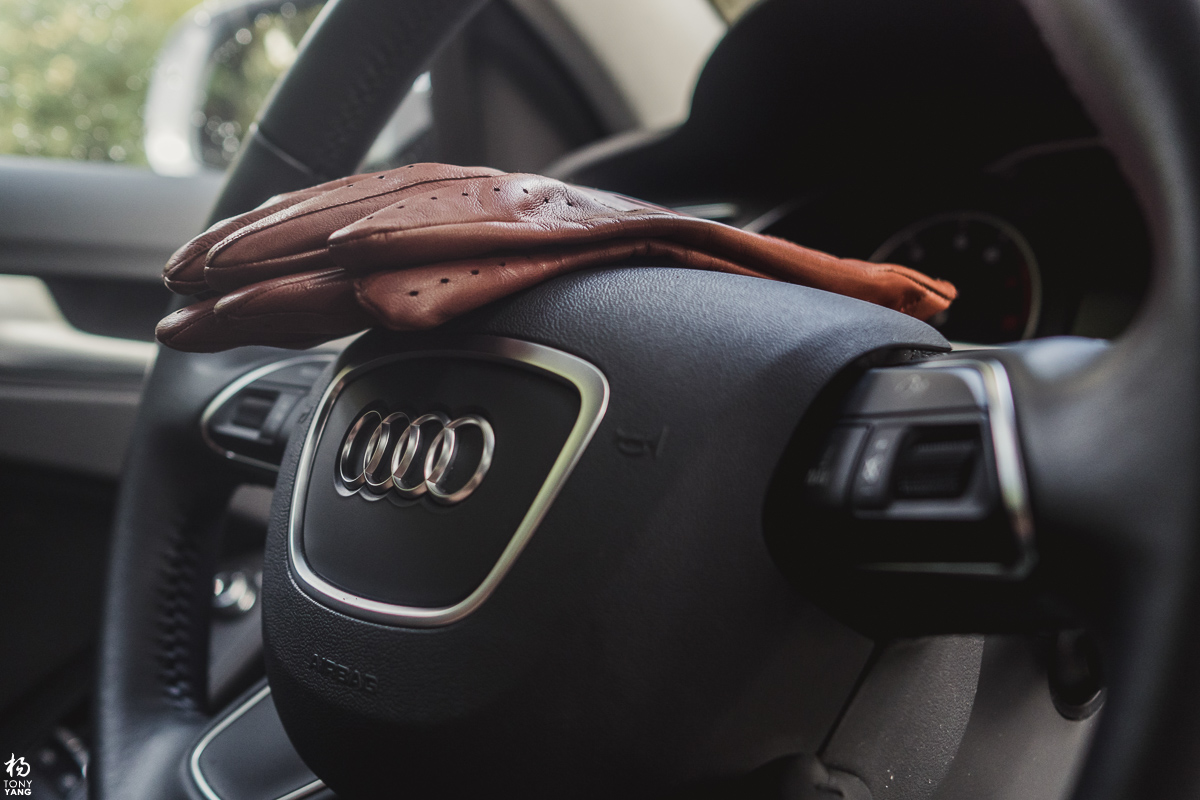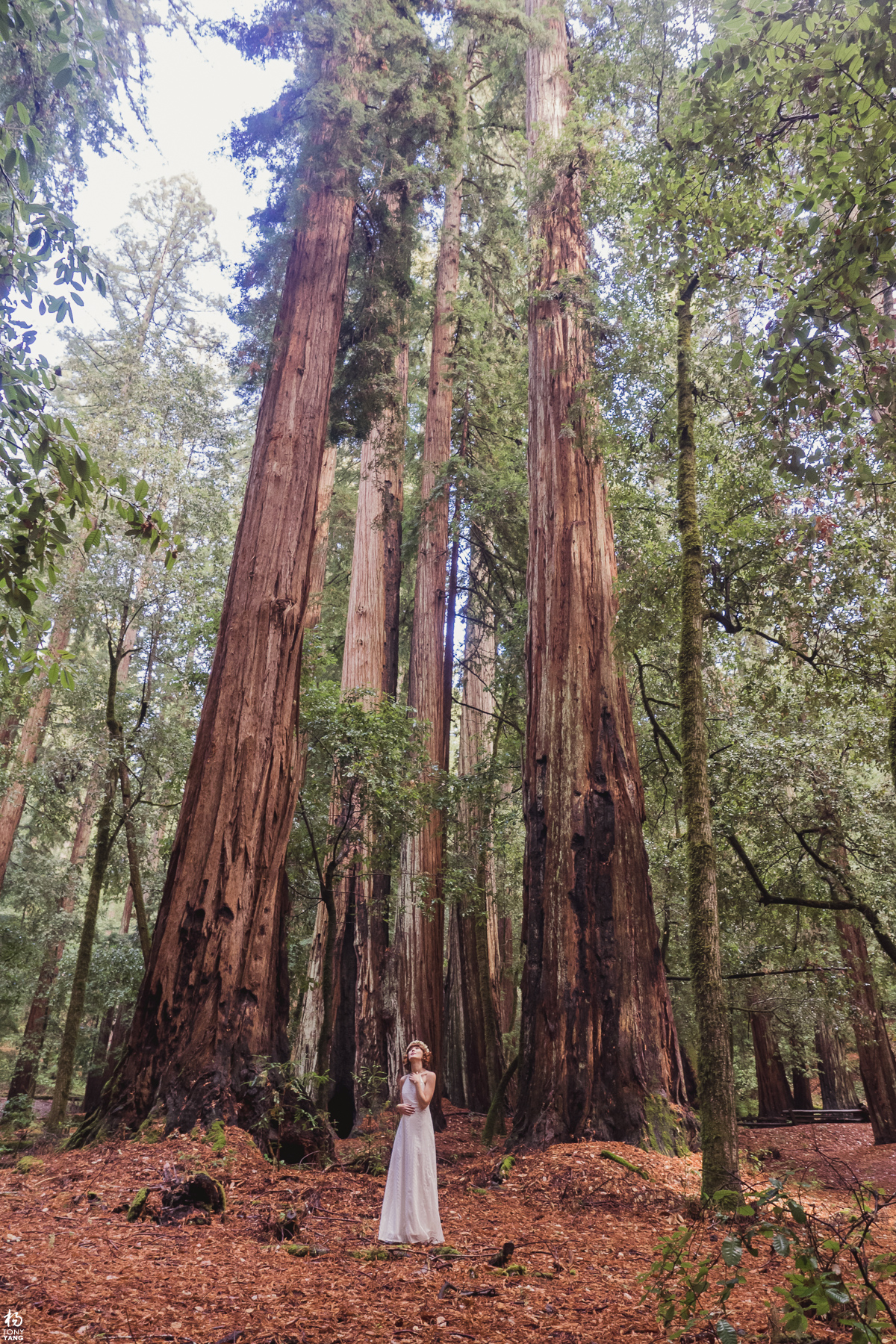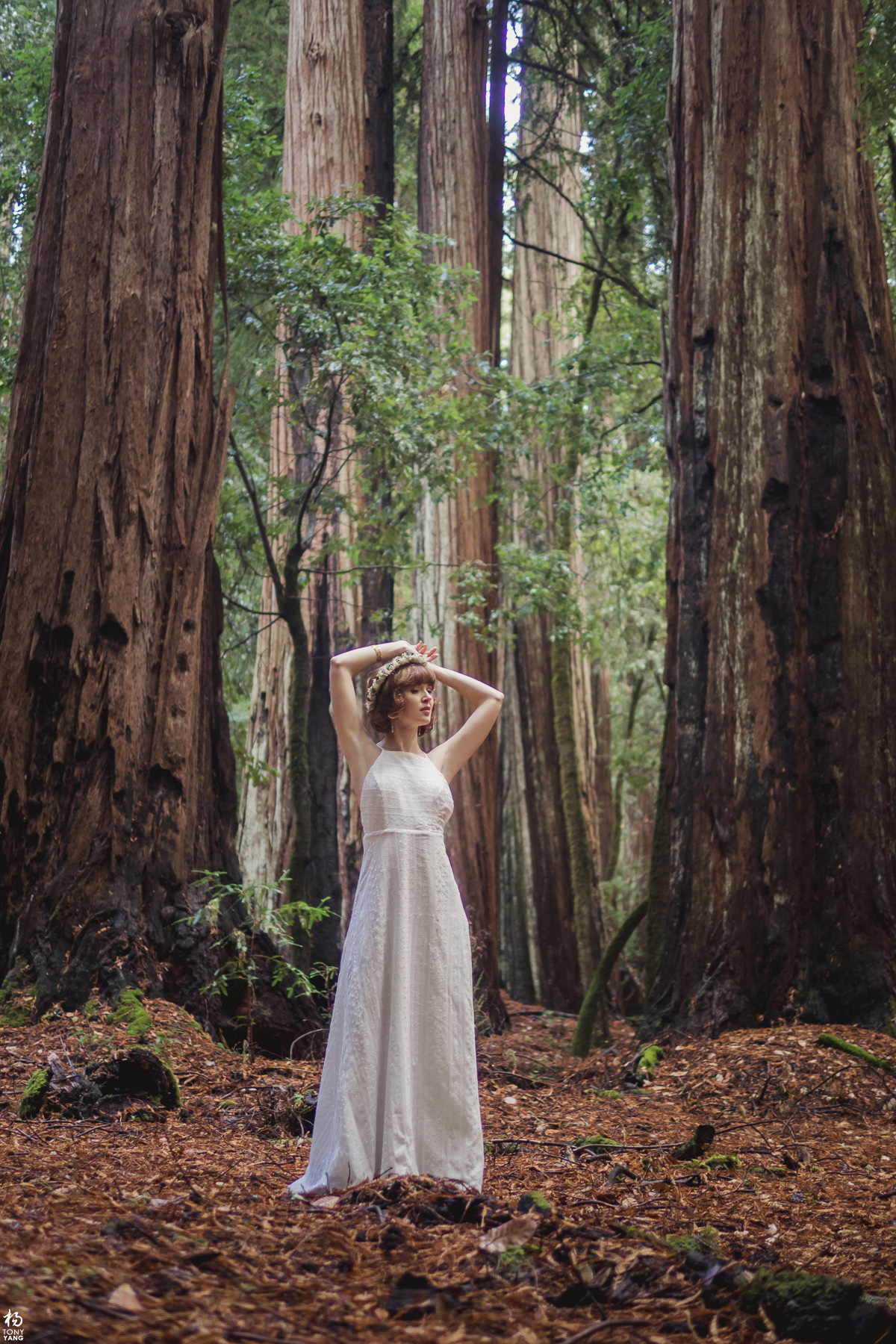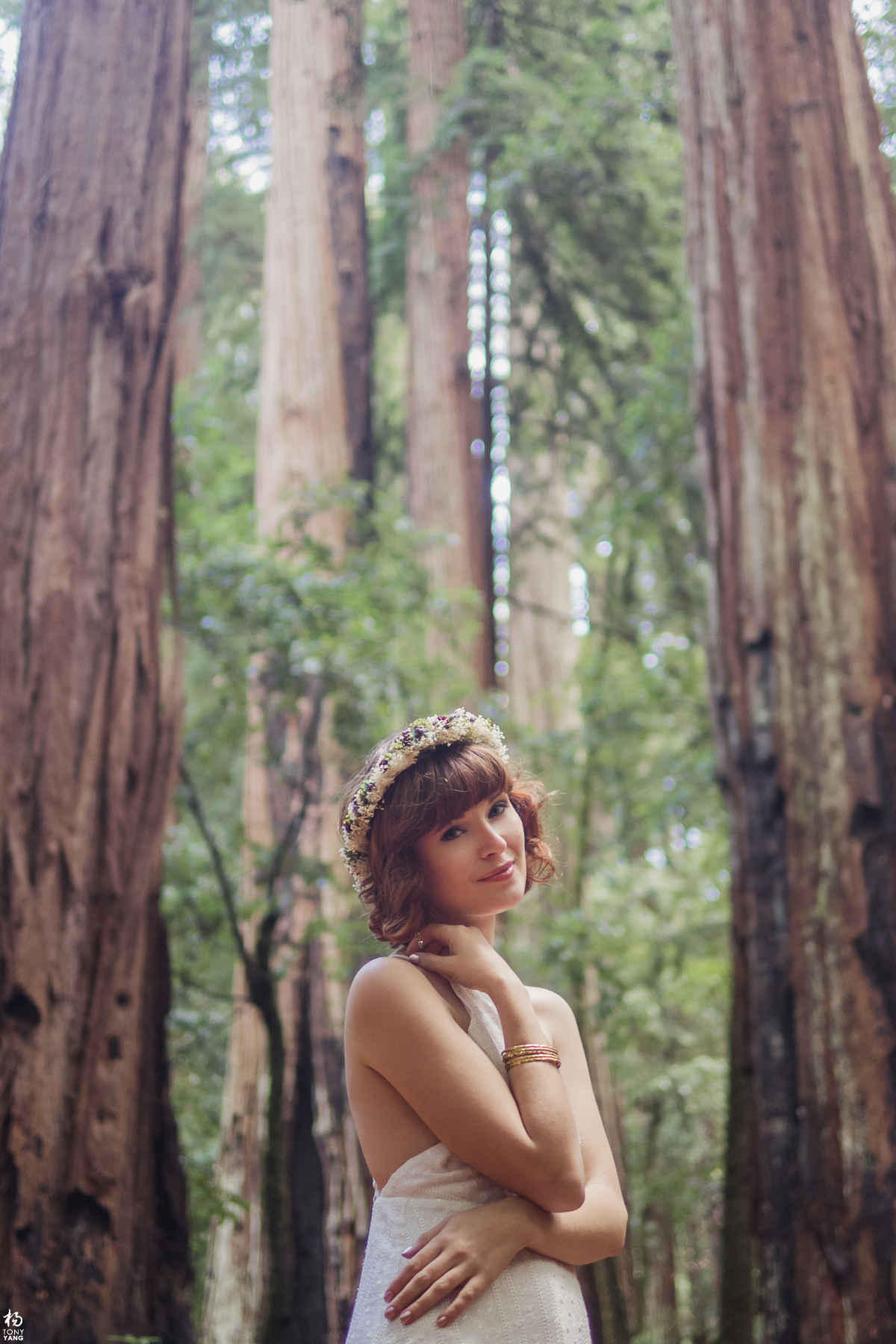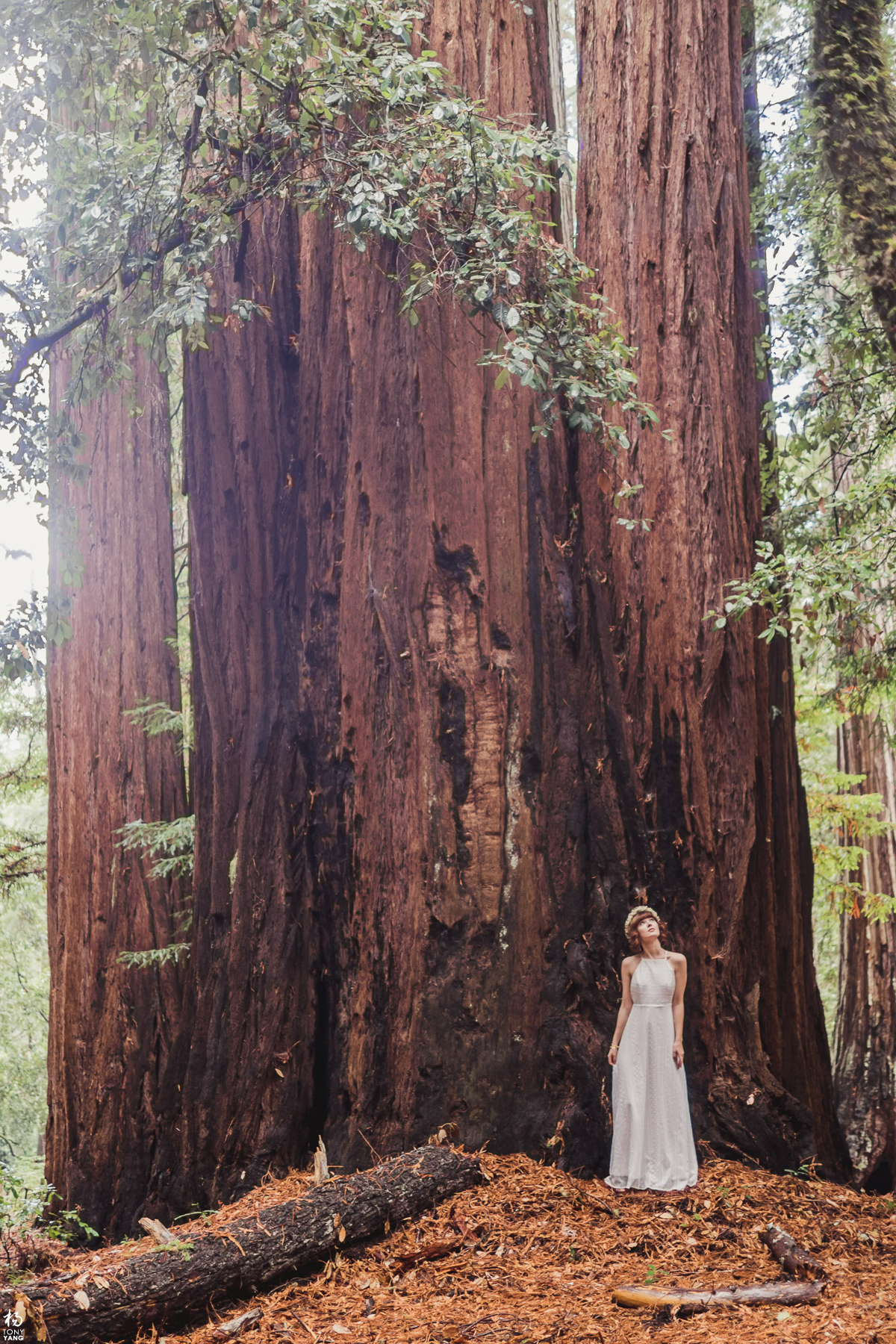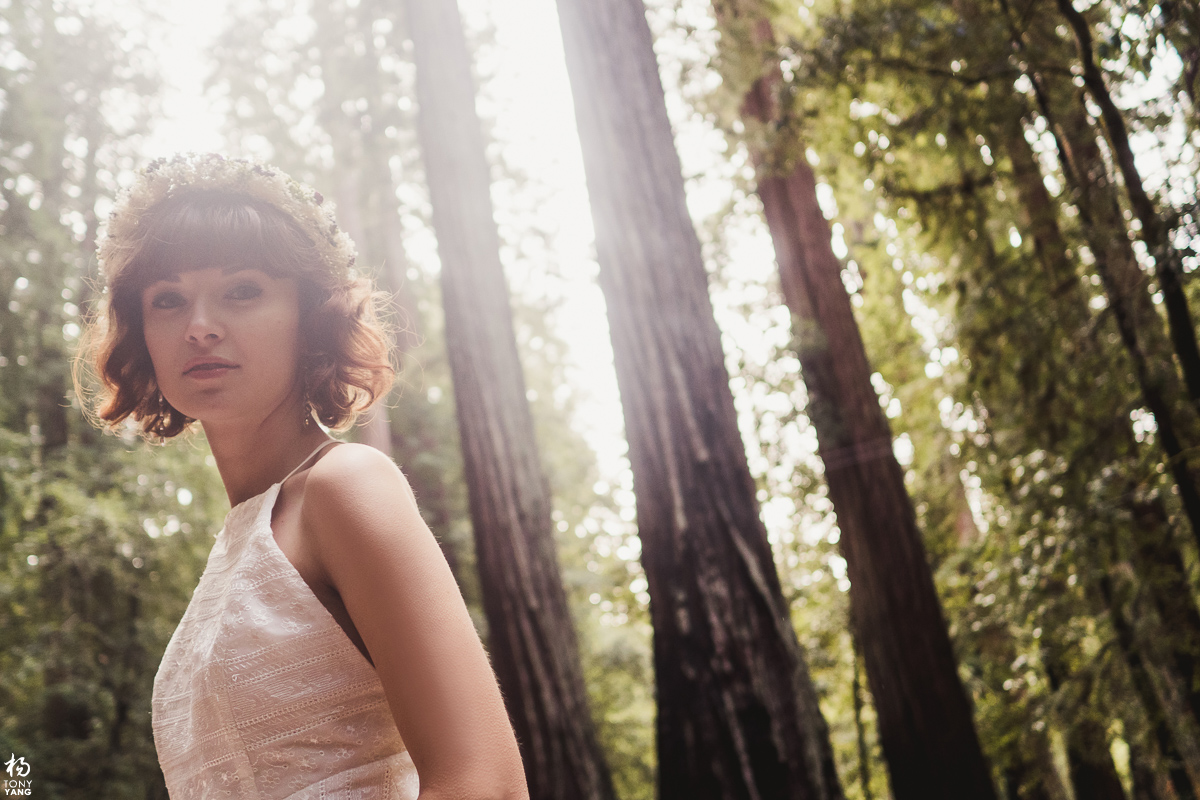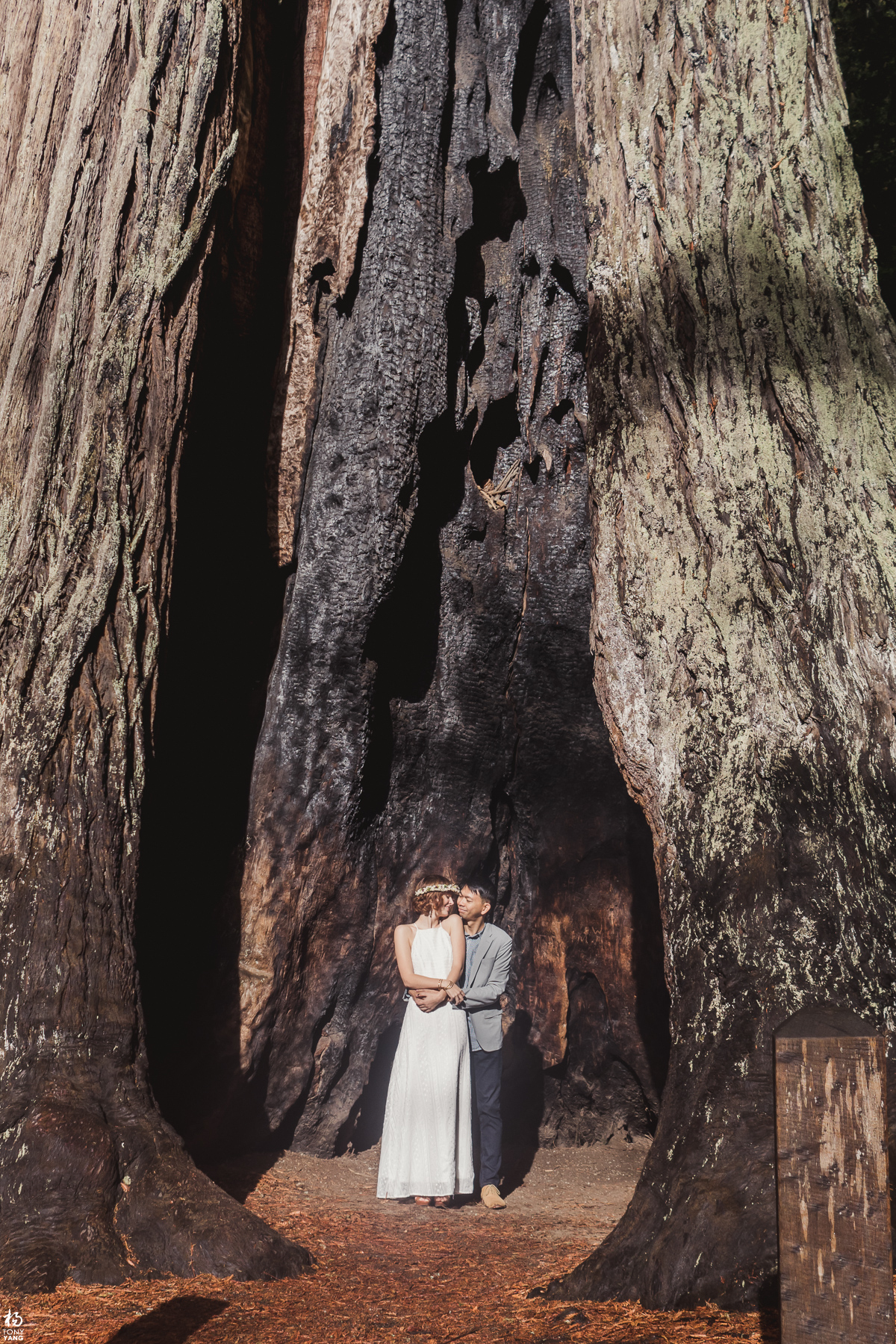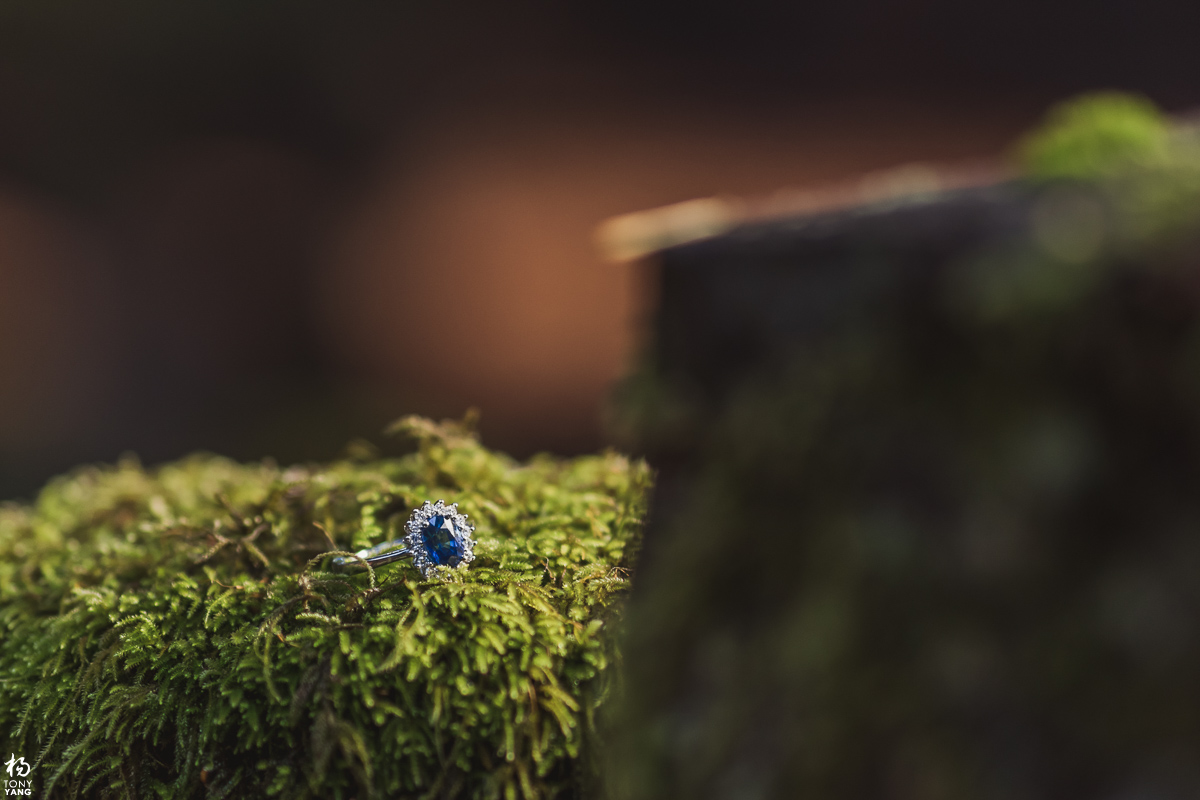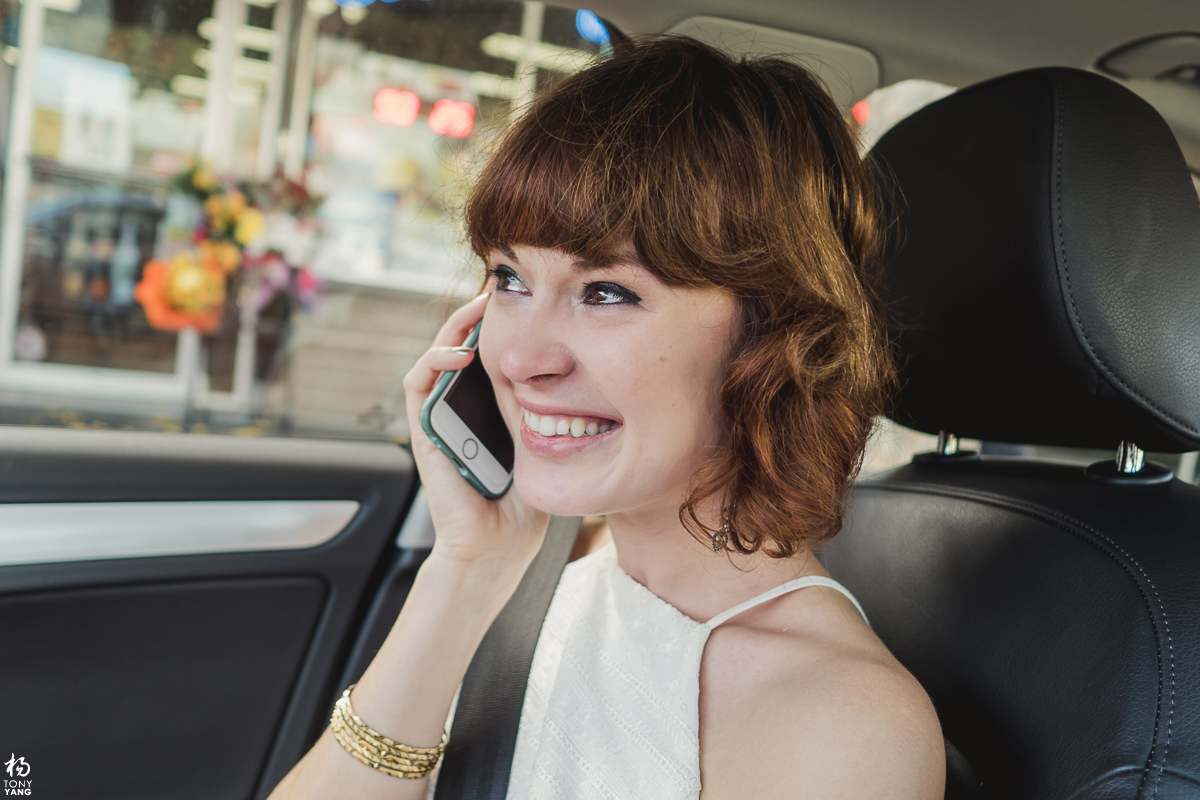 Thankfully I did propose to Olya at the Redwood park, by the time we were on the PCH, the sun had set and we were doing some serious cliff driving in total darkness. There are no street lights and maybe only one gas station down Route 1. All of the photos below were taken in the middle of the night with no light sources other than refracted moonlight from the clouds, and 30 second exposures. The end results are definitely more dynamic than a broad daylight shot. I only wish I had a wider lens for landscape on my mirrorless camera.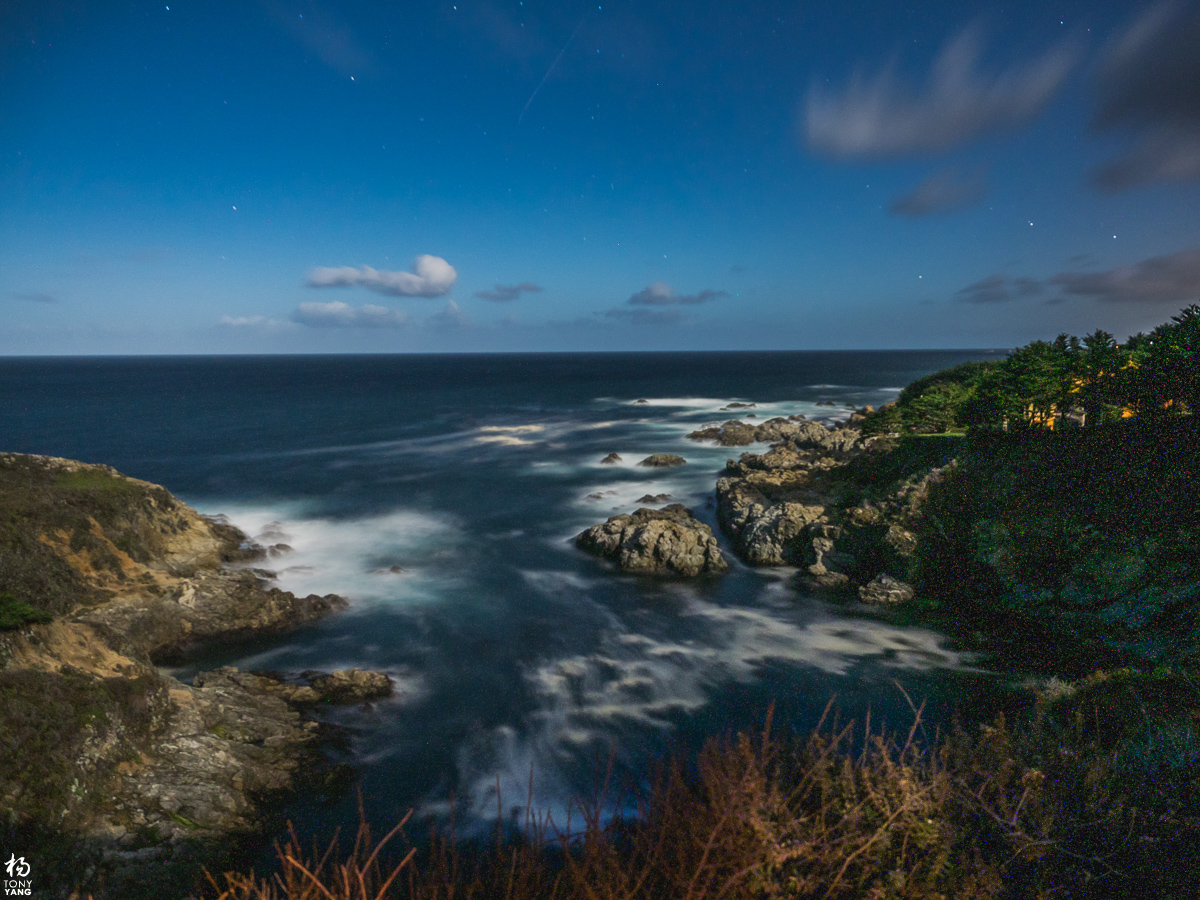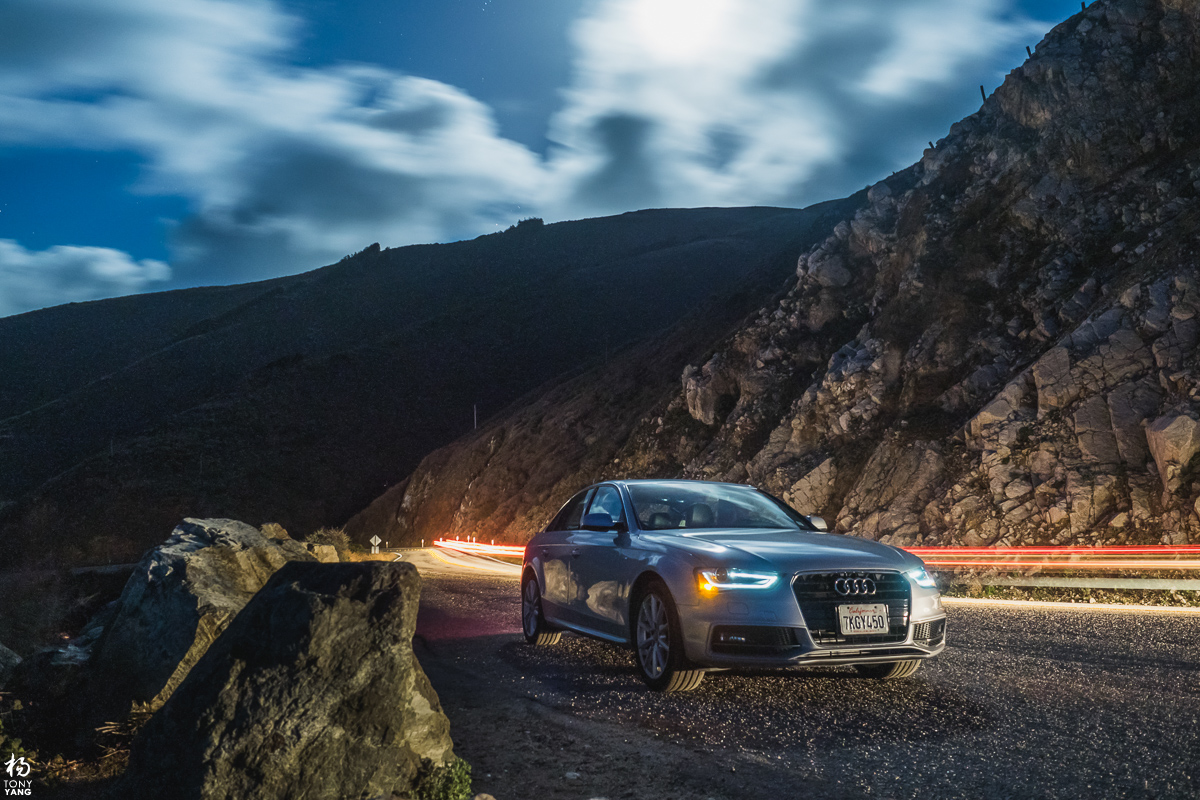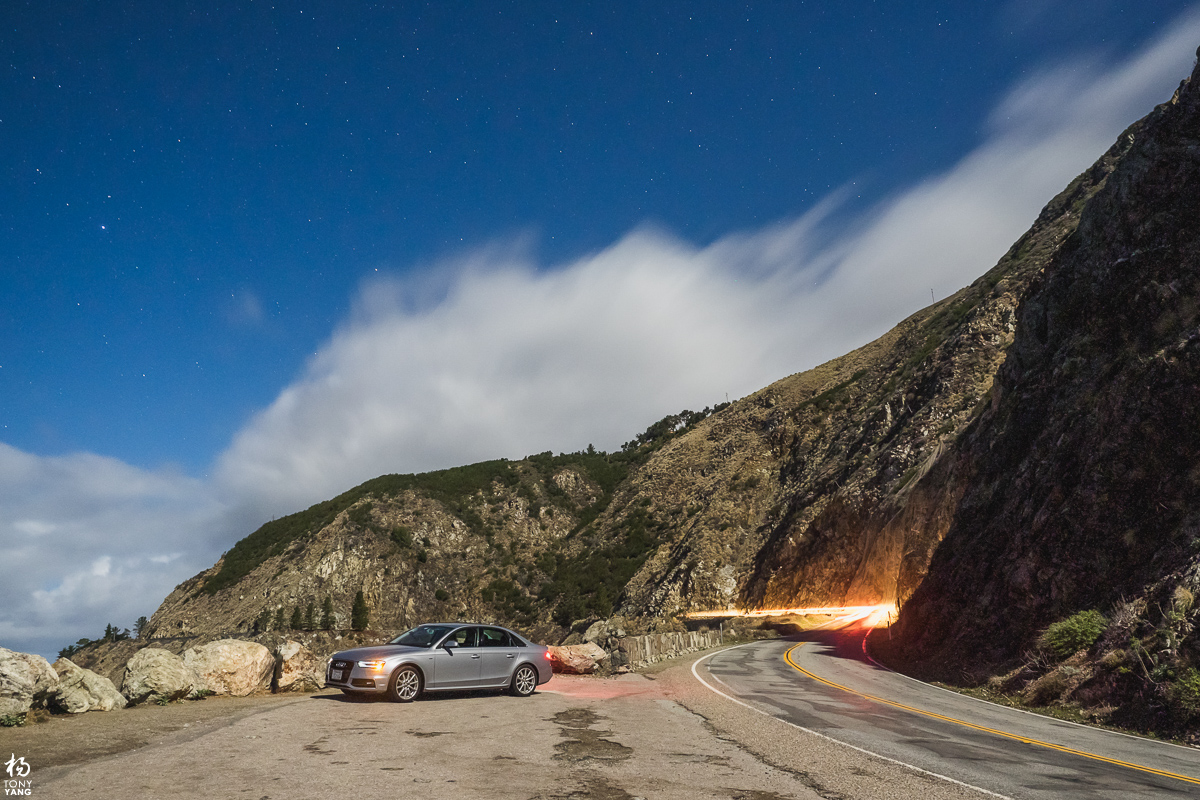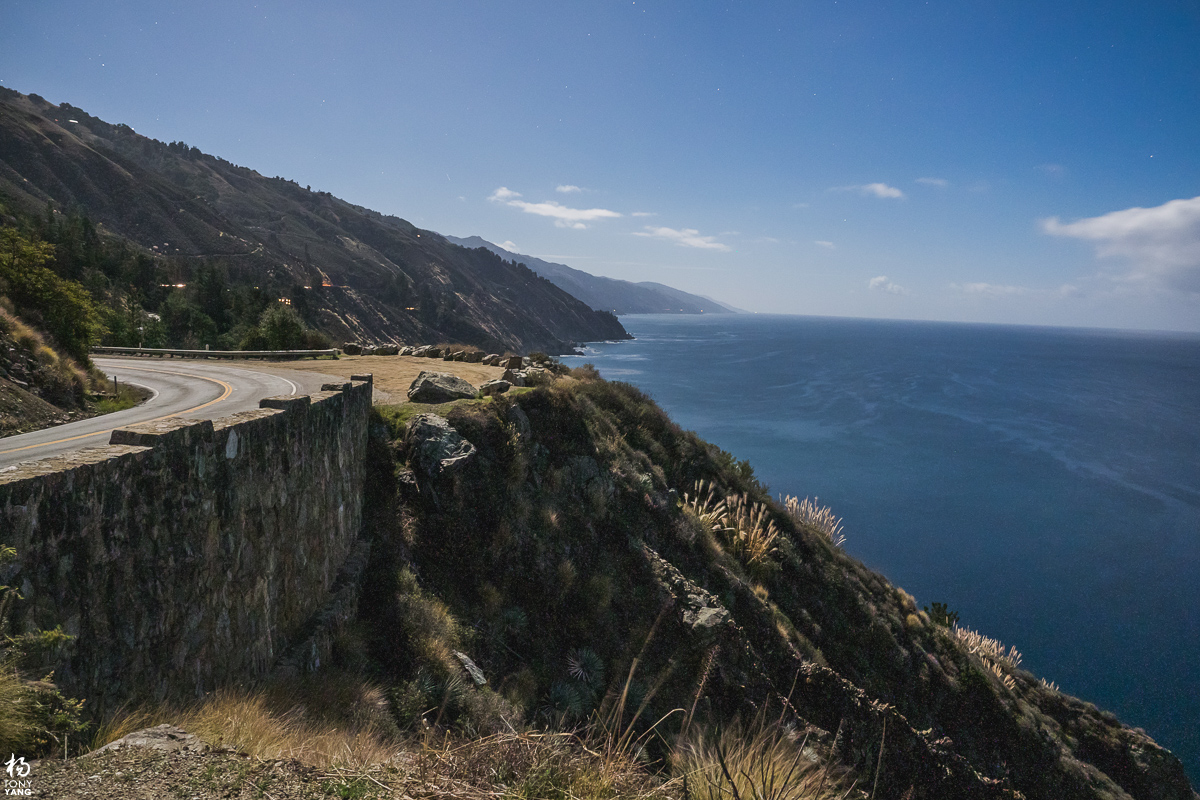 After a night at Silver Surf Motel off Route 1, we were ready to visit the Hearst Castle. On the way to the castle we spotted some sea lions on the beach, boy did they smell really really bad! A great restaurant right near the castle is Sebastian's Store with a big hearty burger that lasted us through the whole tour. Olya loves wearing pinup dresses made by Hardley Dangerous, and the castle is a great backdrop. The guided tour is worth trying, very educational and a glimpse into the extravagant life of Mr Hearst. After the tour, we were free to roam the outside property at our own leisure to take photos. Taking photos in public areas is all about patience and timing, waiting out the crowd to look like we have the property all to ourselves in the final shots. If all else fails, I can always edit out the tourists!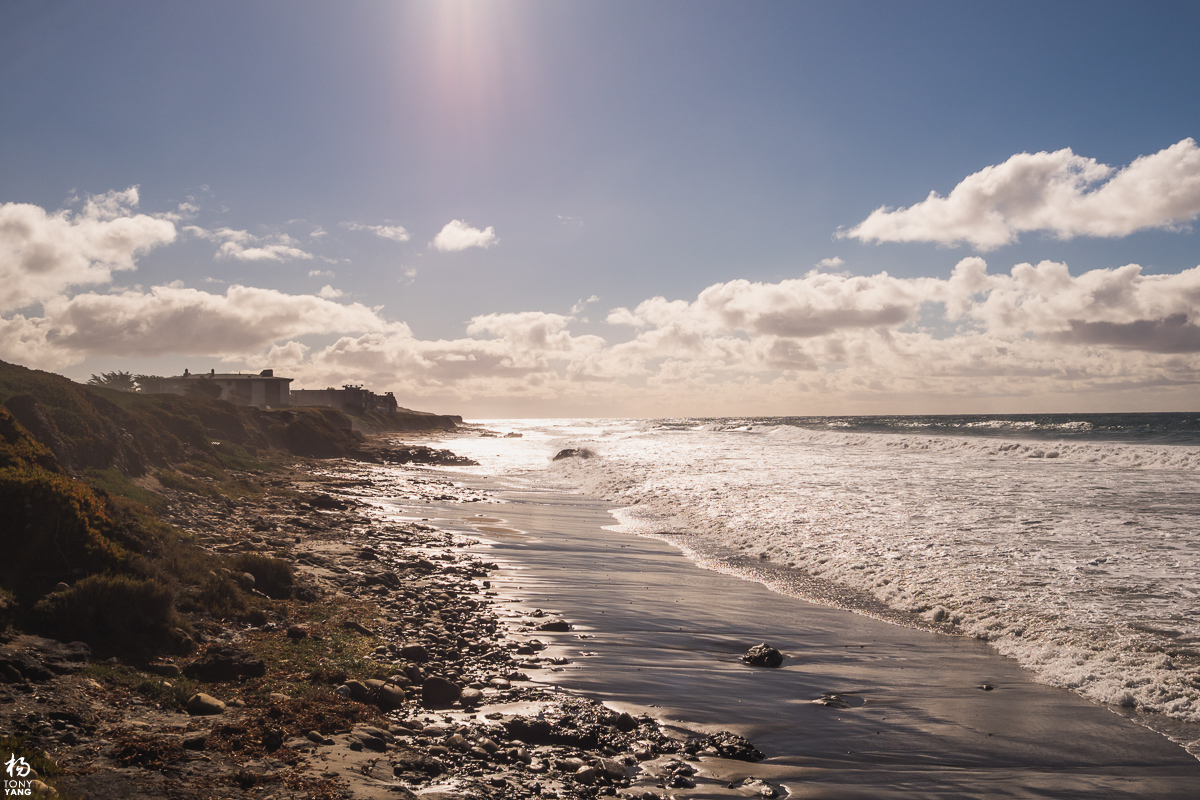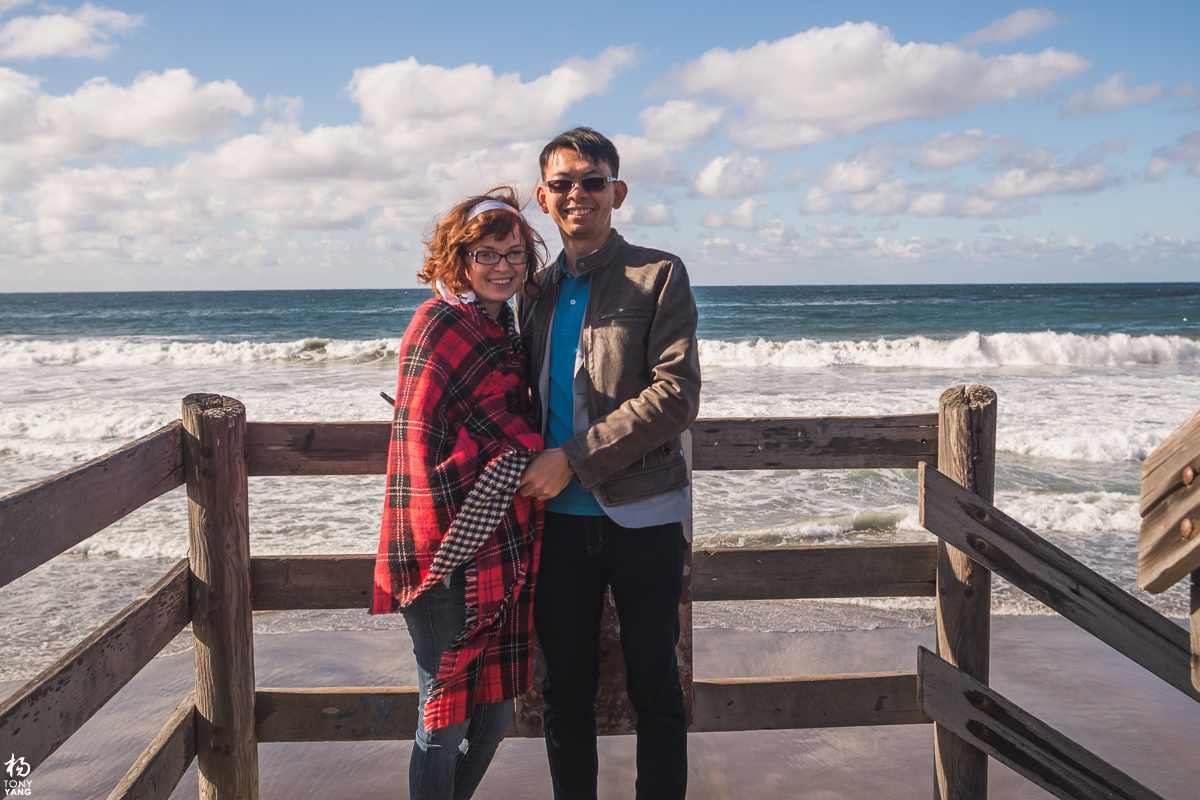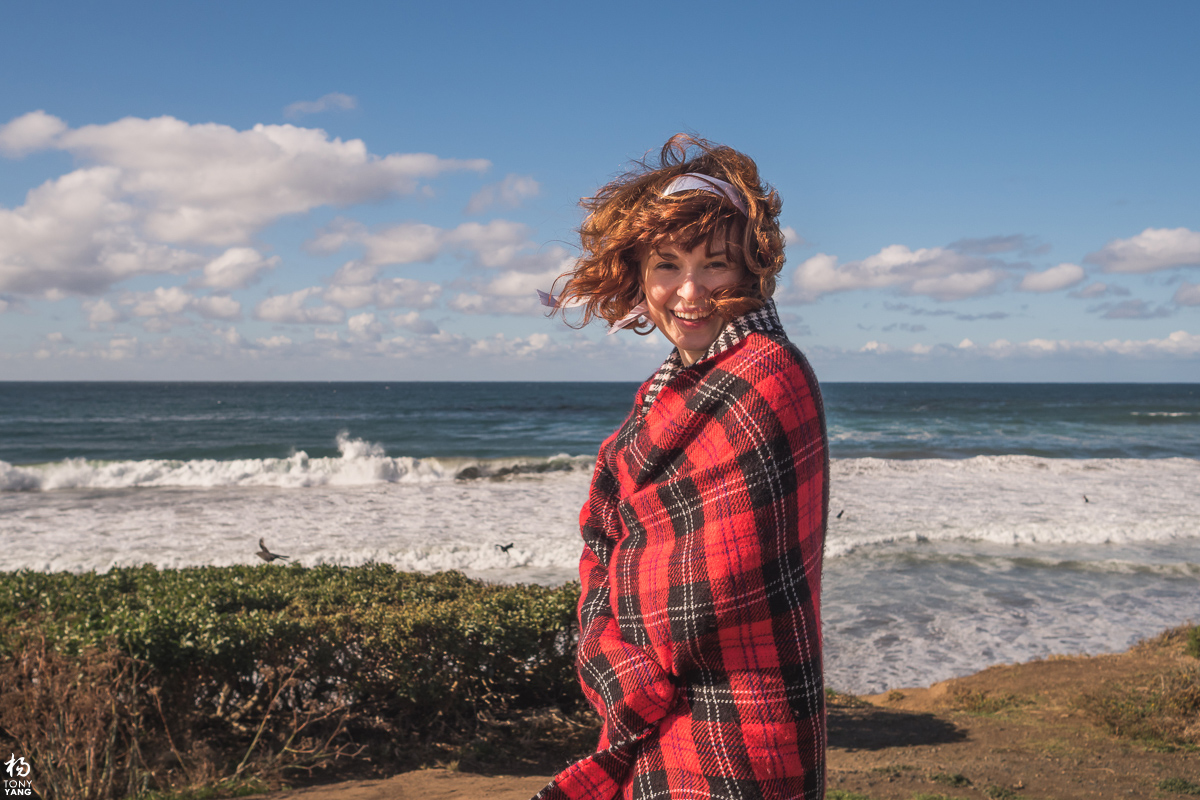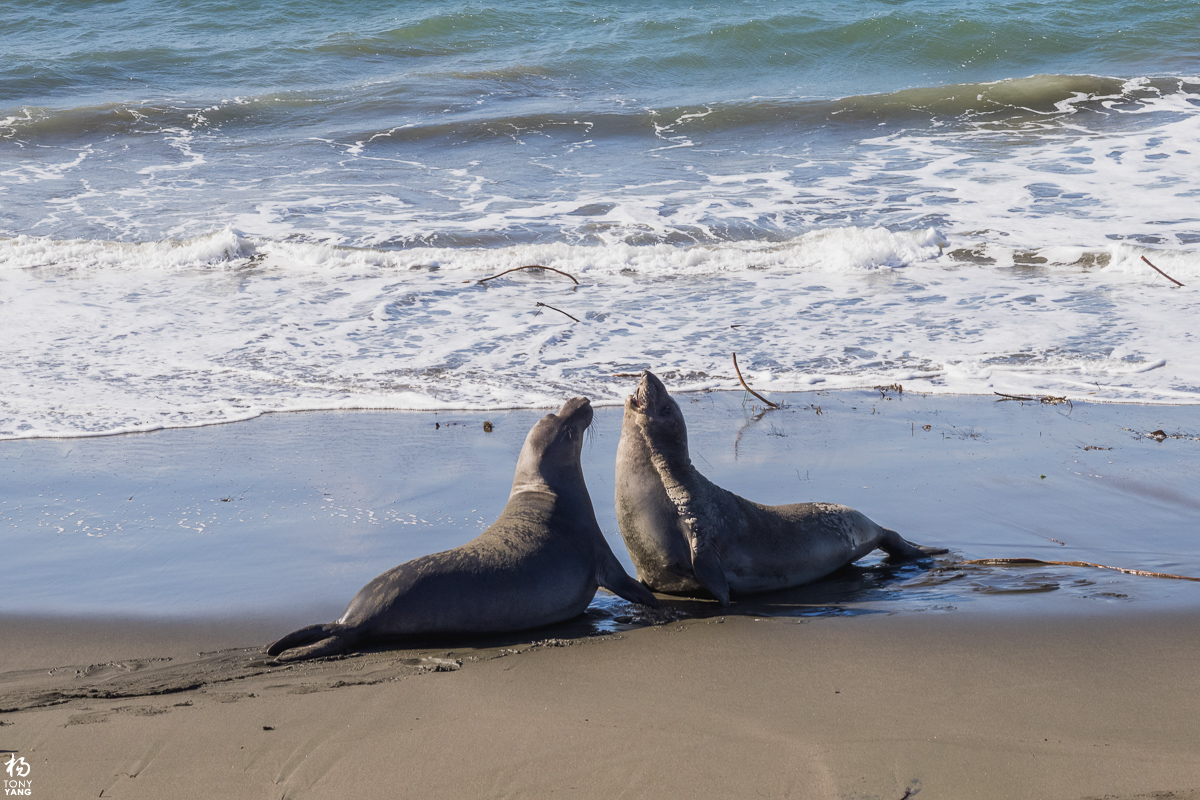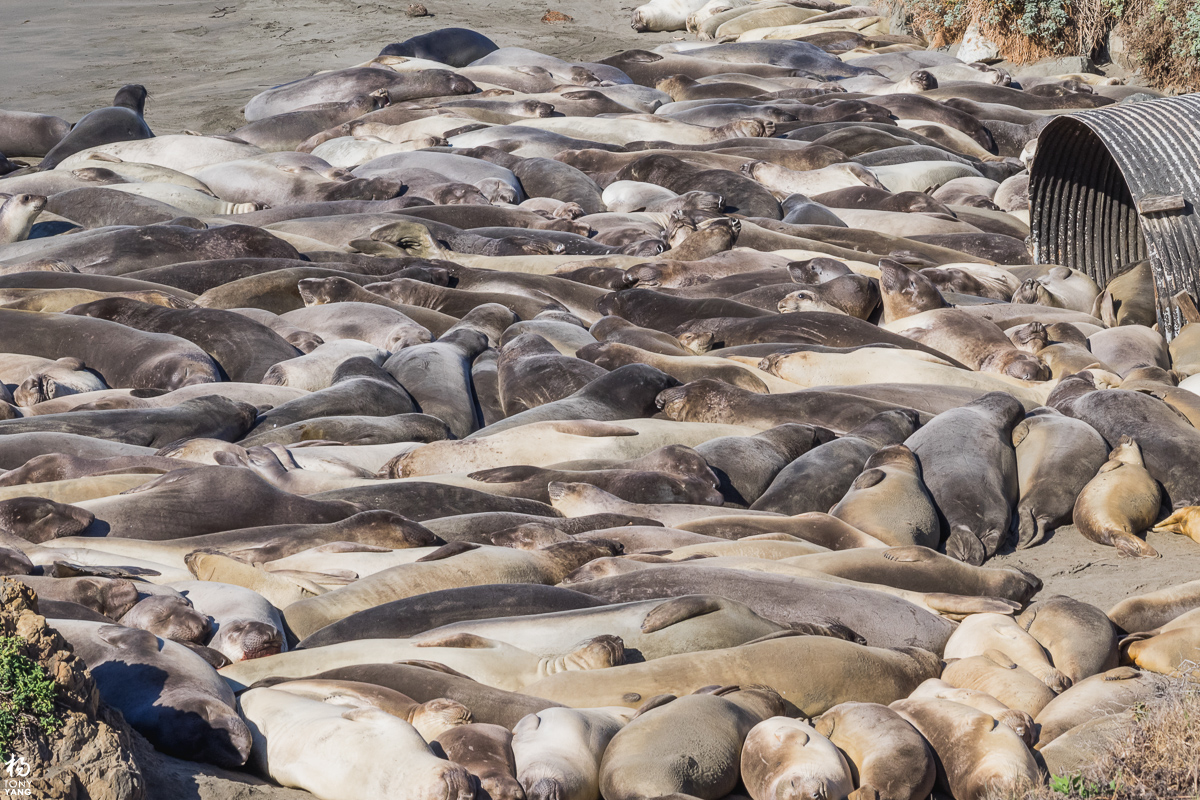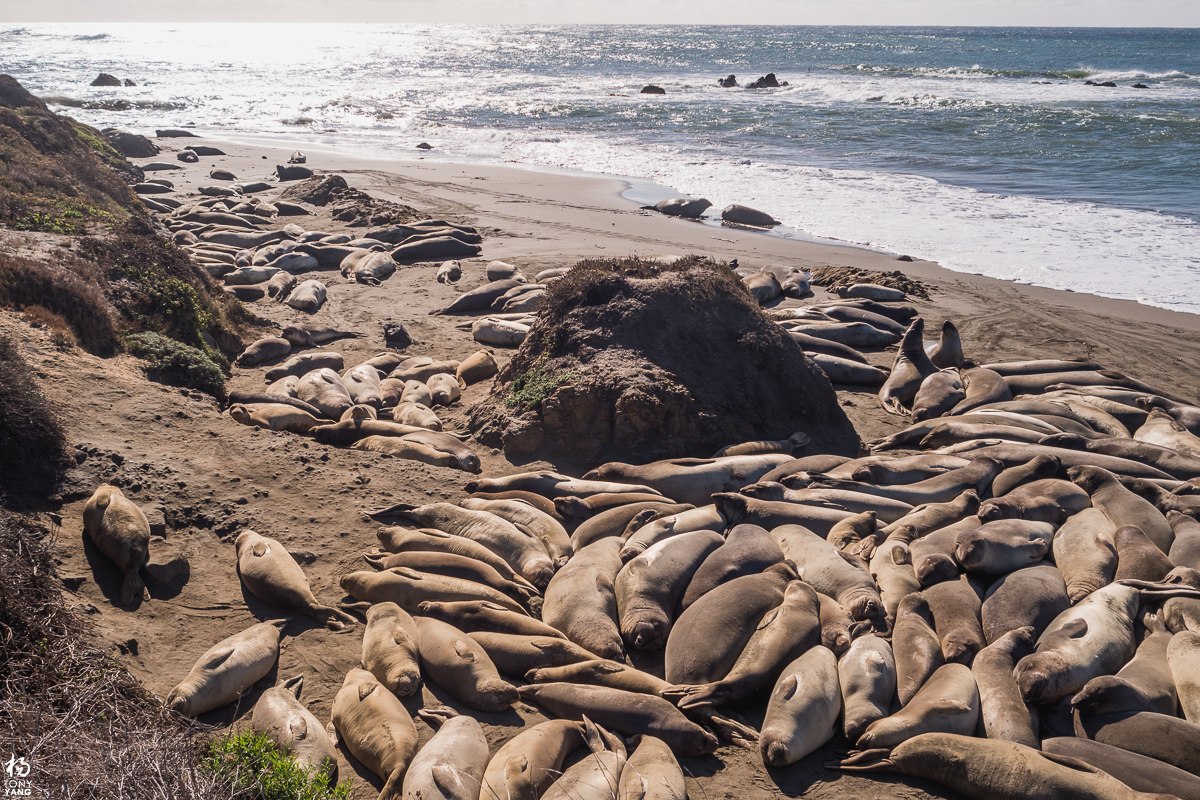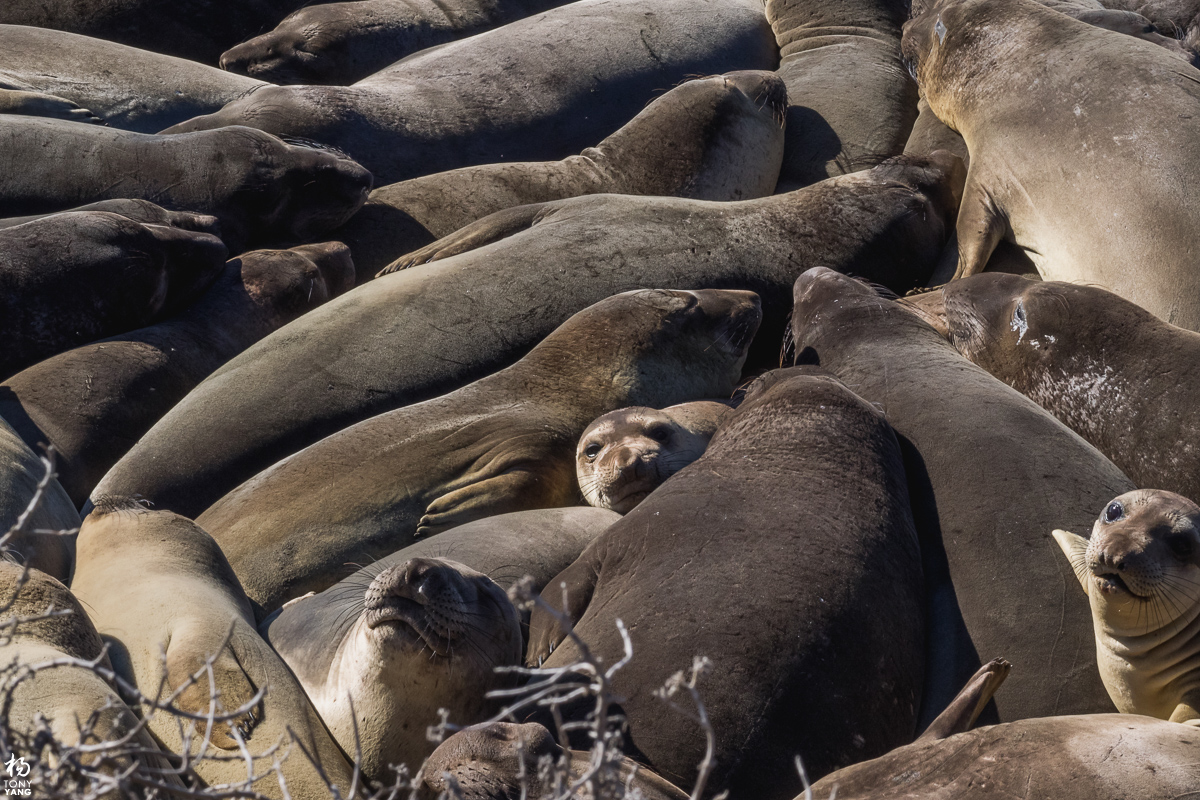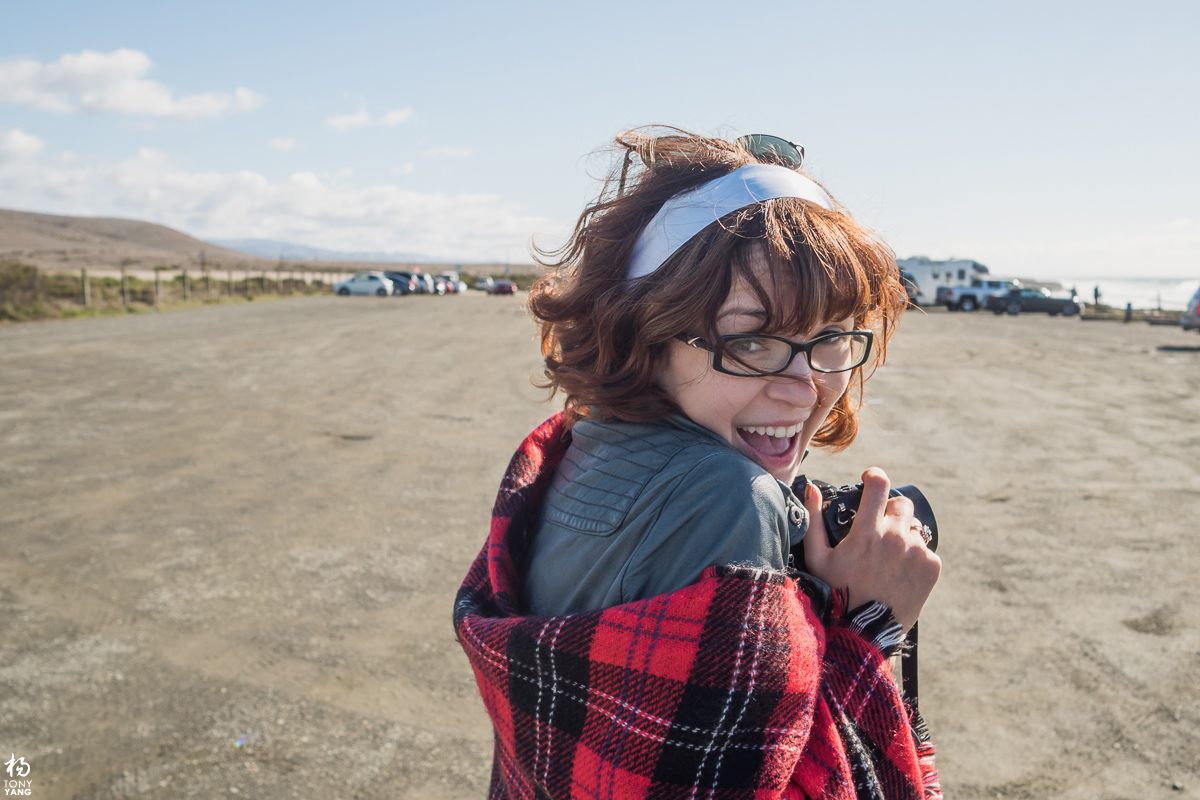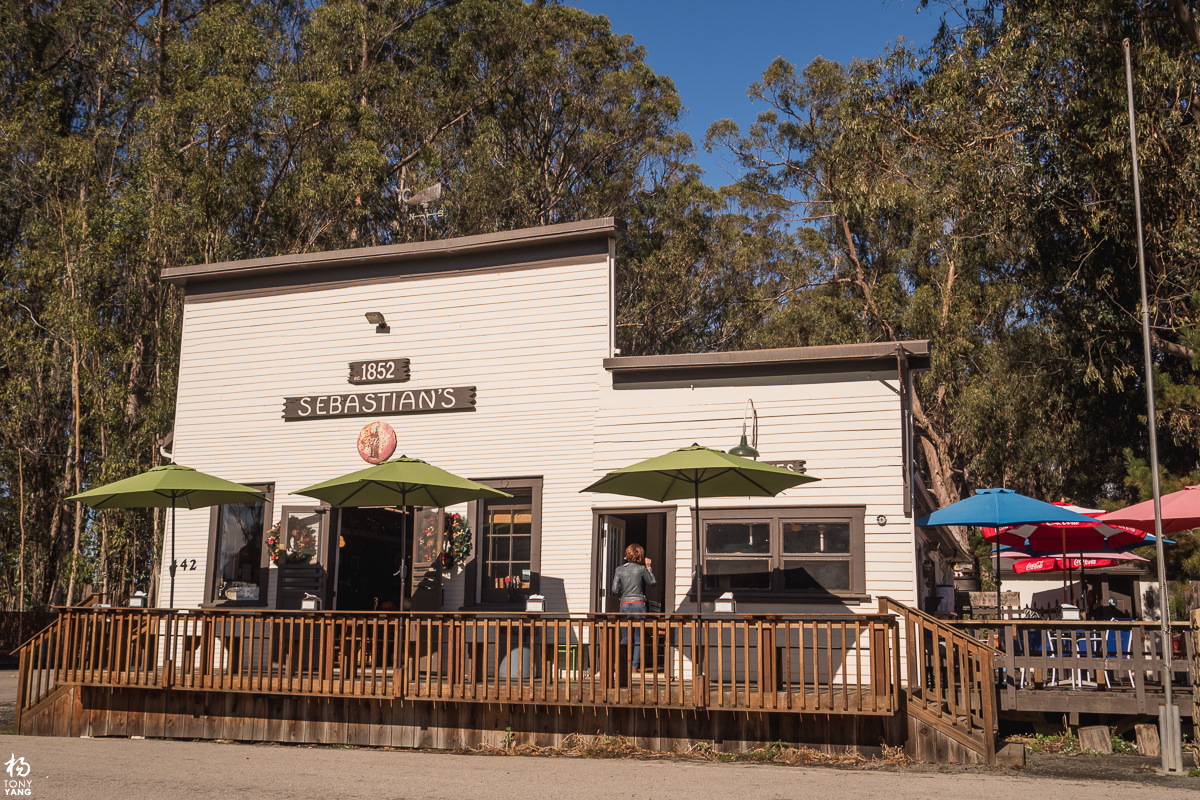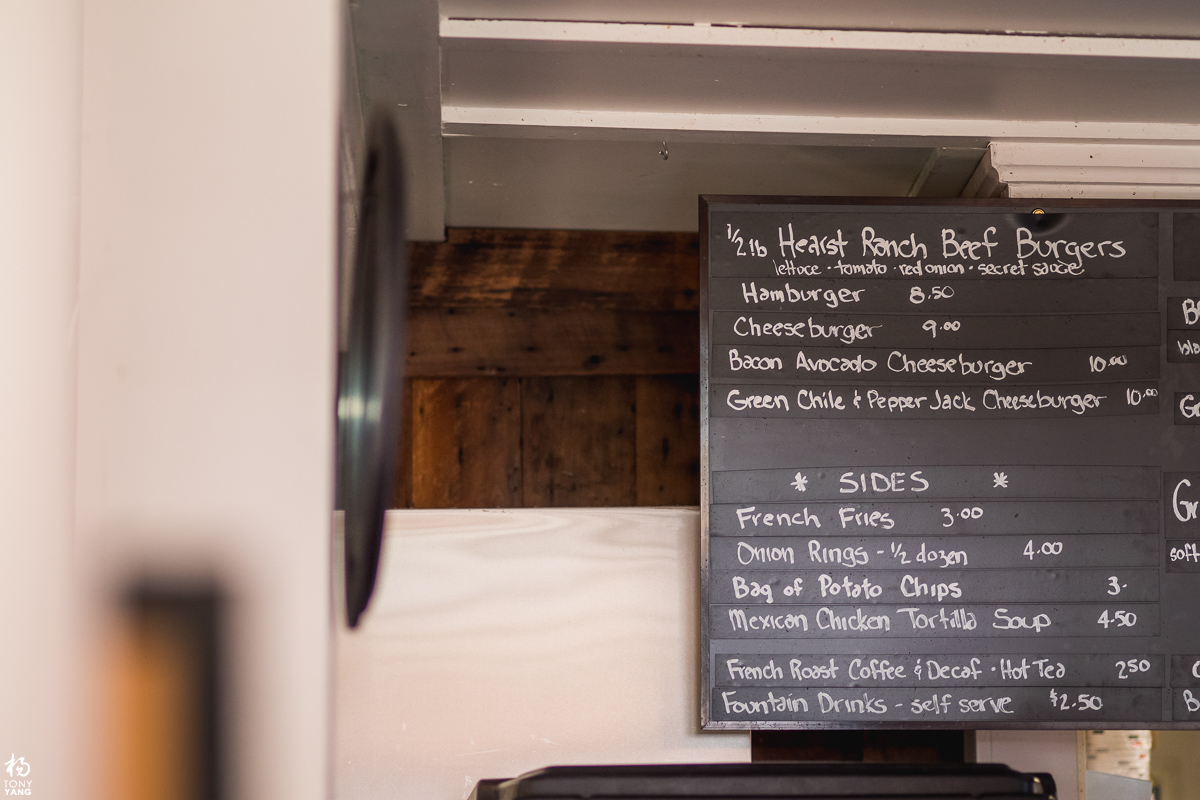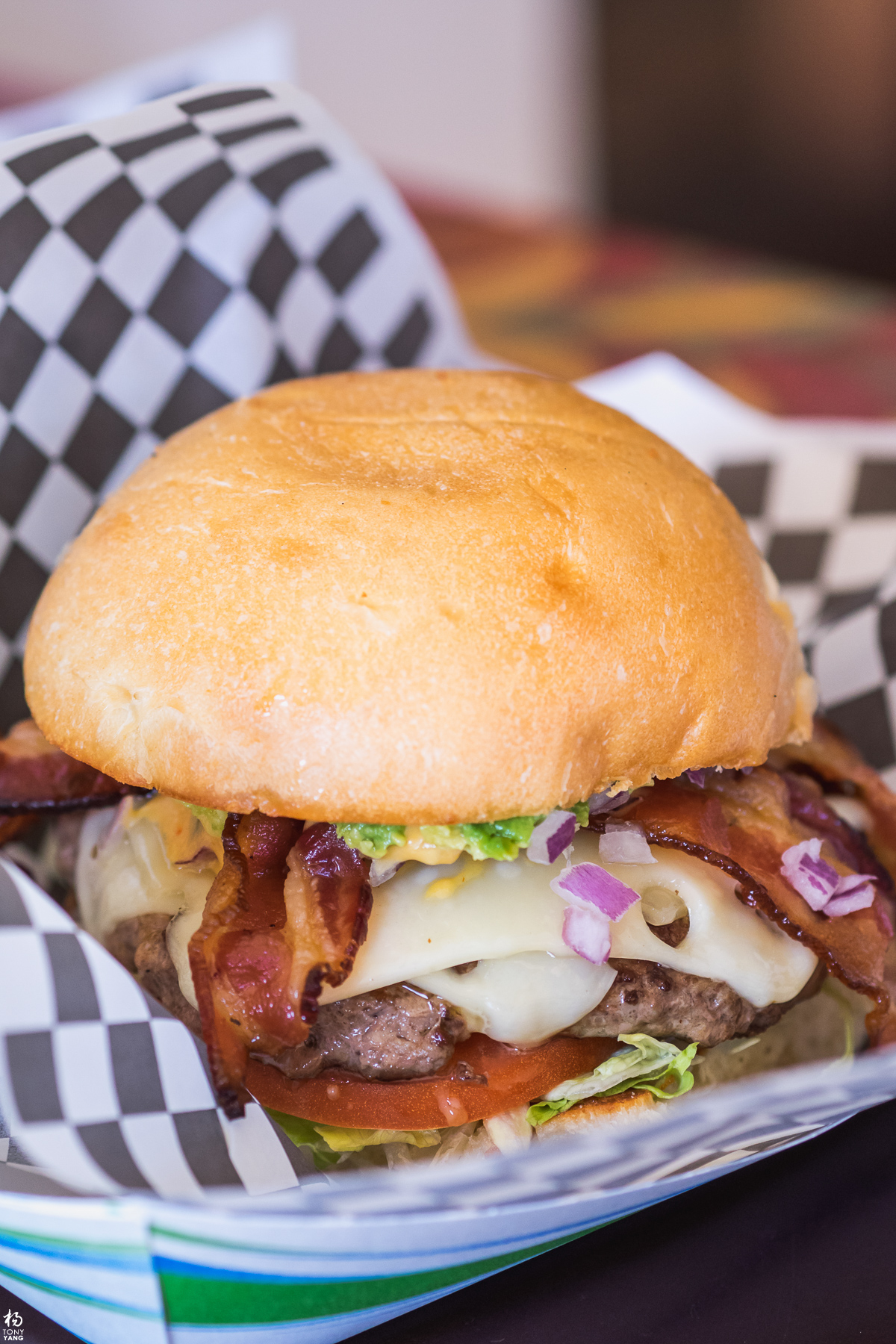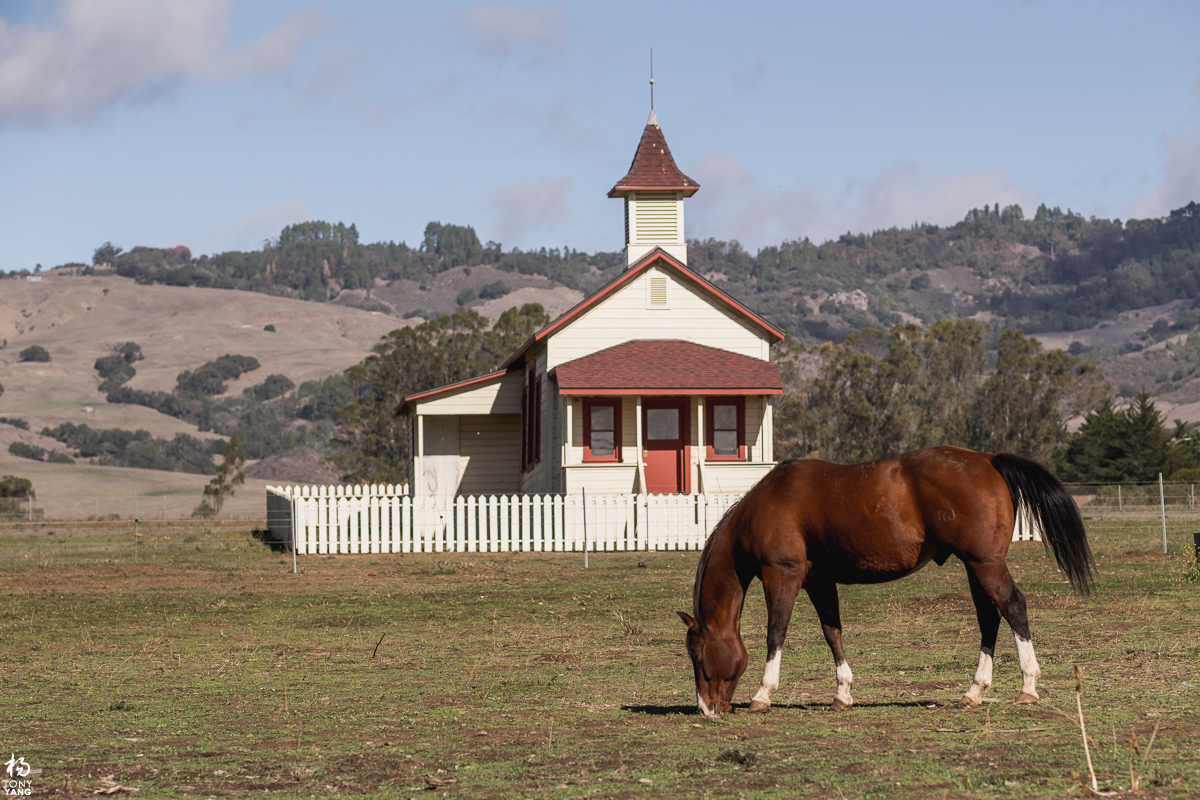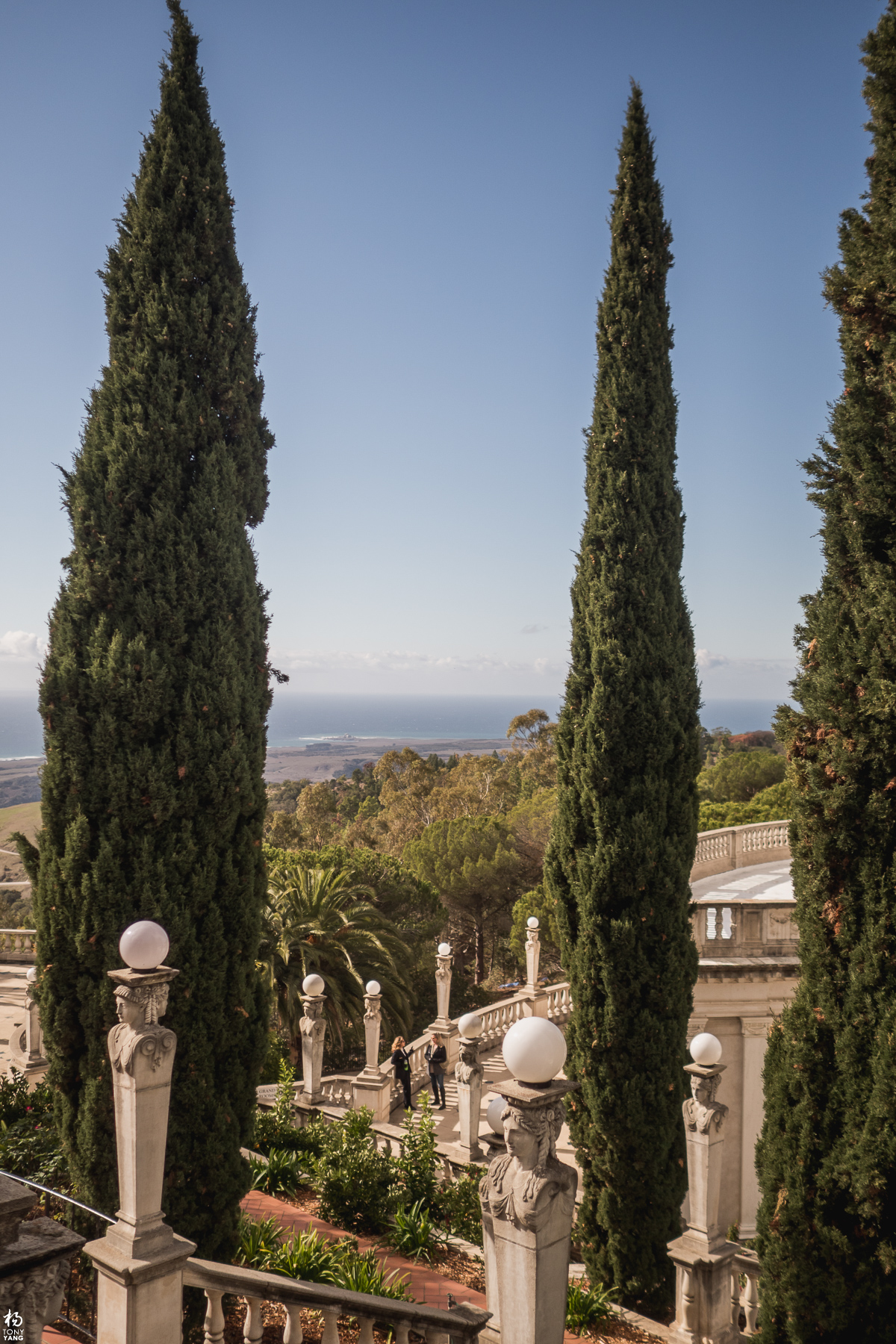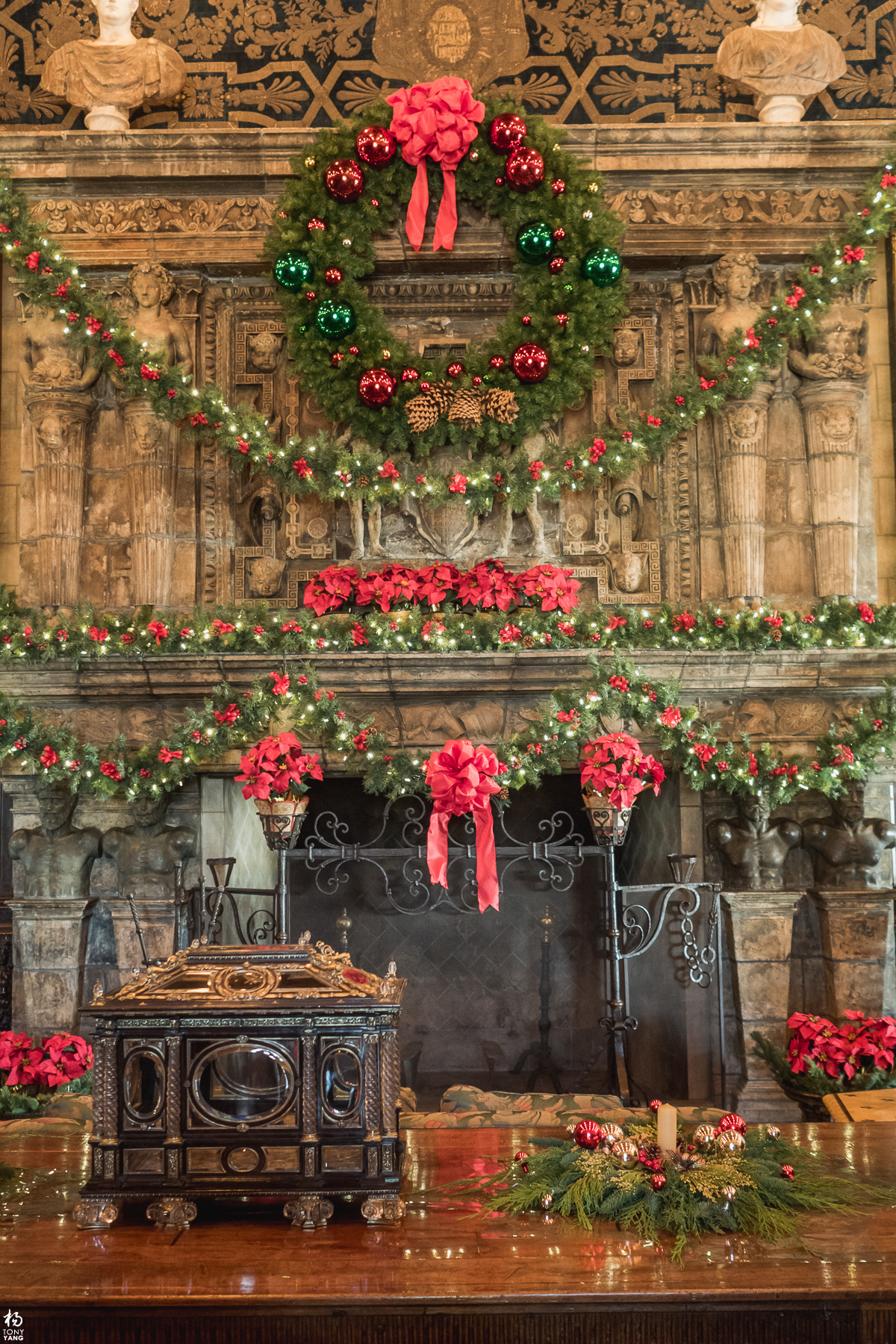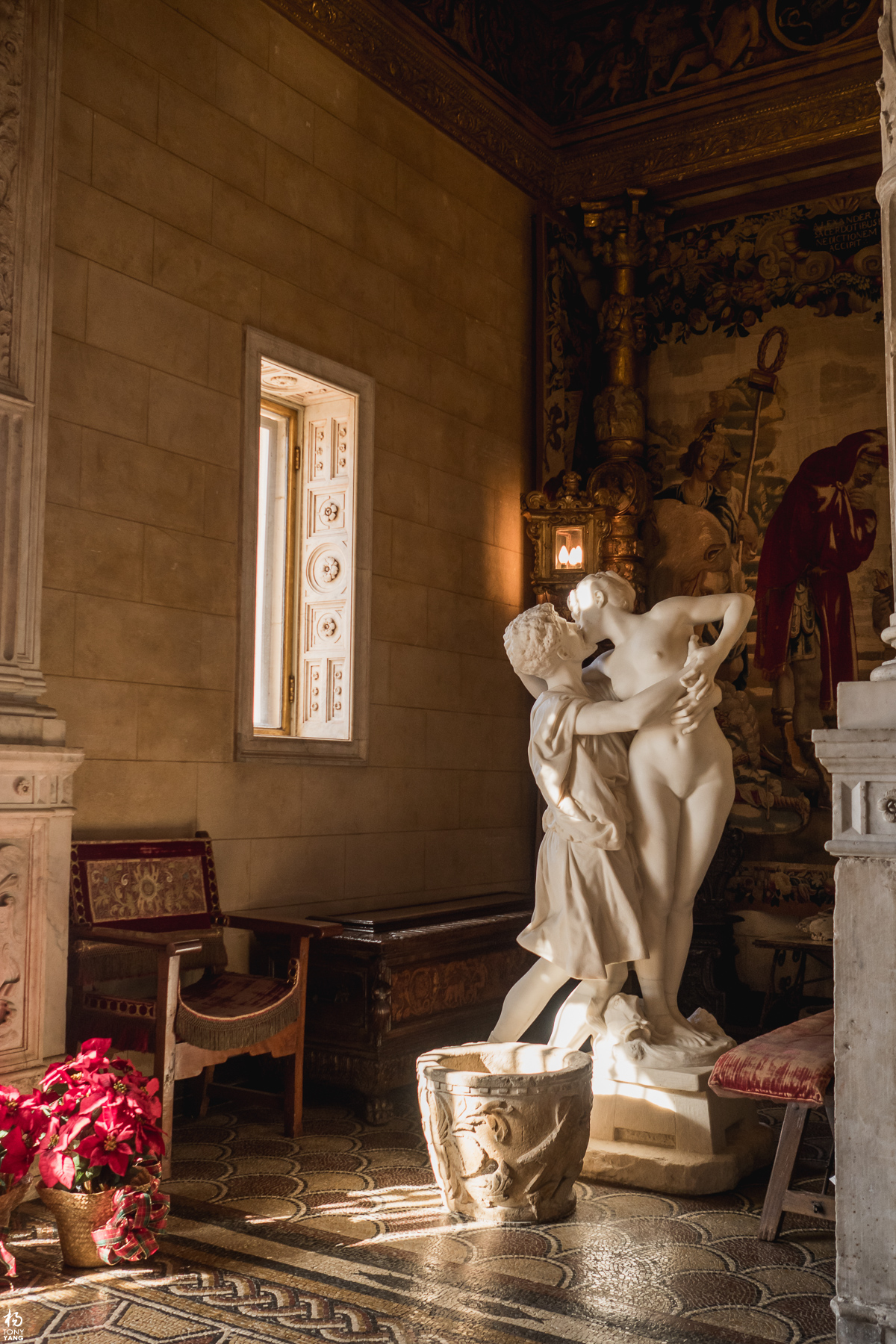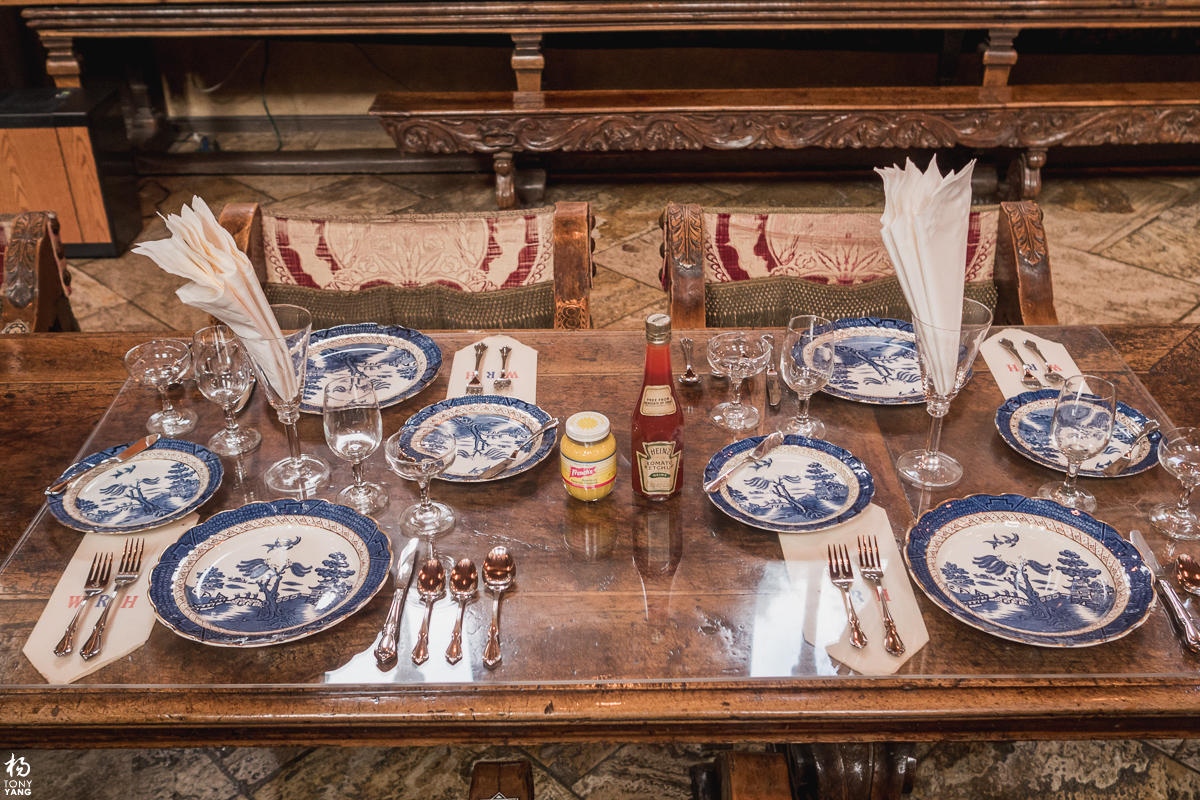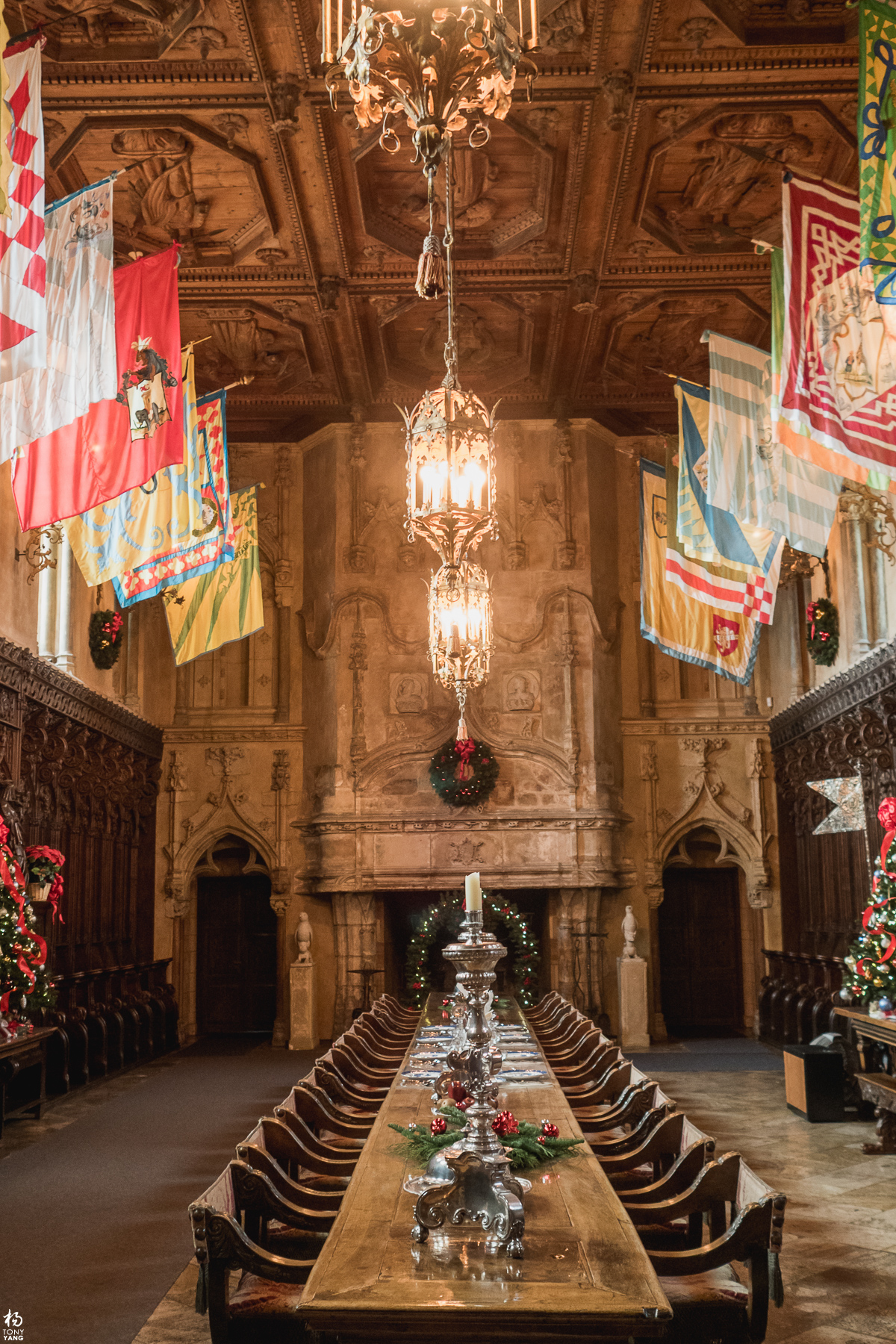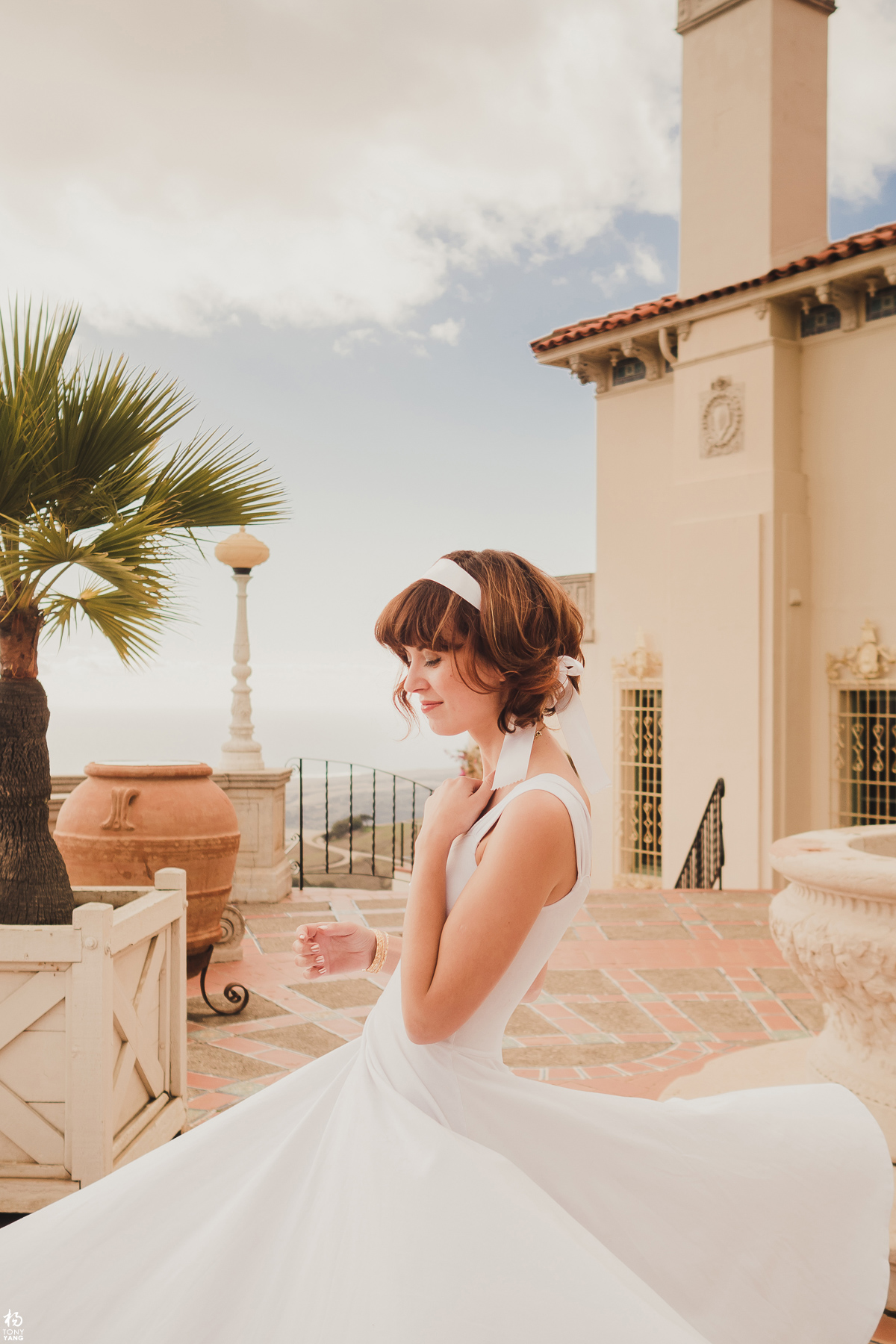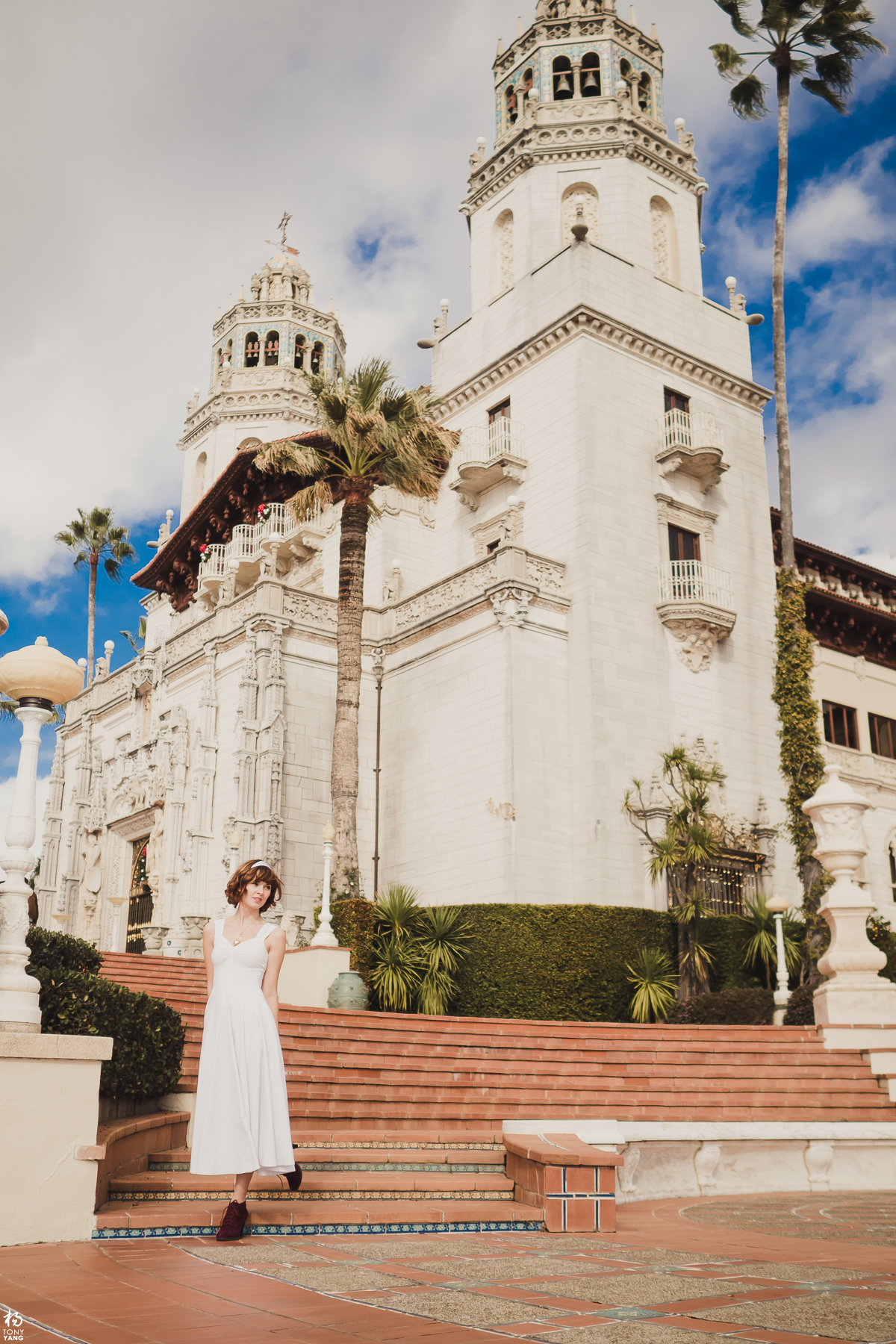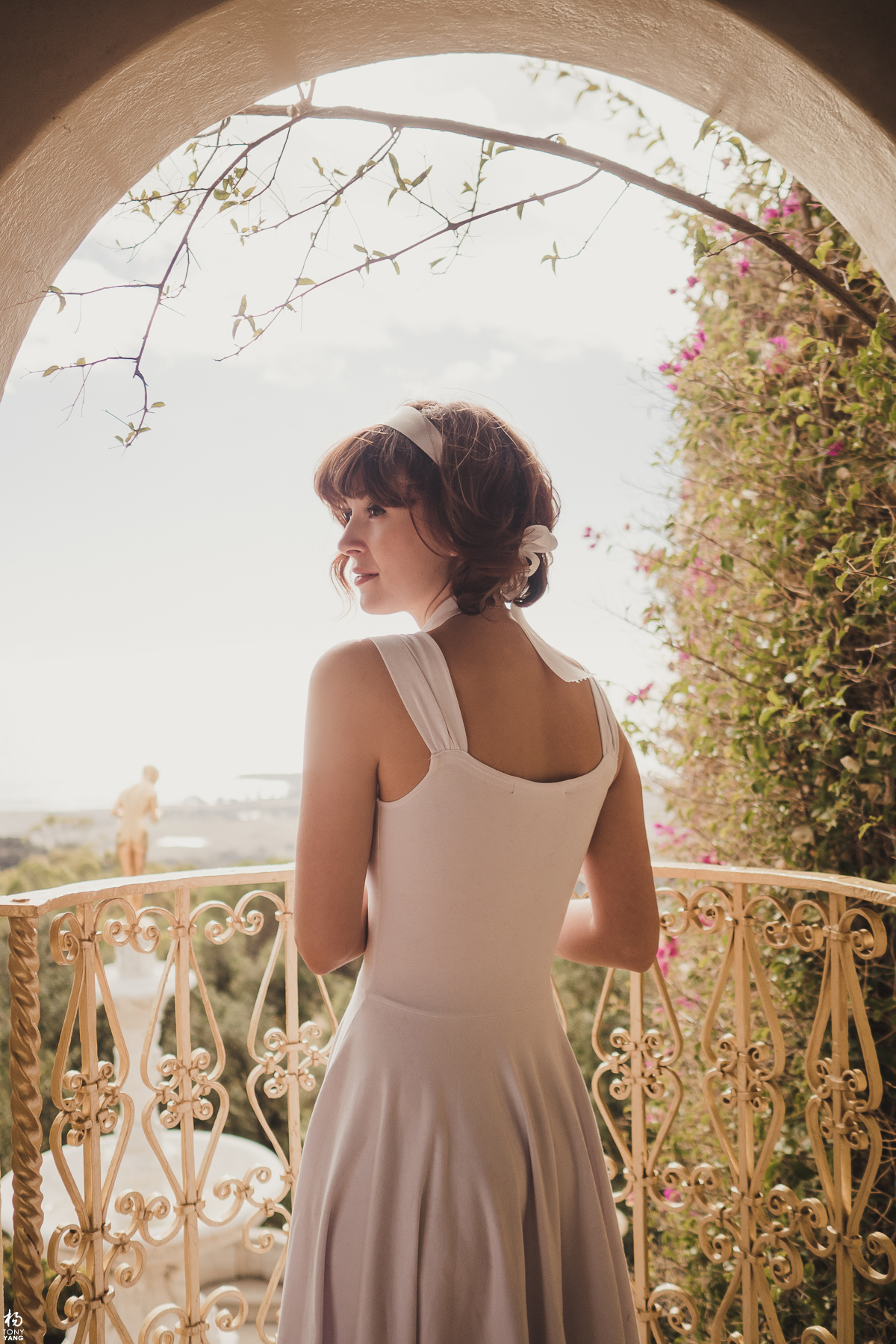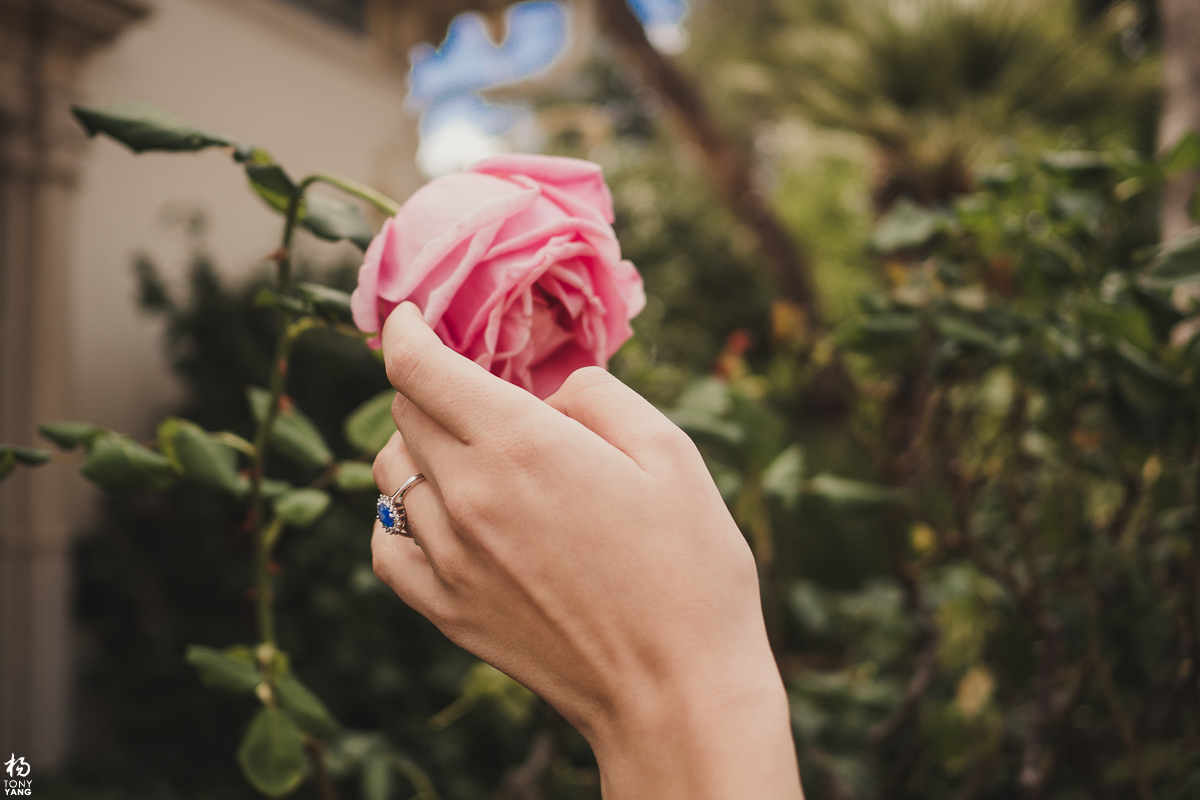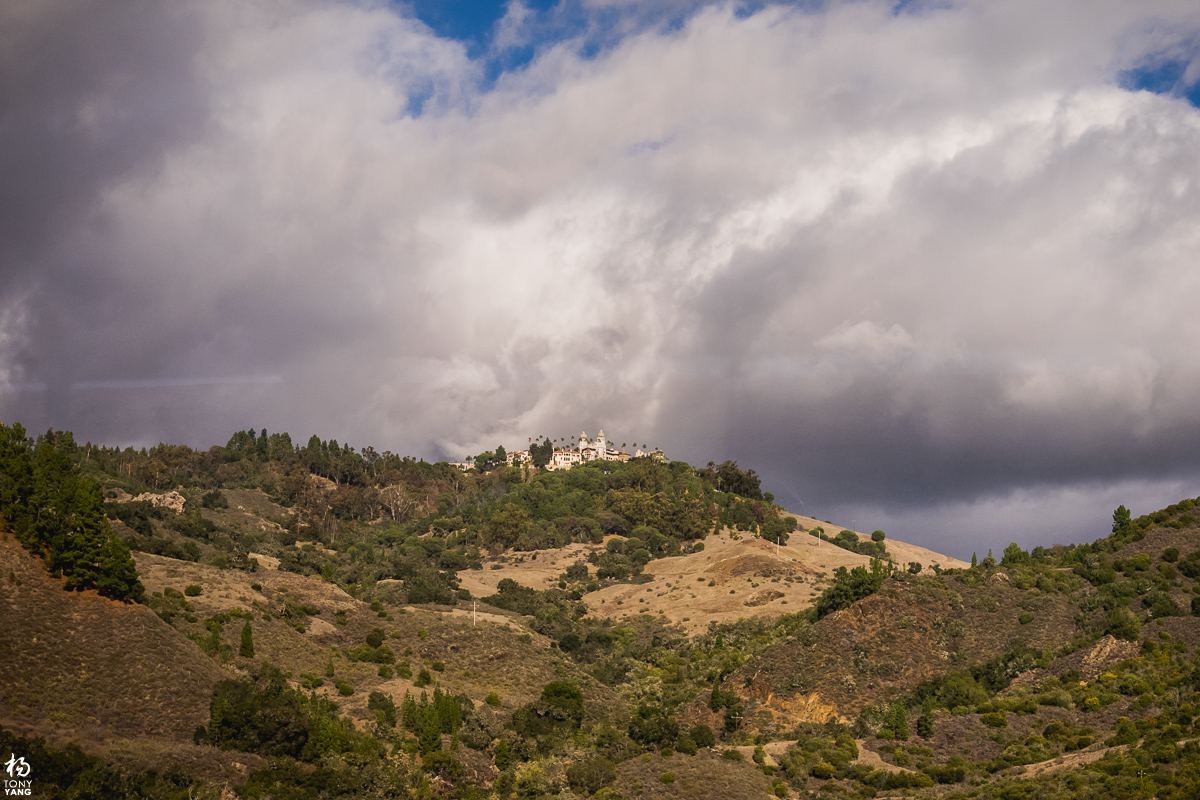 After the tour, we made our way down the rest of the coast towards Los Angeles. Thanks to a YouTube video that highly recommended Route 33 towards Ojai, we were really excited to try more winding roads with our trusty Quattro drive A4. This time, it would be Olya's turn to take those banks and sharp corners. If you're curious what the route looks like, a simple Google Maps search will leave you wanting a fast car with the destination to Ojai. We made it to LA late in the evening and stopped by my brother's favorite Mexican joint Cinco De Mayo for some delicious tacos.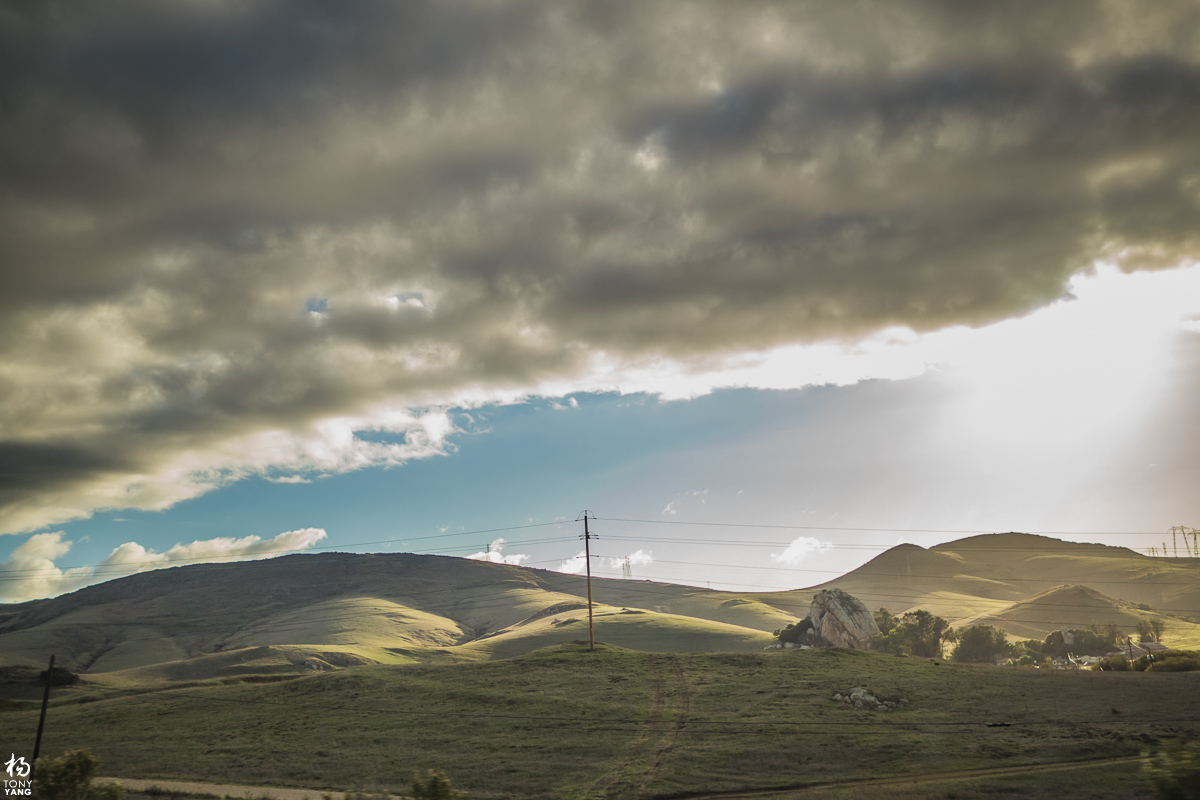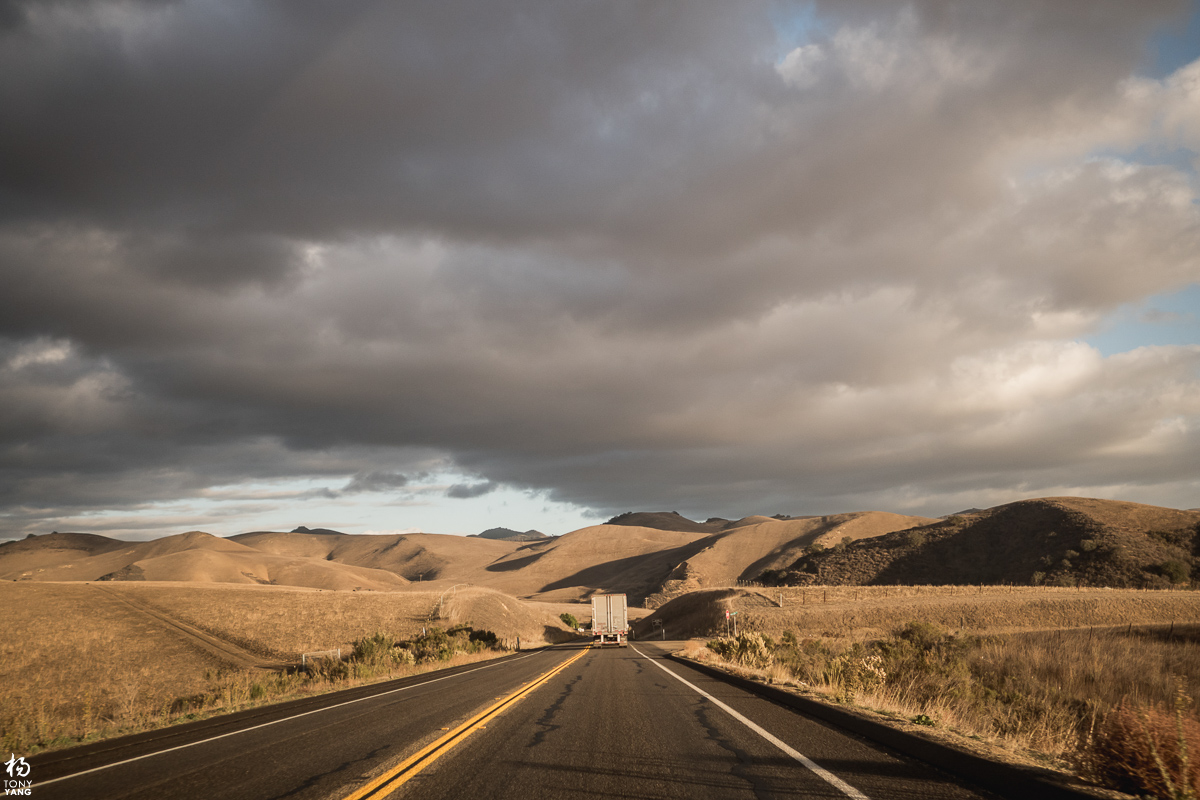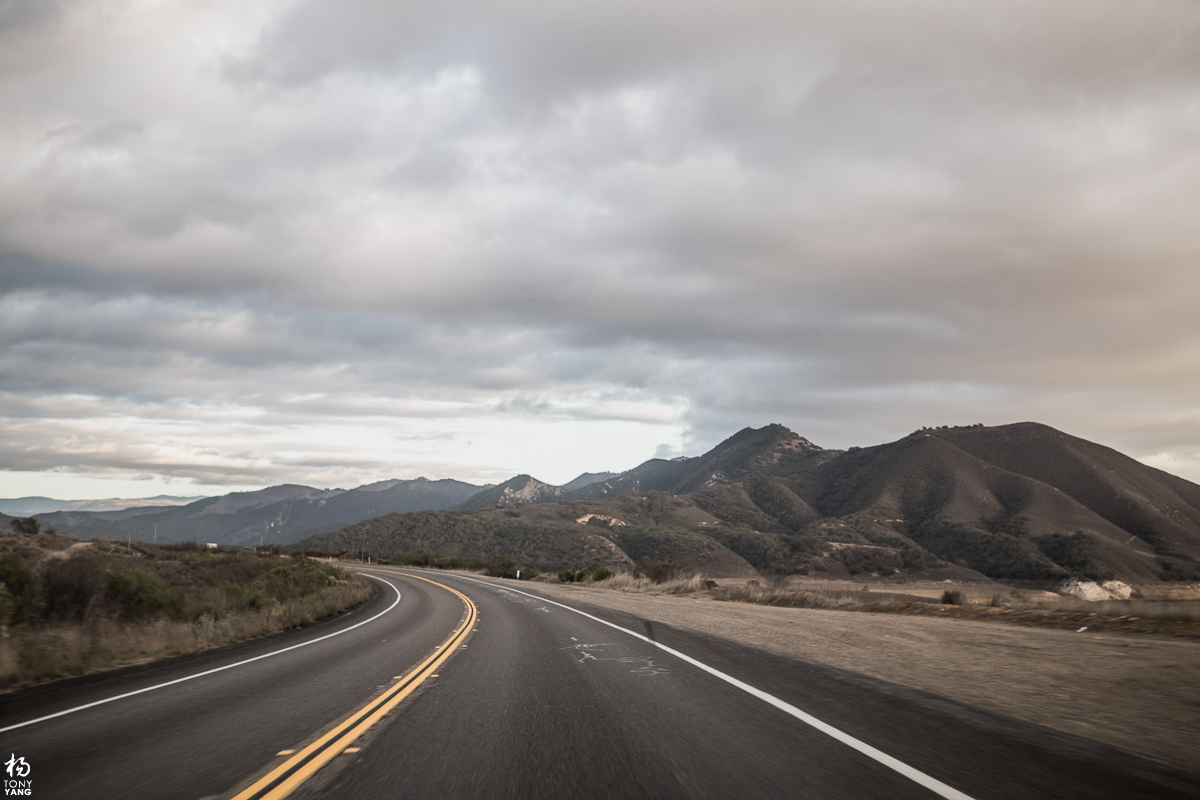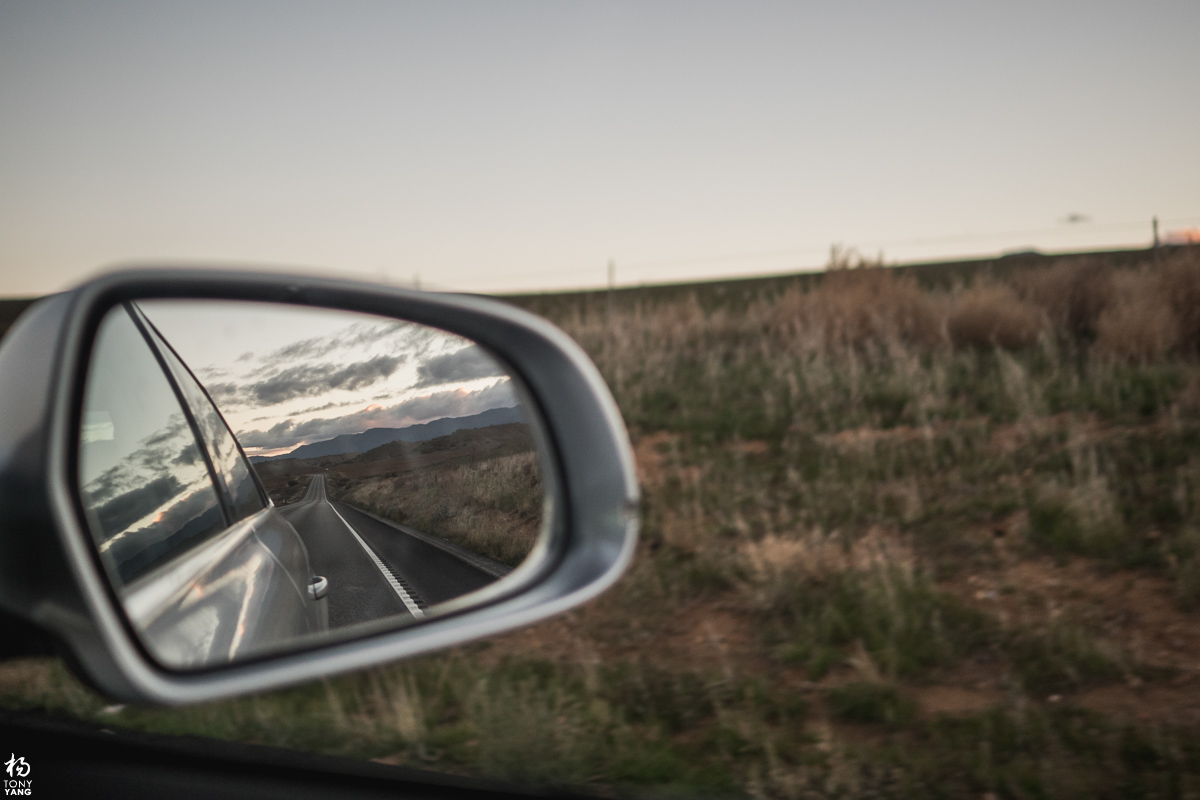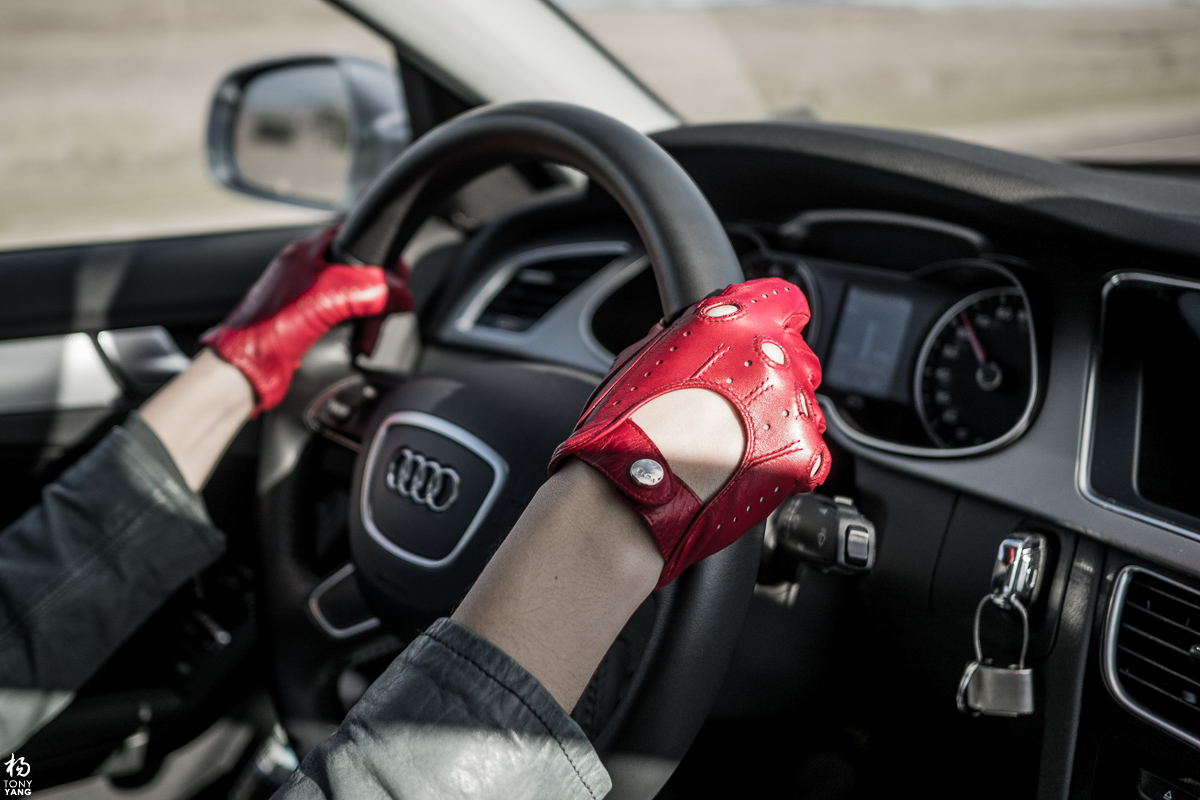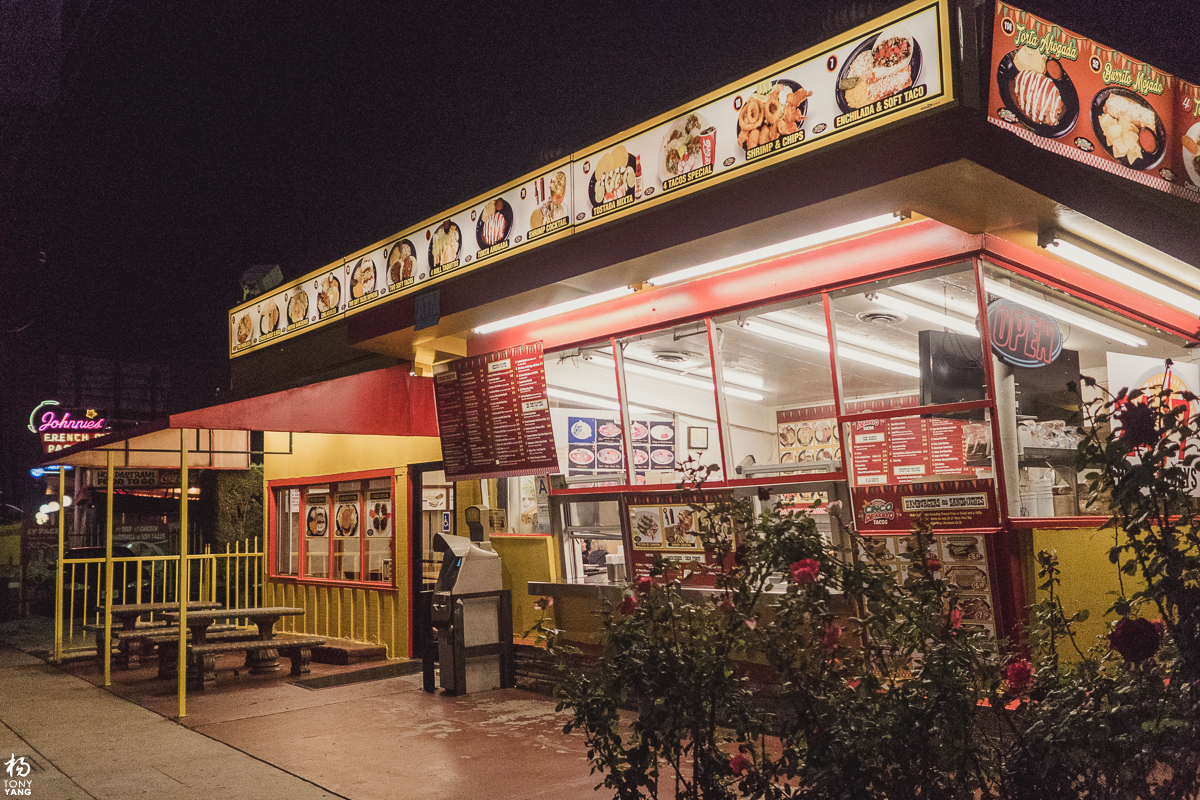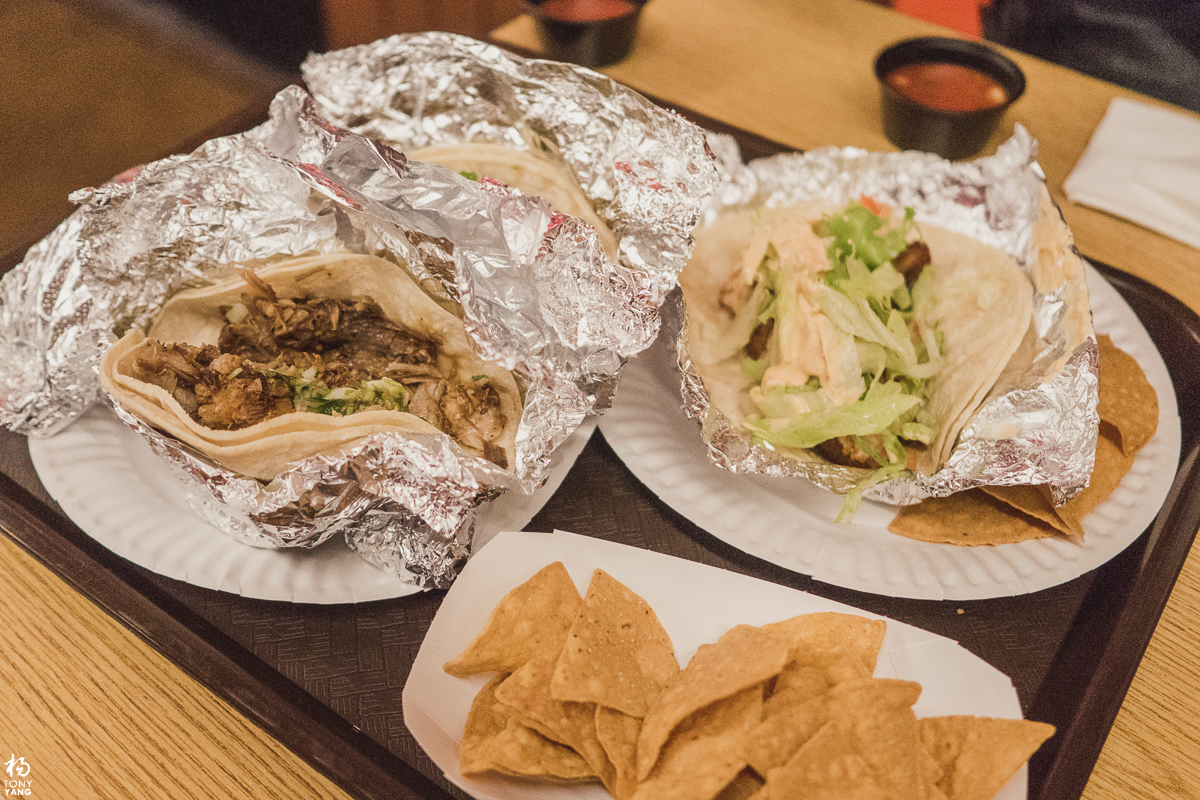 With a restful night in Los Angeles, we were ready to see SoCal together on Thanksgiving Day, after some morning coffee of course! I was craving some Taiwanese breakfast (soy milk, fried dough sticks, scallion pancakes) so we Yelped to Huge Tree Pastry. I love Chinese restaurants because they are usually cheap and fast, on top of delicious. After breakfast was Venice Beach. Olya wore another Hardley dress, this time a bright sunny yellow appropriate for the California sun. The fun eye pieces in the photos were all provided by SHO Eyeworks who do great designer frames. We had a fun mini photo session, and walked past a Ferrari California for rent by I Ride Like A Star, and couldn't pass up another photo opportunity! The employee was very generous in offering us extra time for free to take some photos at our midway point, which extended our total rental time beyond what we paid for. Being able to blast through local roads without him telling us we had to obey speed limits really made it fun for both Olya and I. I think I drove the Ferrari at 40% of the throttle input while she did 100%. After the drive, we rushed over to Griffith Observatory to catch the sunset view of LA and finally making our reservation for a Thanksgiving Dinner at craft. I think we are starting to prefer meals that are meant to be comfort food to not be overly expensive and re-invented. Craft felt over the top for very familiar foods that we know we can get a normal prices.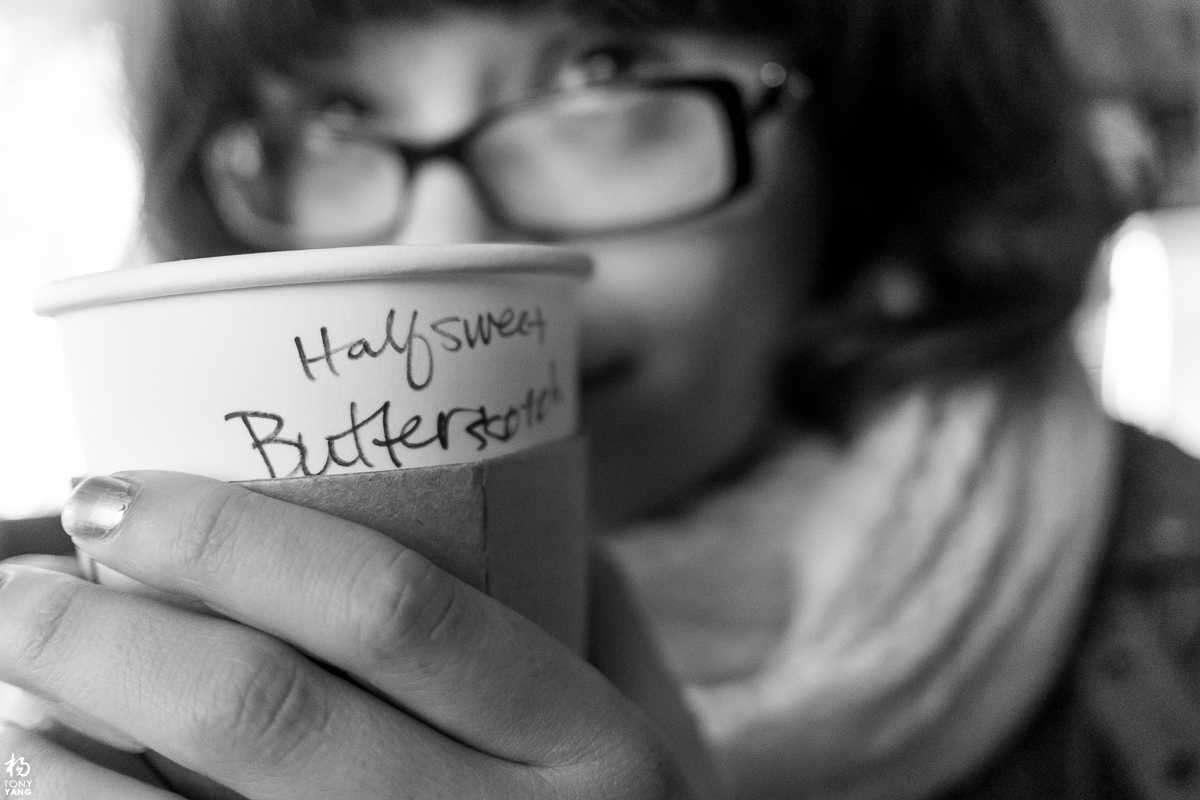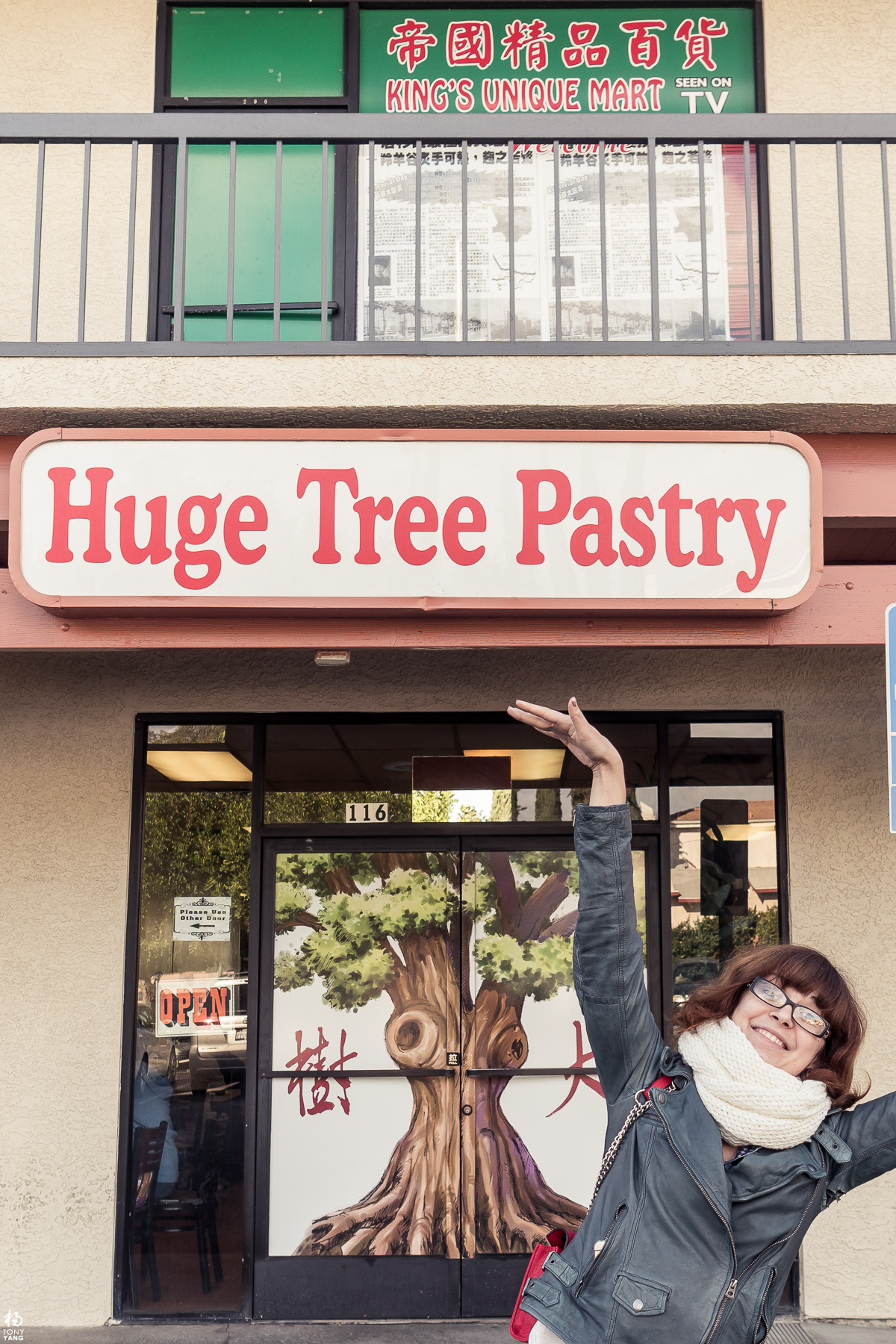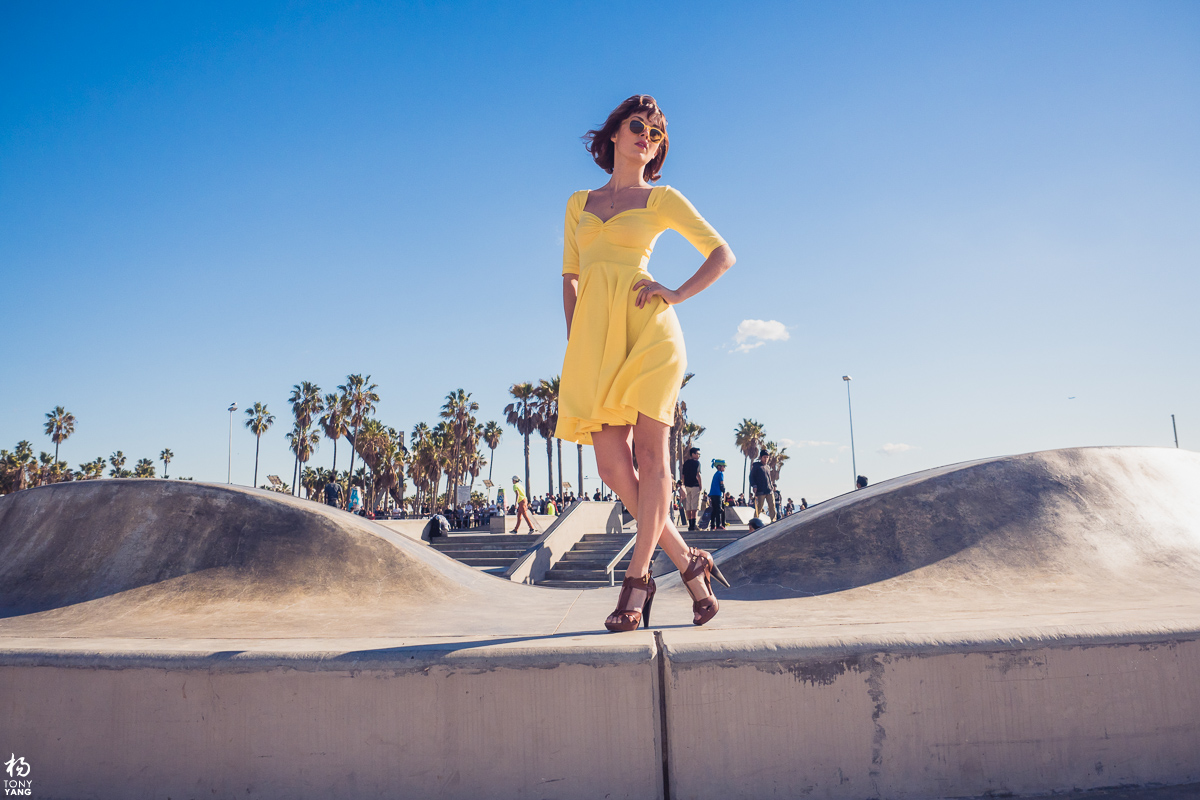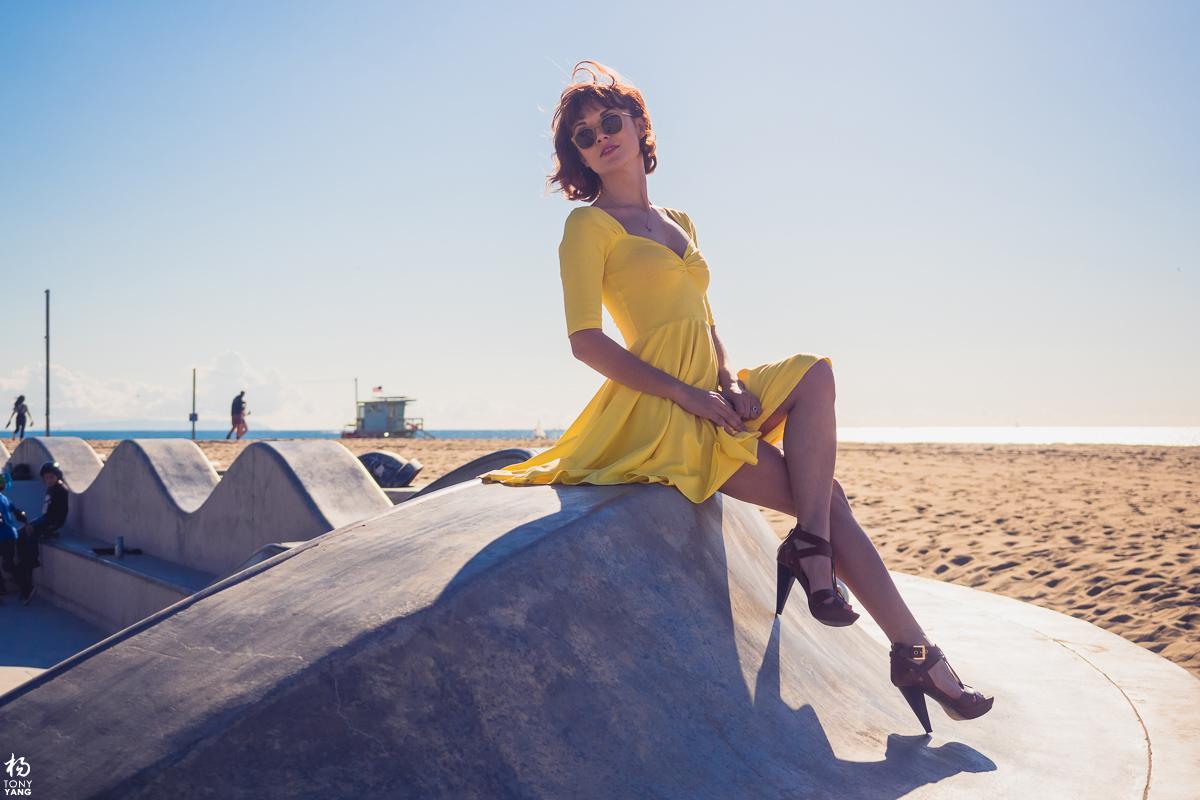 Skateboard accident caught on film!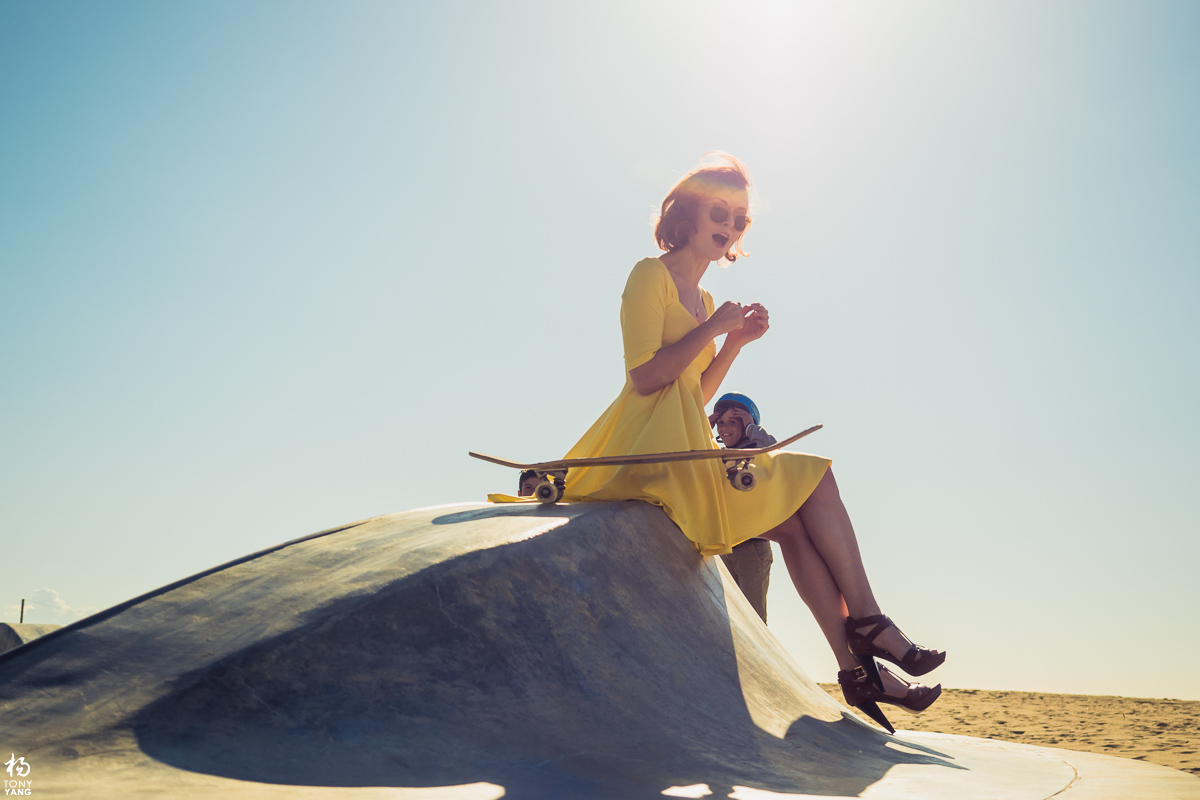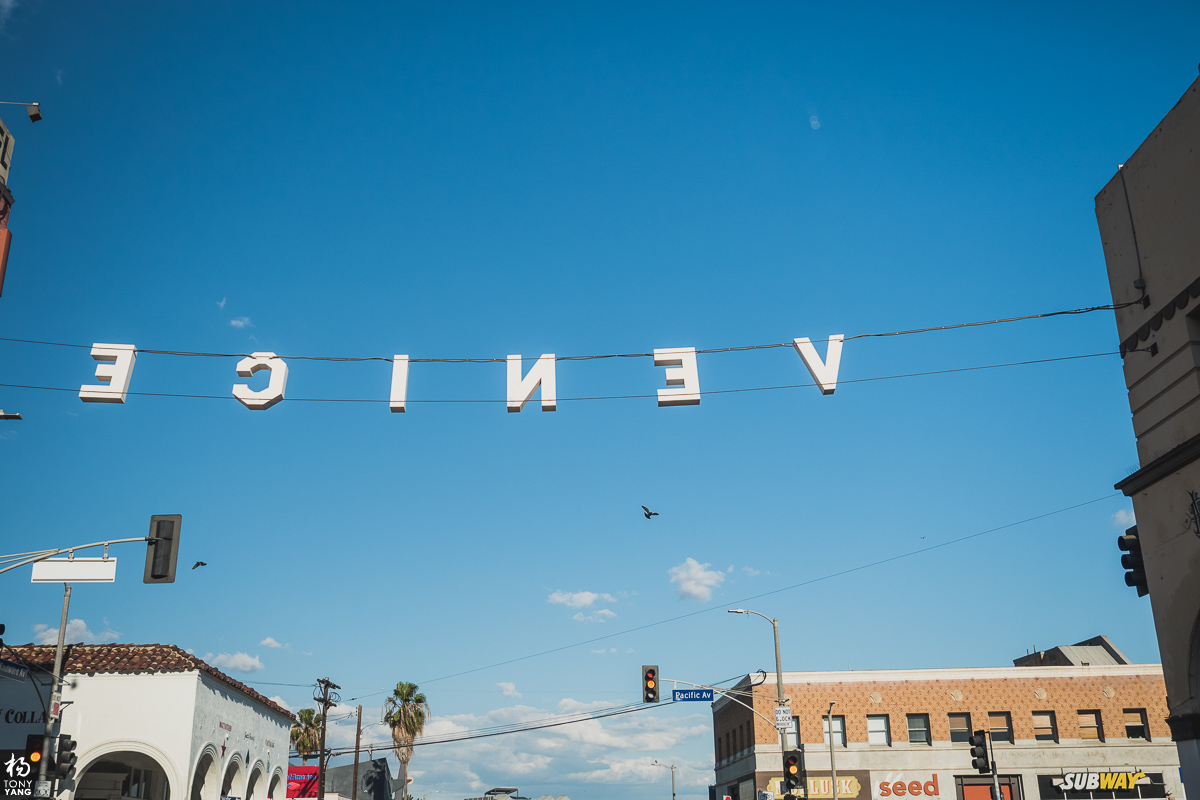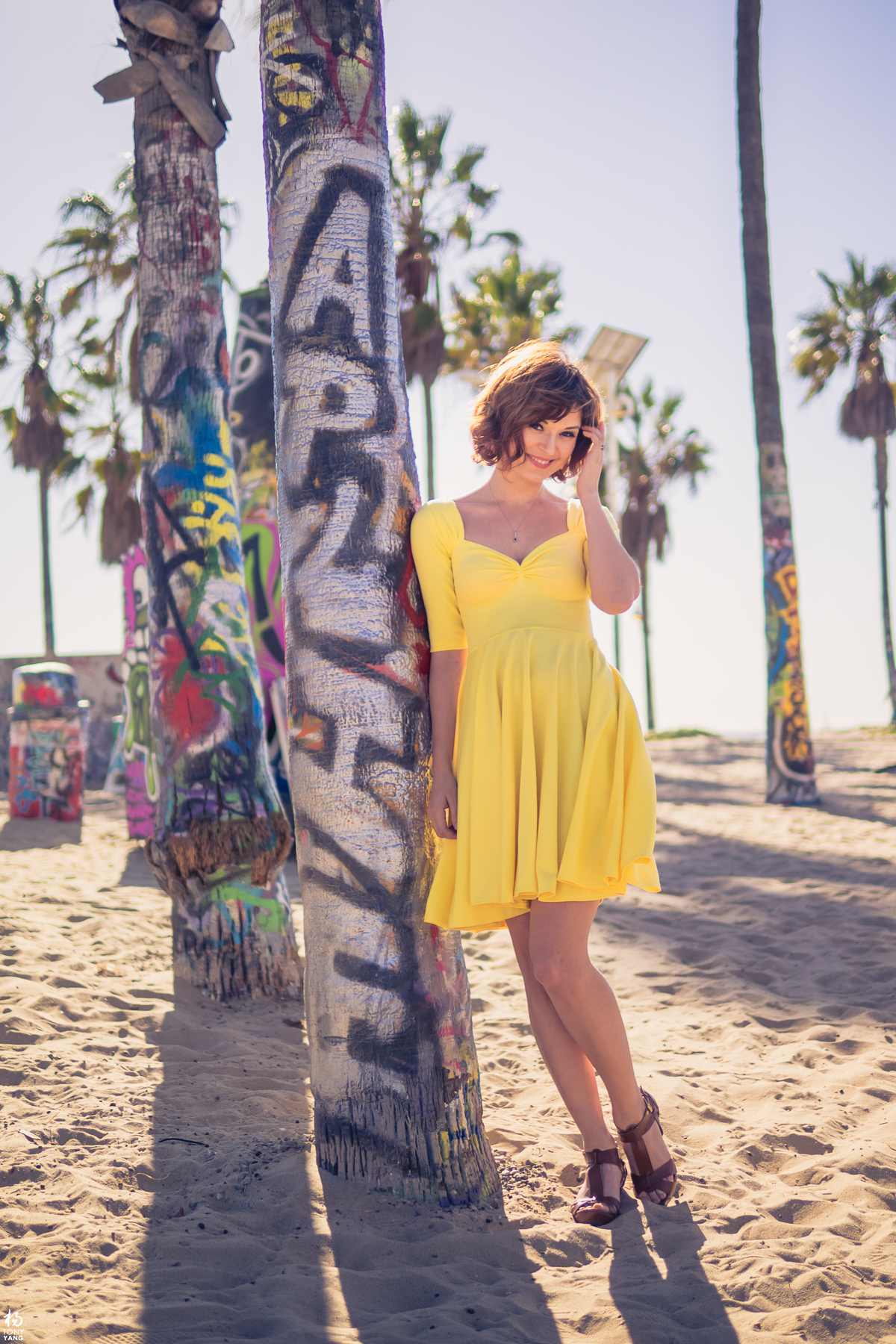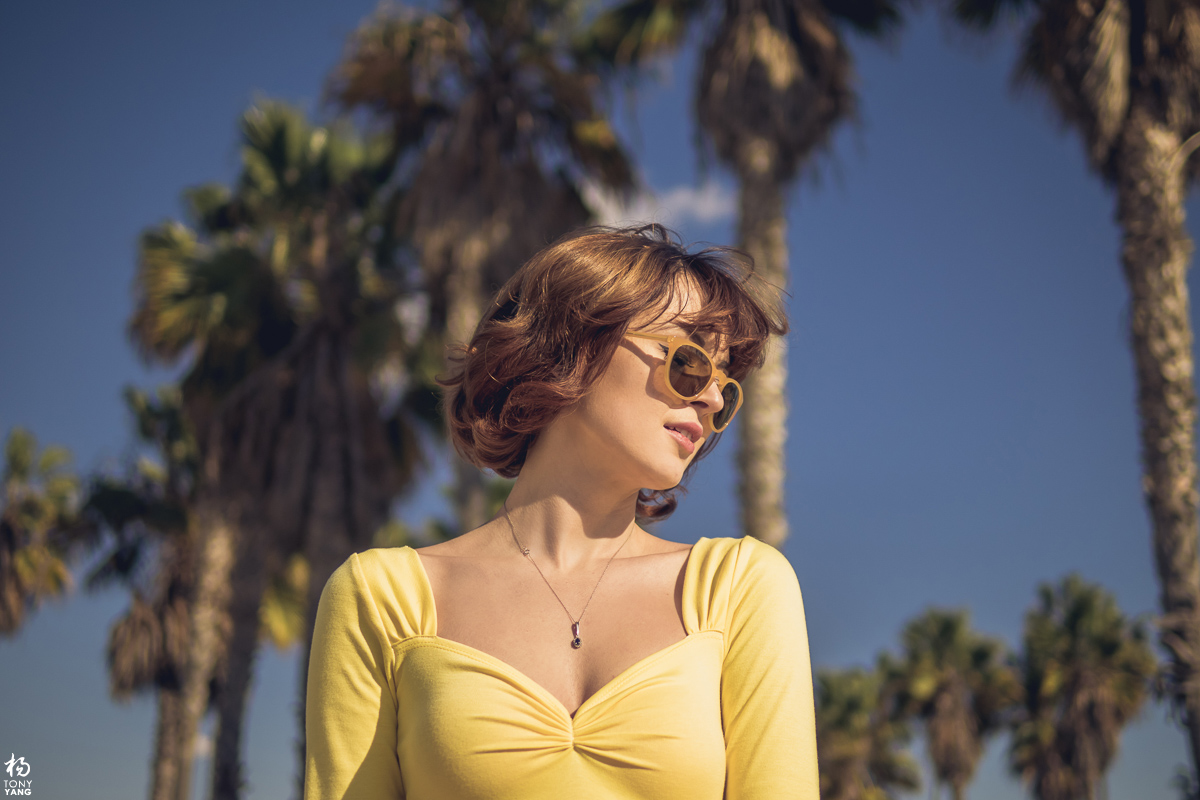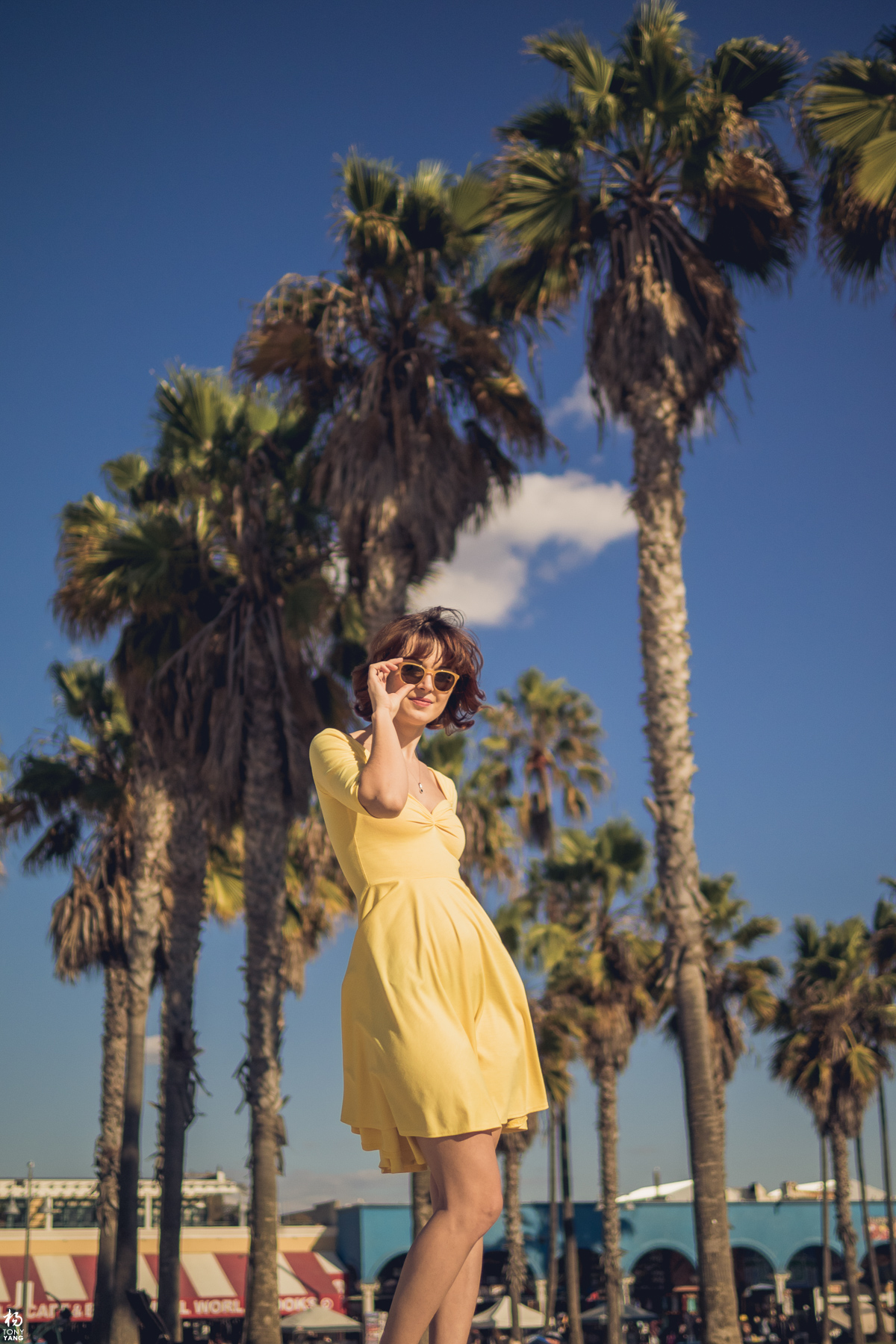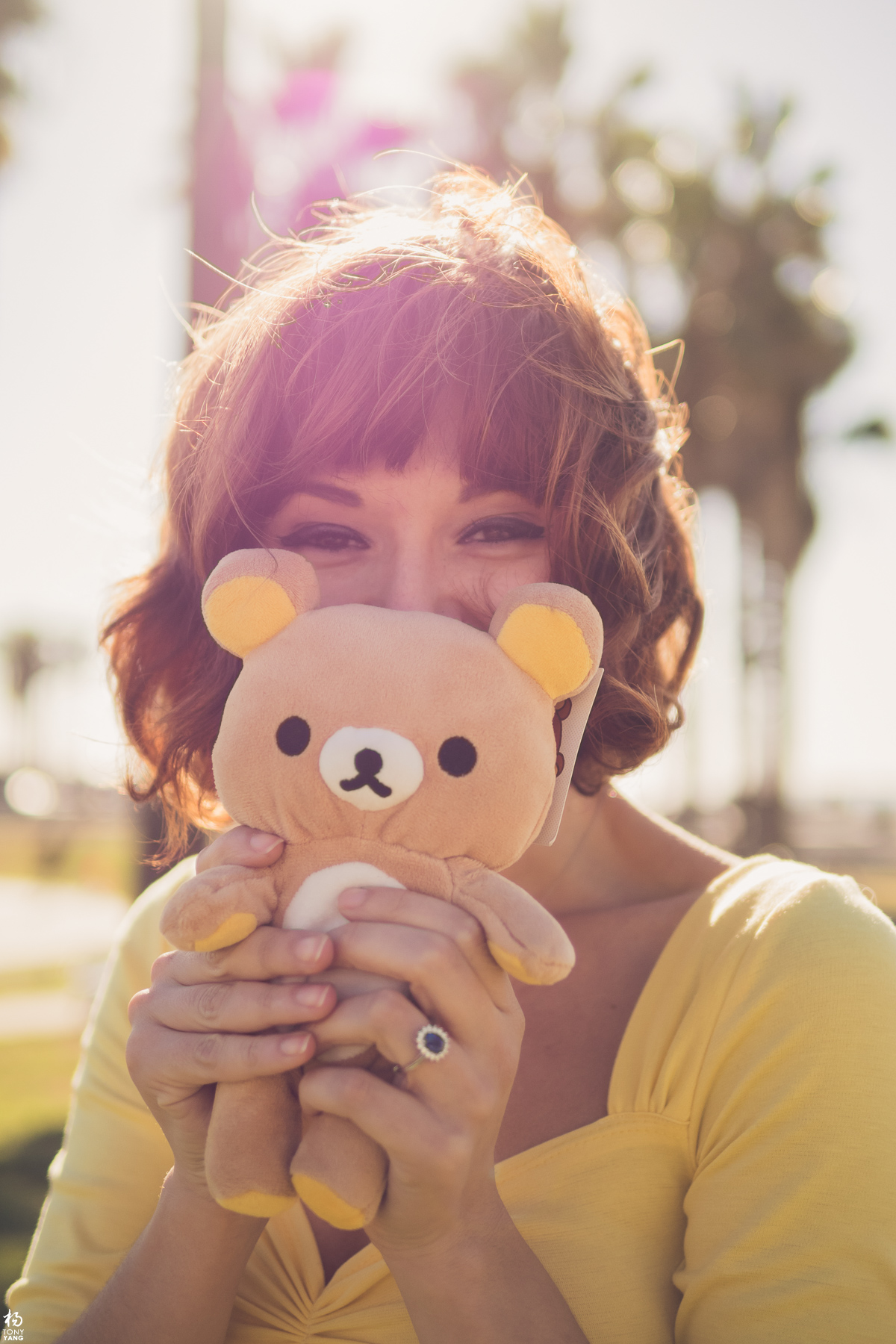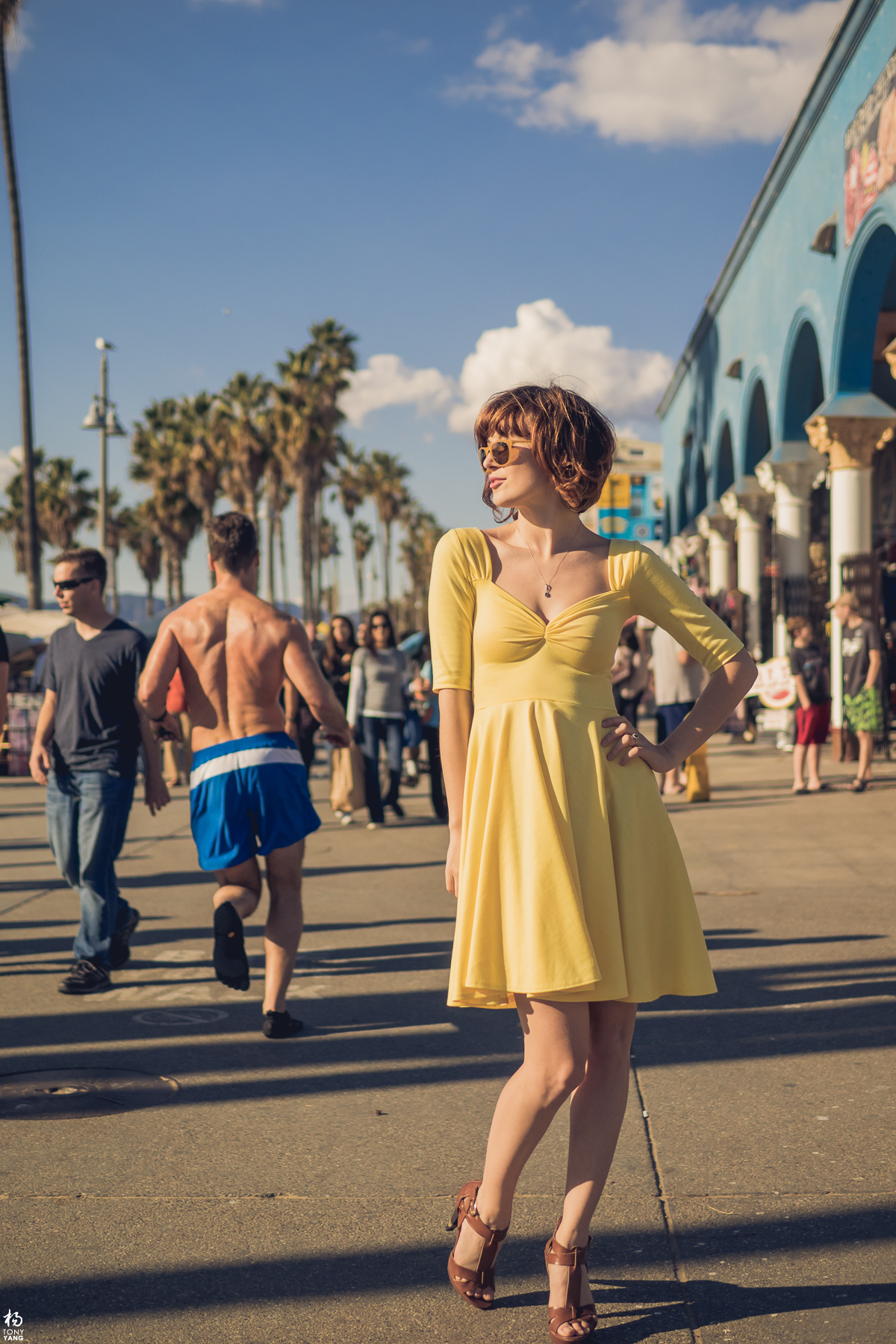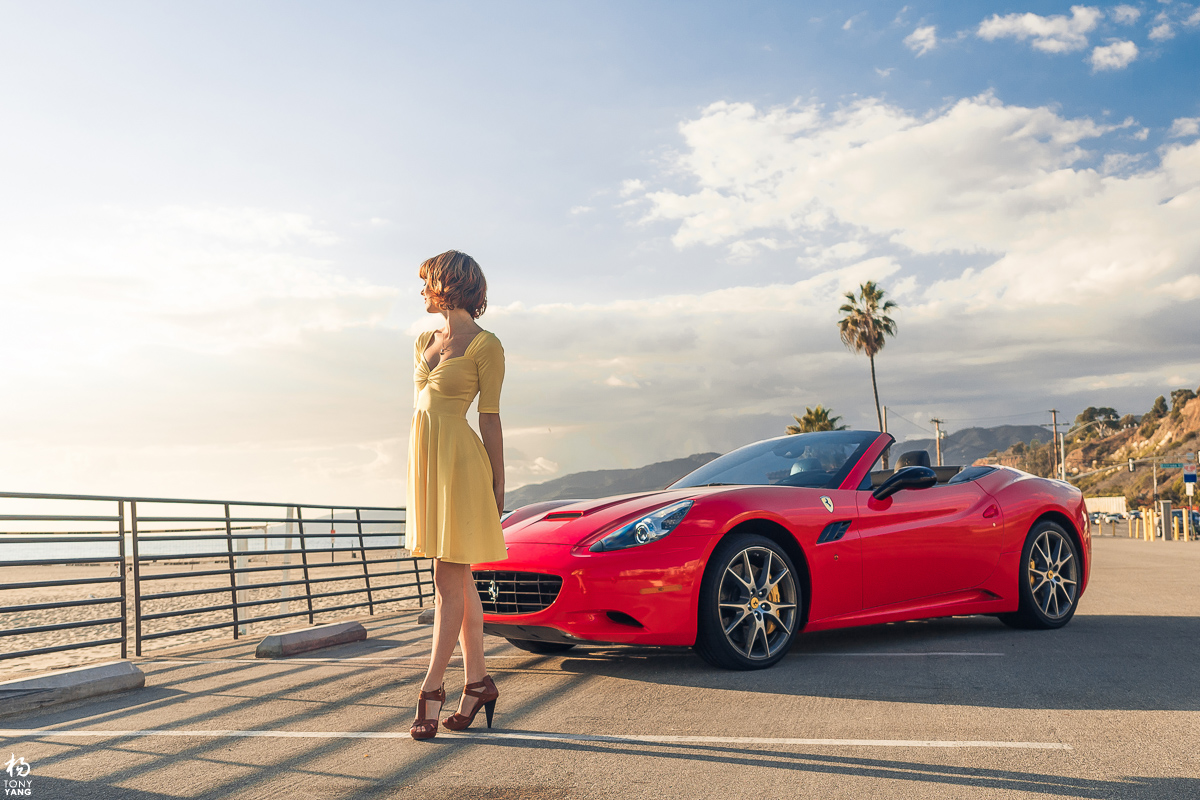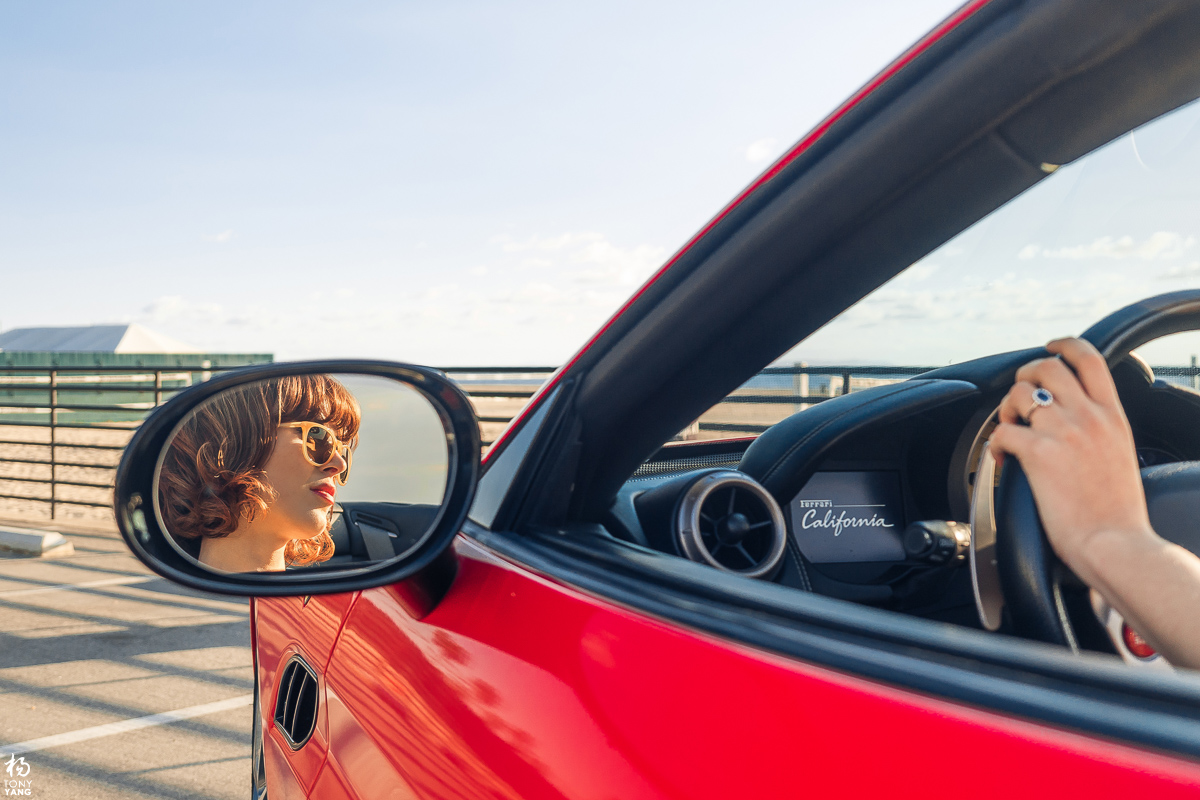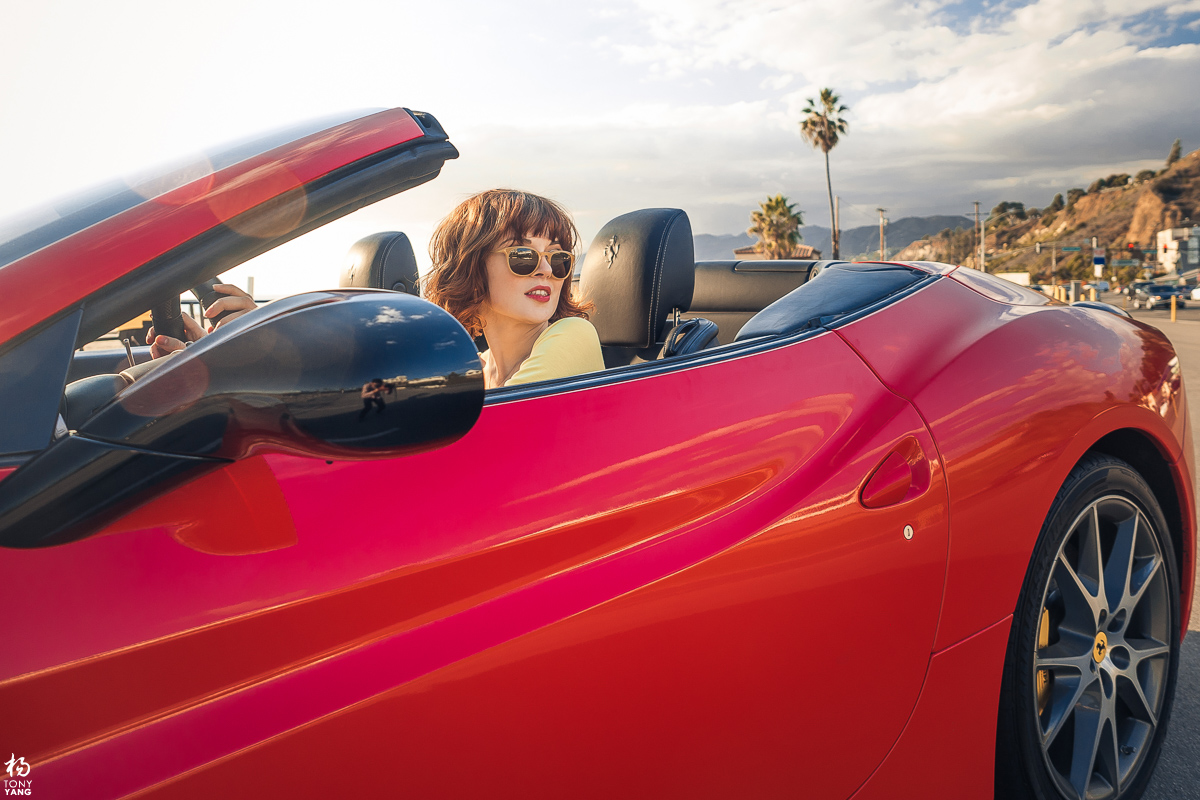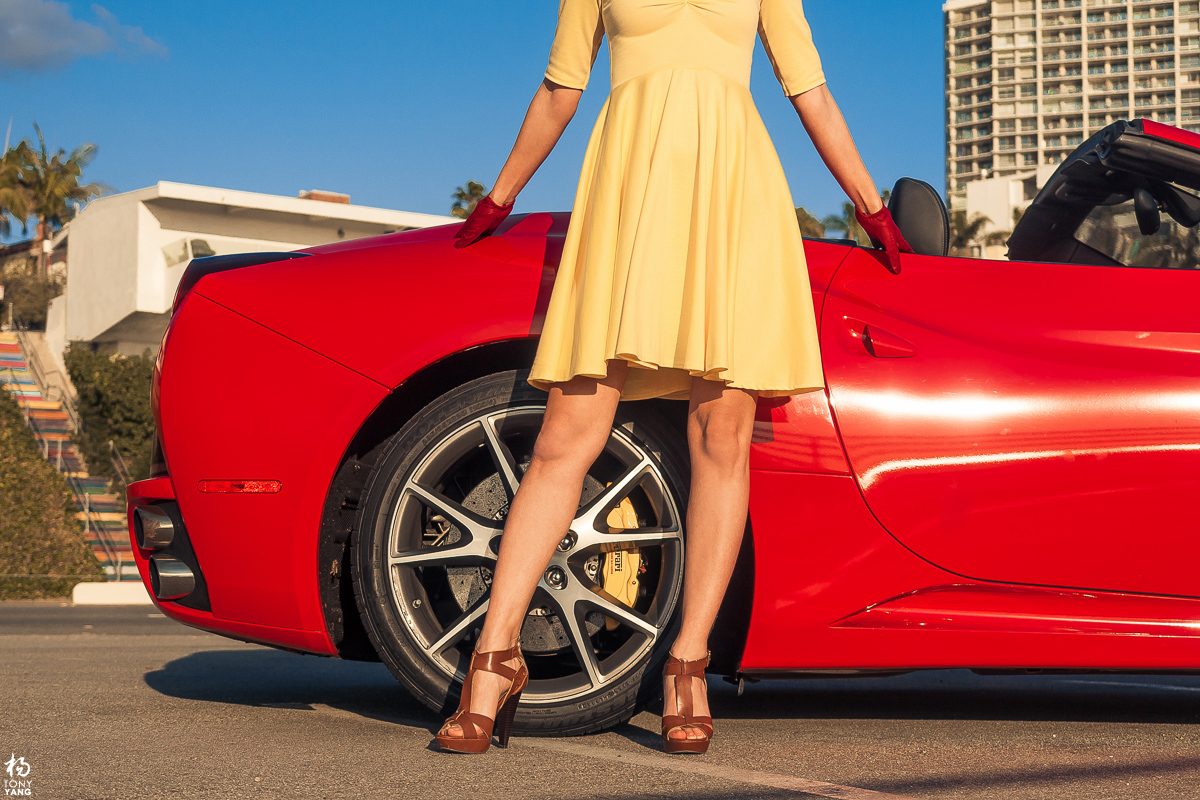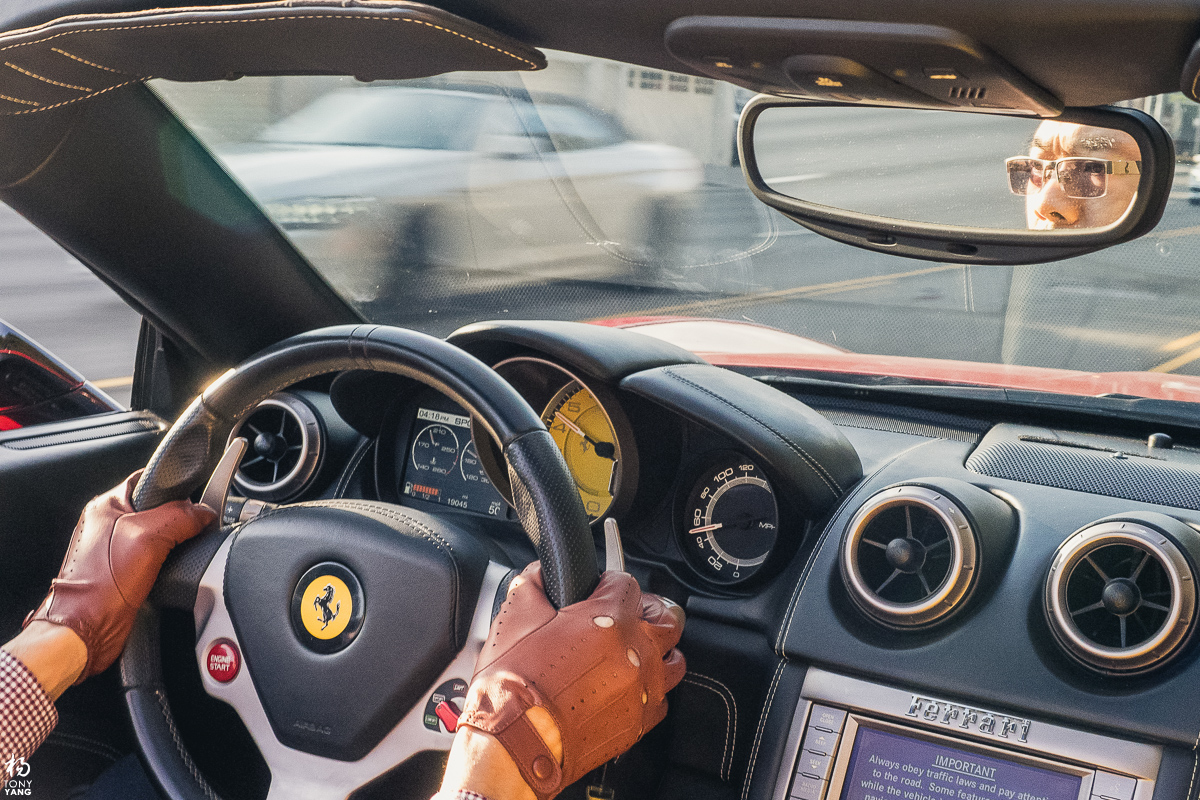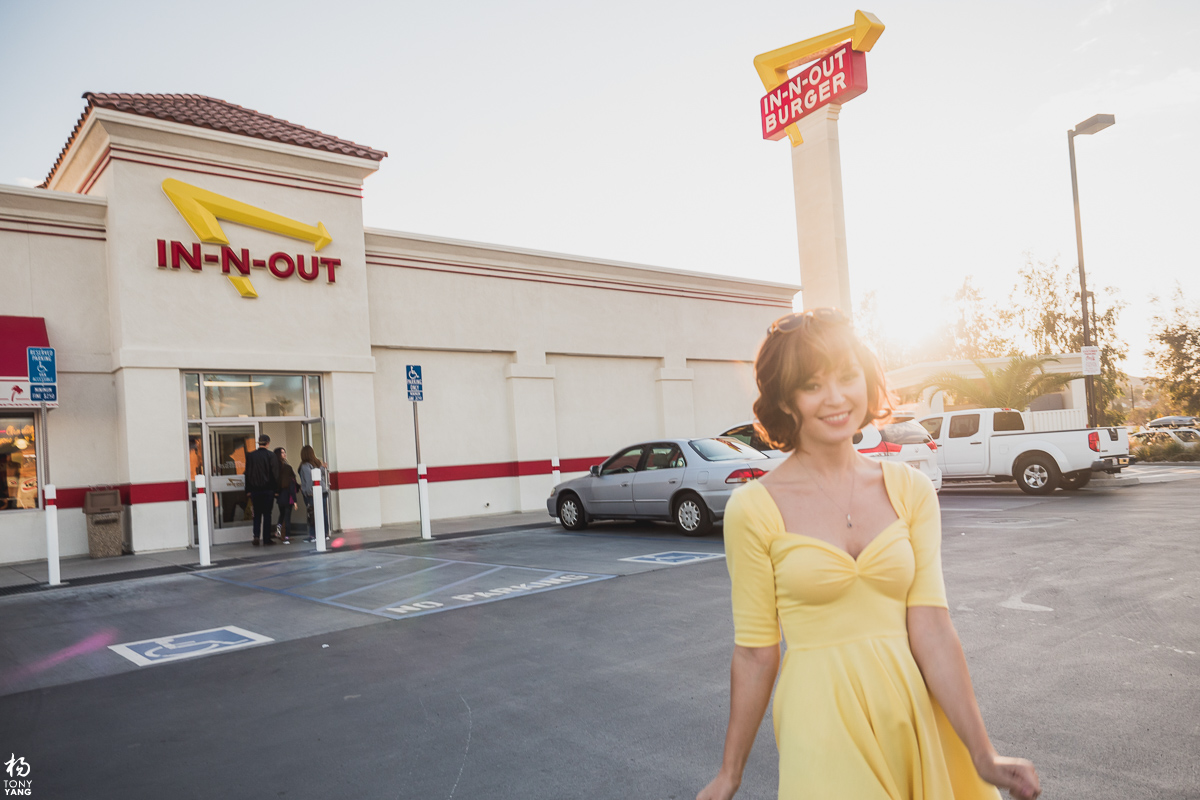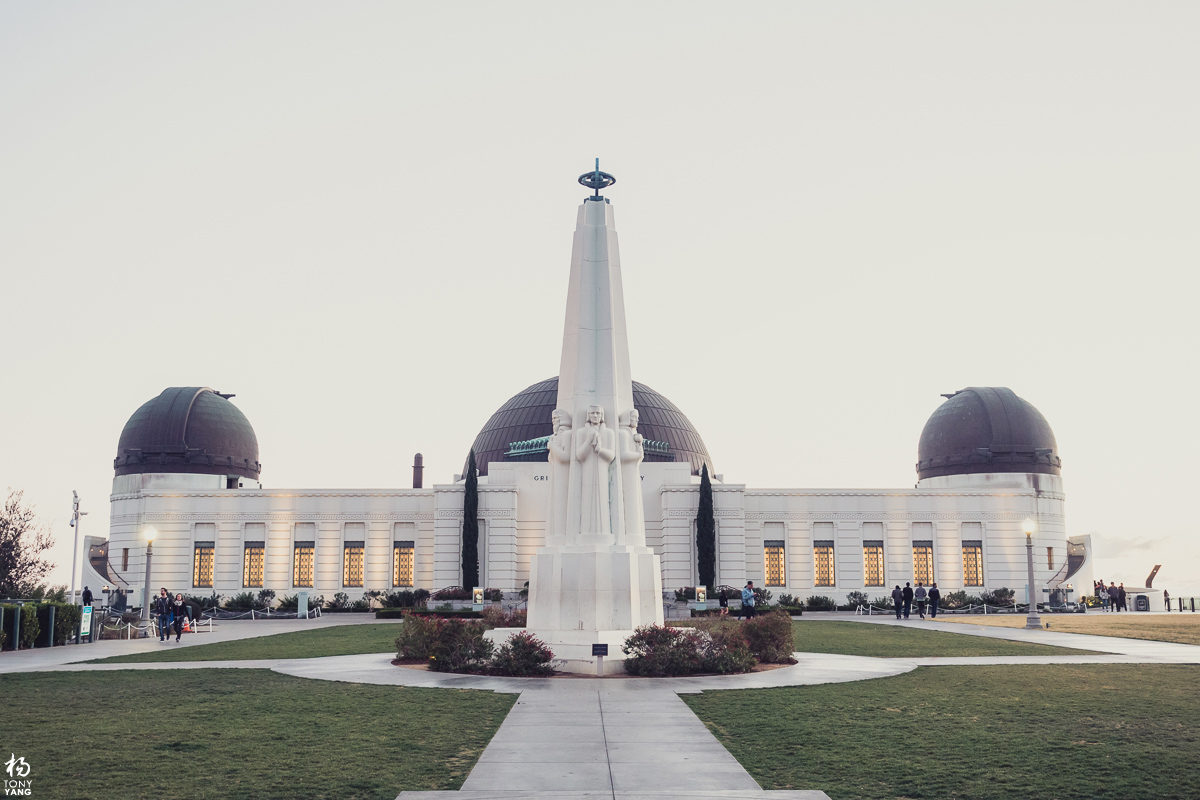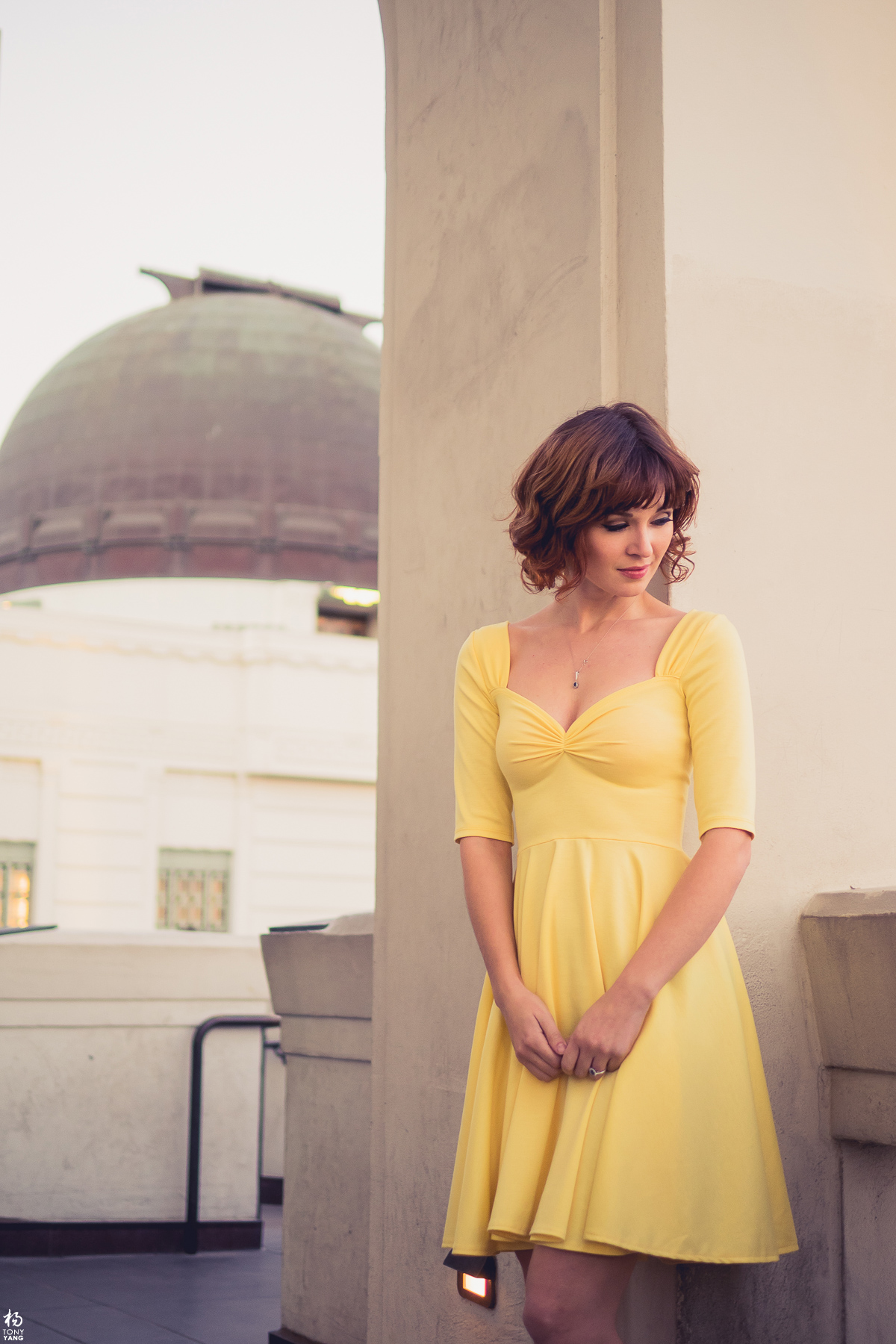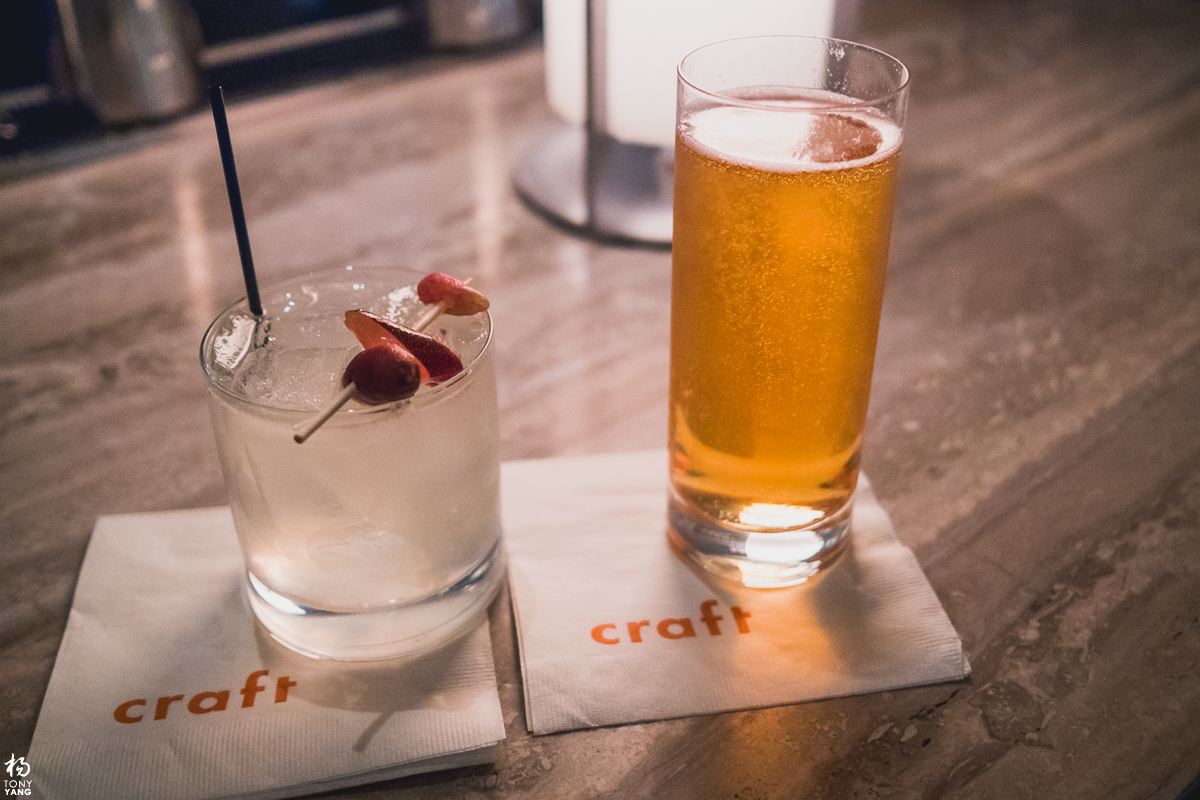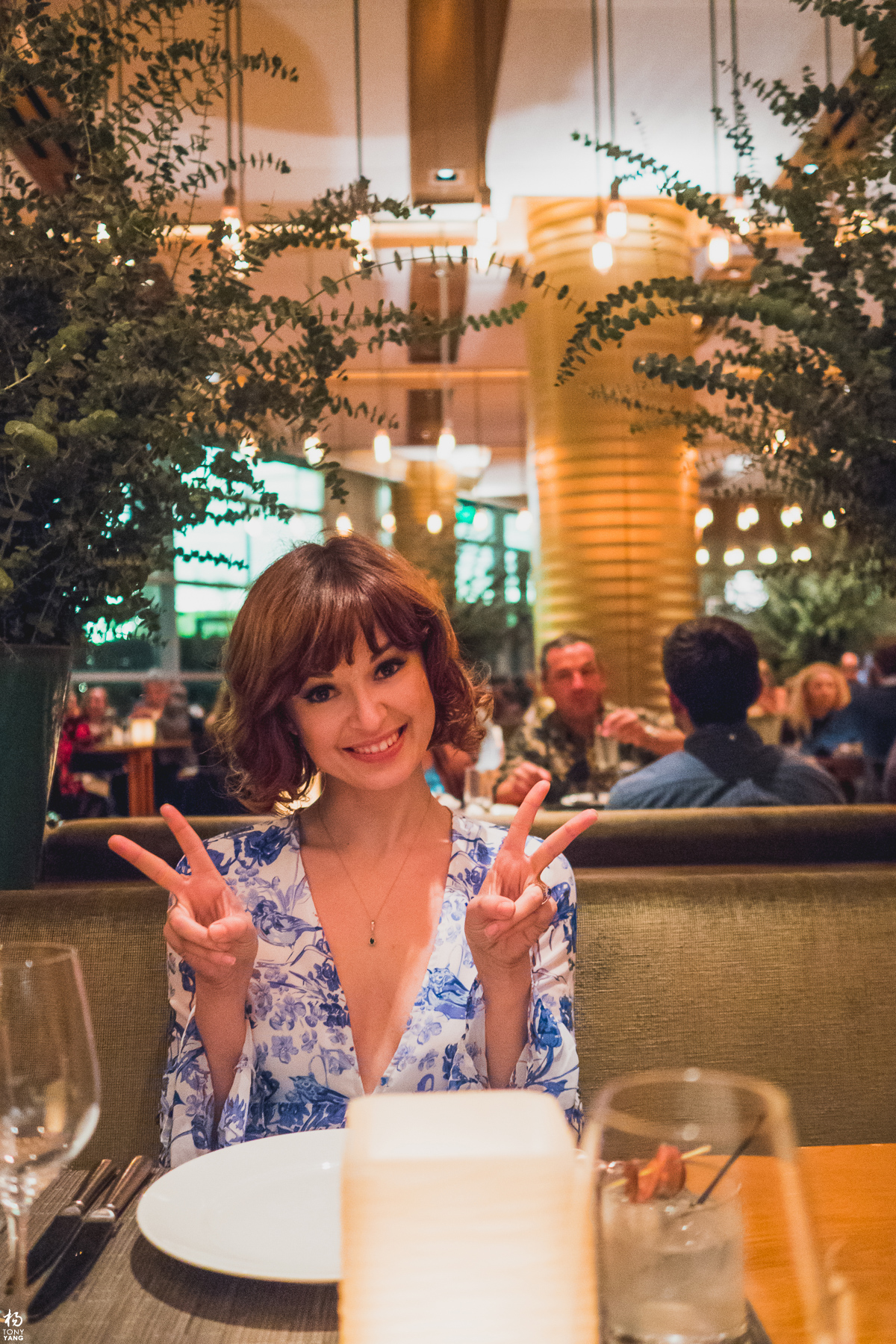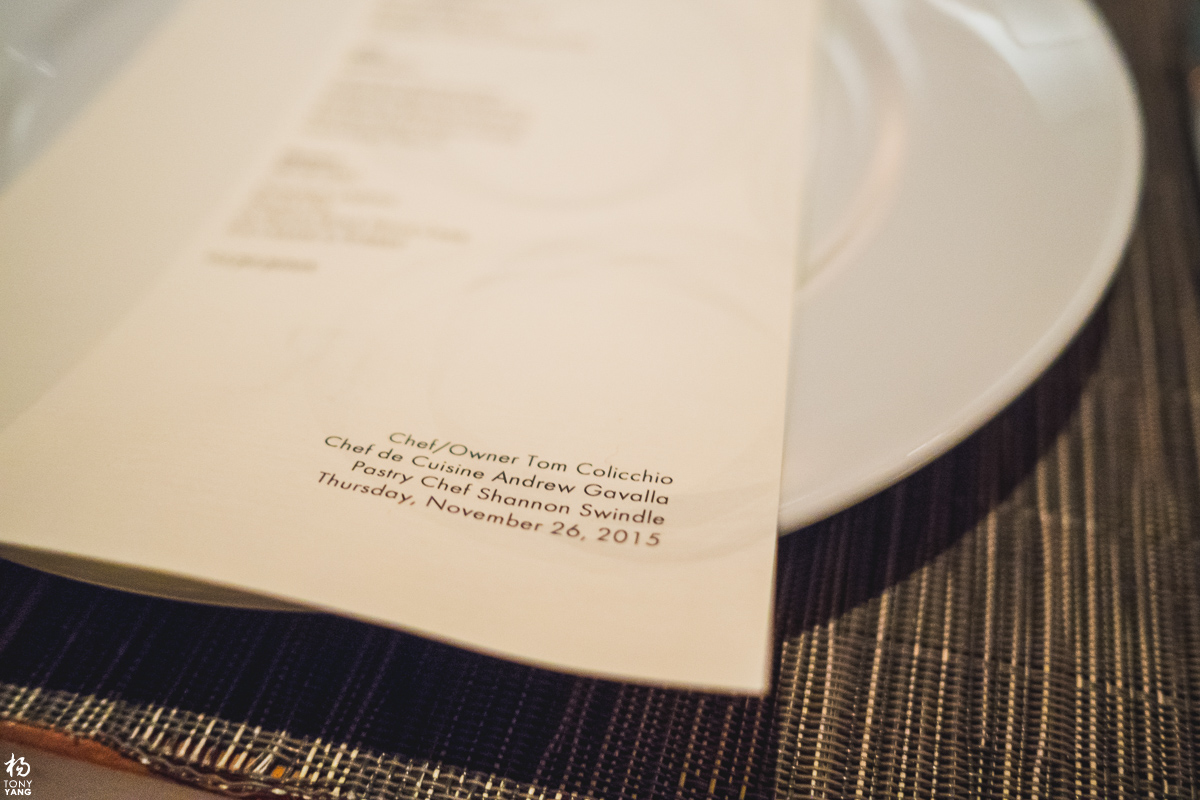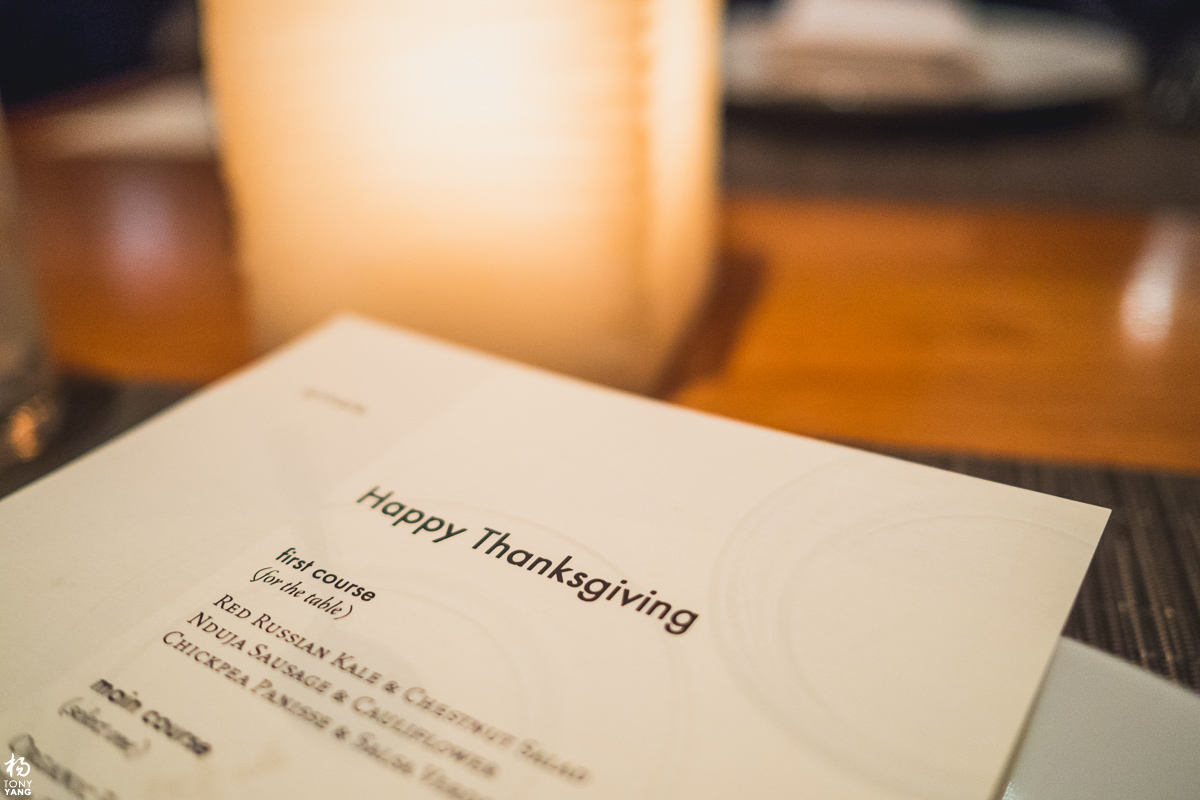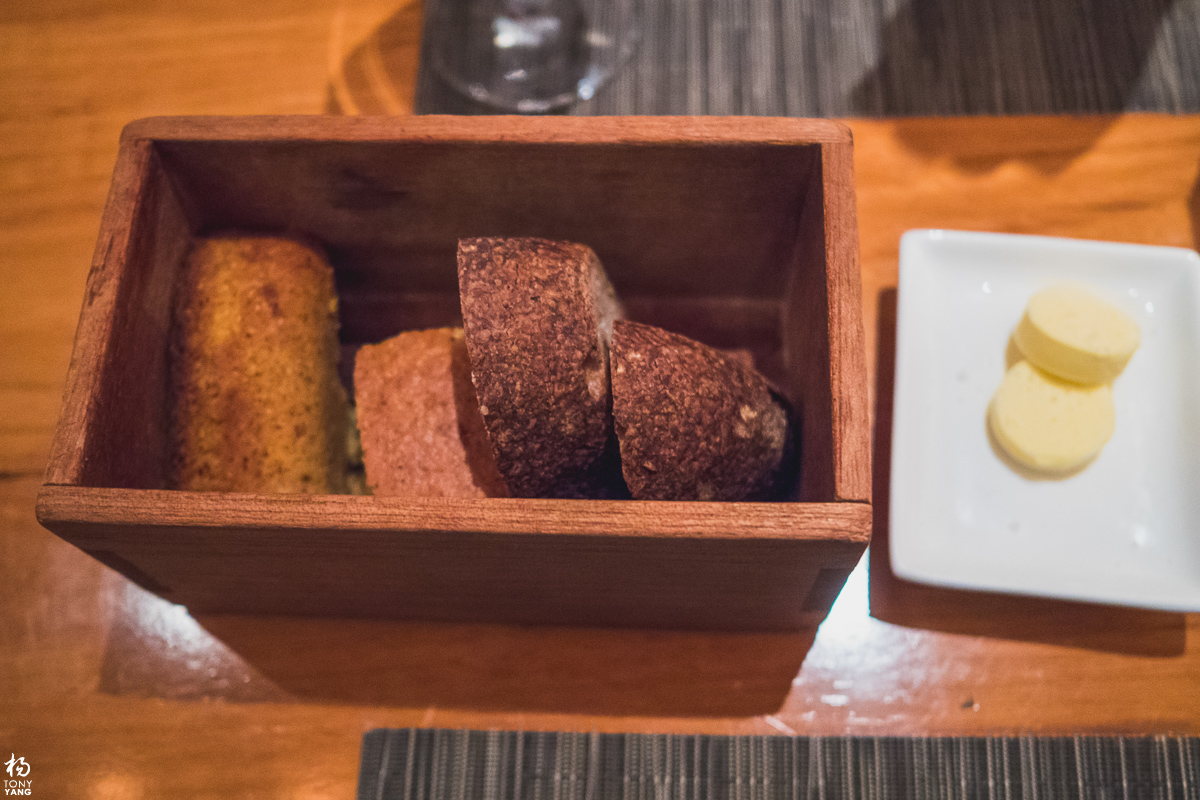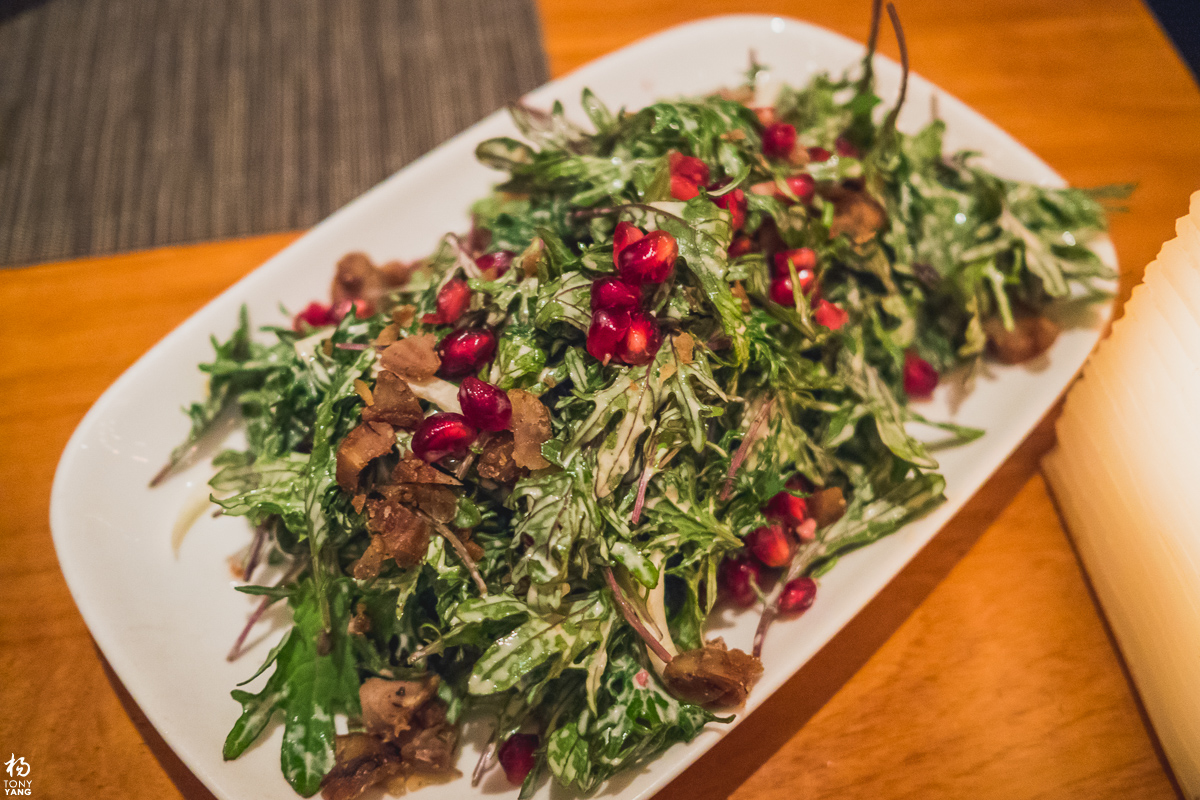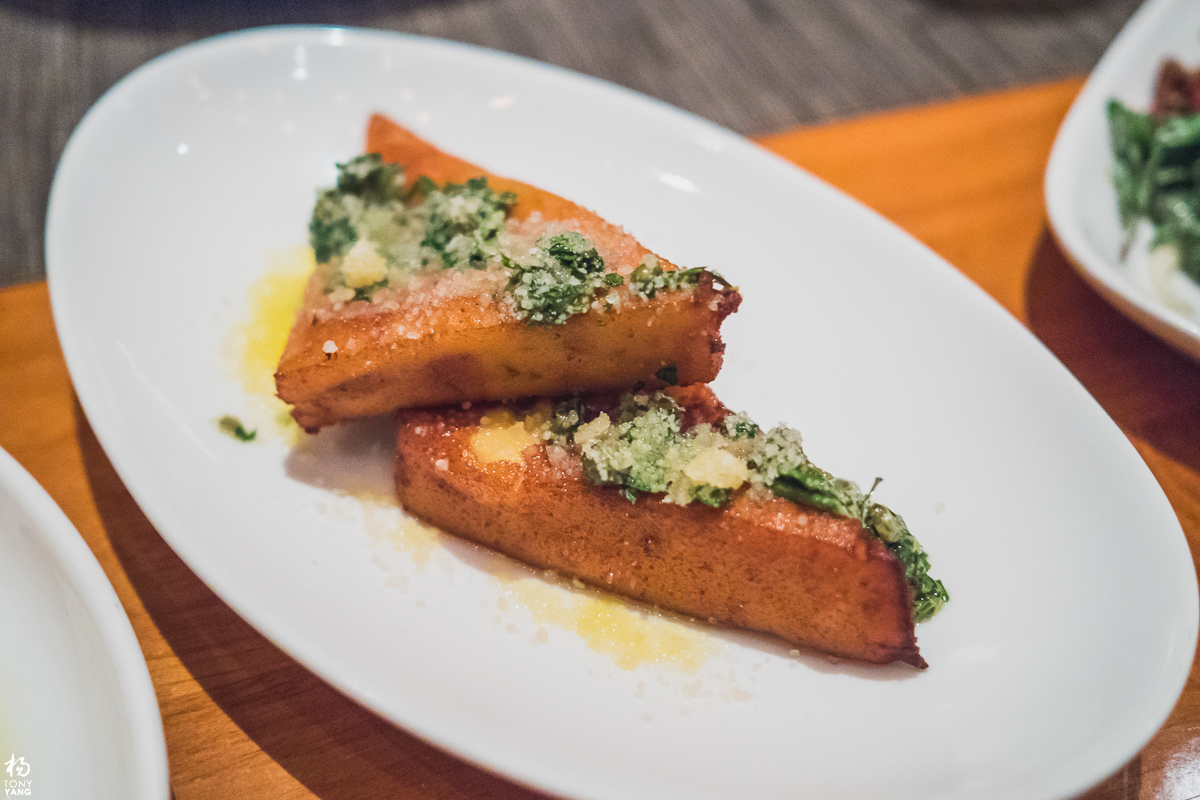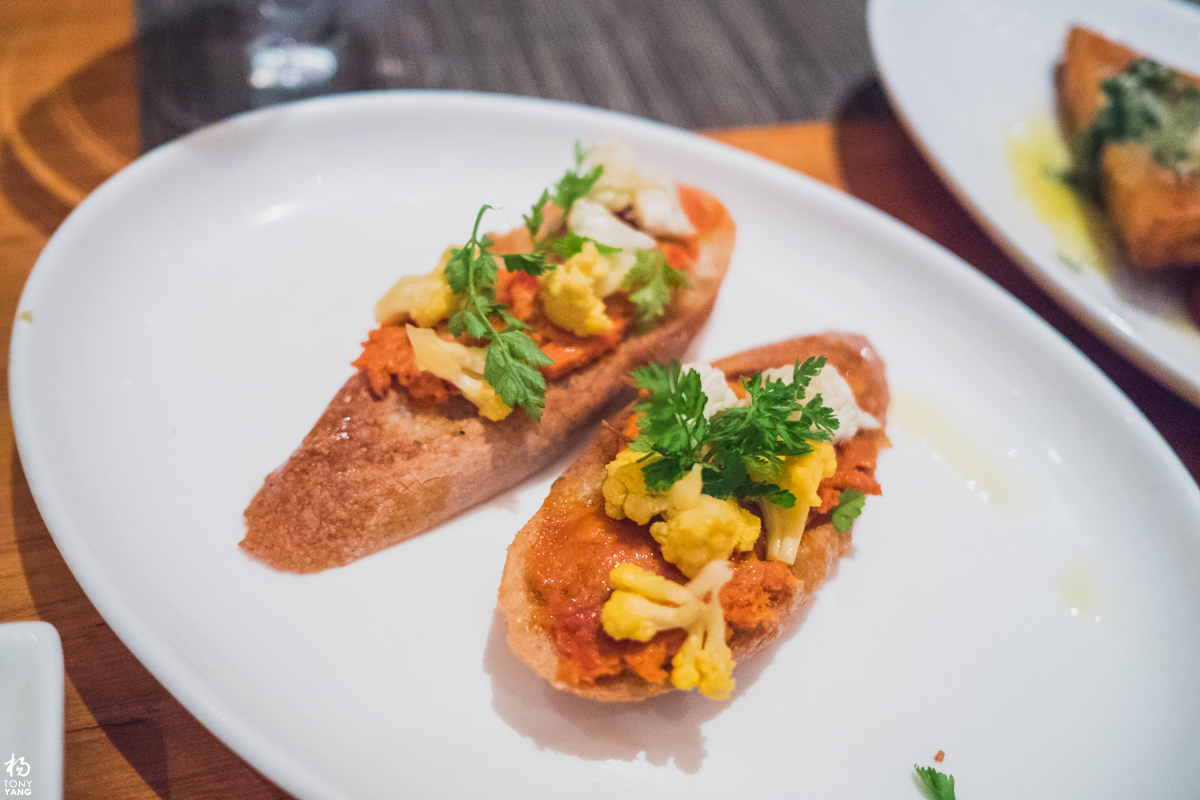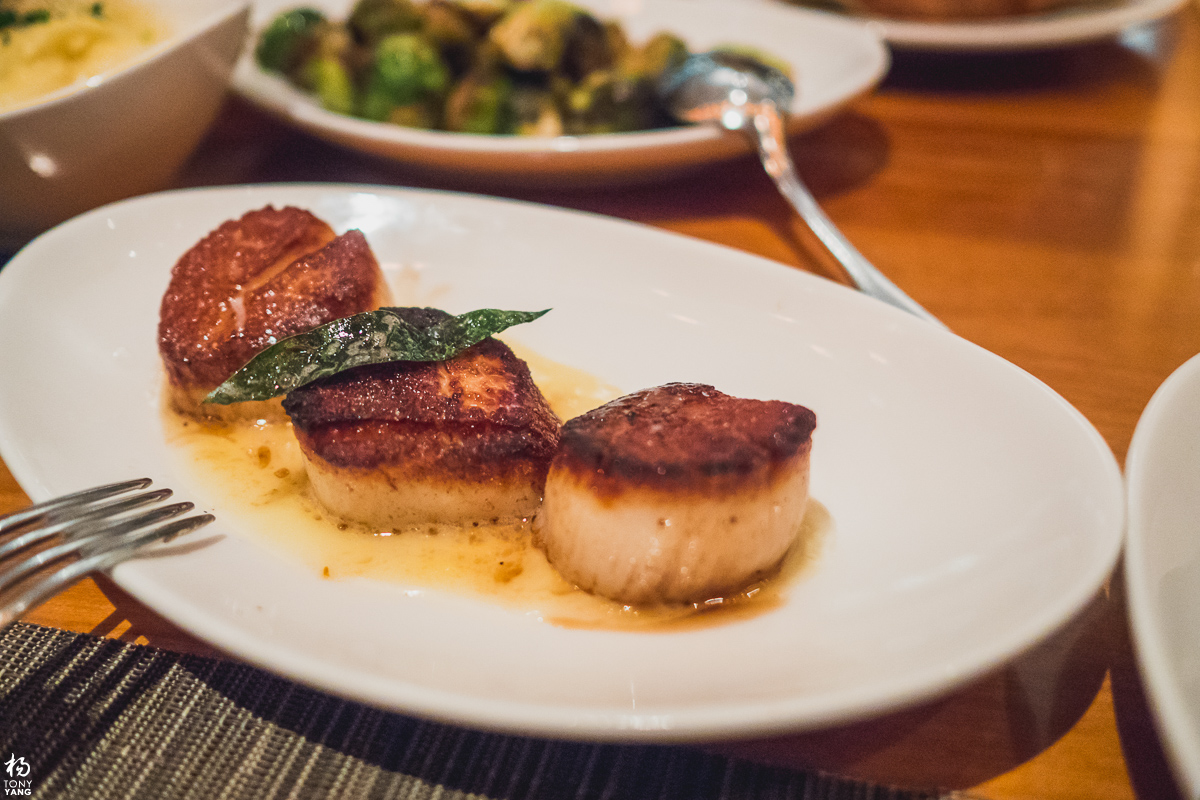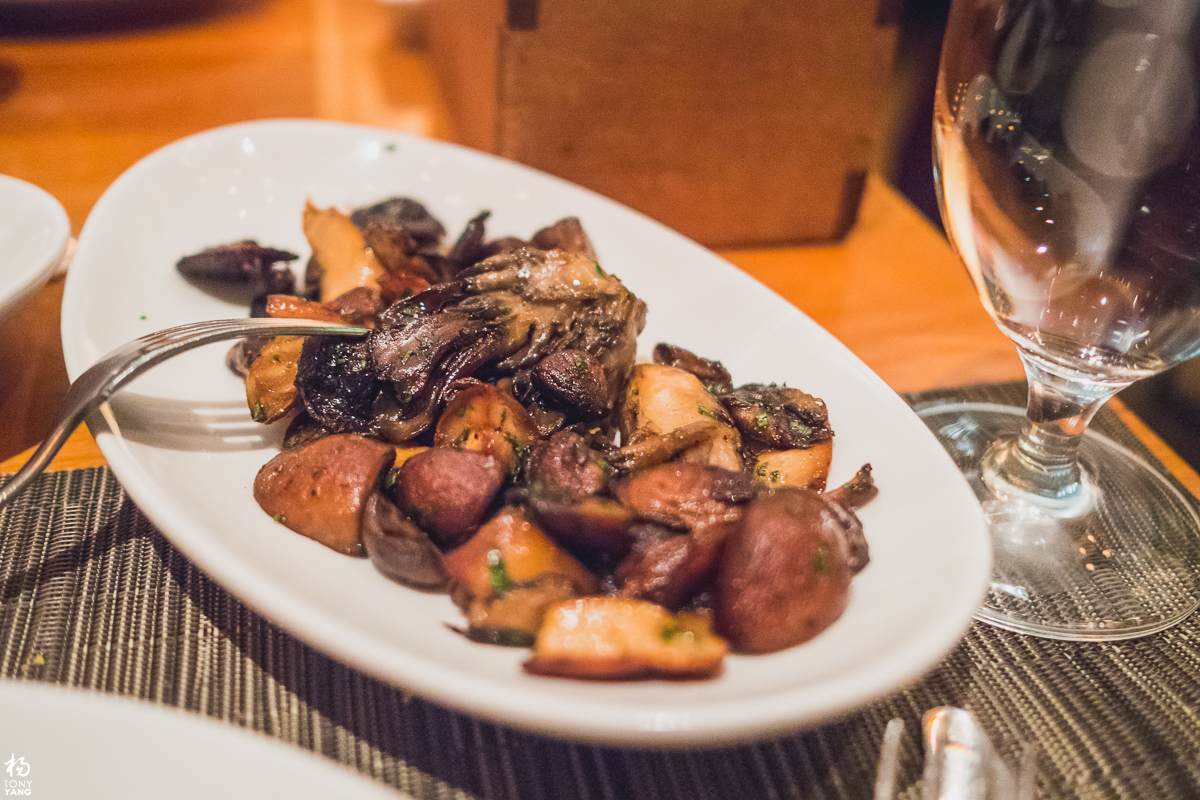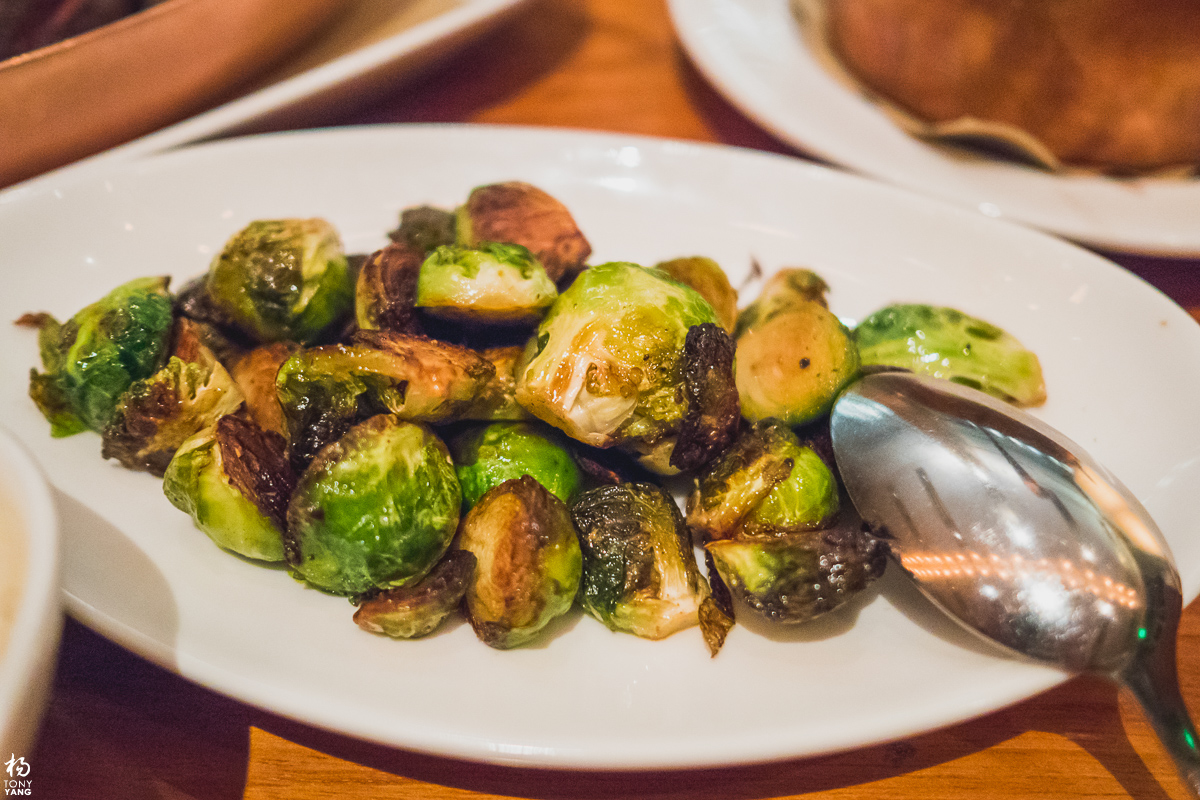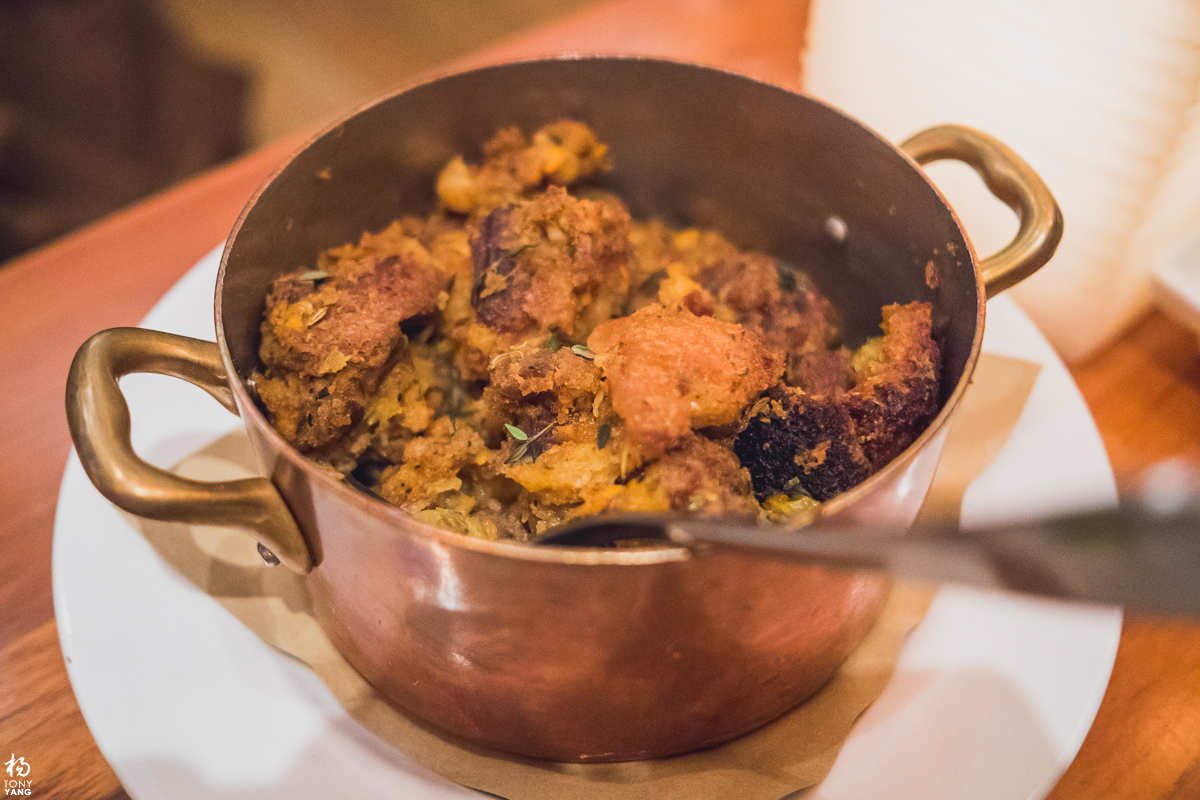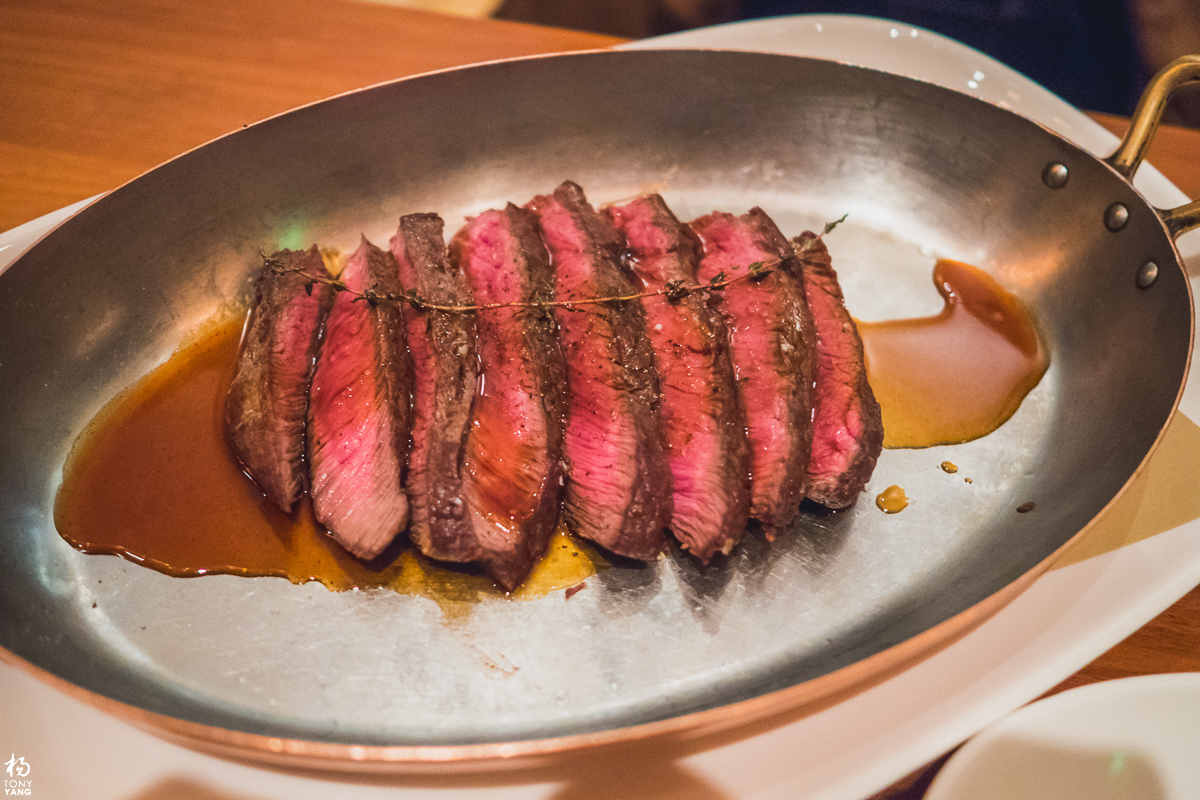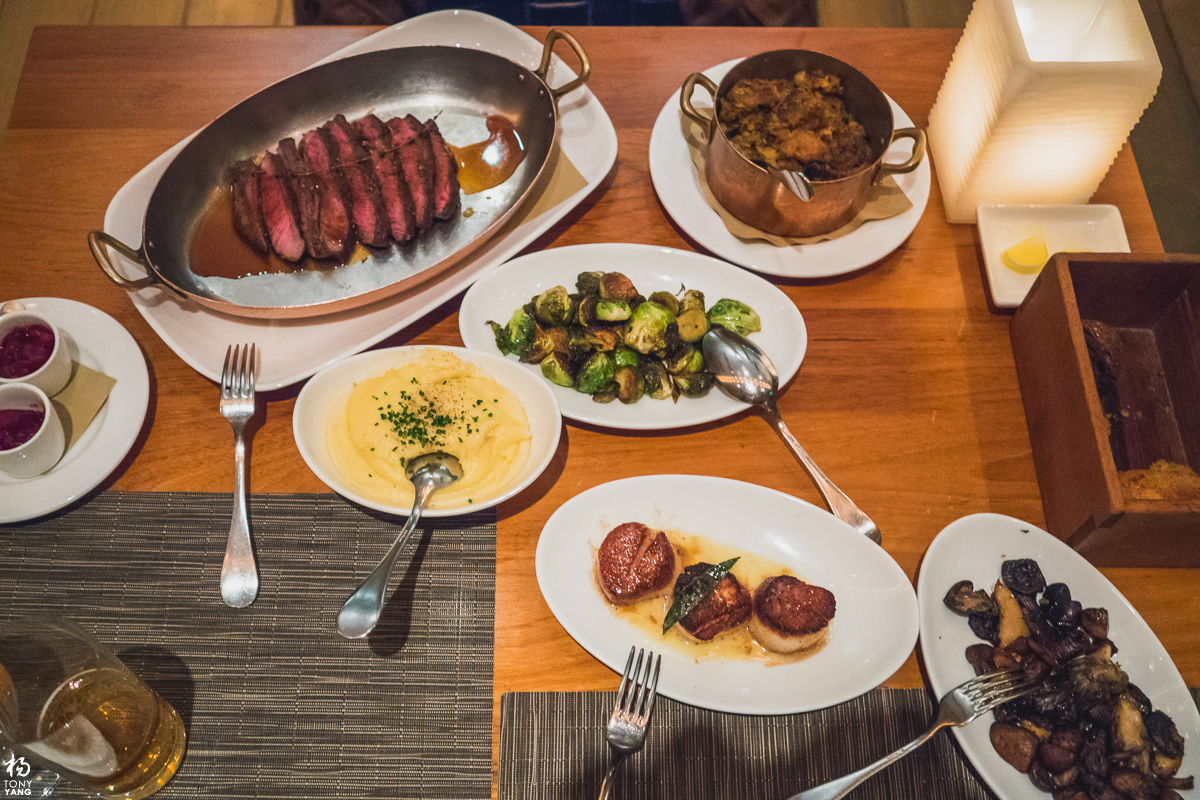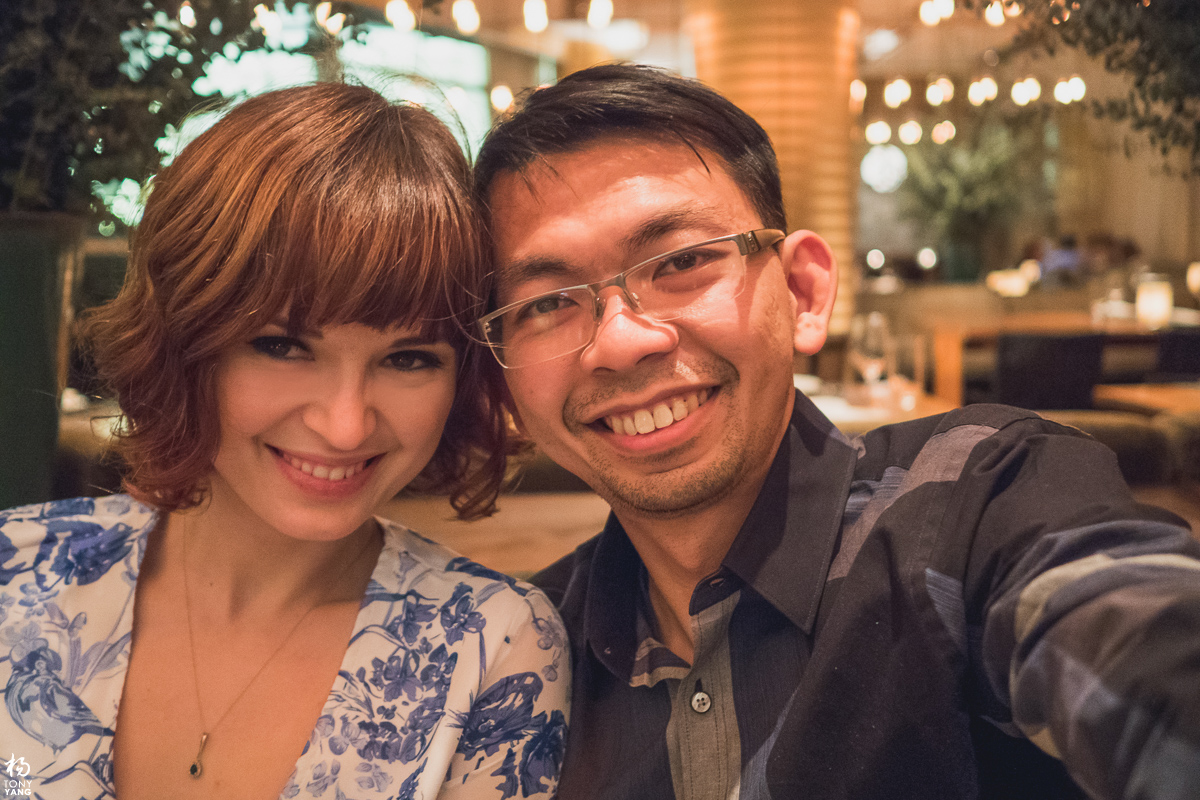 The day after a full Thanksgiving meal, we took my niece and nephew out for brunch at Romancing the Bean, finished with dessert at Krispy Kreme. This would be Olya's first experience with the West Coast donut sensation, although she was skeptical about enjoying any donut to begin with. After her first bite into the delicious warm glaze, her heart became gooey and demanded another one. She was also sold on In-N-Out, great for road trip pit stops, as we made our way to a beautiful Bed & Breakfast in San Diego, Britt Scripps Inn. For dinner, we found an adorable diner that was also perfectly fitting for a Hardley dress. The Corvette Diner is a wonderfully themed and fun place to have dinner, and I even won the contest for the furthest traveled diner that evening!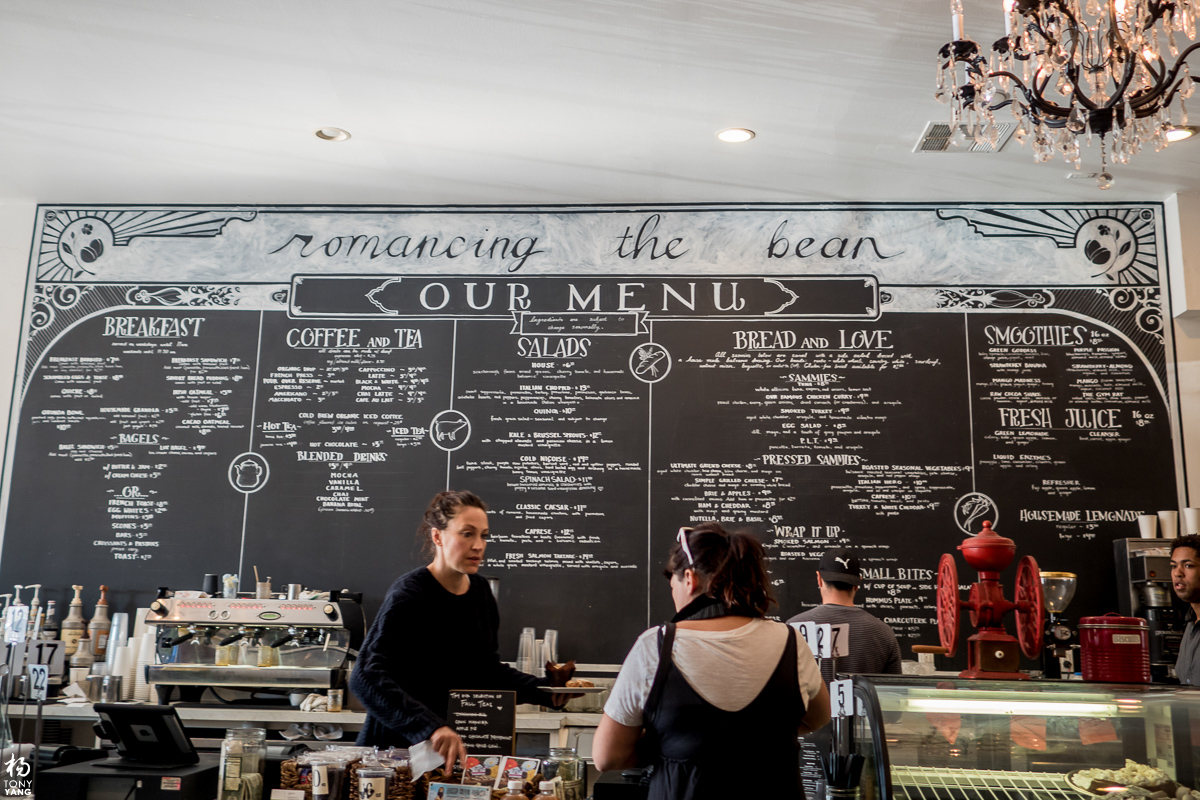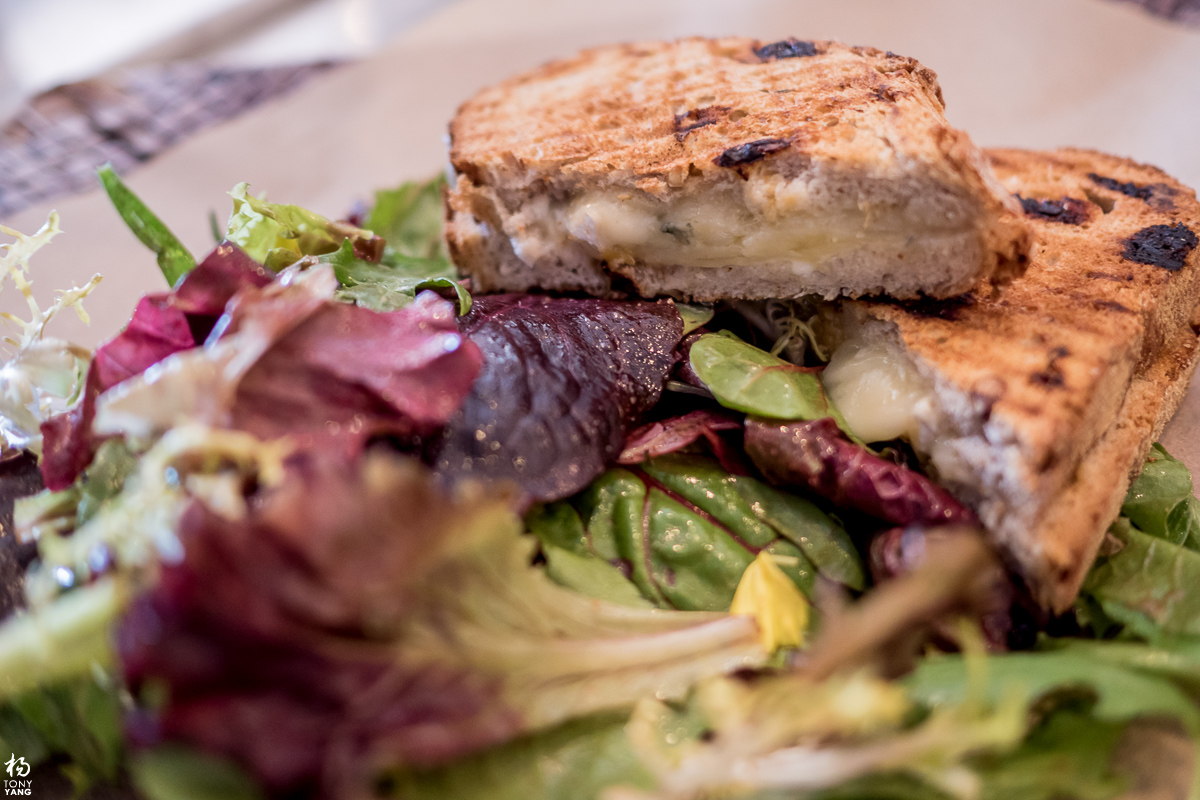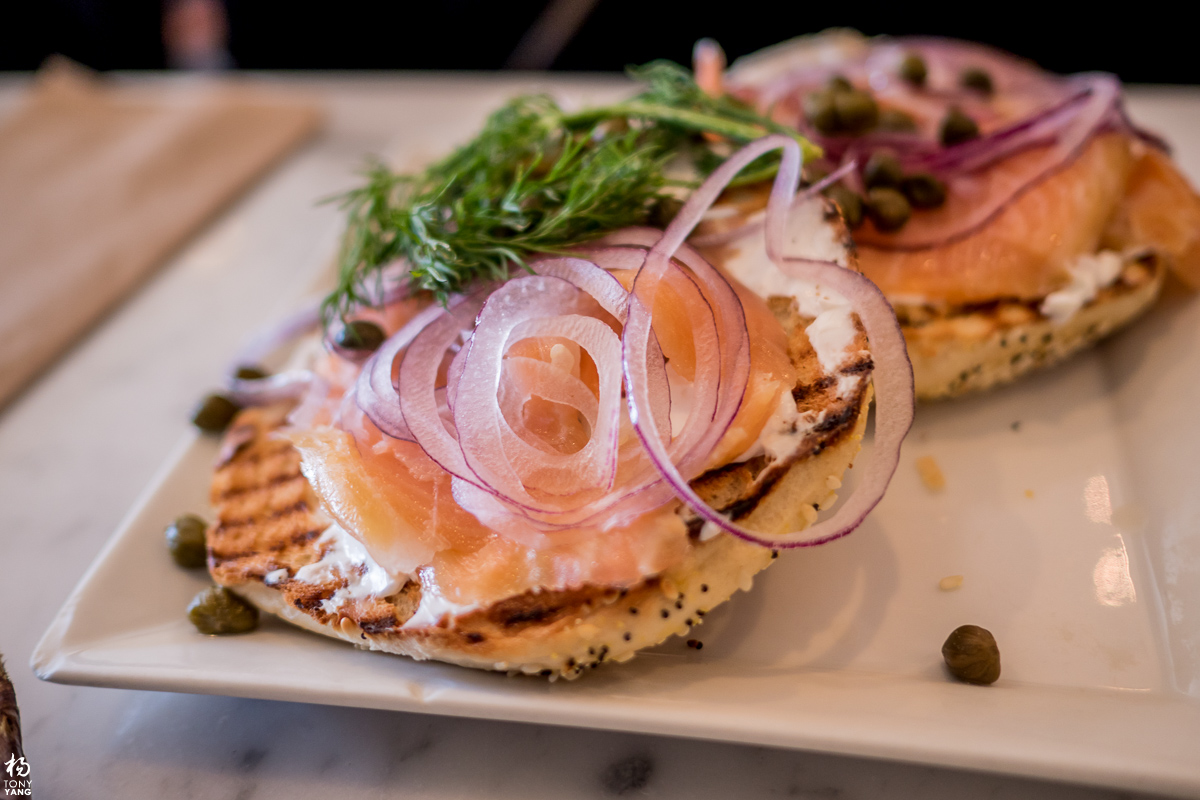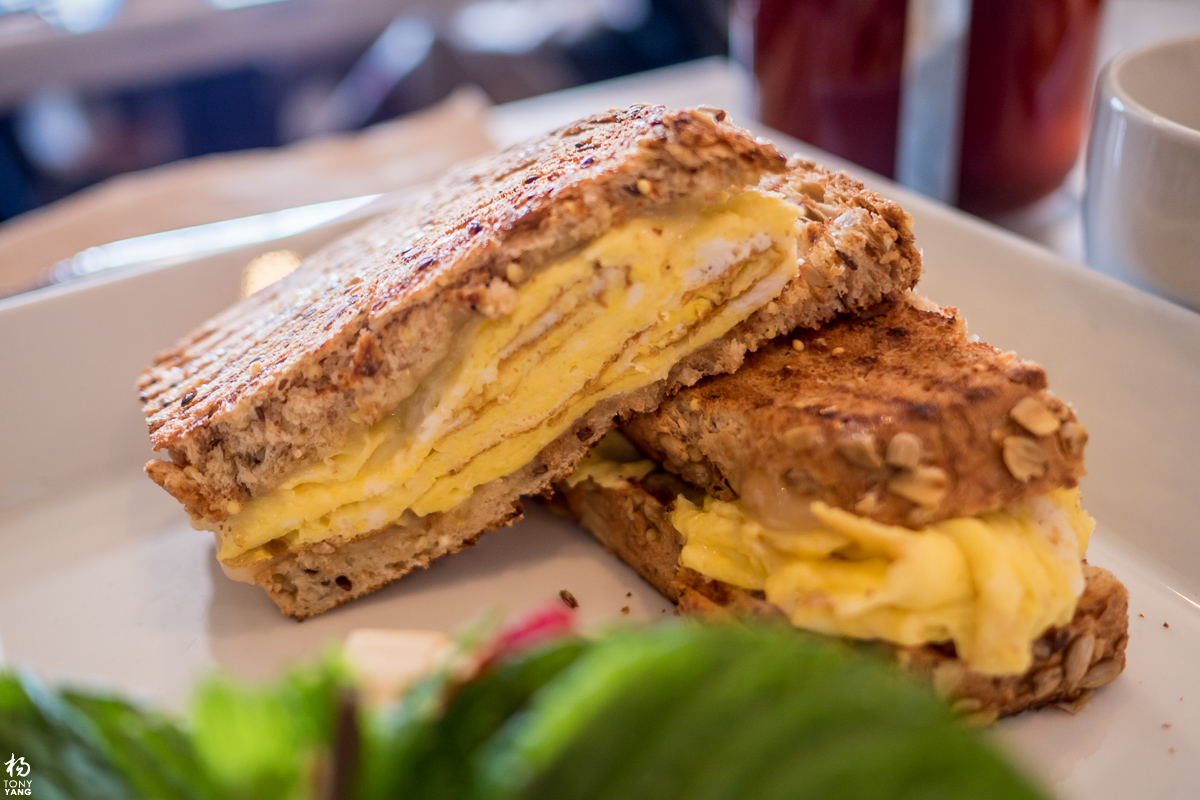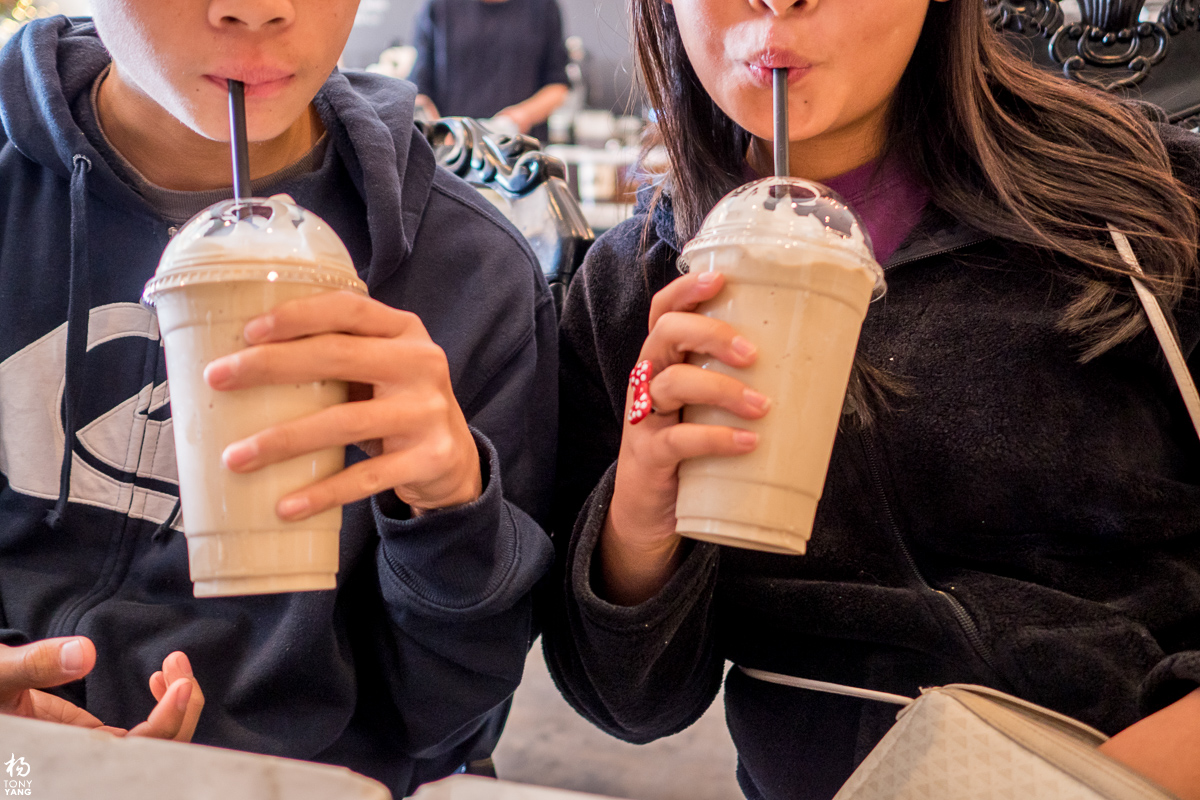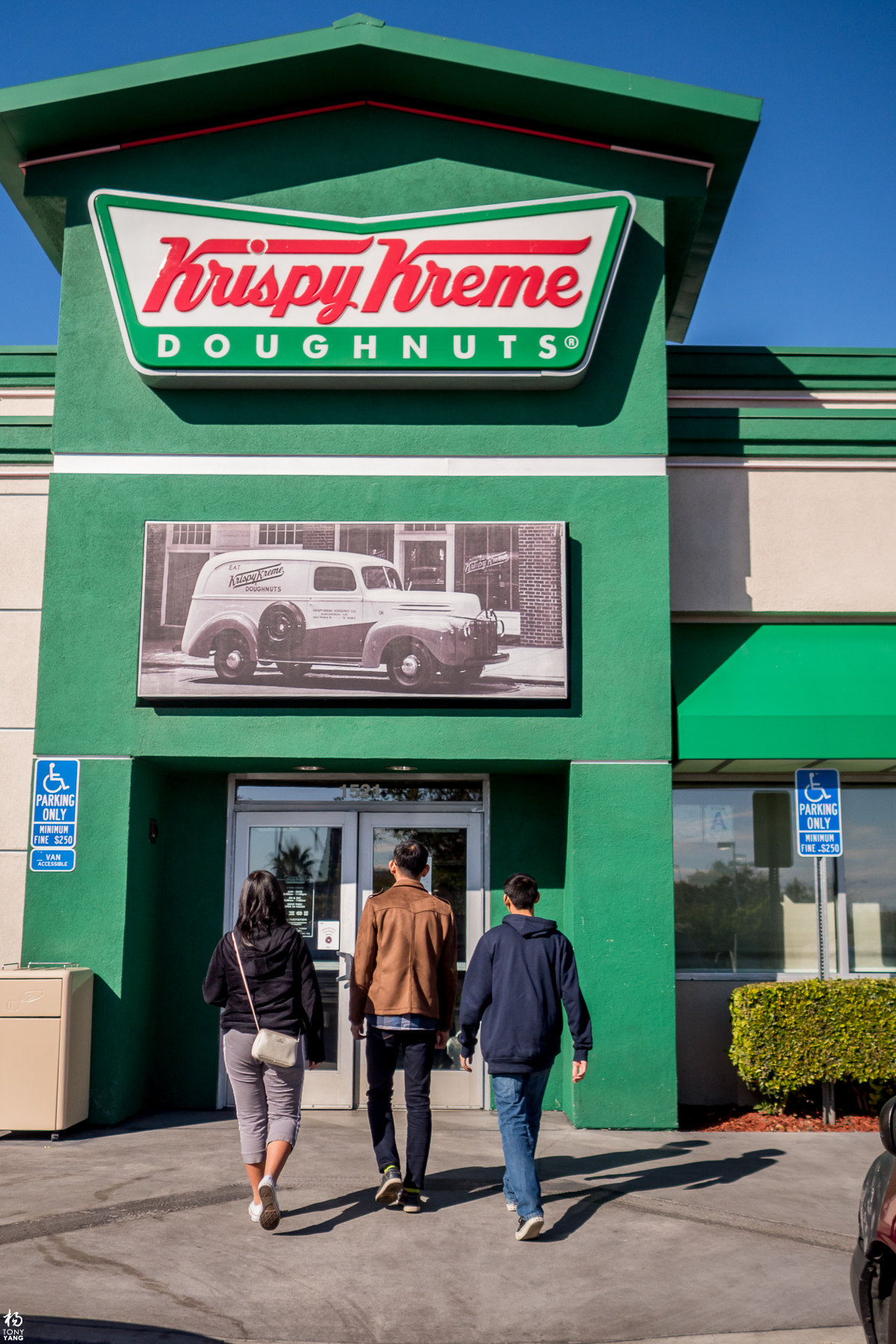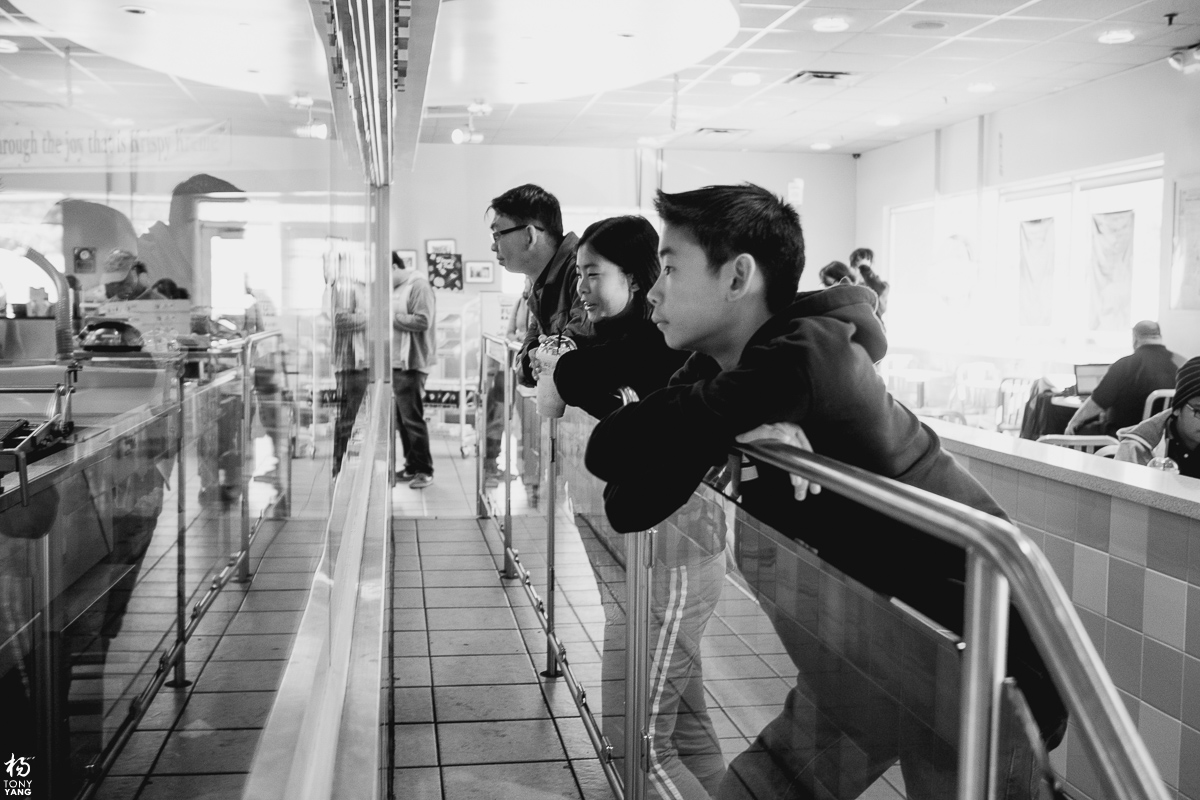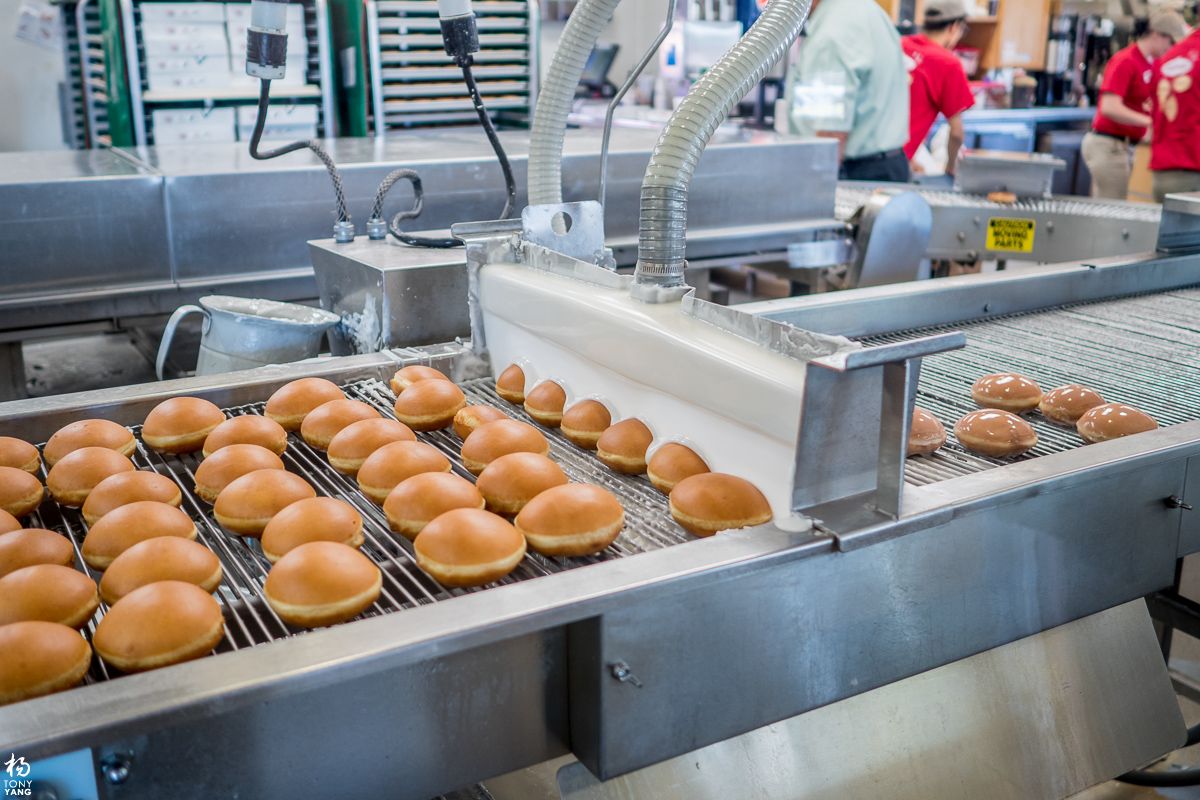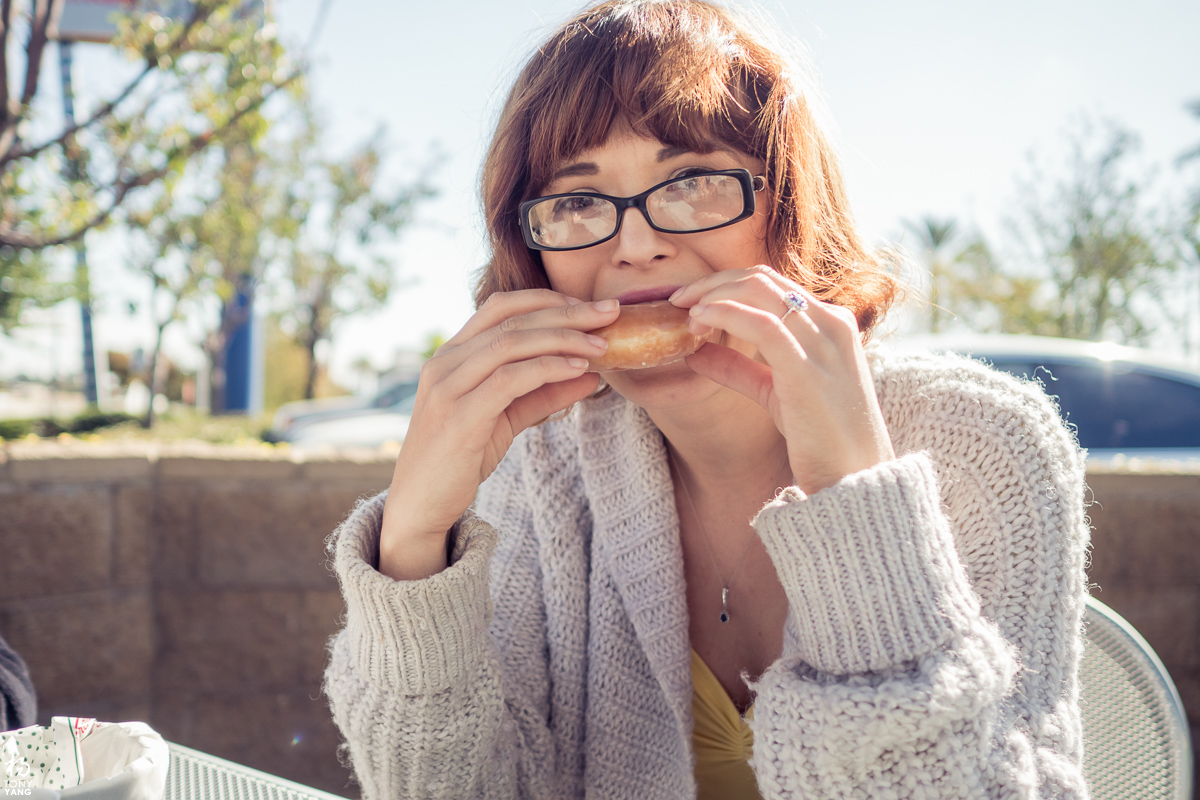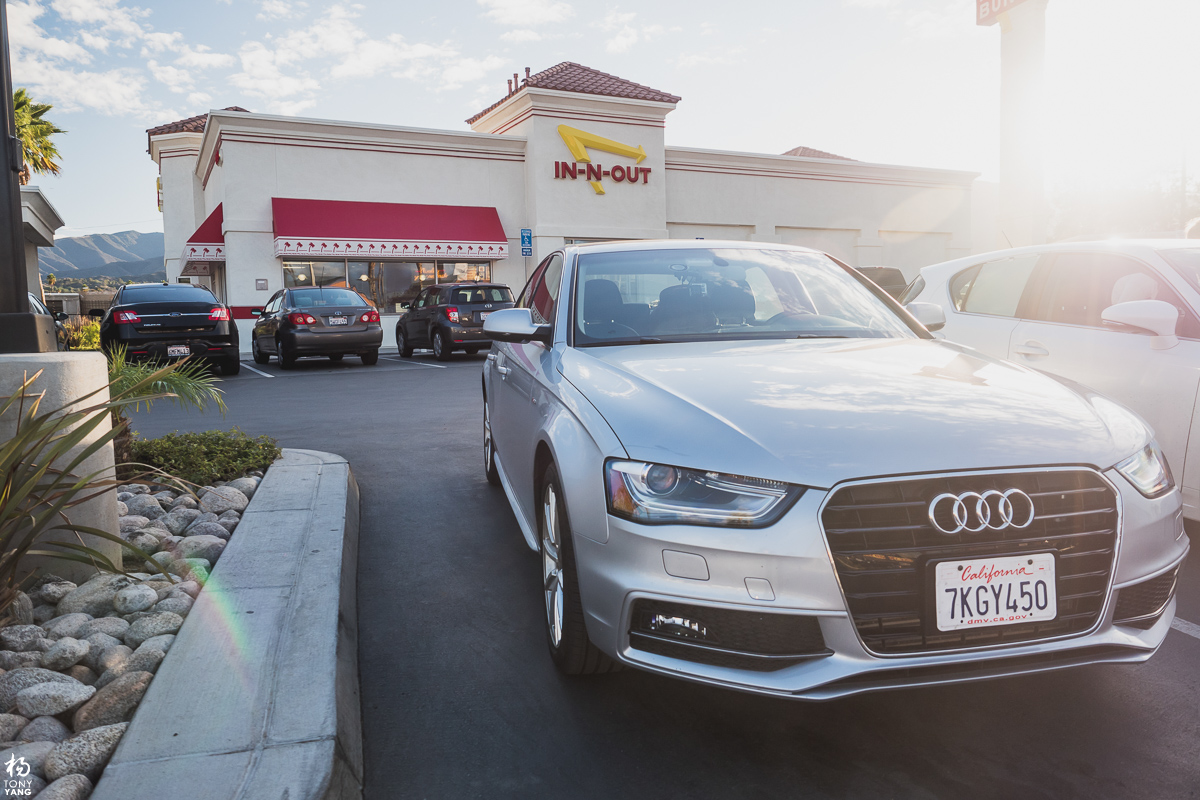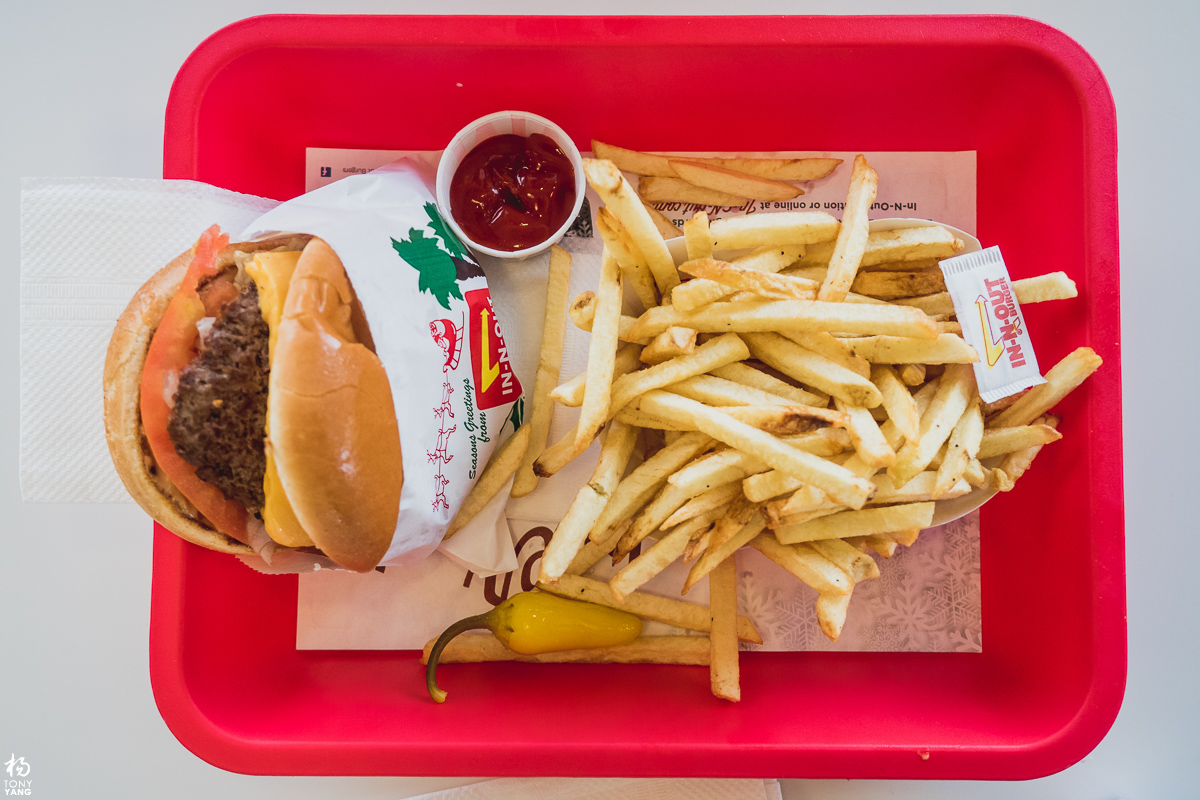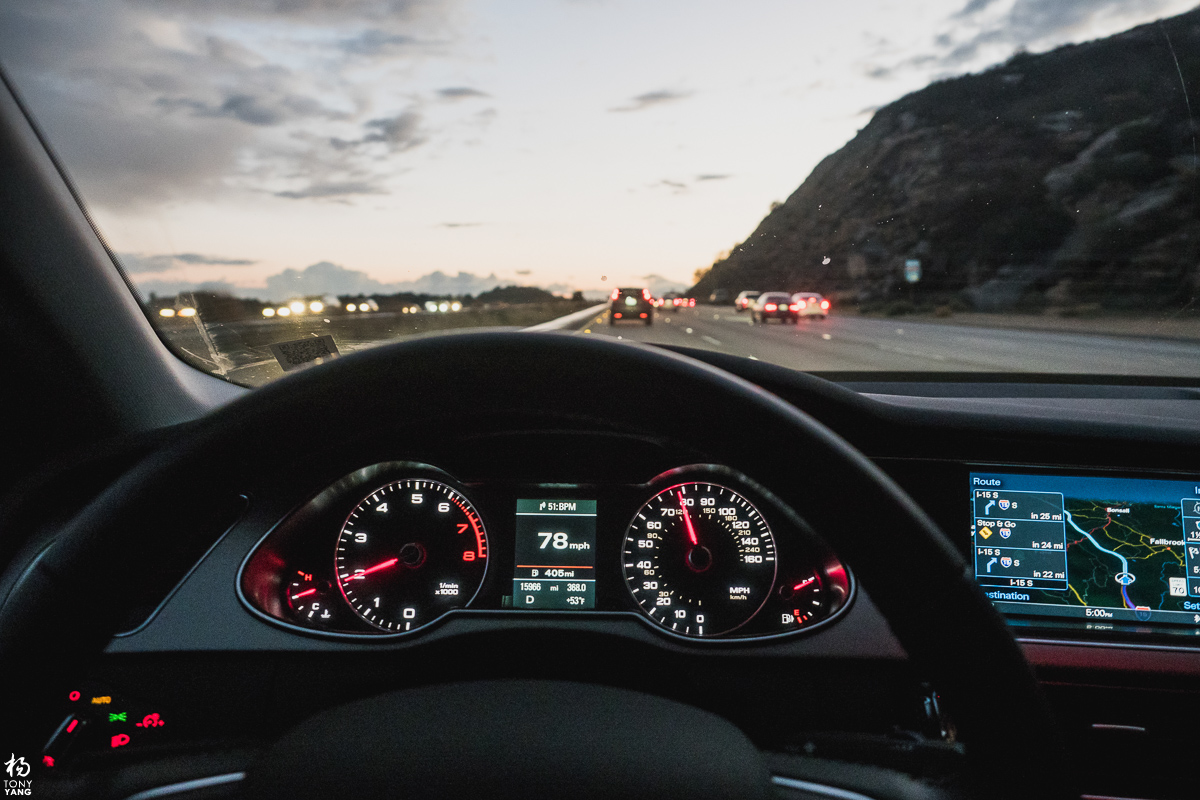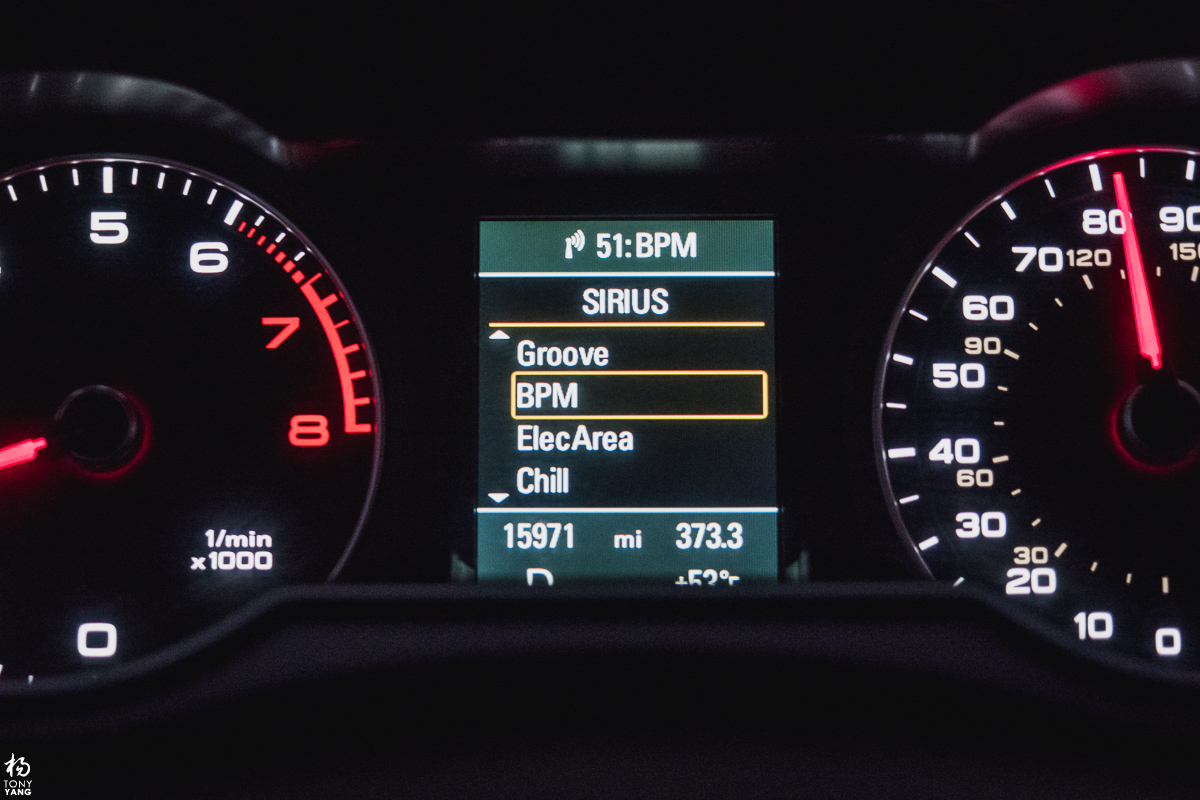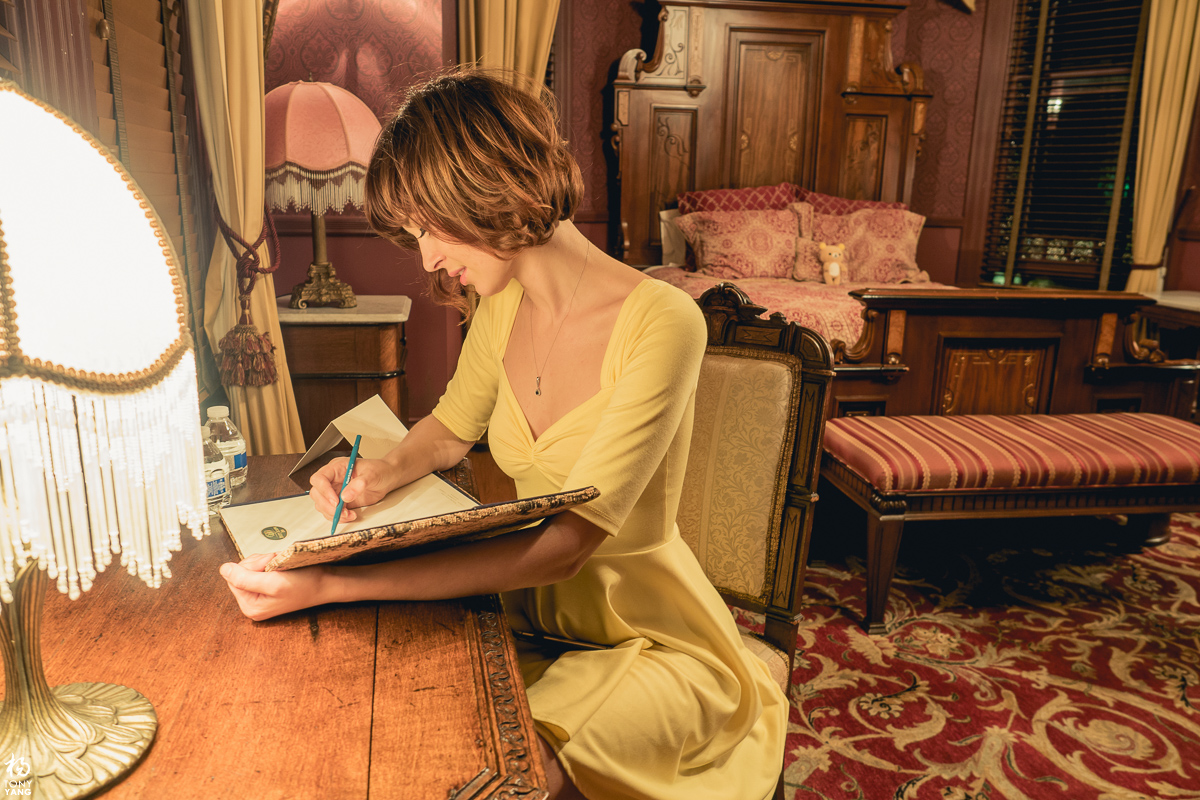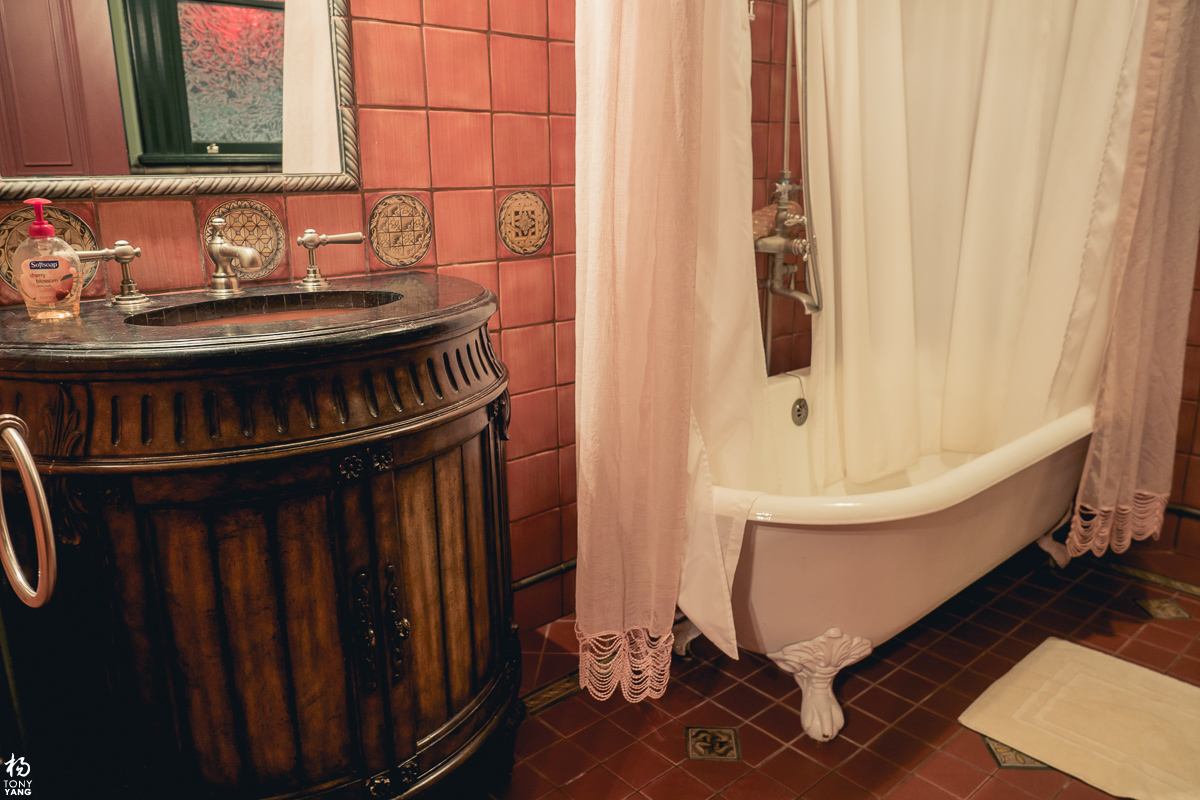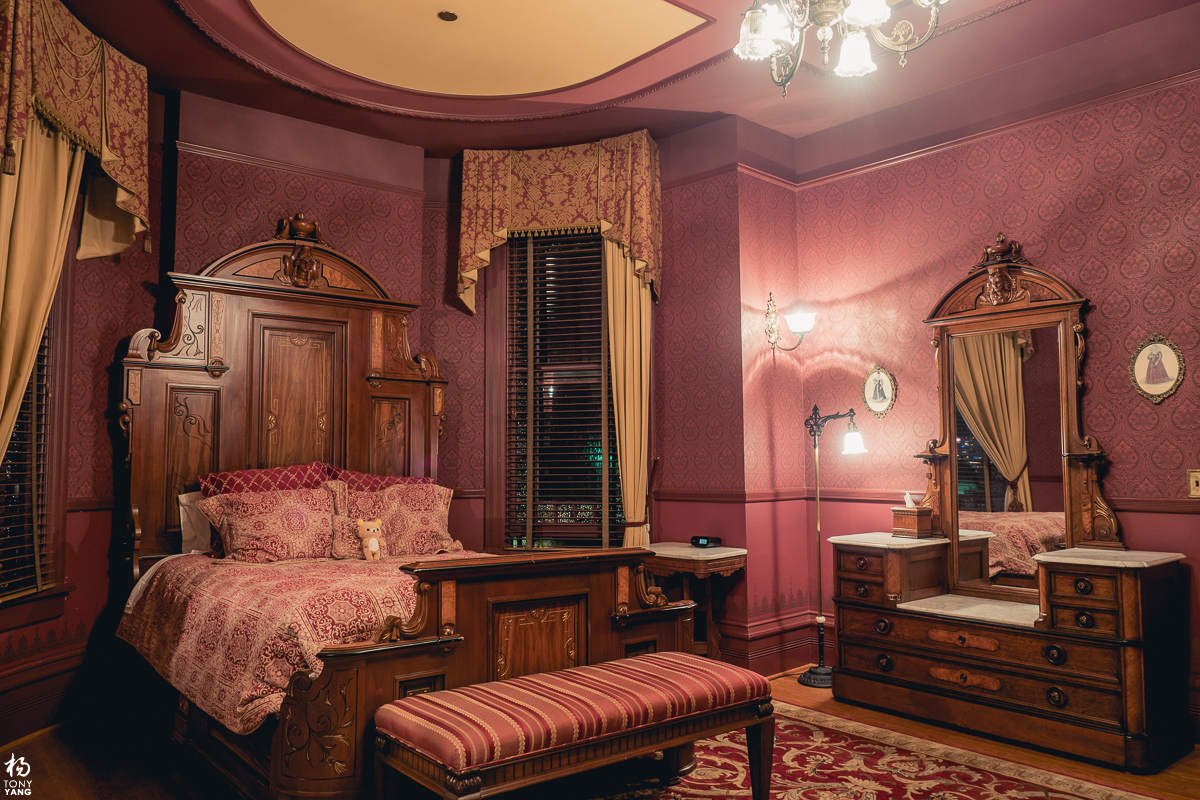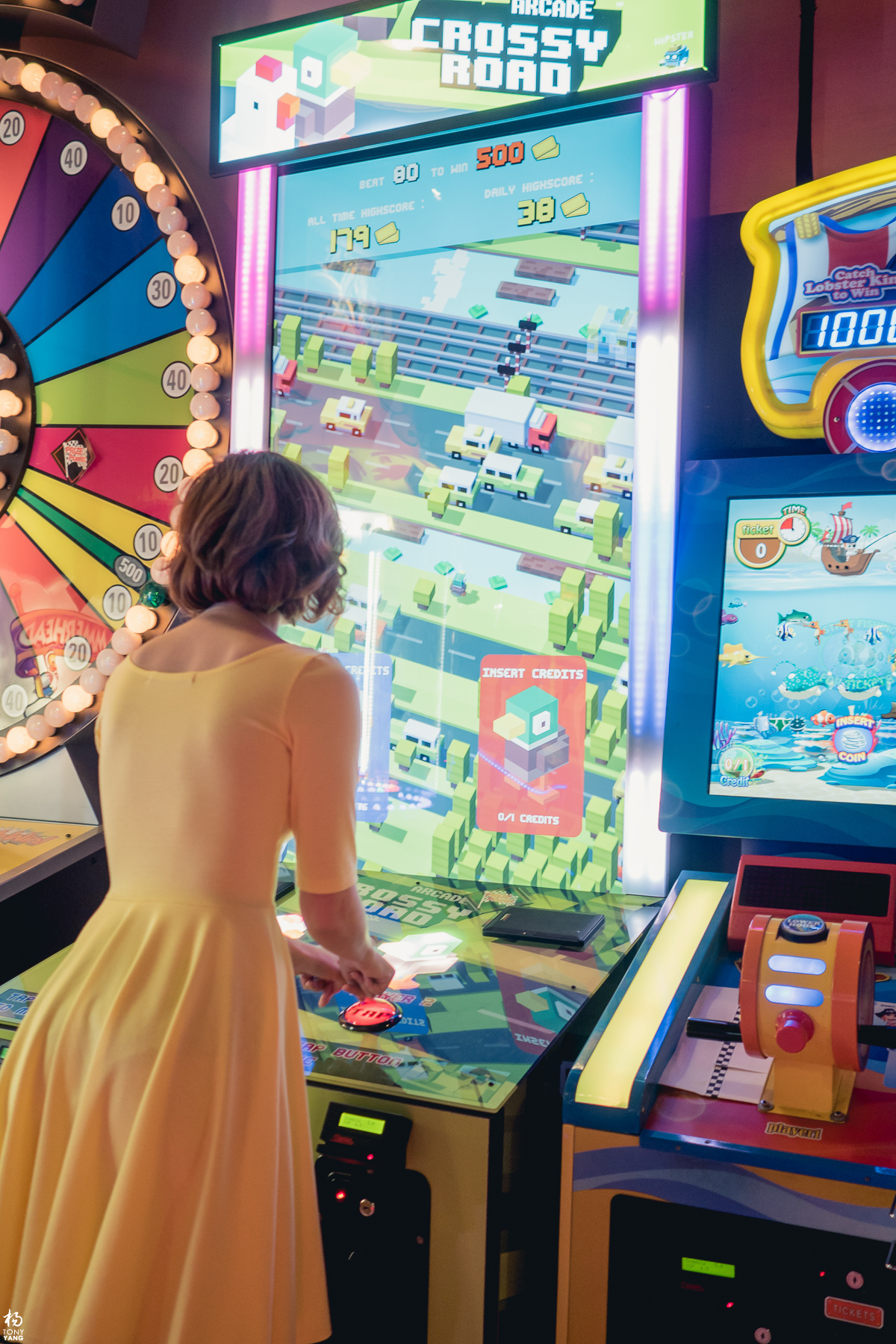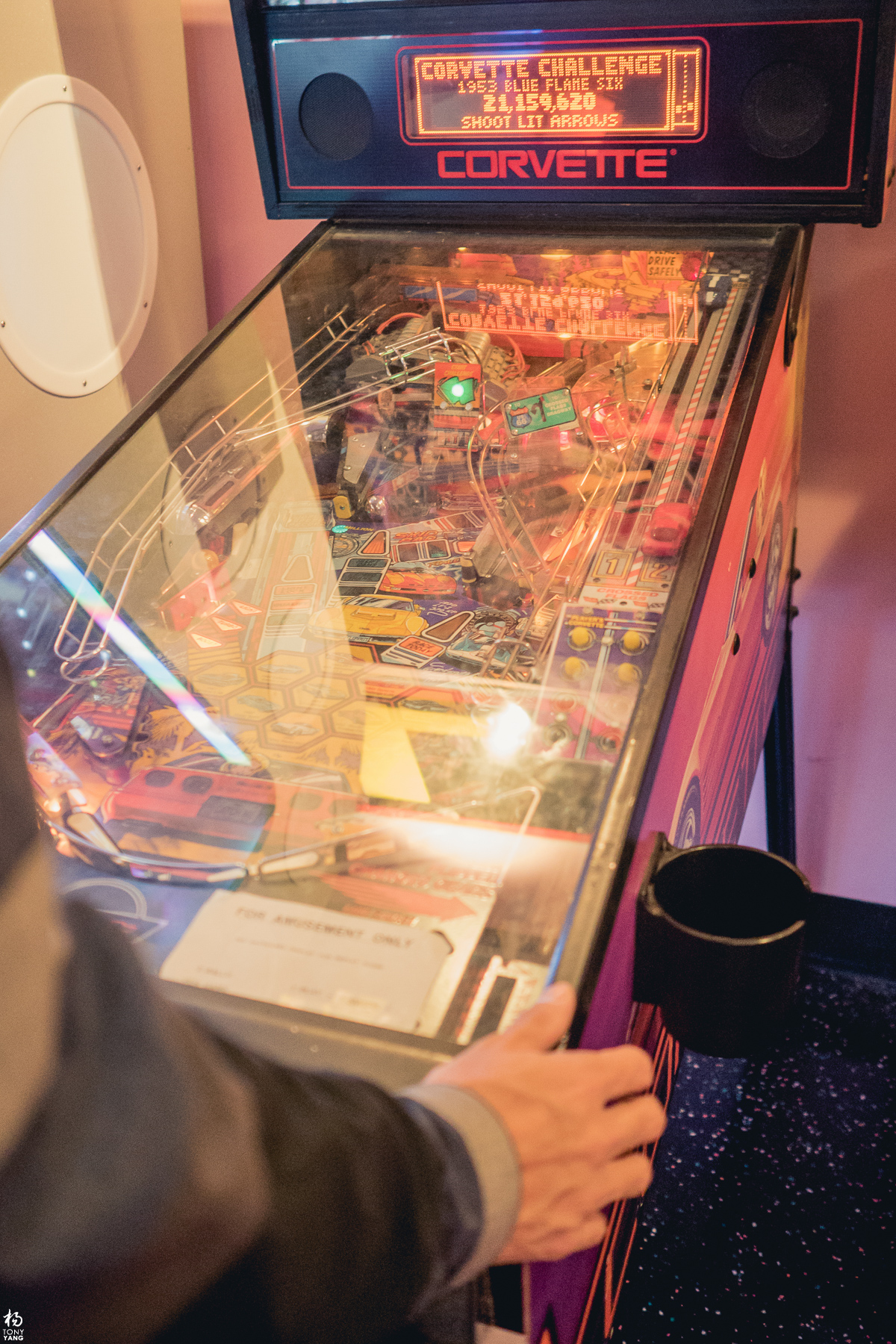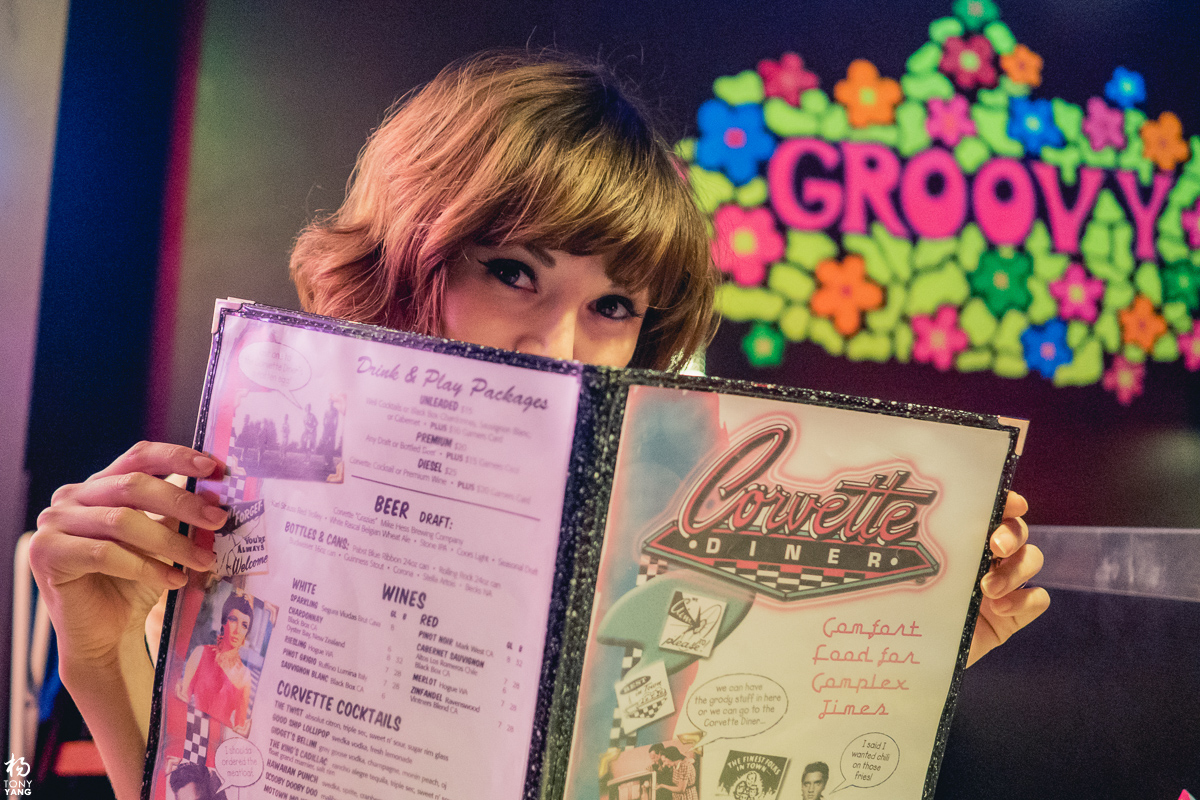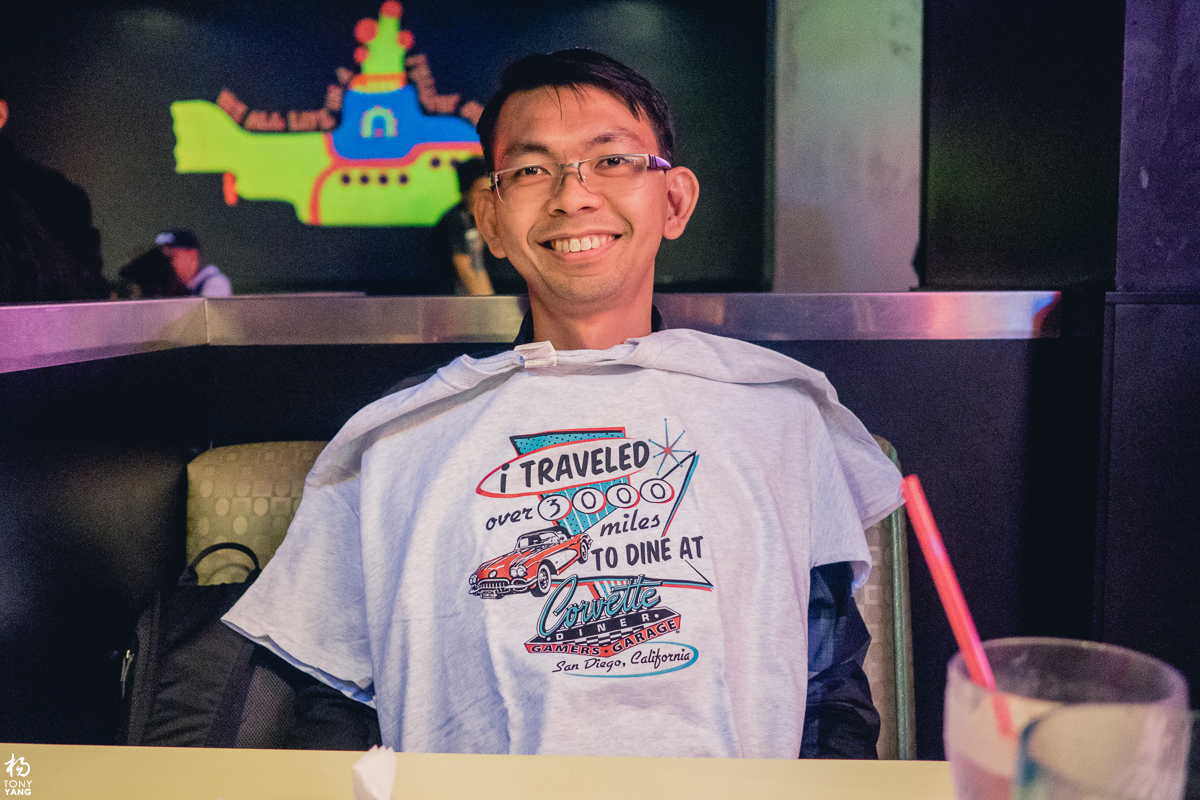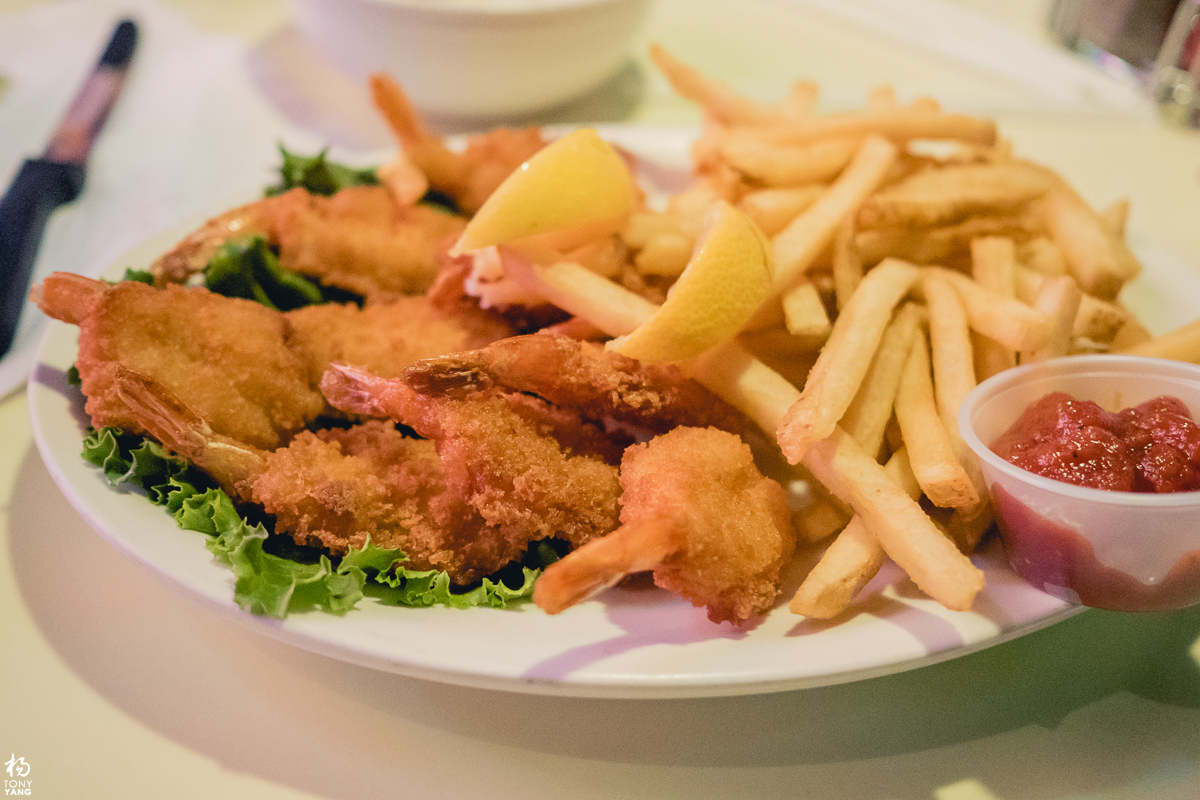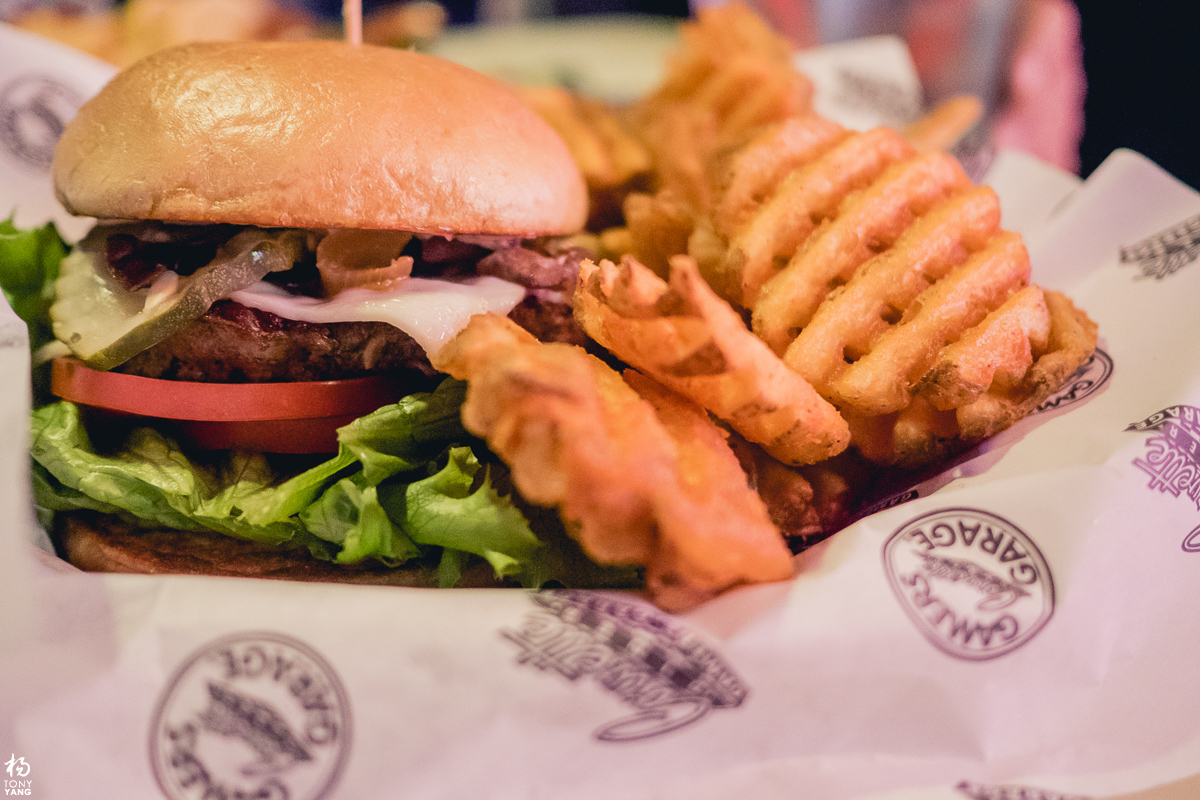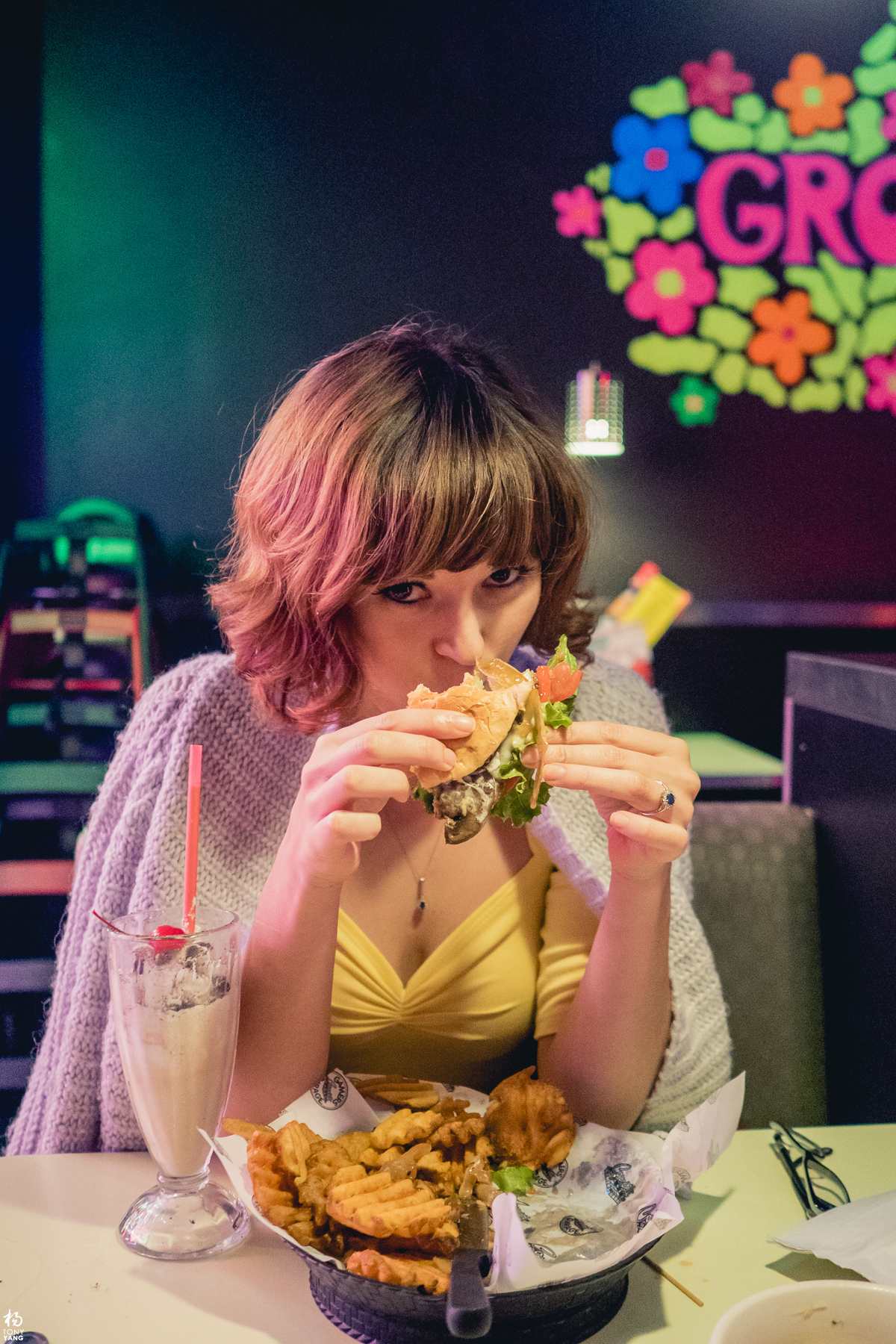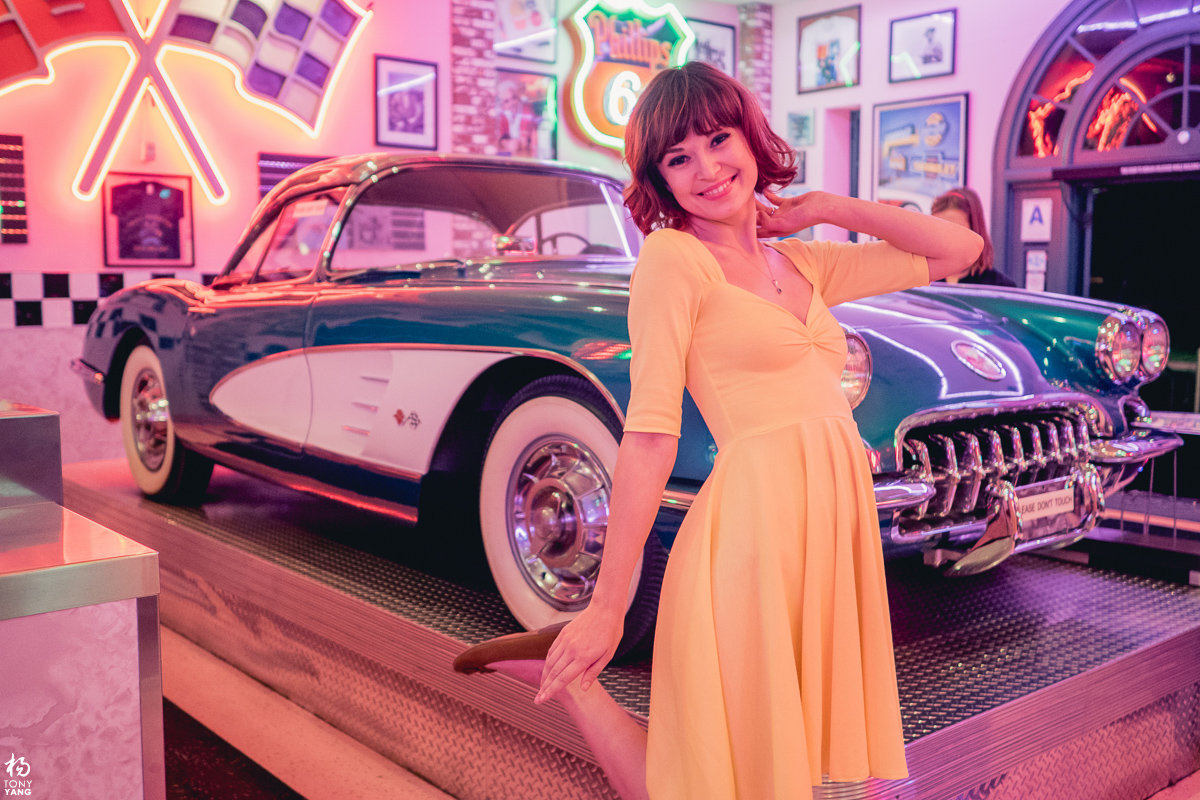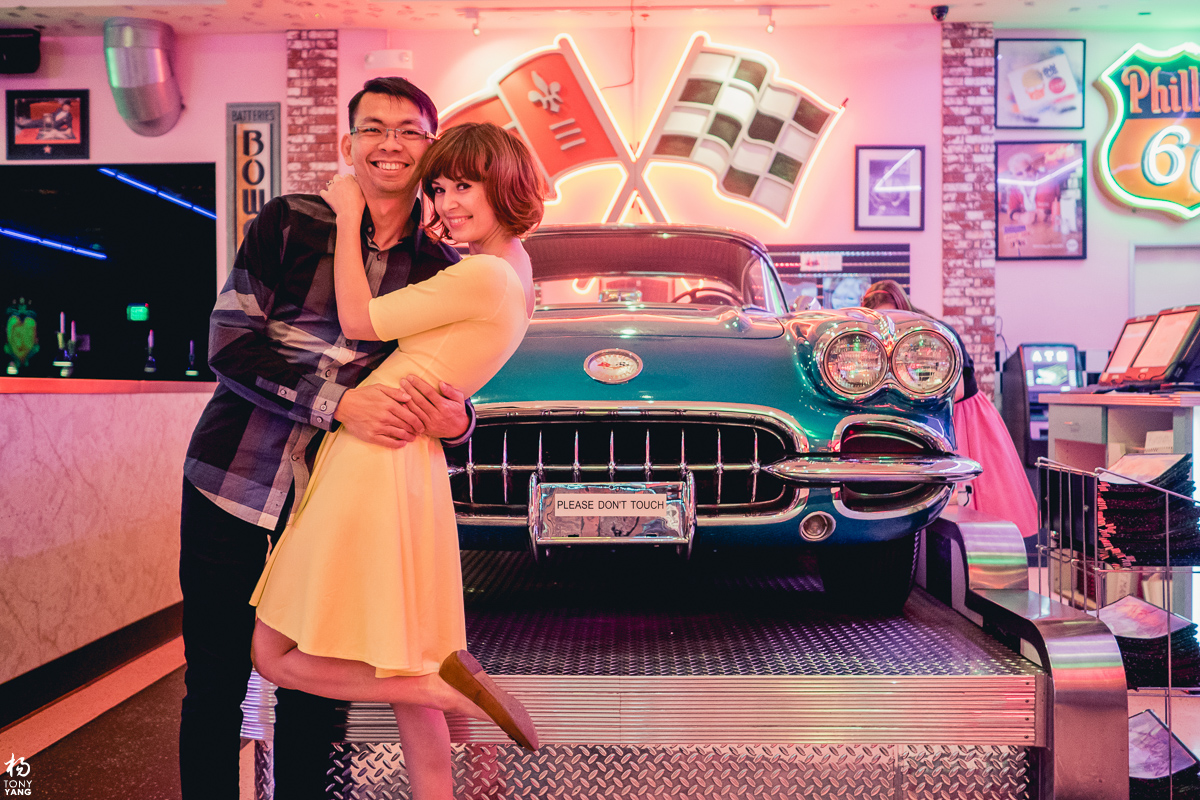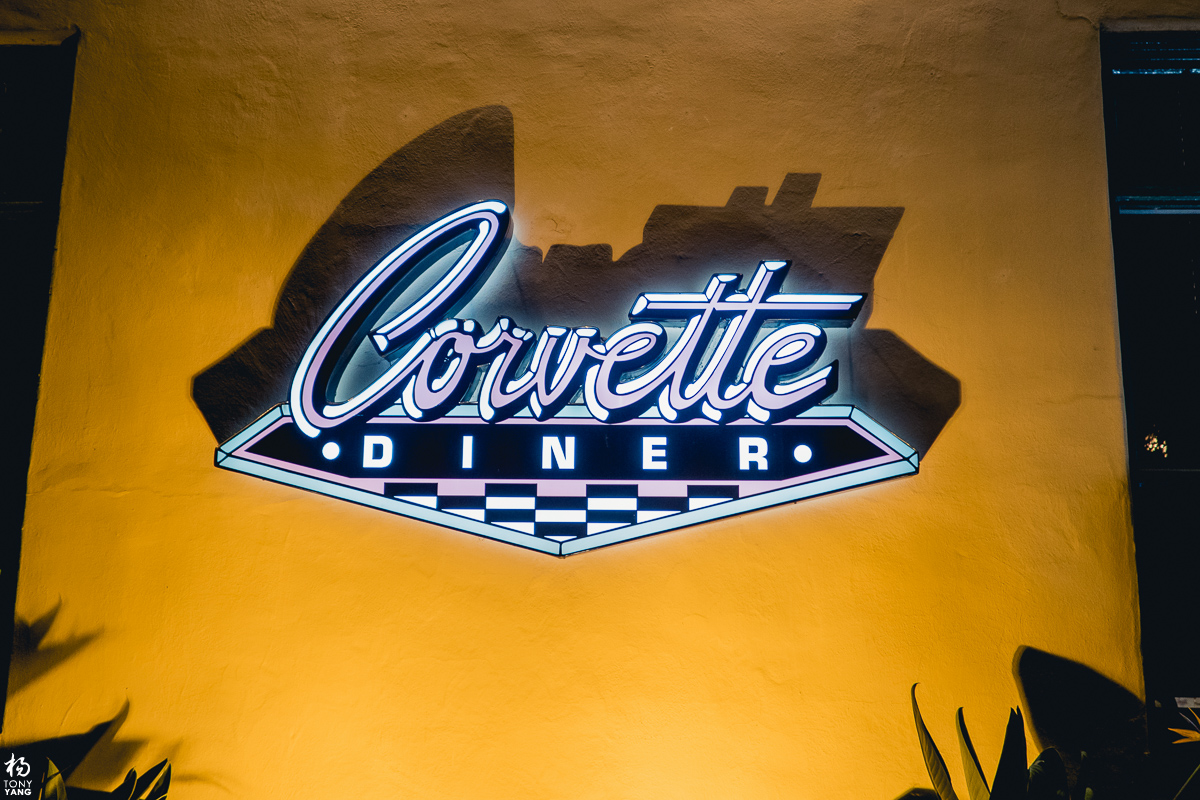 Time to check out of the beautiful B&B and explore what San Diego has to offer! After visiting some local shops and trying some local jerky, we made our way towards the next destination, Palm Springs. I always like to find scenic routes in between destinations, so we decided to drive through Idyllwild. One of my favorite steakhouses in the country is LG's Prime Steakhouse, especially for their 24-oz aged porterhouse. We stayed the night in an Airstream booked through Airbnb, the host was wonderful and it was exciting to stay out in the middle of the desert.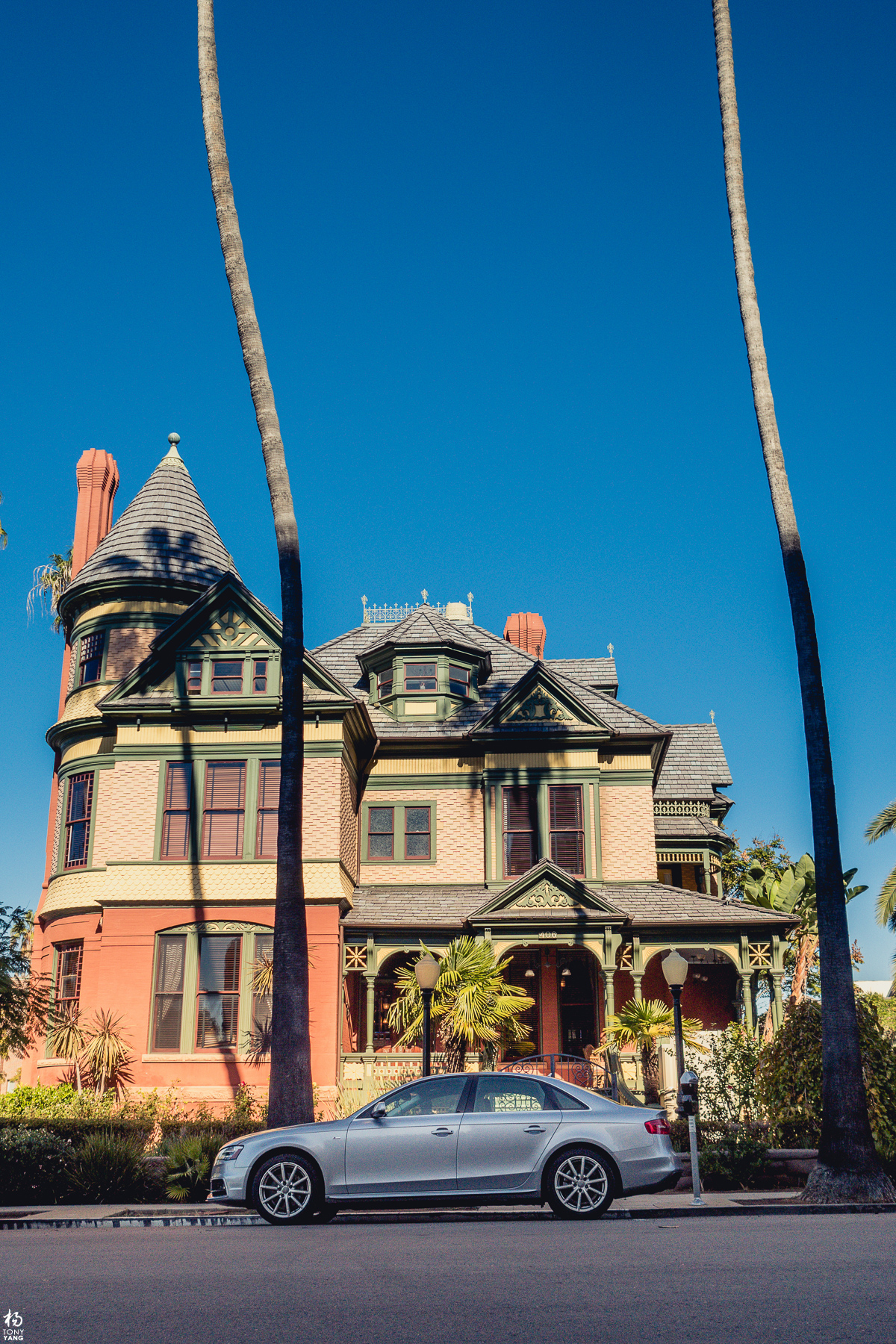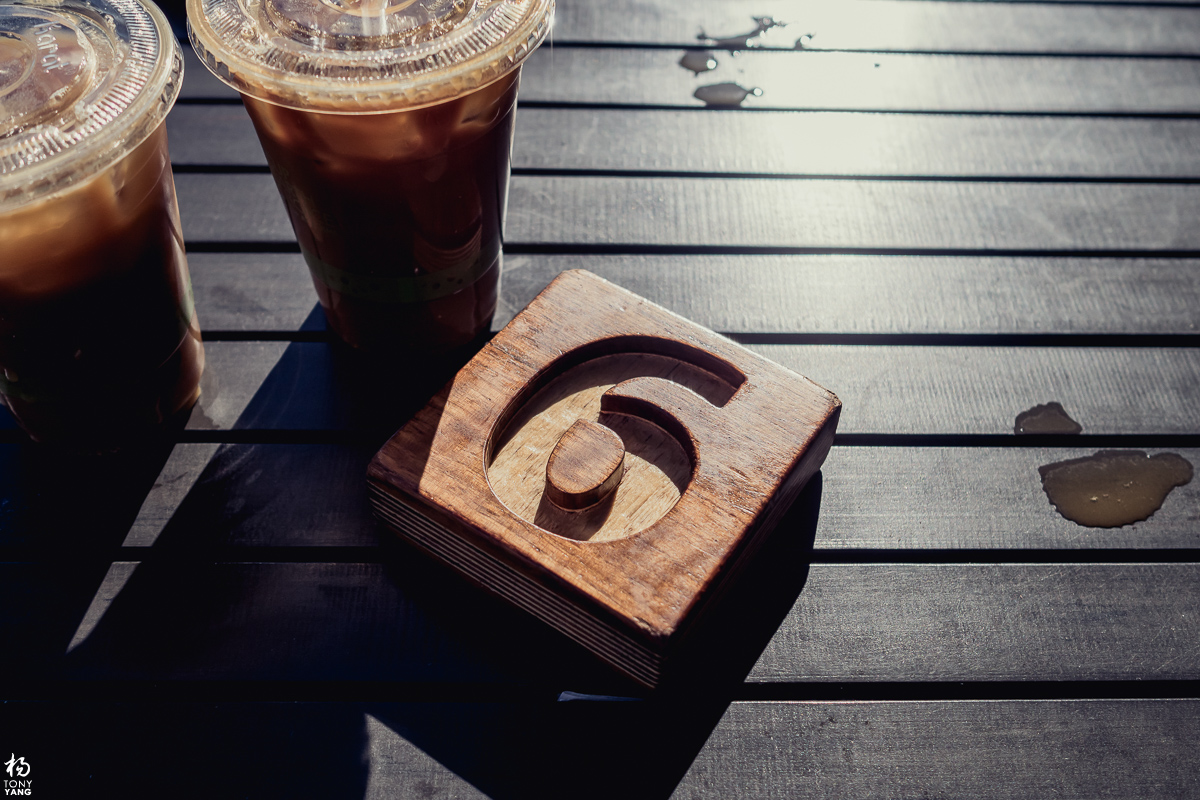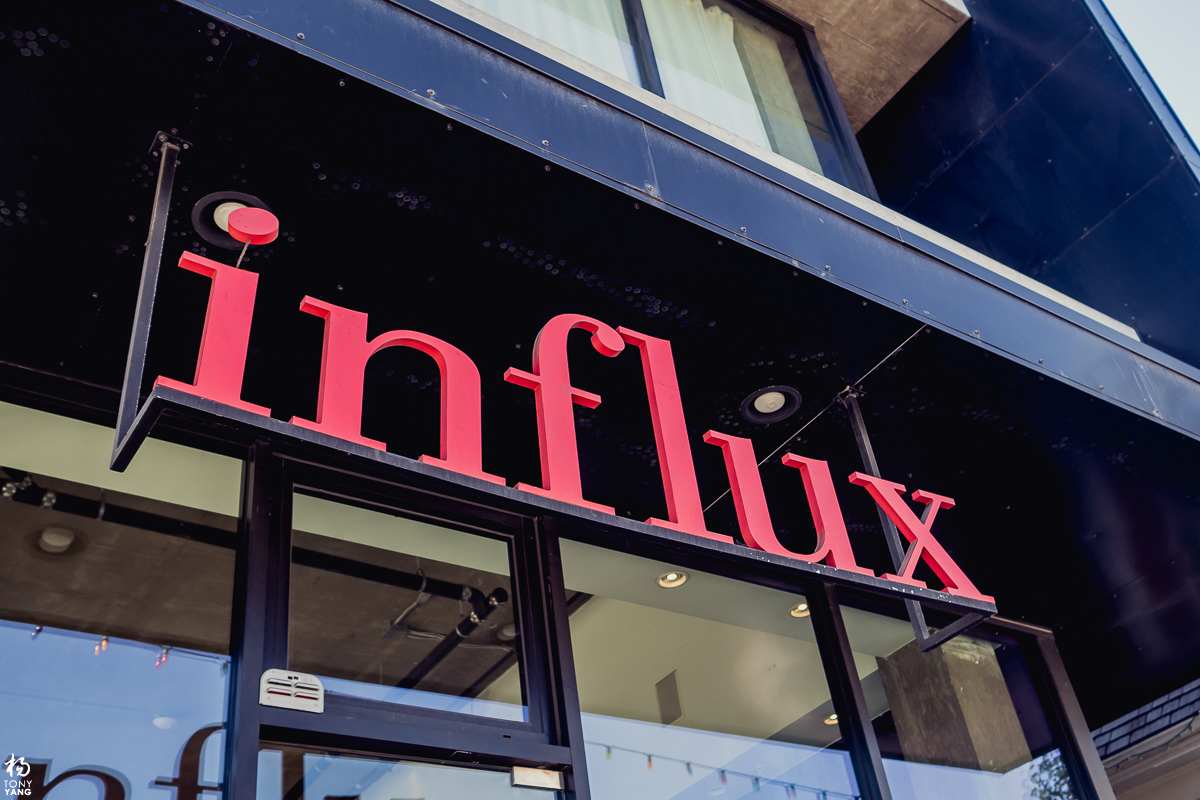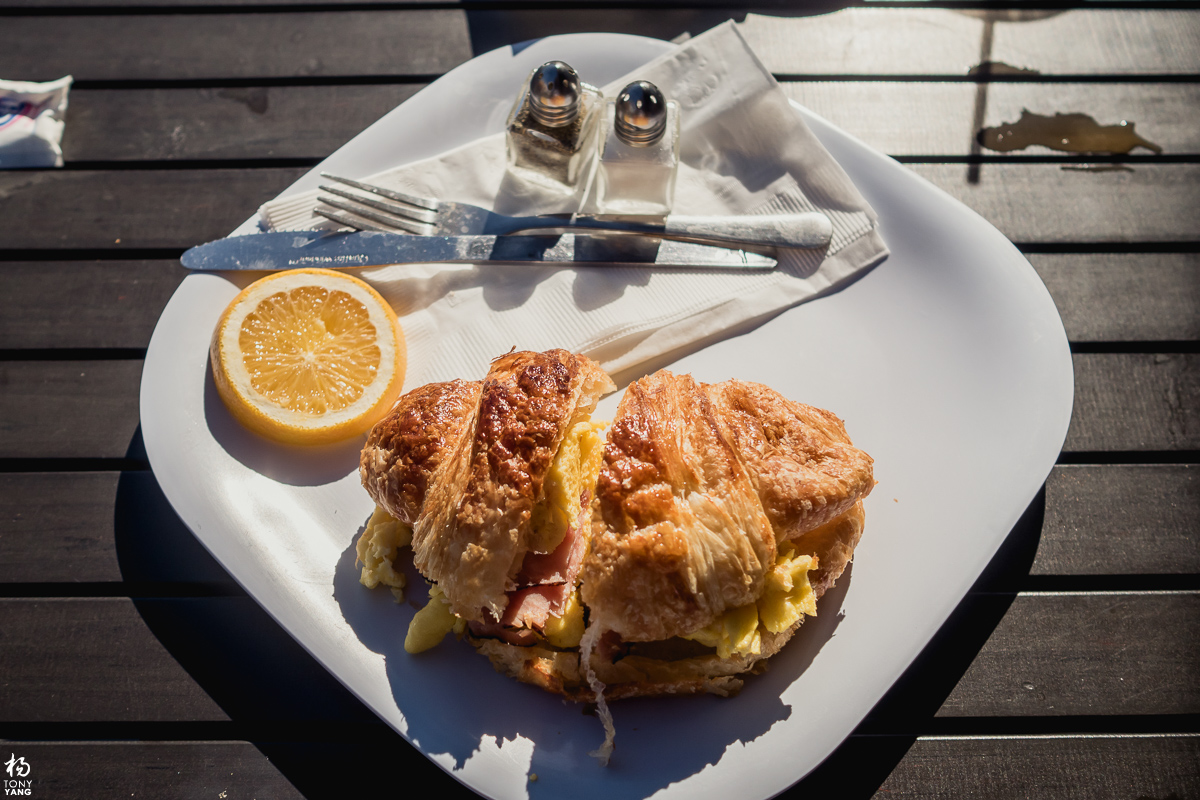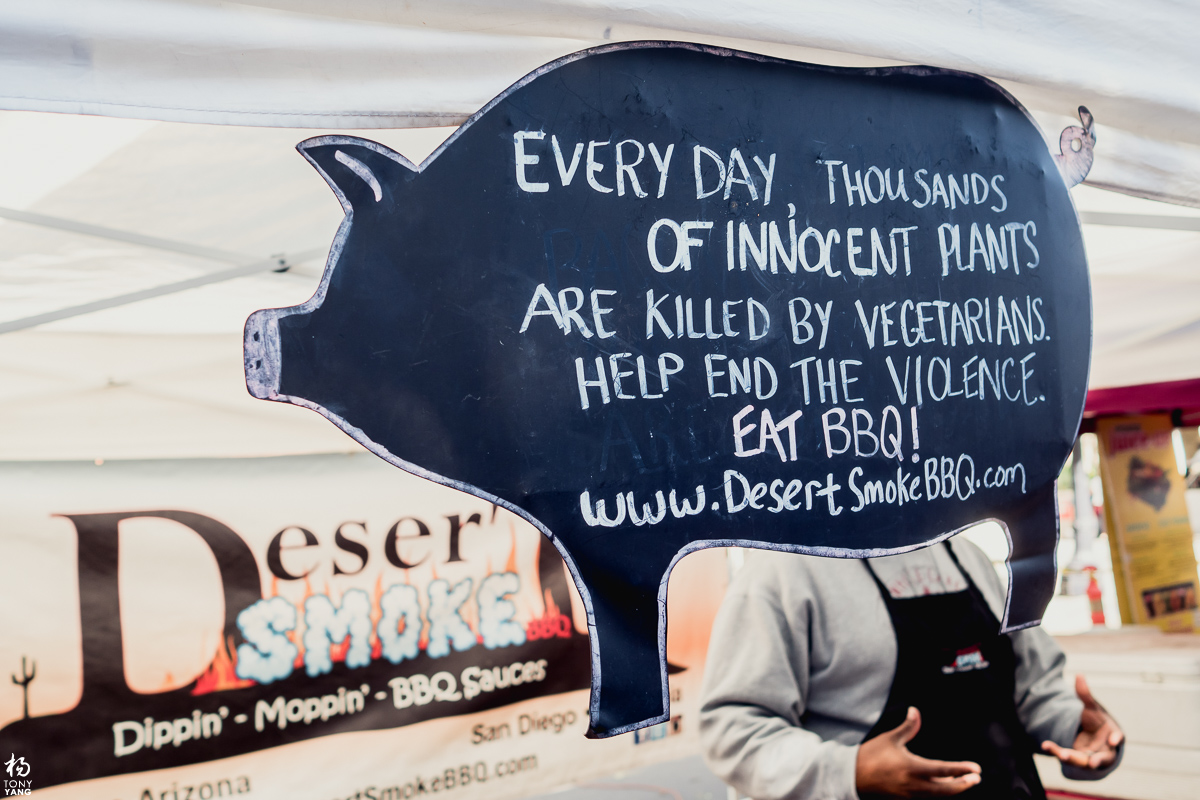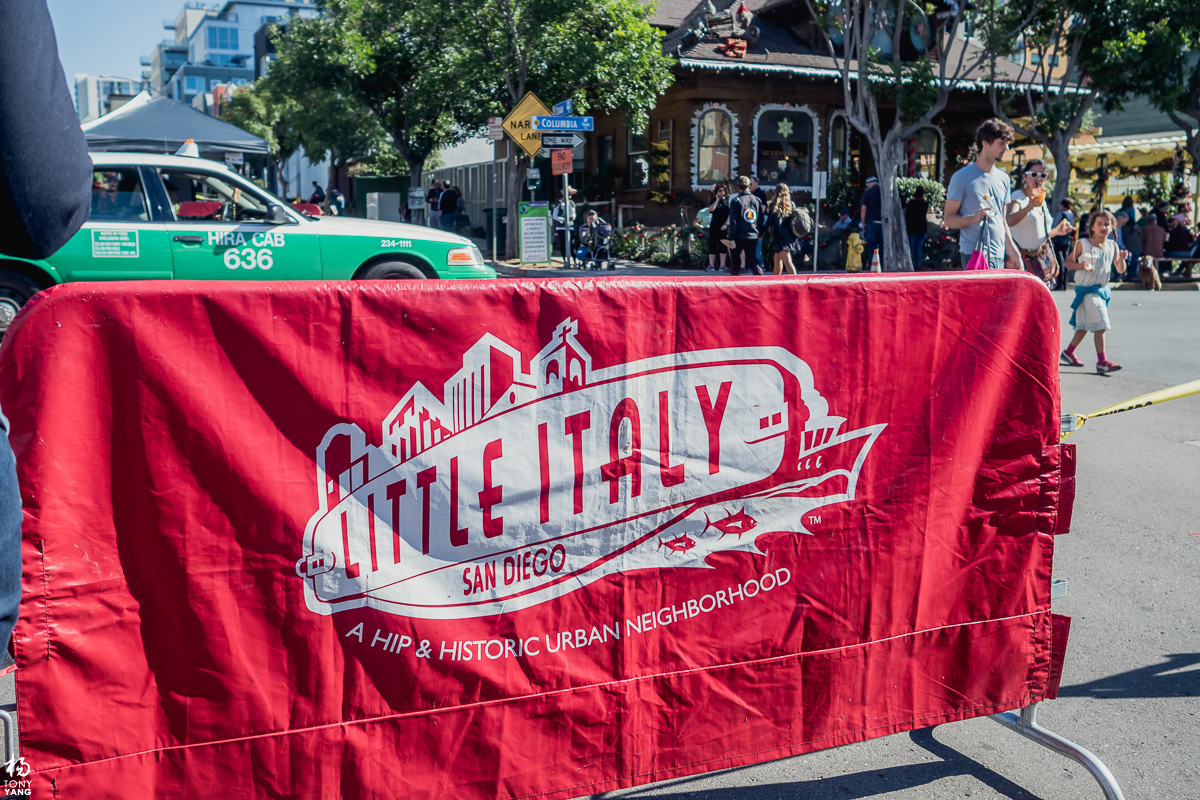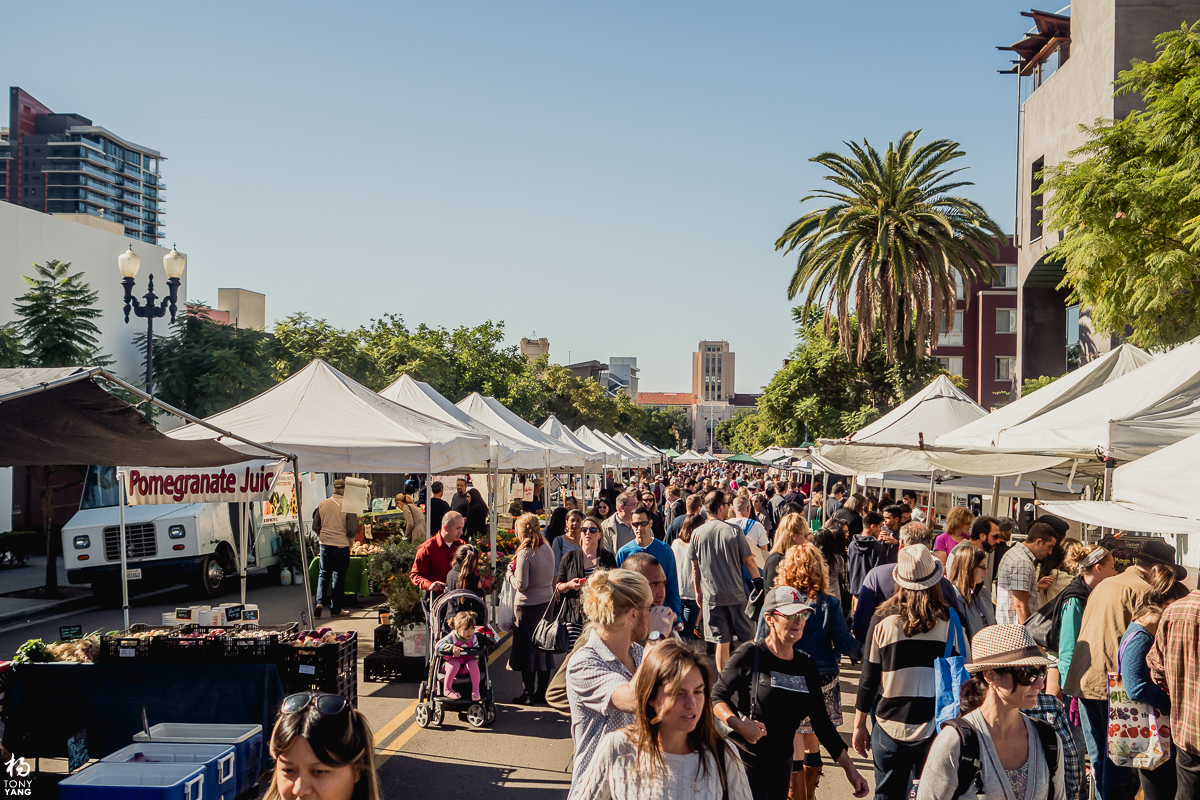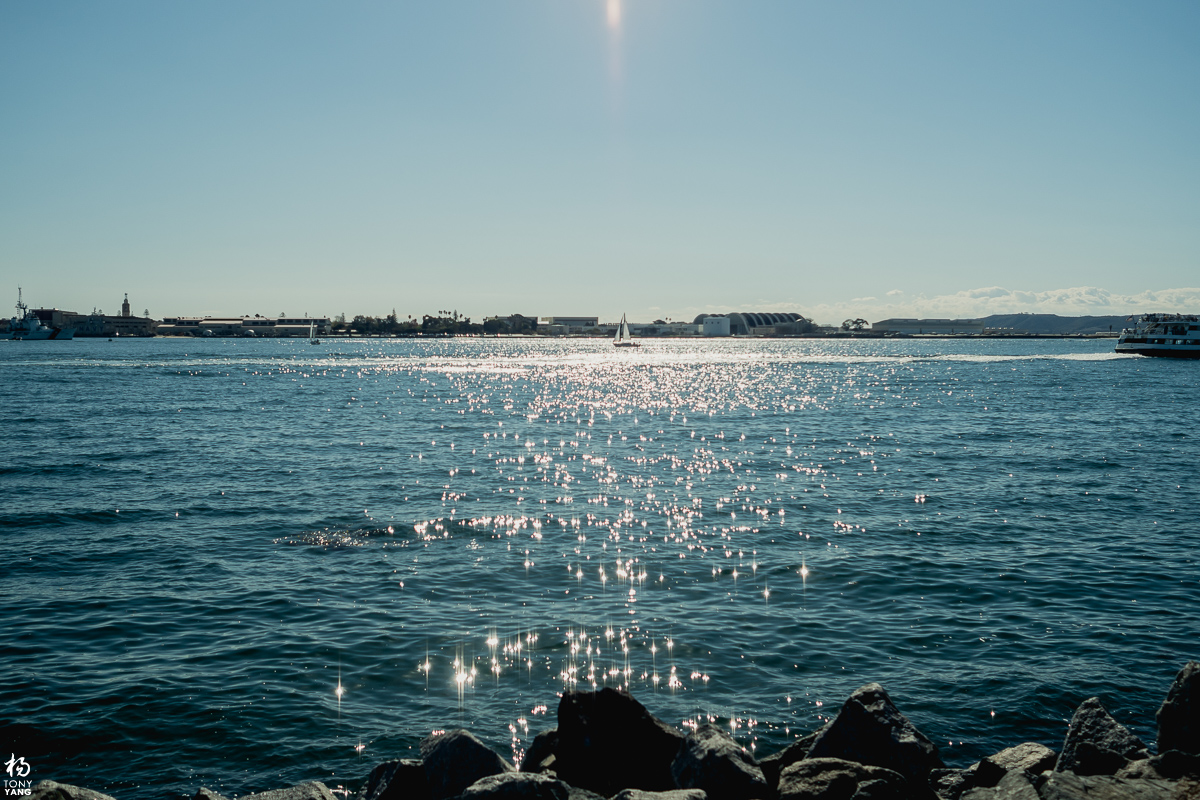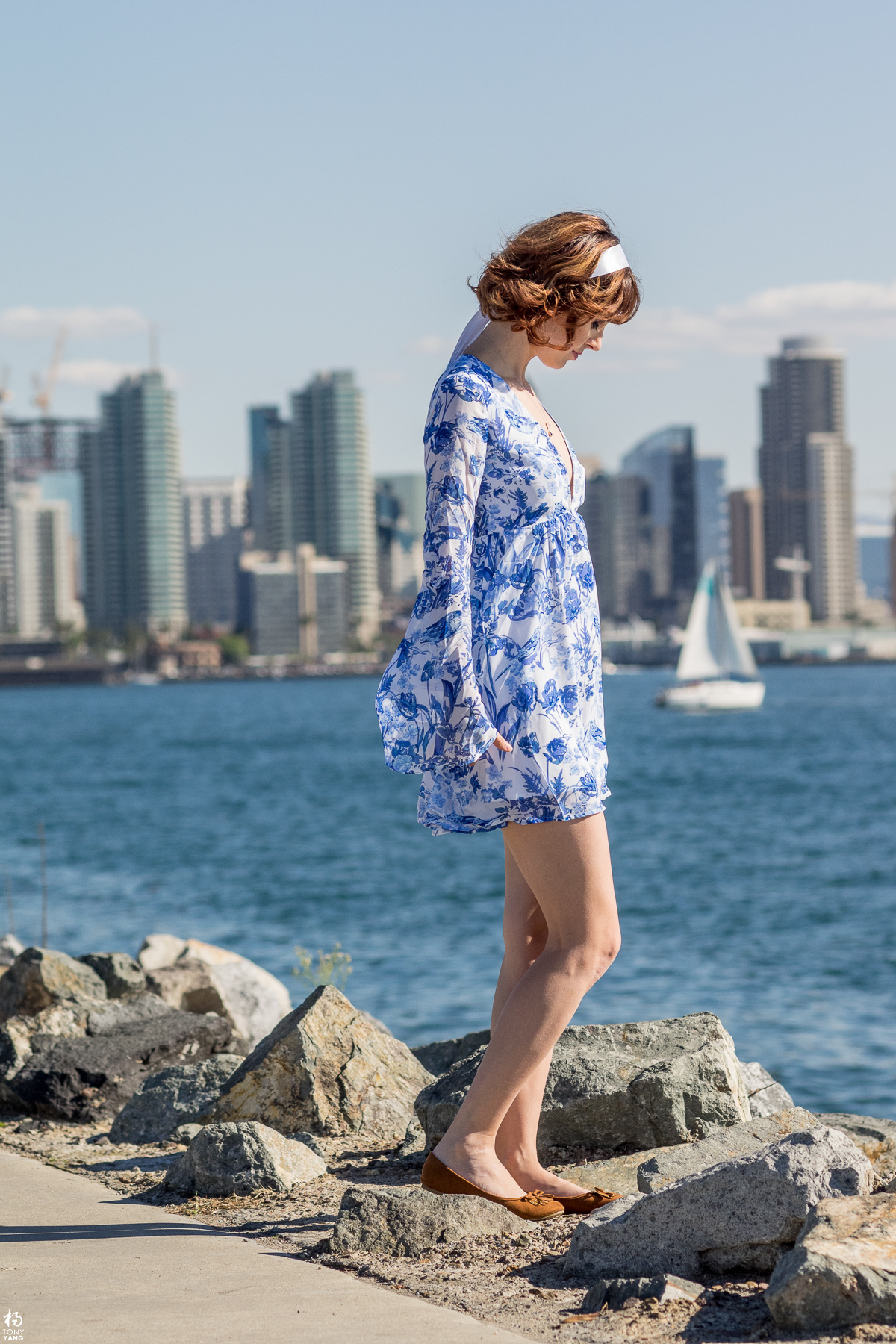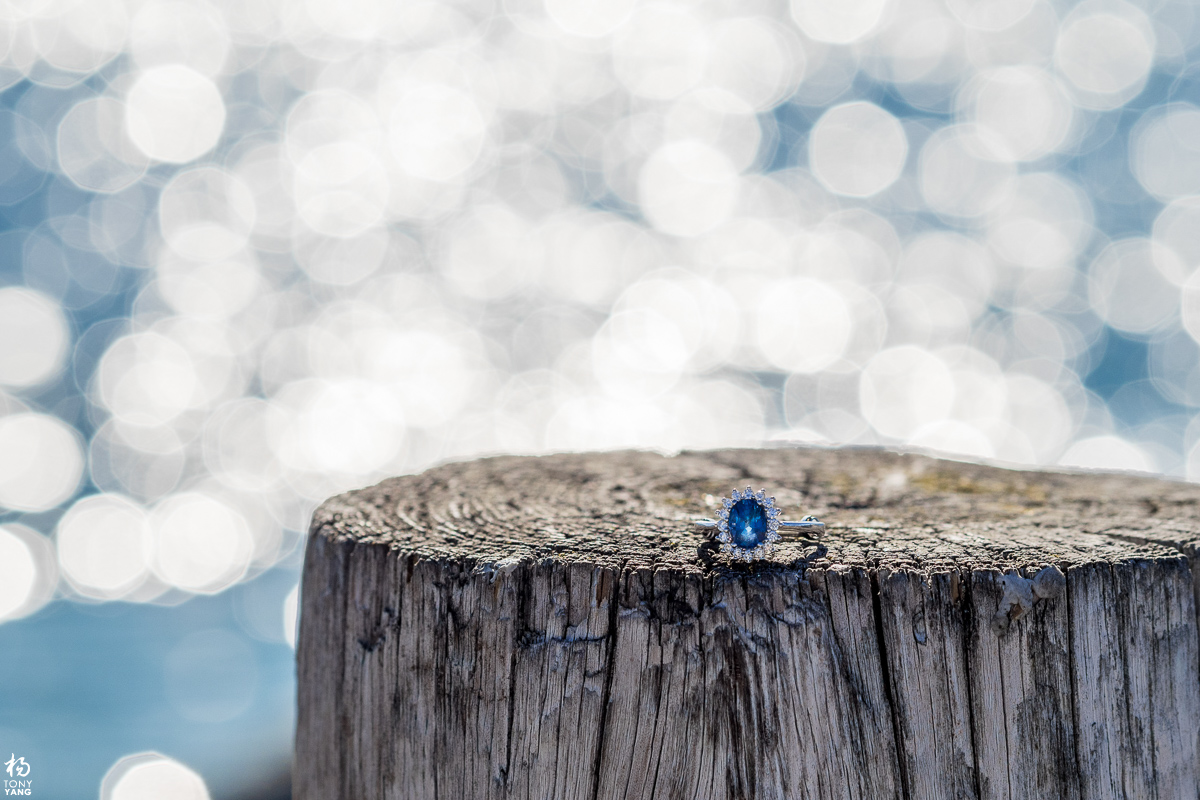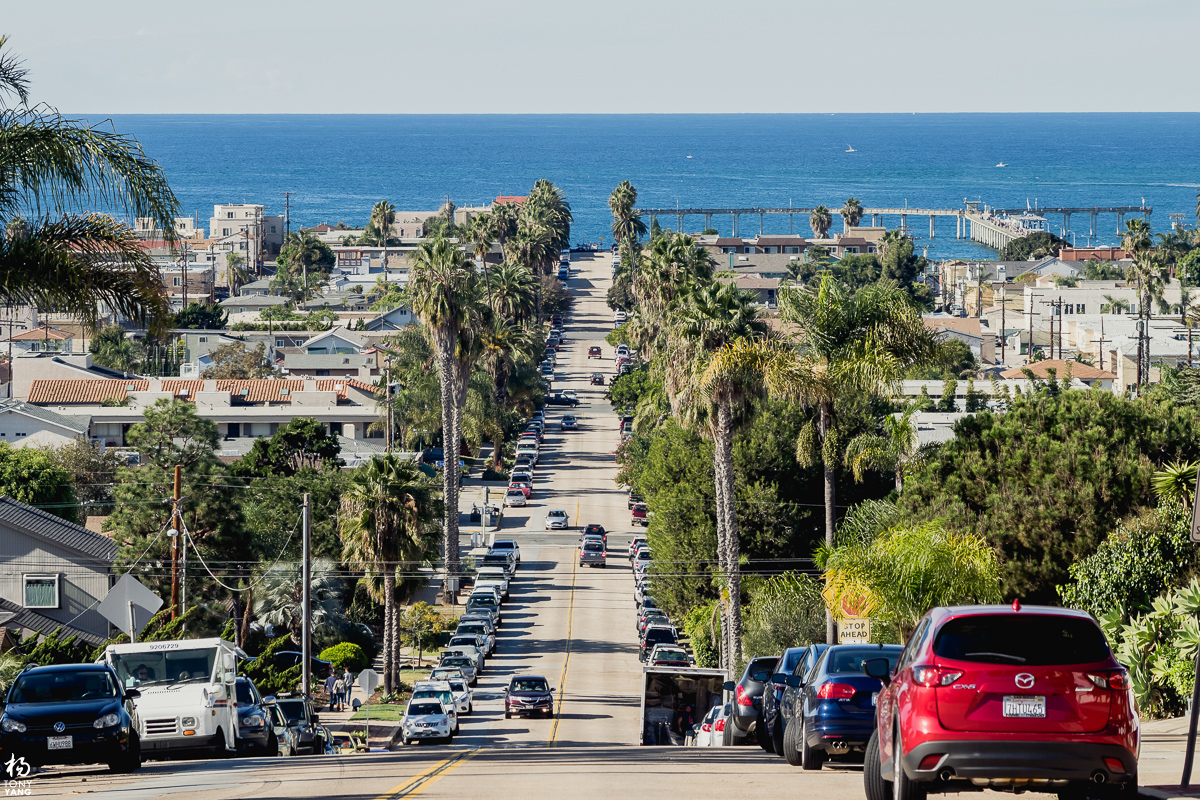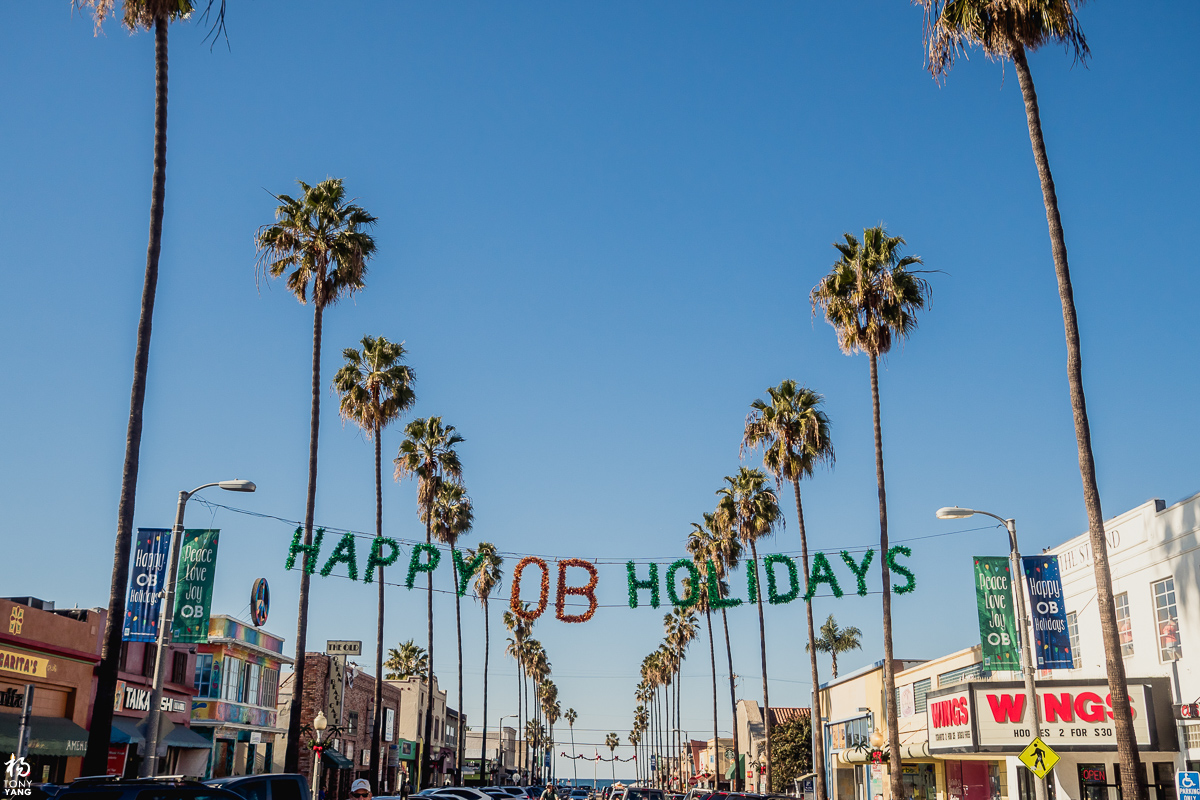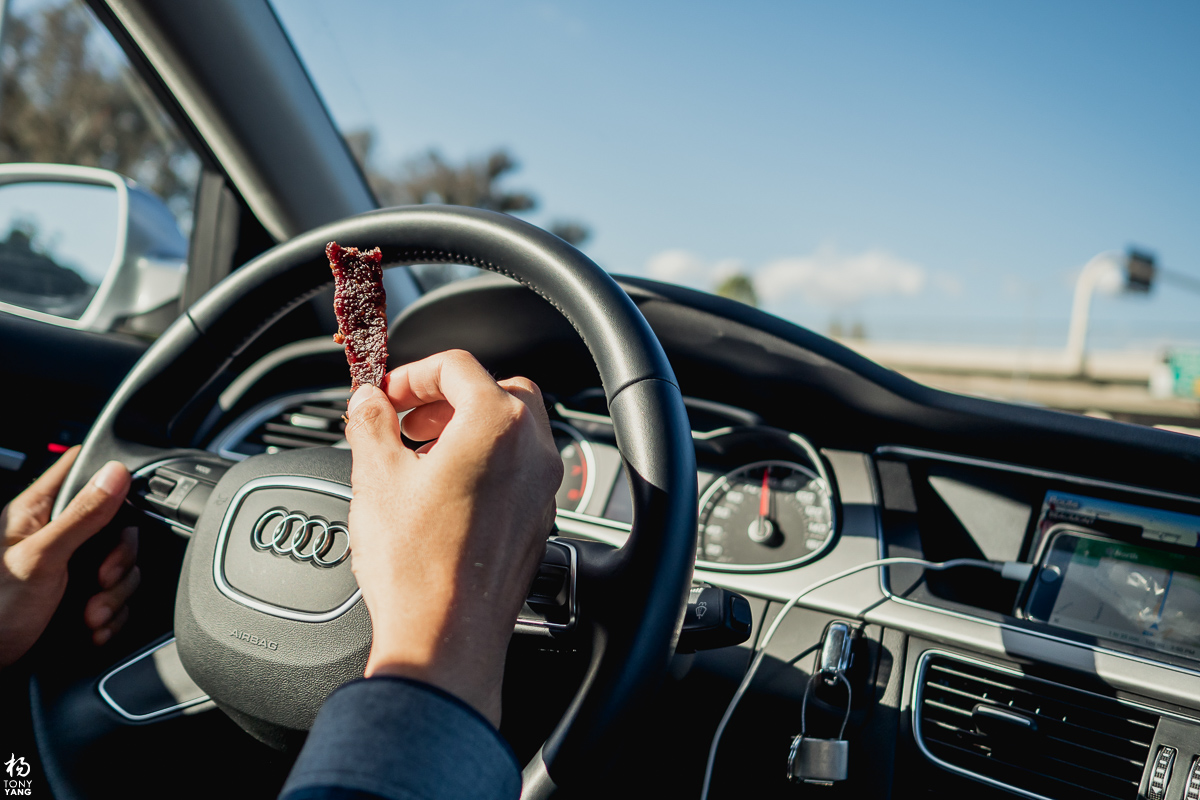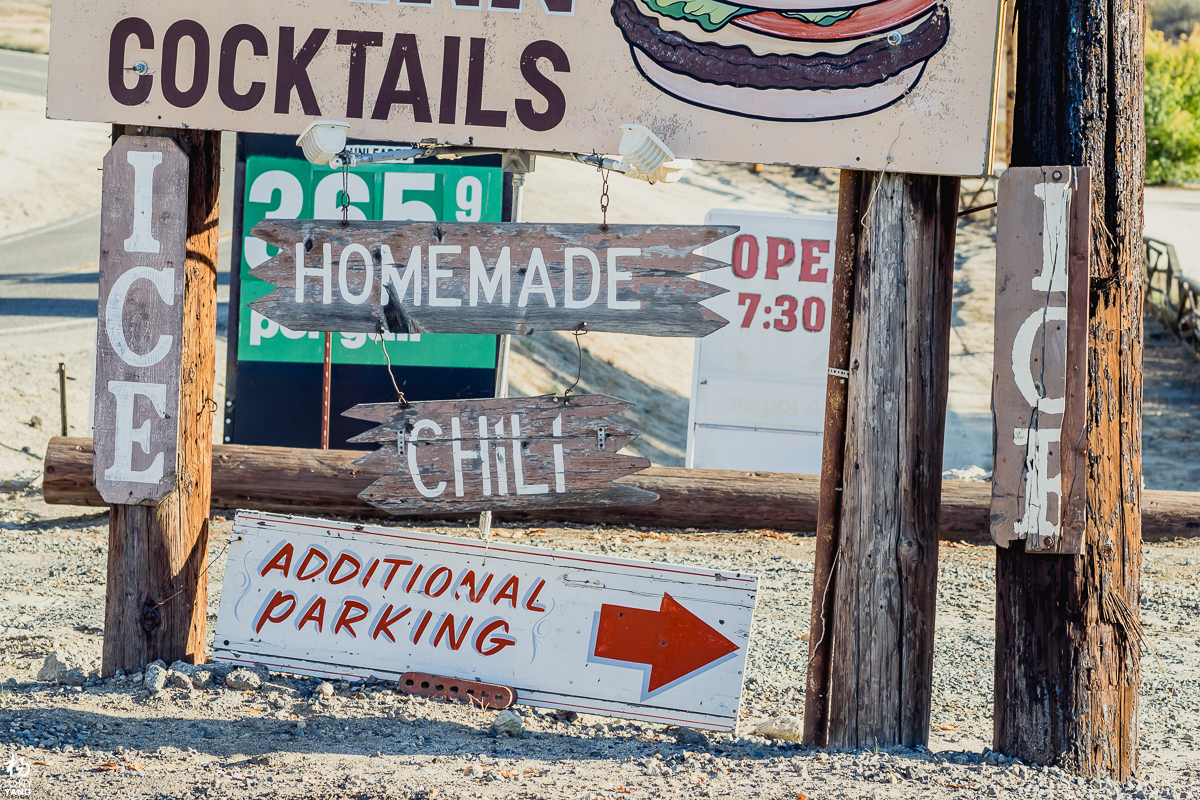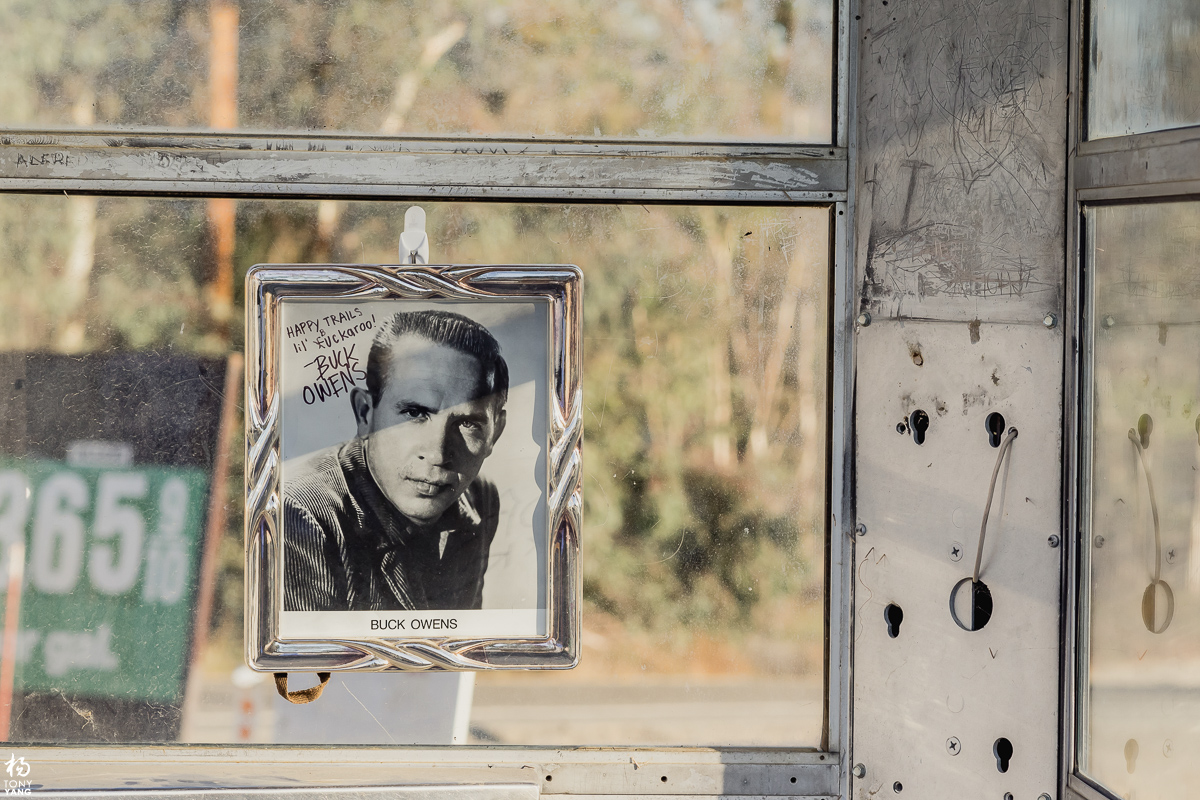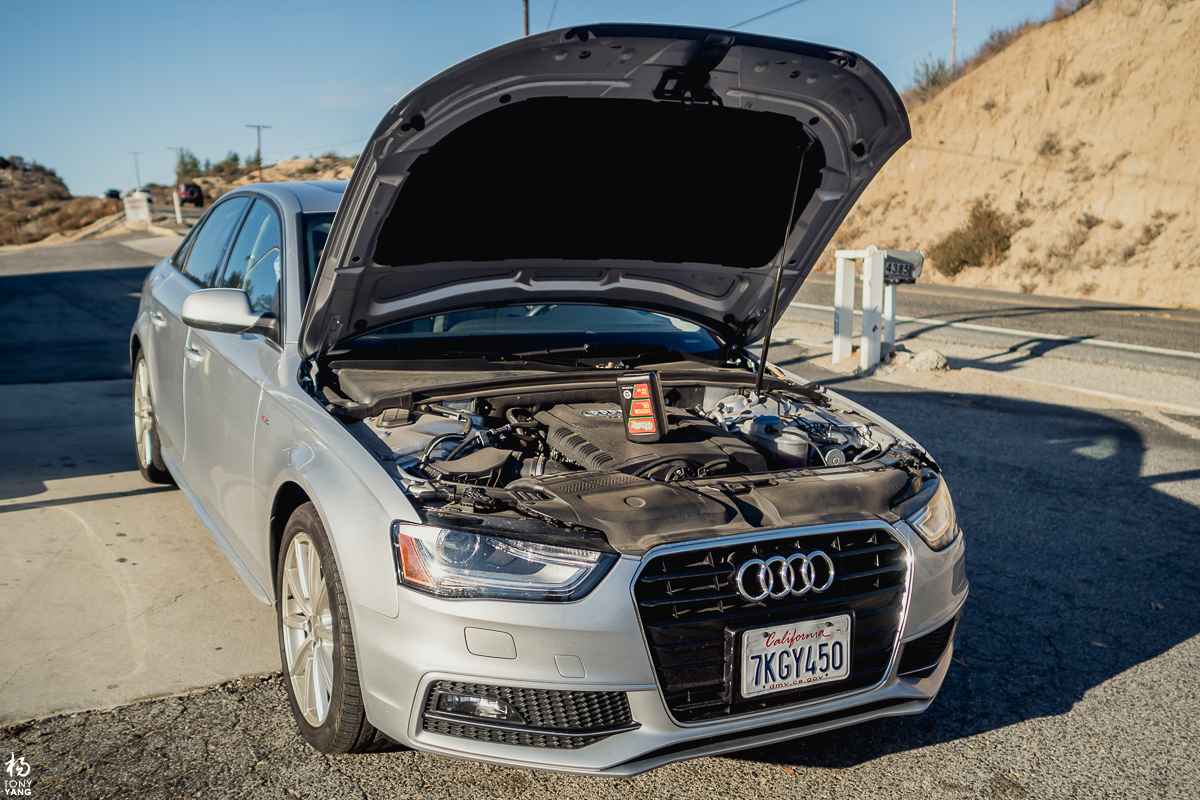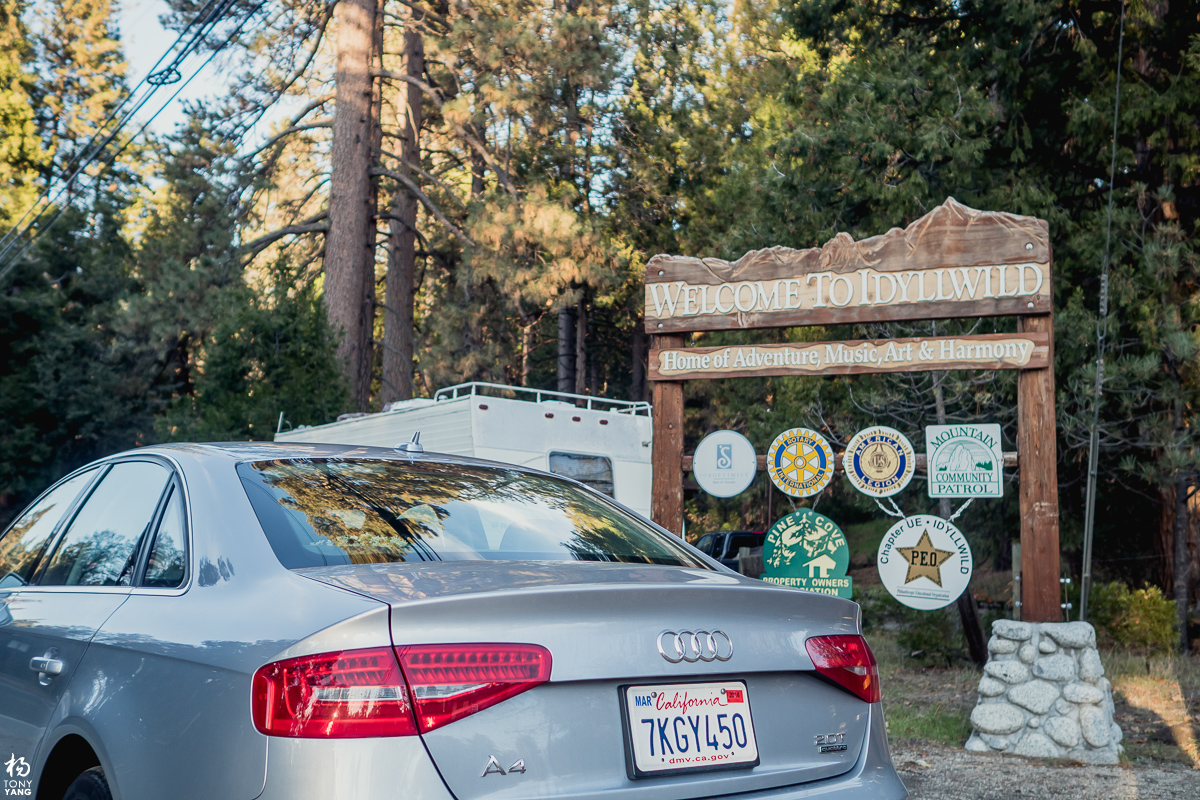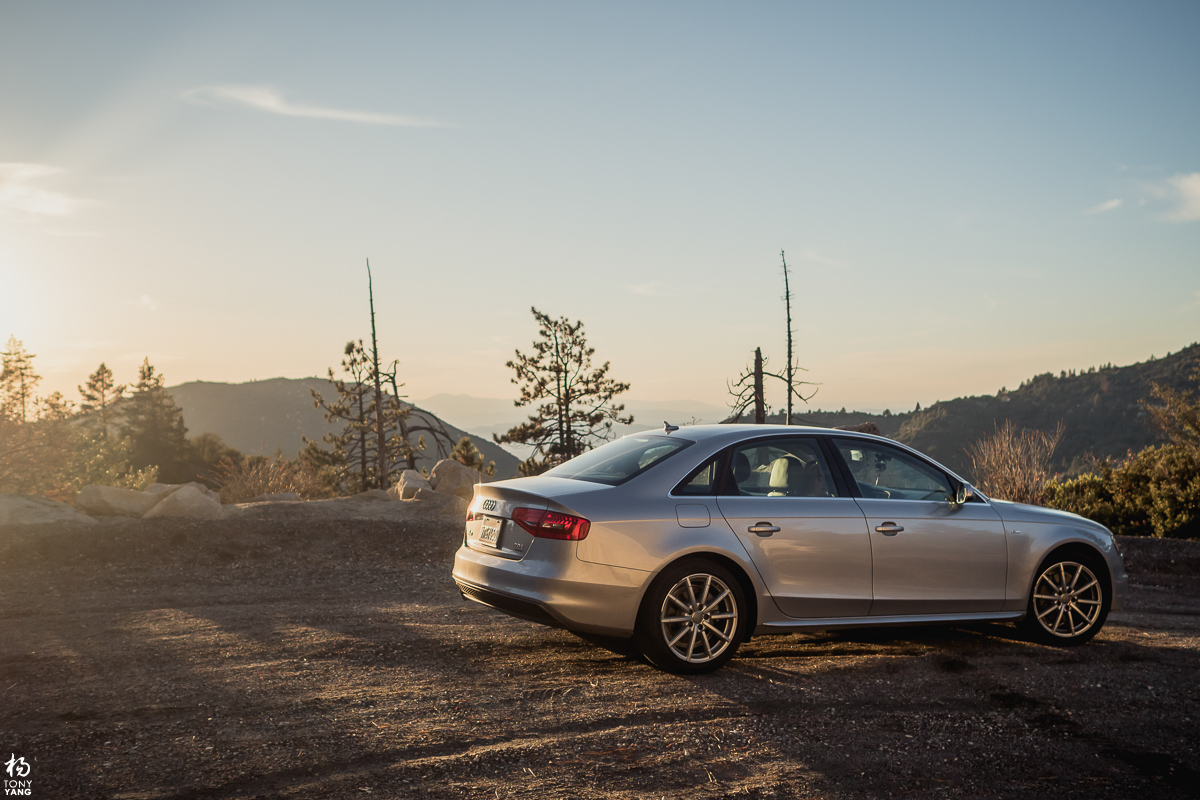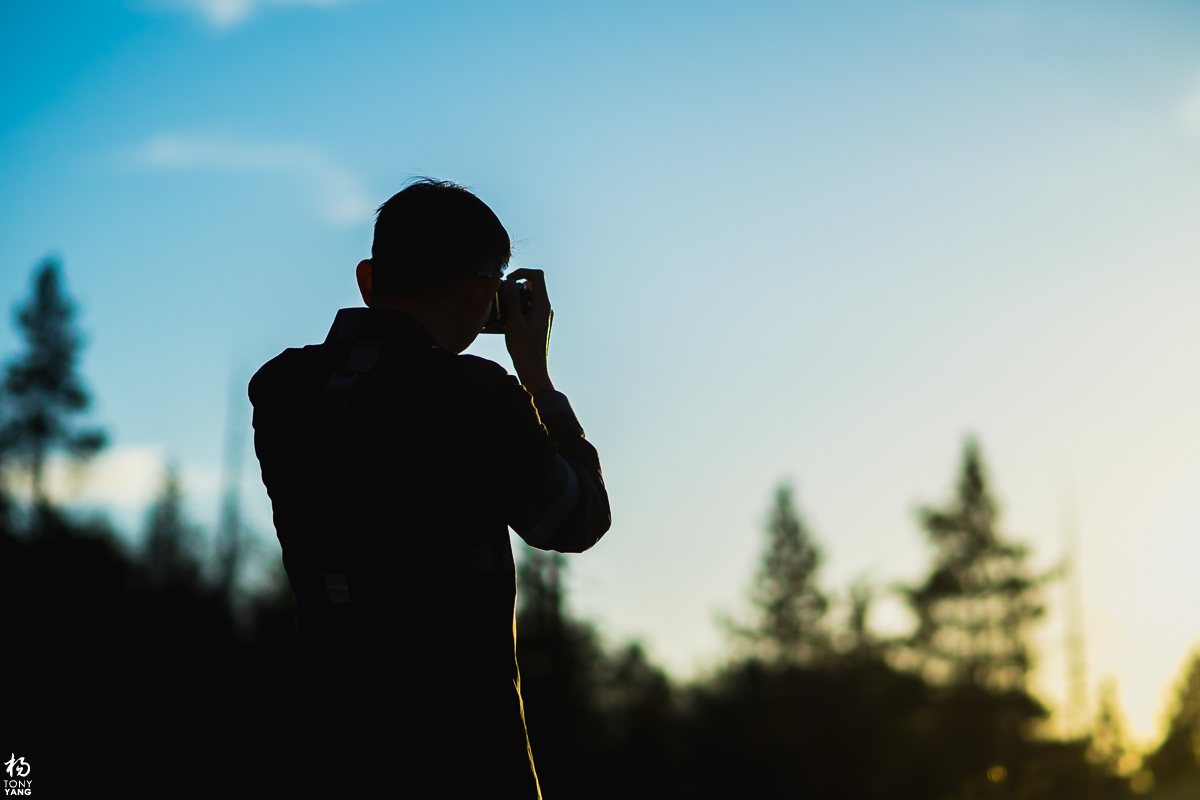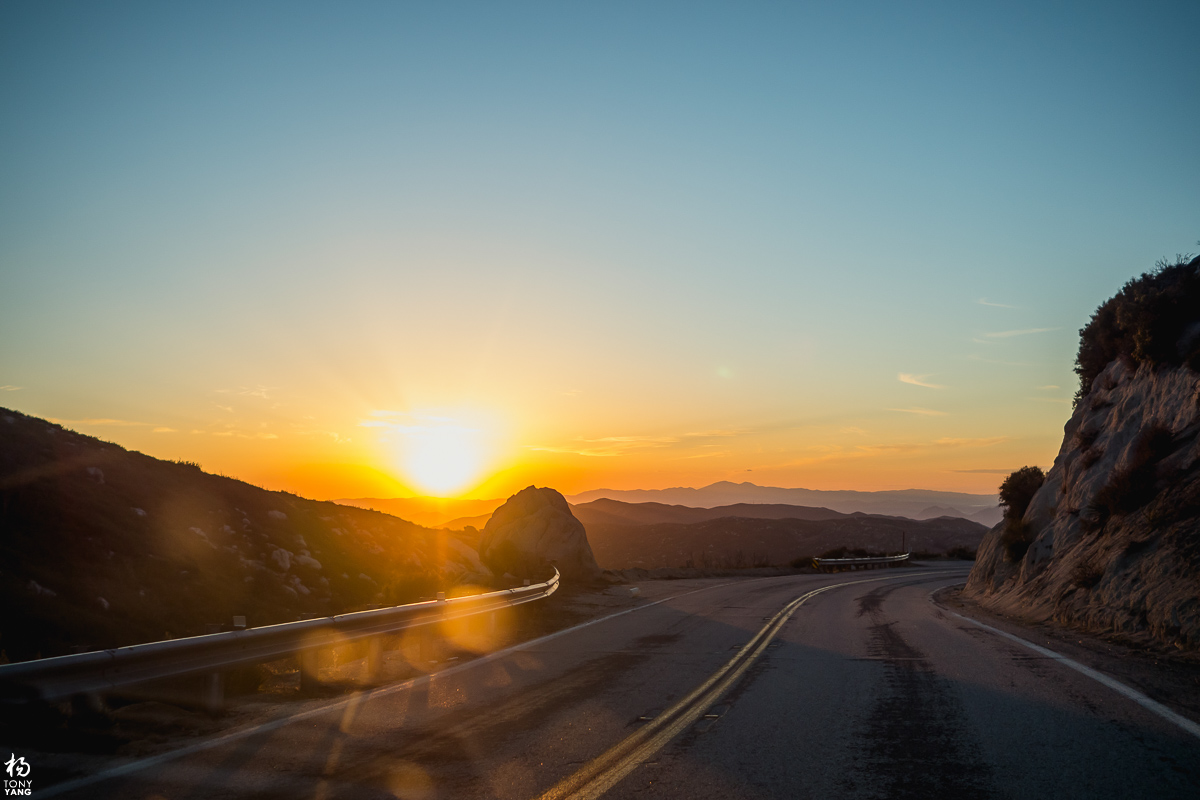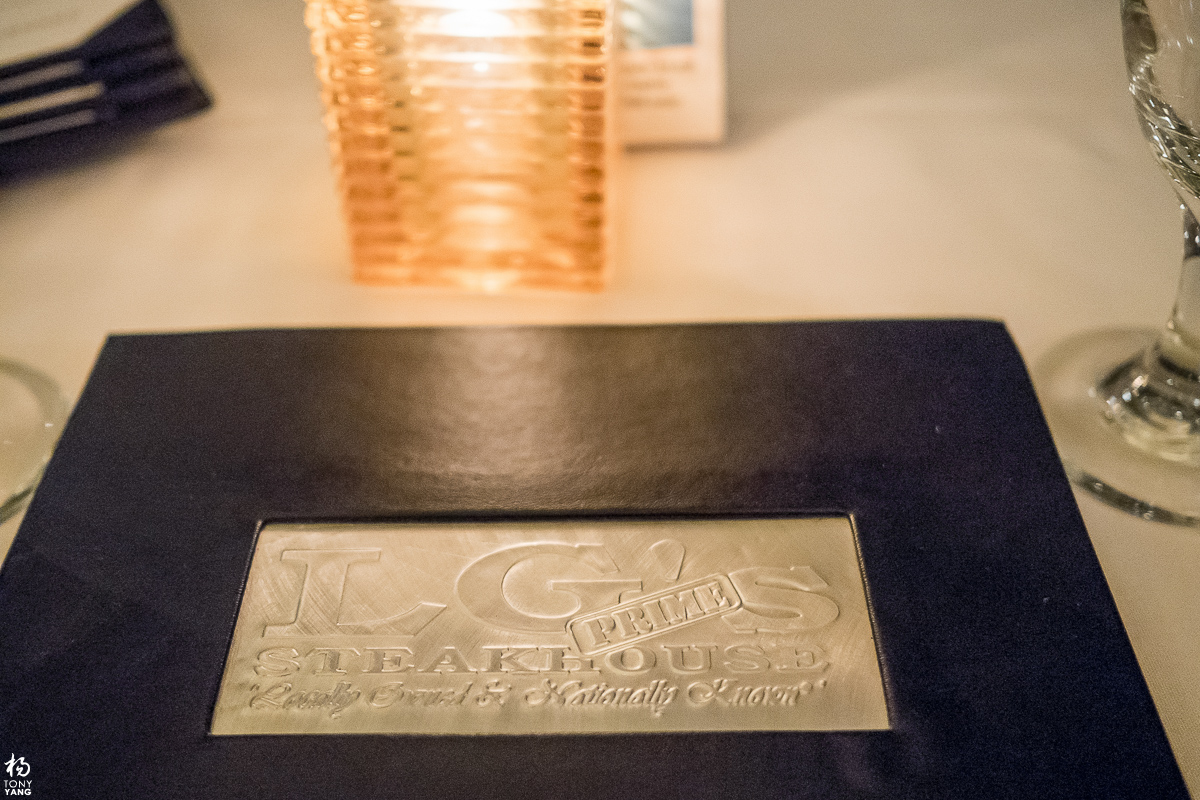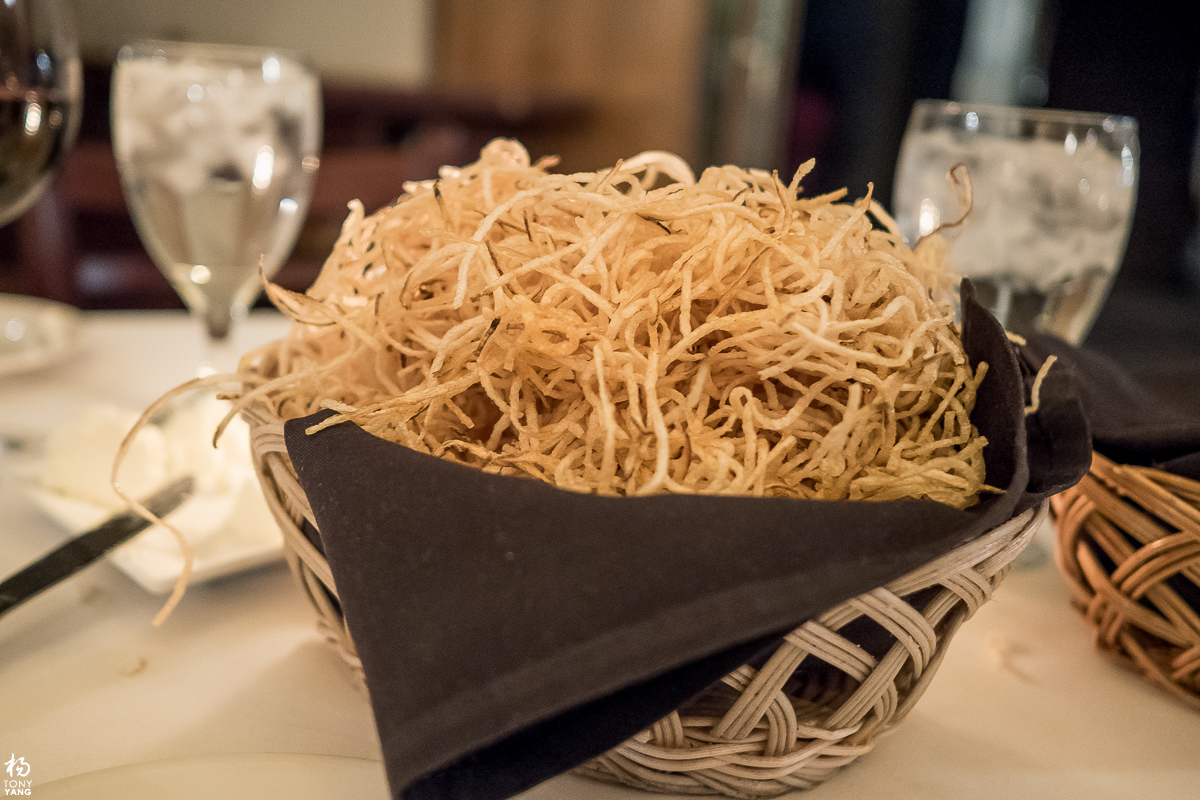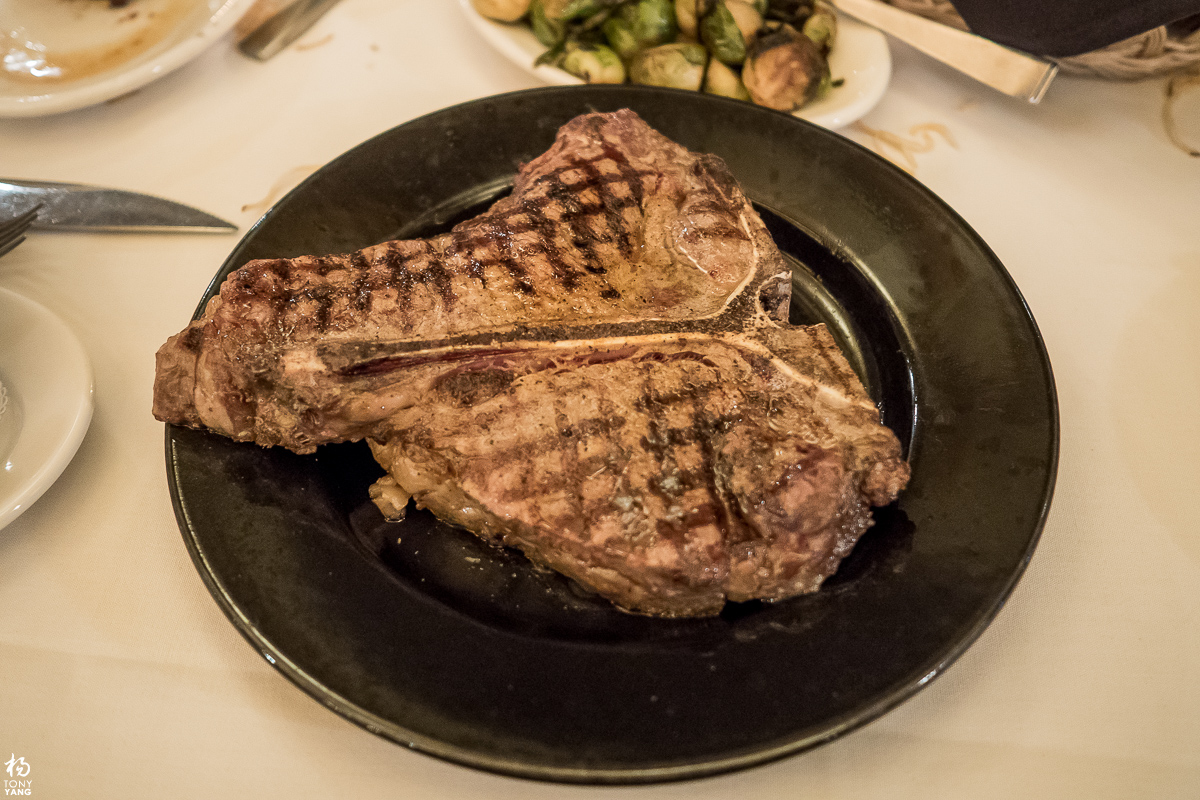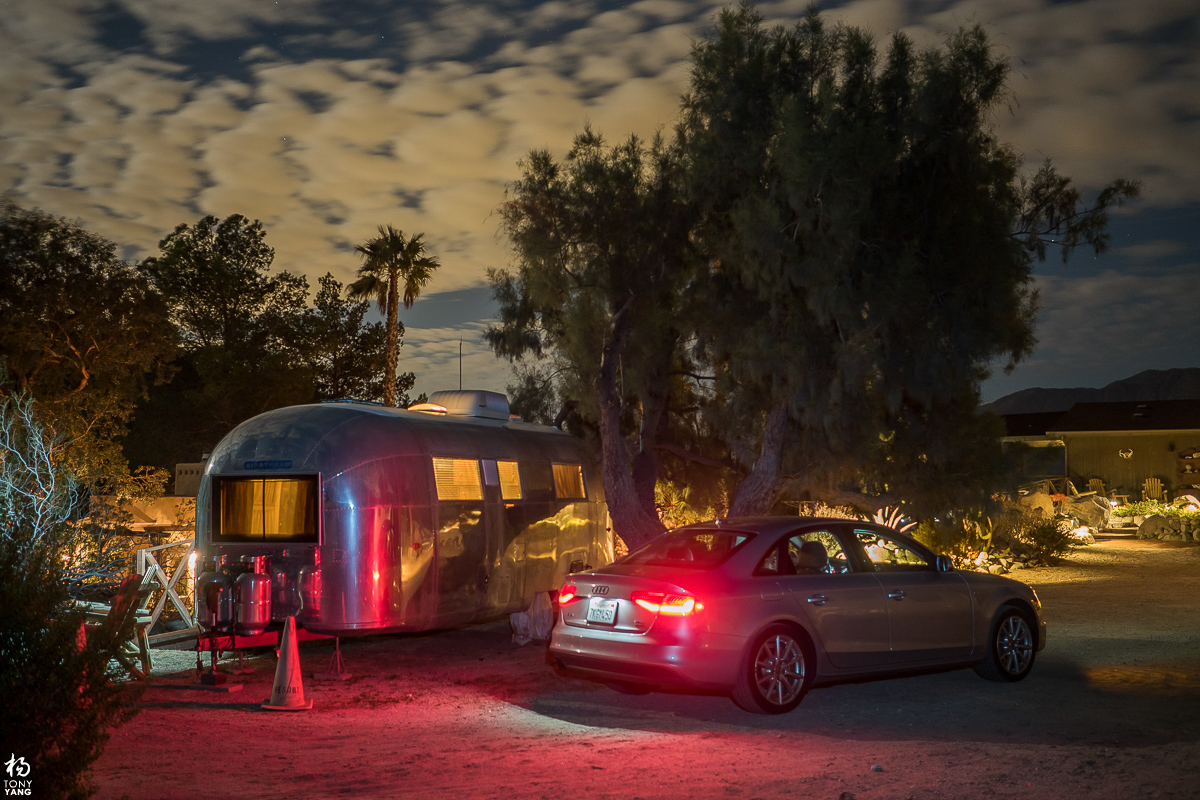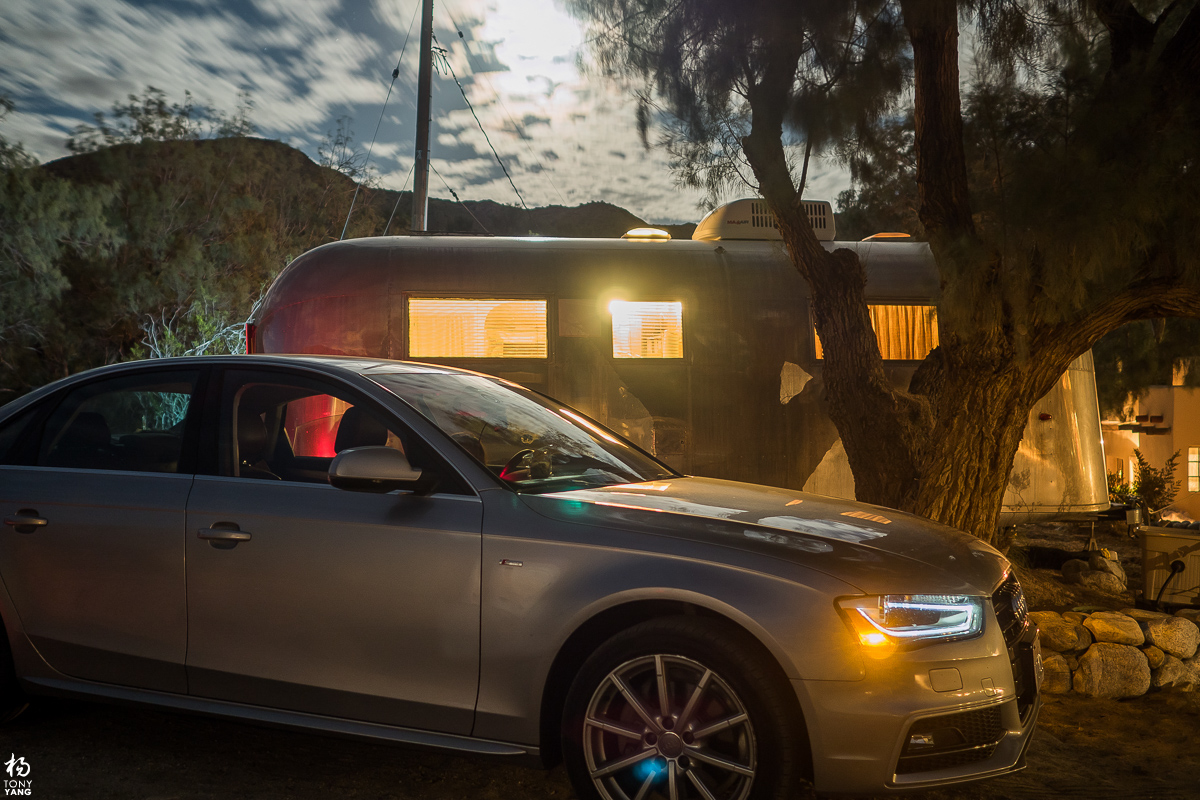 The next morning was breakfast time at the main house of the Airstream B&B. The owner, Wayne, is a semi-retired chef whose homemade breakfast was beyond any expectations. We want to go back for his planned guest dinner someday! During breakfast we met a guest who highly recommended we see Joshua Trees, and we followed his advice much to our disappointment. We've included a photo just to remind ourselves, don't listen to British people. While a lot of our scenic drives ended up being at night, we also had the opportunity to see some things one could never see during the day. We cut through Death Valley National Park on our way towards Lone Pine and stopped to take a long exposure of the starry night sky. With our trip timed just perfectly unplanned, we saw a large meteor that was brighter and lasted longer than I had ever witnessed. It was really an amazing sight.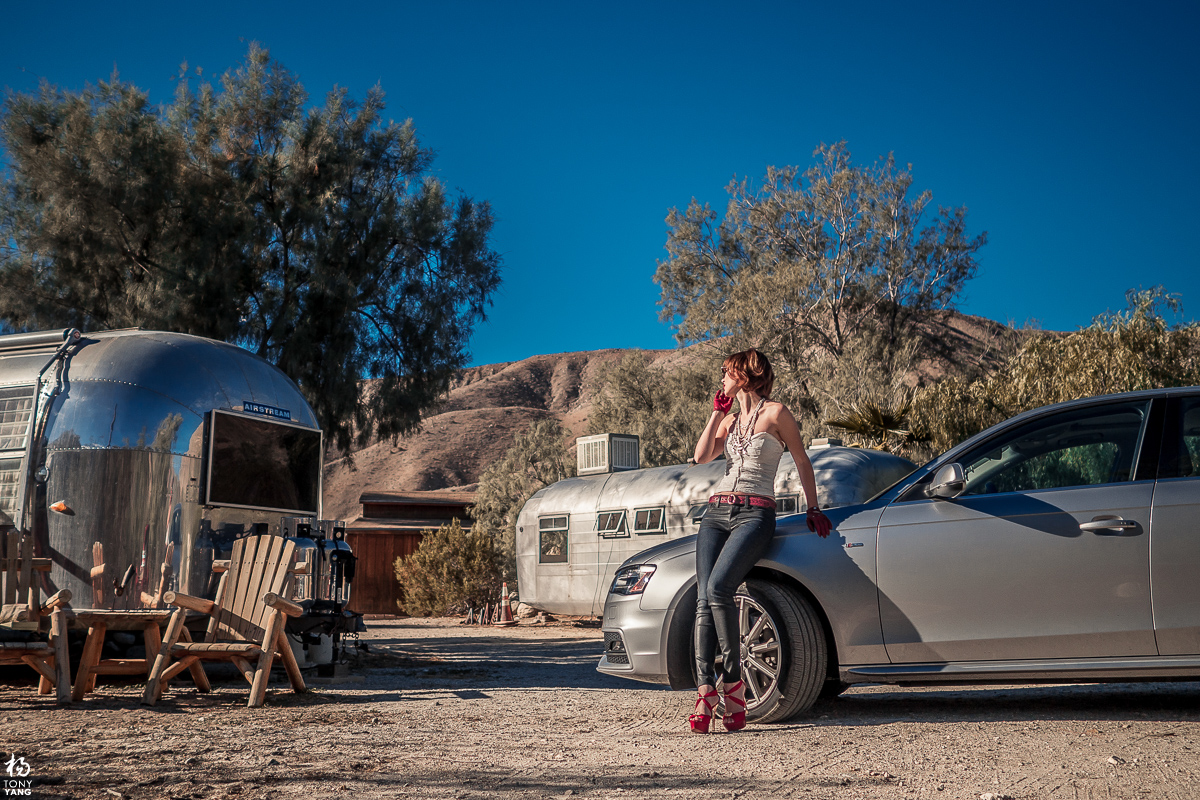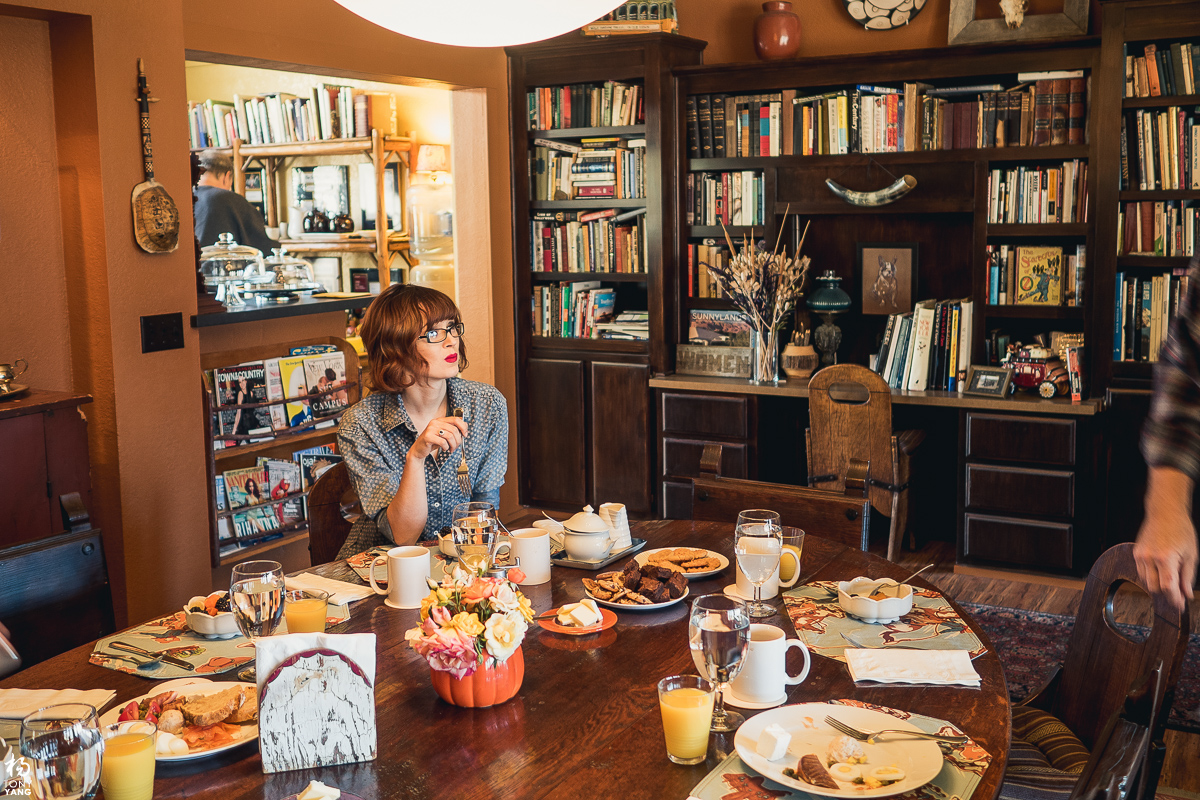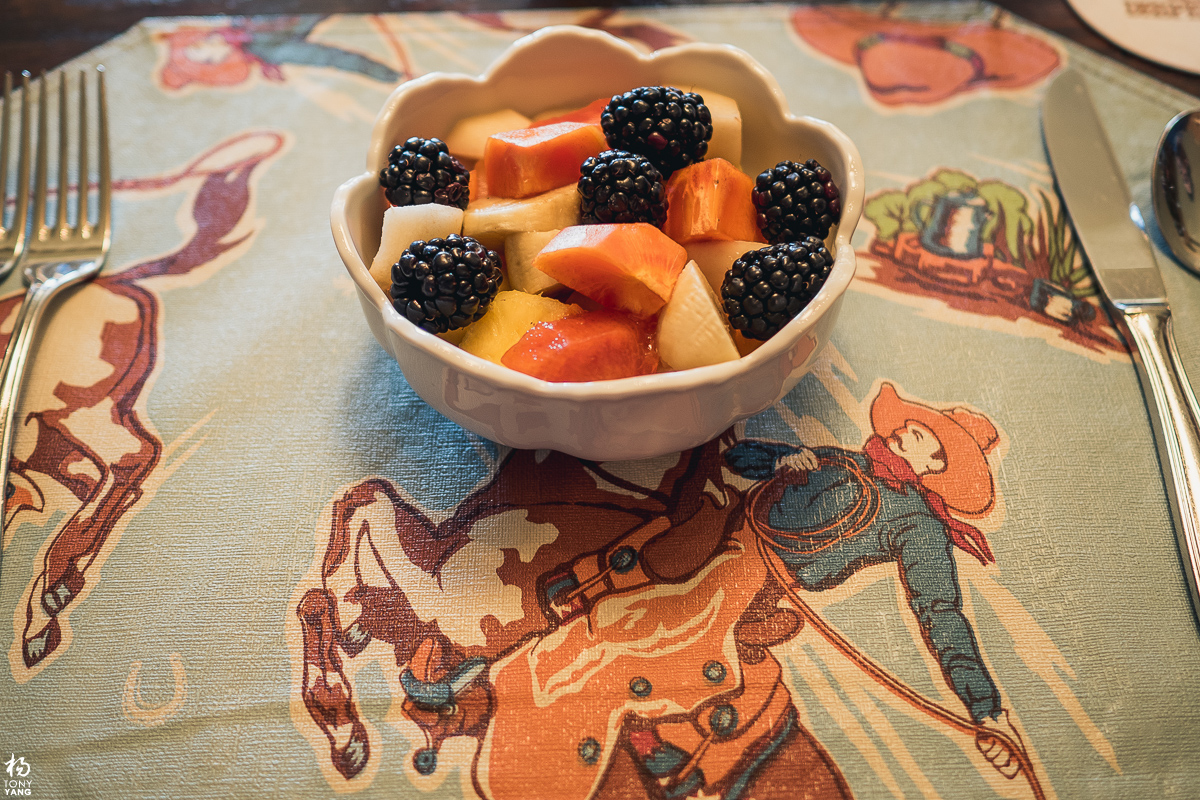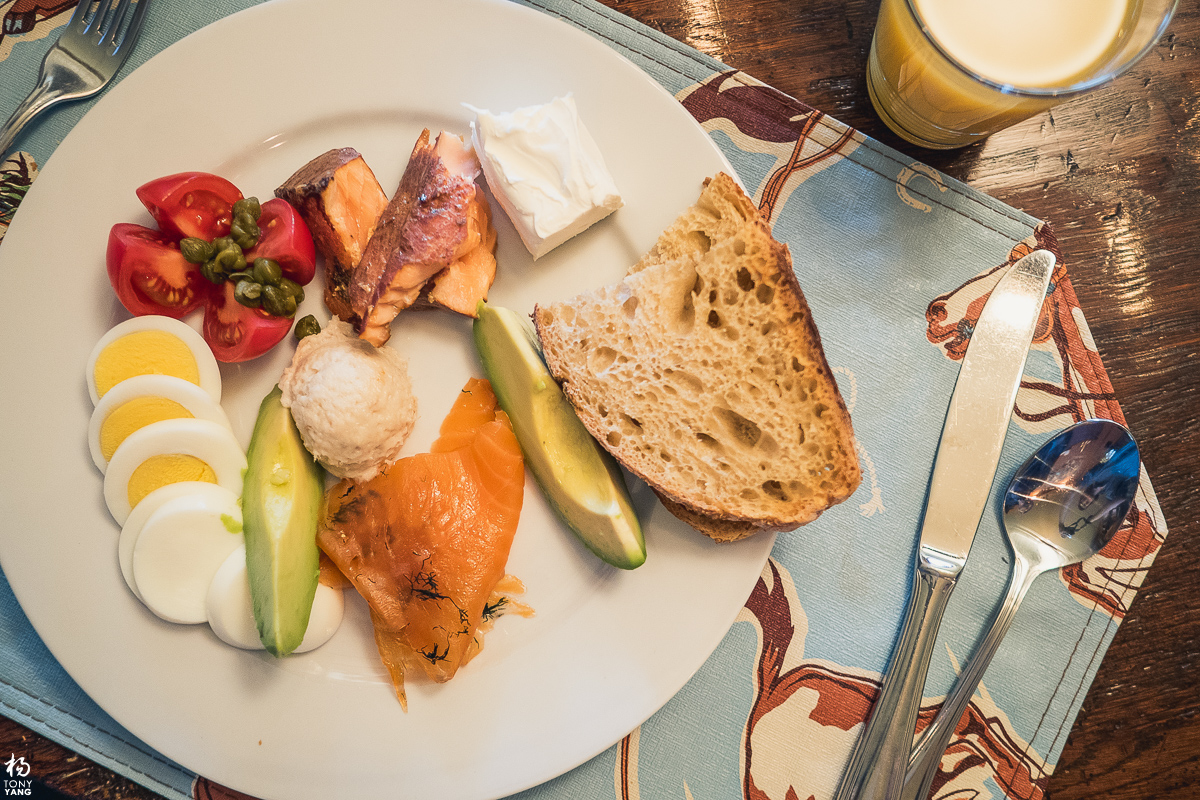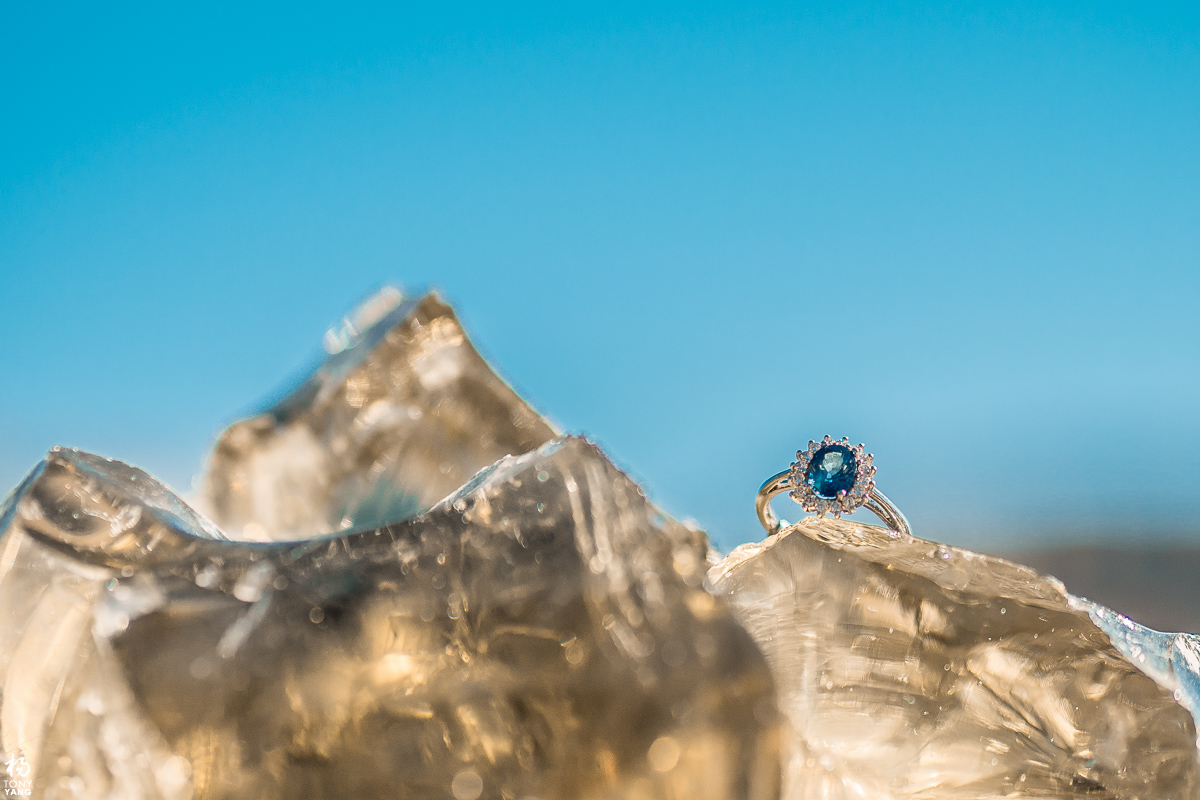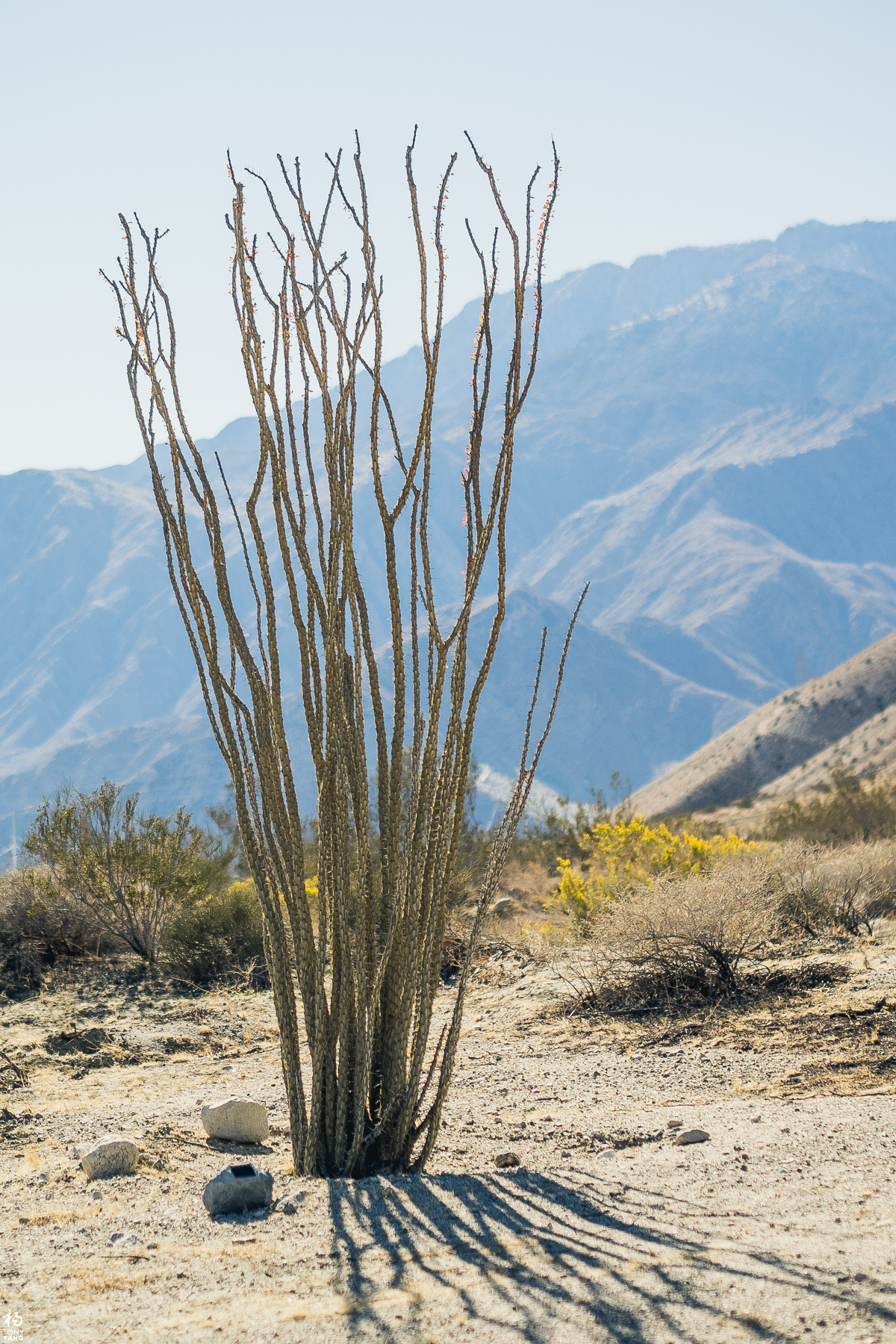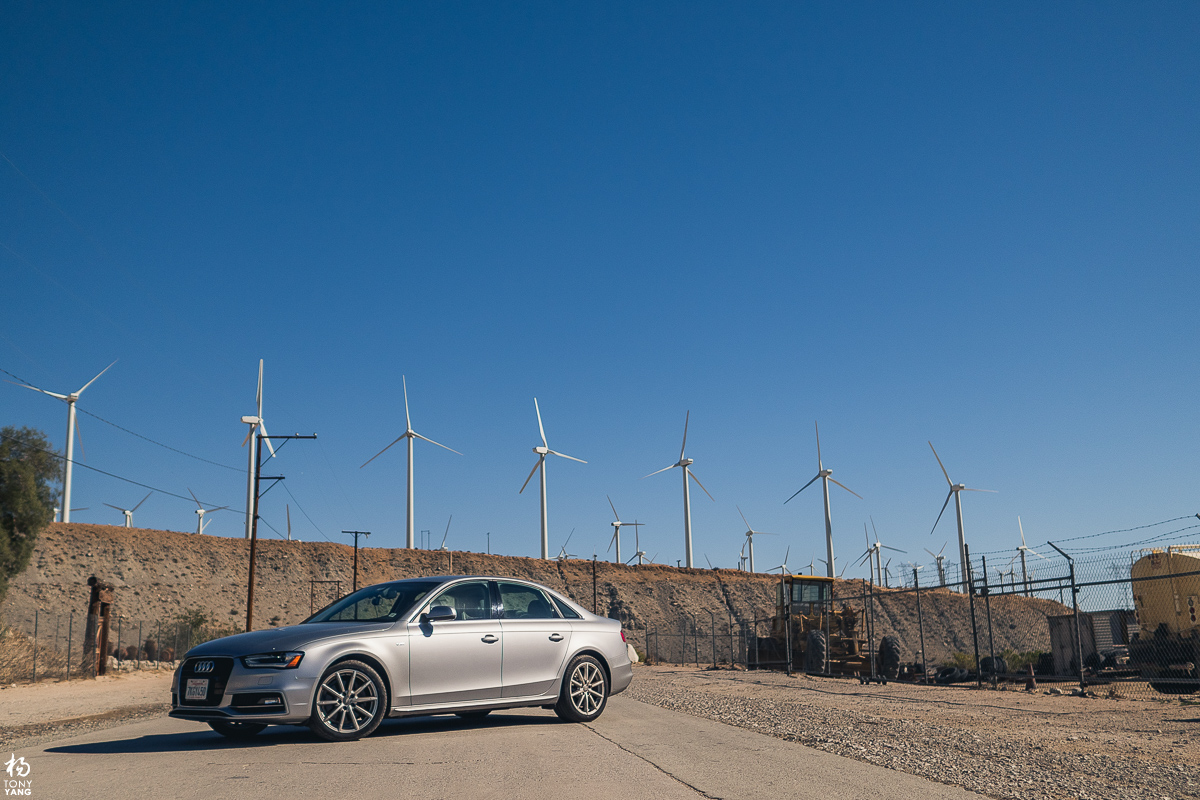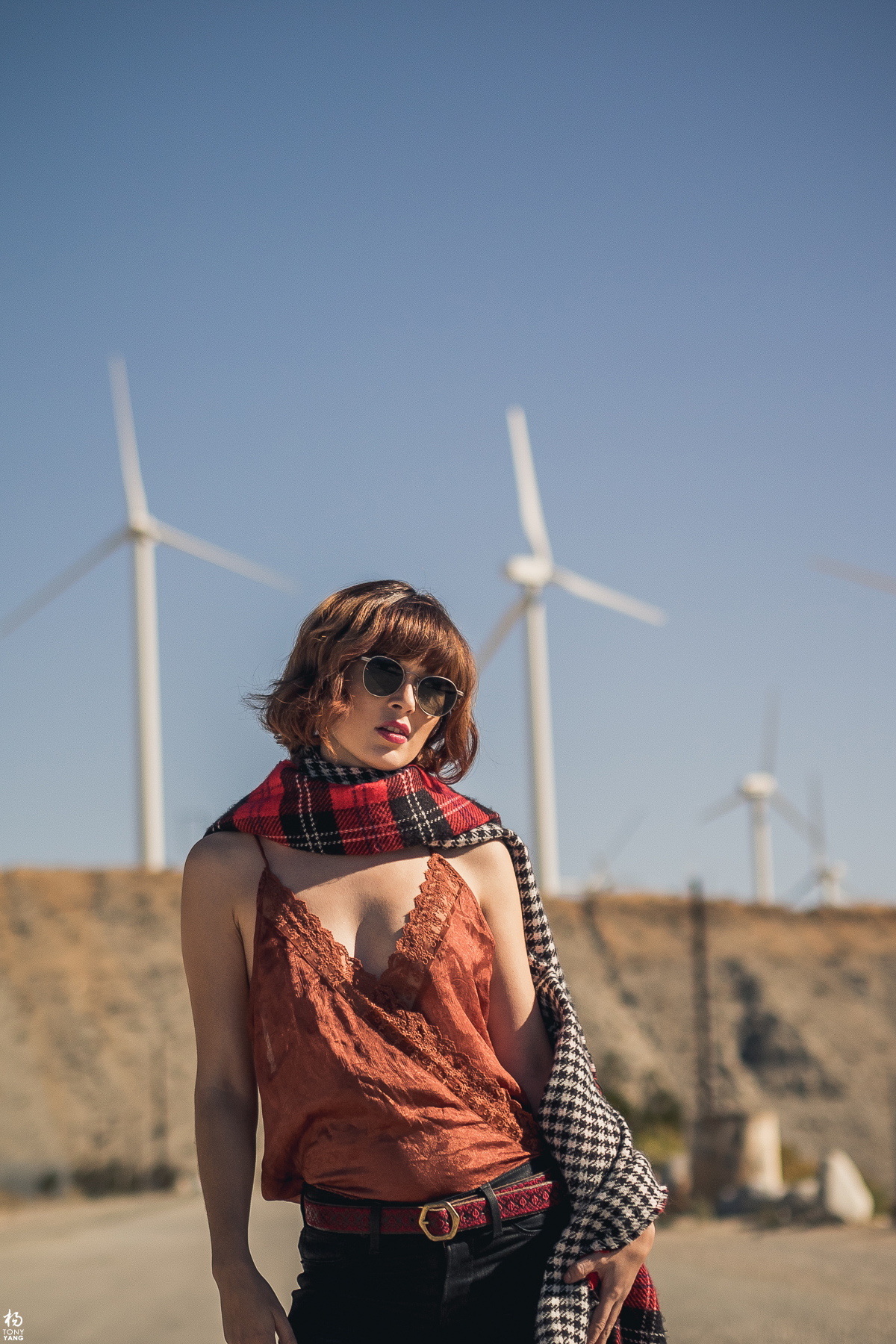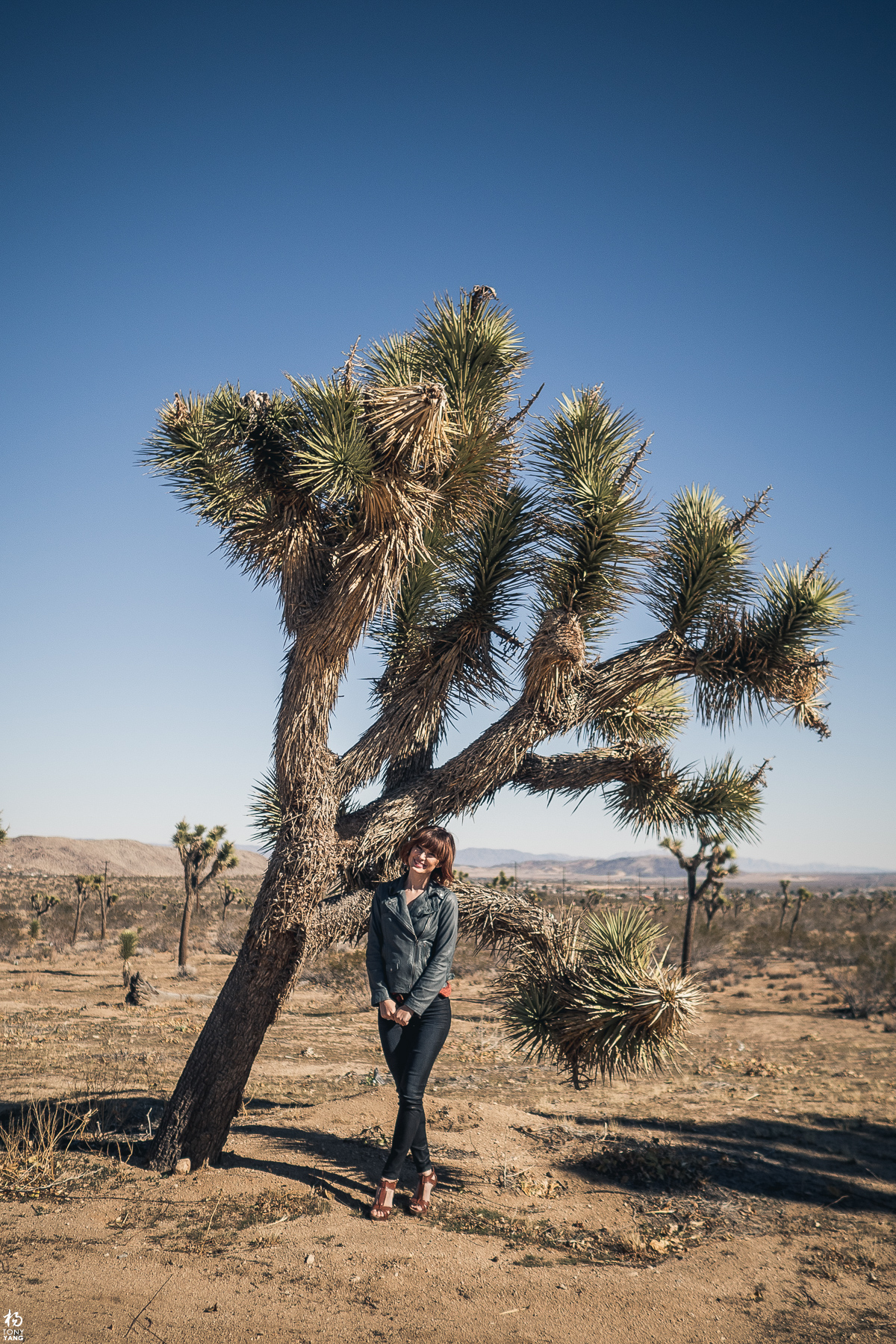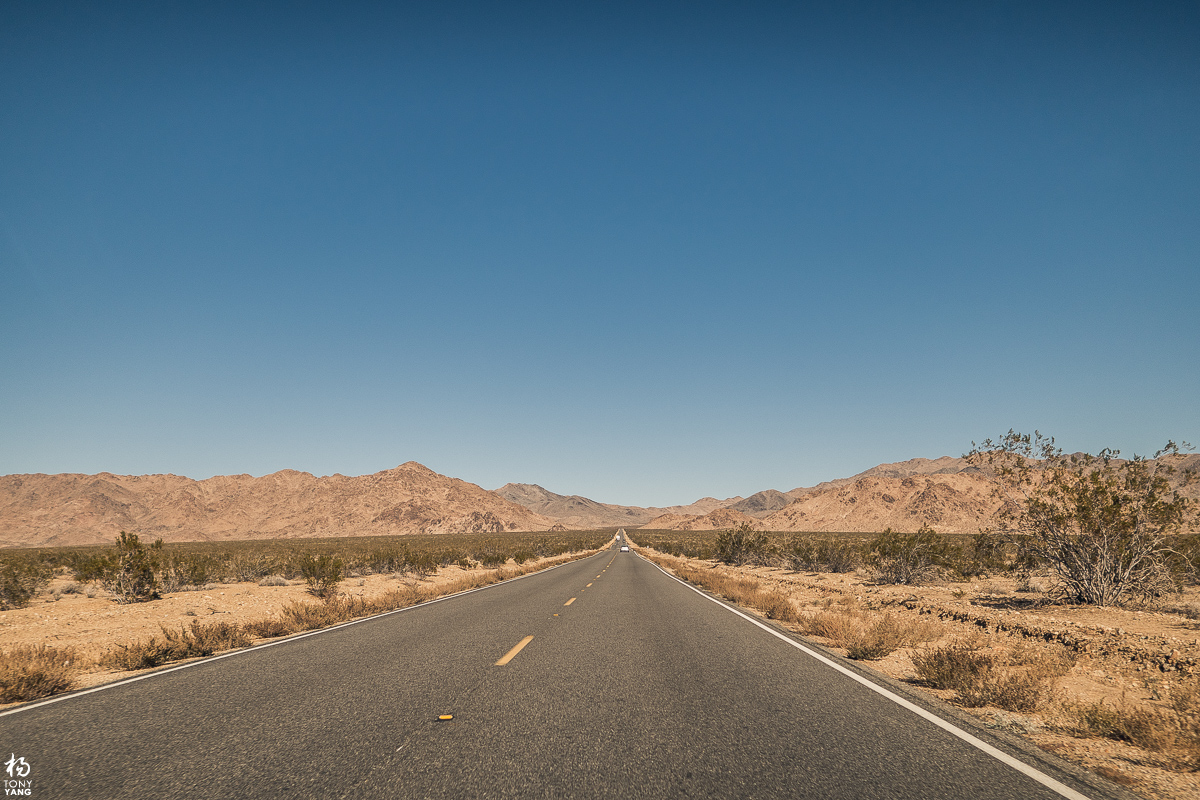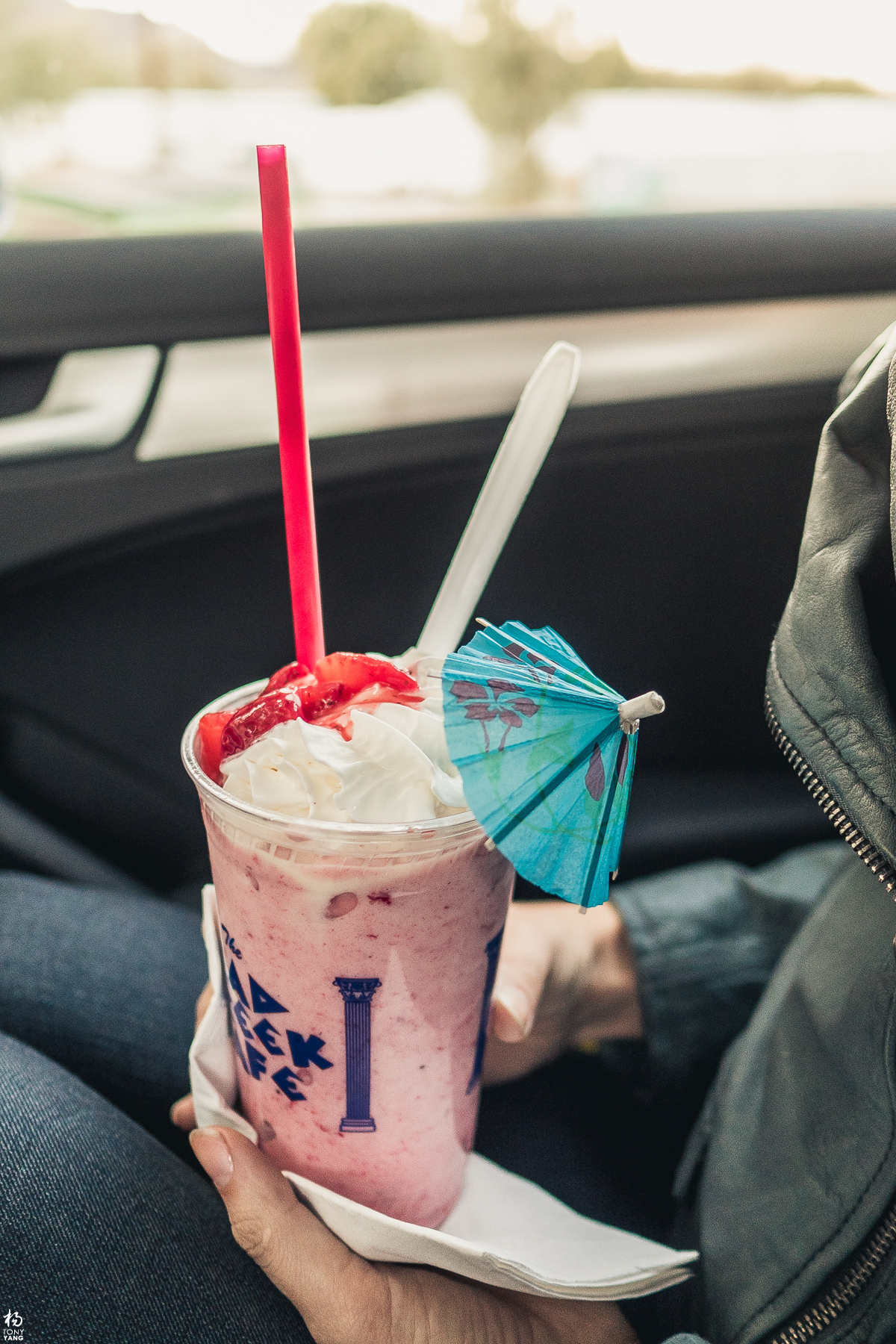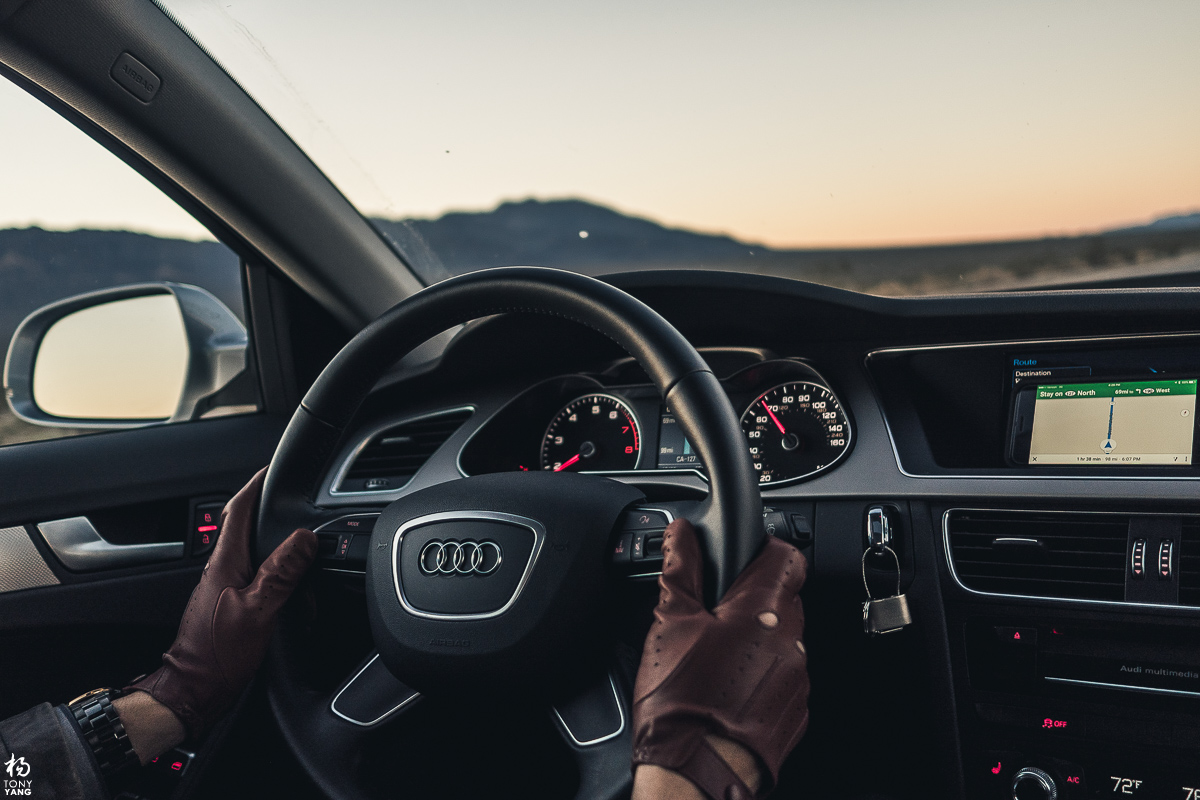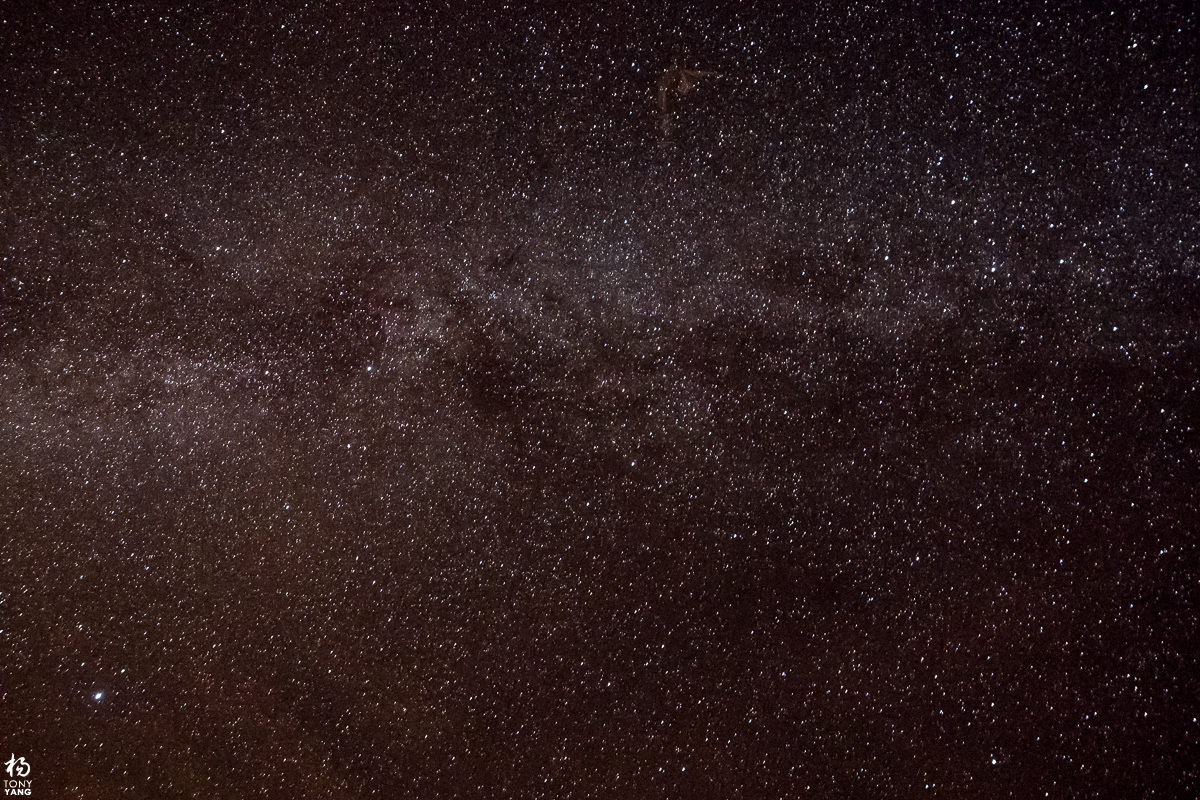 Best Western is one of our favorite chain hotels, being very reasonably priced, includes breakfast, and always a clean modern room. This Best Western in Lone Pine had one of the most beautiful views we've seen, with Mount Whitney right outside our parking lot and the cold crisp air making us feel alive. We decided to backtrack in the morning to Death Valley for a drive to see the desert under the sun. The temperature in the desert in November was below freezing so we made good use of our new Lucky leather jackets. The long empty roads, snow capped mountains and vast open land really made us feel small.  My favorite part of the drive was through the canyons in Death Valley and spotting two F-18 fighter jets fly in nap-of-the-earth into the canyons below us as I screamed in excitement like a little school girl with a basket of puppies. At least that's how I described to my fiance how I felt.
We were on our way to Lake Tahoe, through Yosemite National Park, with many more beautiful views as we climbed higher in altitude. We only stopped by Lake Tahoe for some photos, although the winter weather made it difficult to get any images similar to those found online, so we opted for some beer and sausages at Mellow Fellow. Right after dinner we made our long journey back to San Francisco and stayed overnight at the beautiful Carriage Inn. We grabbed dinner to-go nearby at Box Kitchen, not even a hole in the wall, just a wall. The next morning we scheduled an impromptu engagement shoot for ourselves with the ever so talented Fern Lee, one of the only photographers I trust to my standards. We finished the day with some delicious home made pasta at… drum roll please… The Italian Homemade Company. The benefit of eating with more people means you get to try more food. Our last meal for the trip was breakfast at the Black Bear Diner and photo ops with some more black bears. We just love going to places that also loves bears.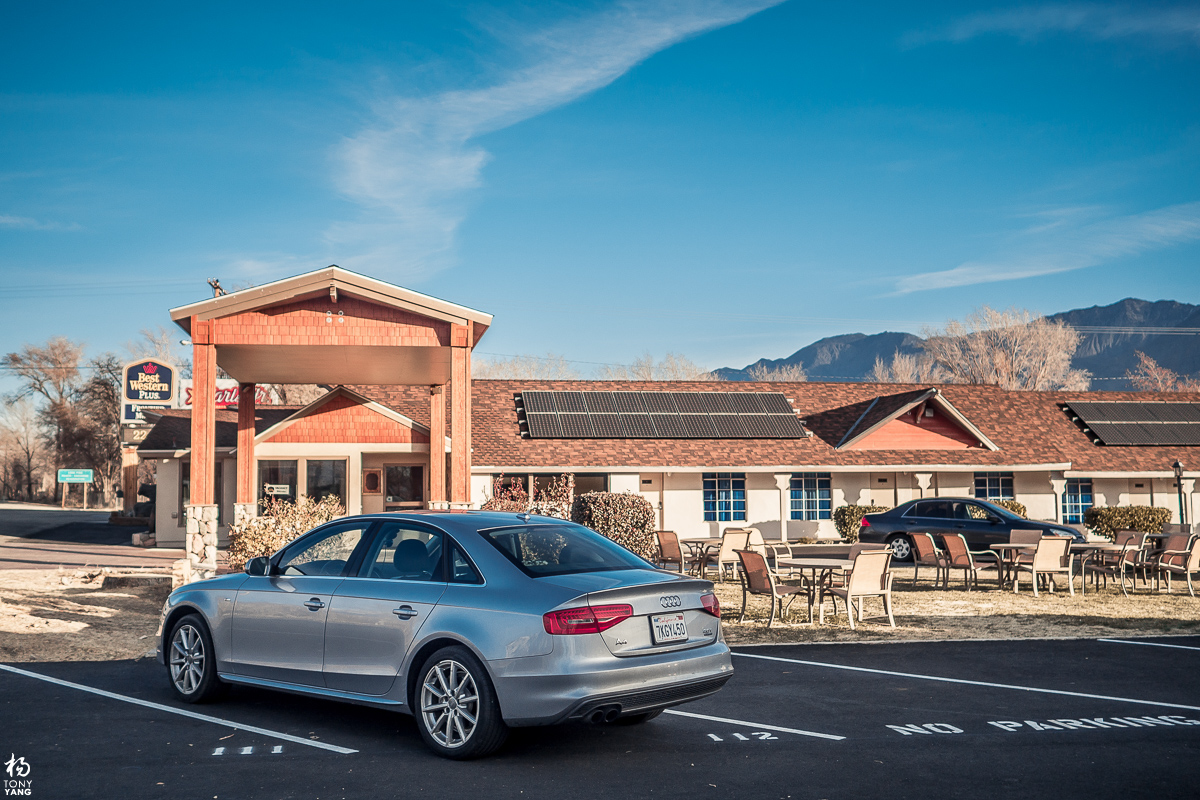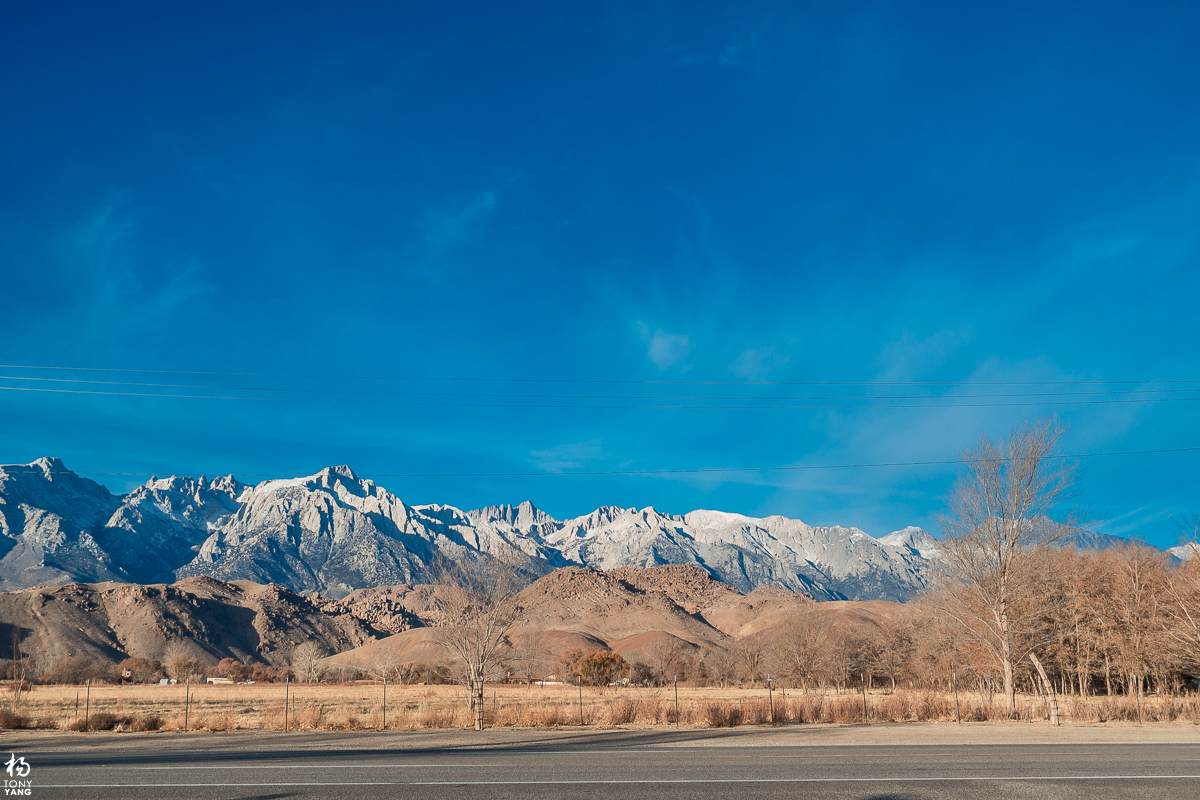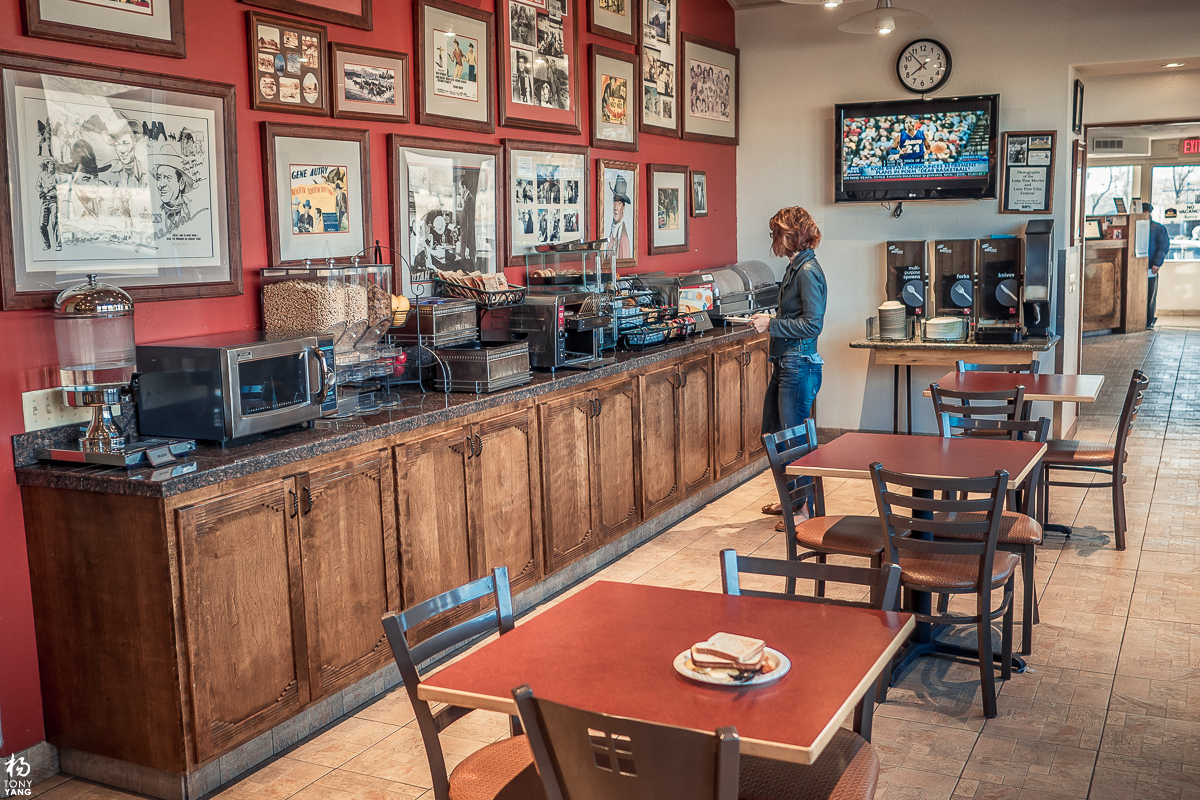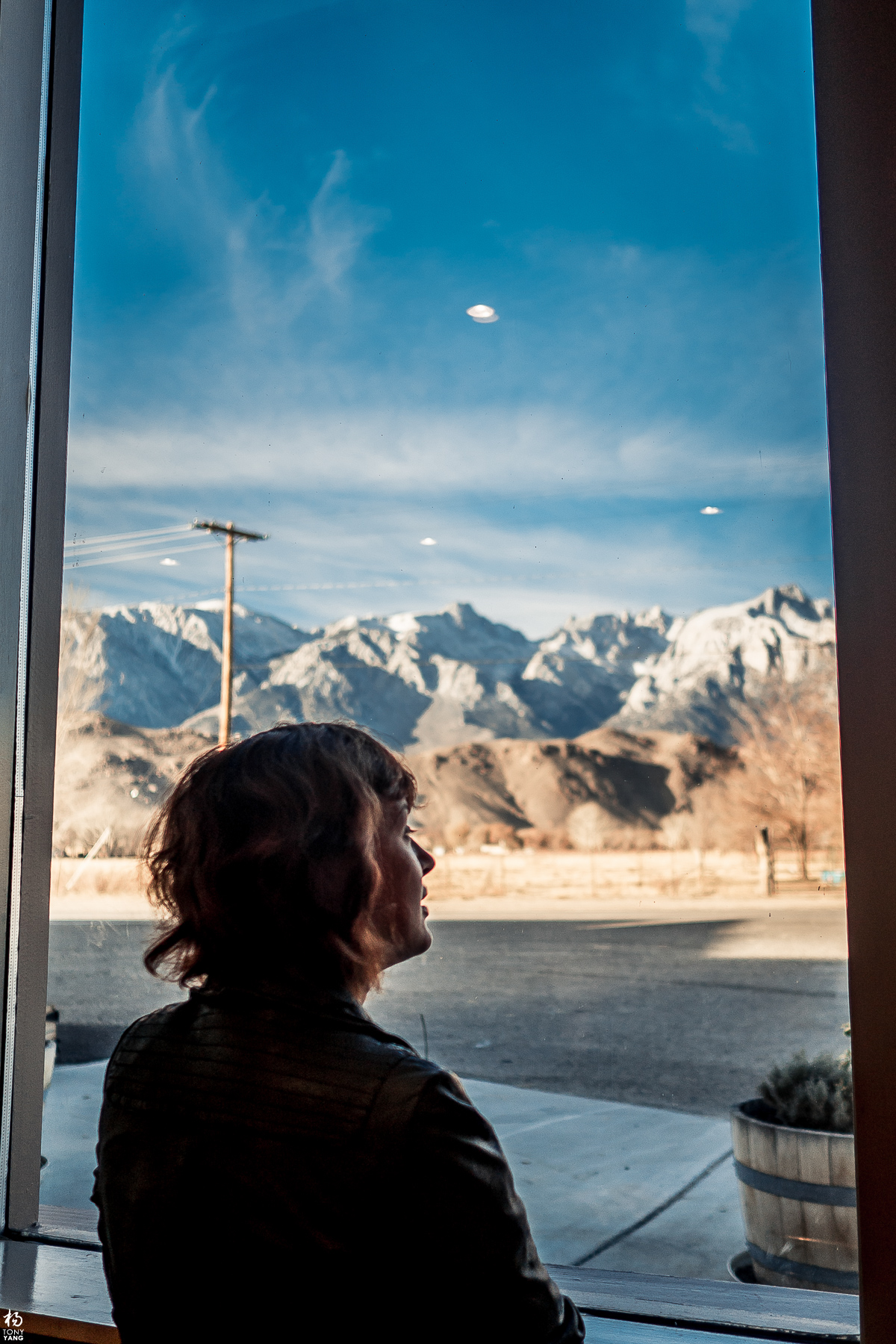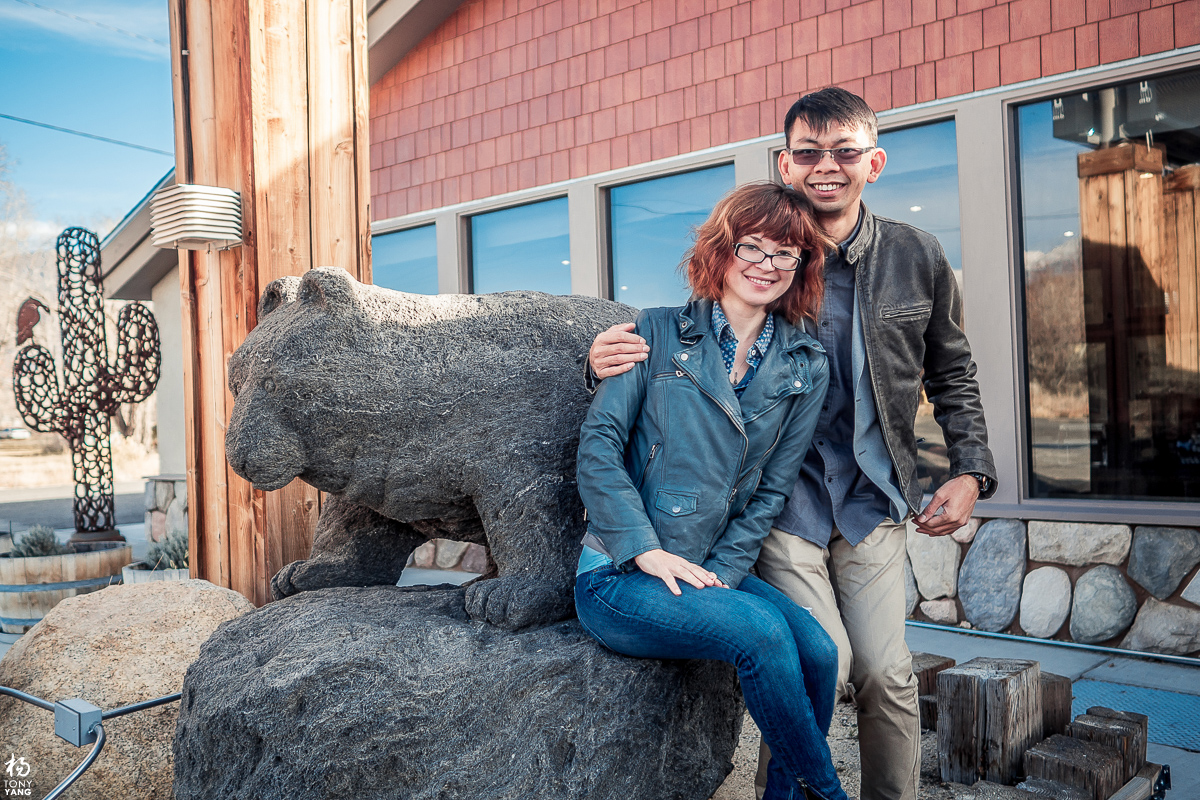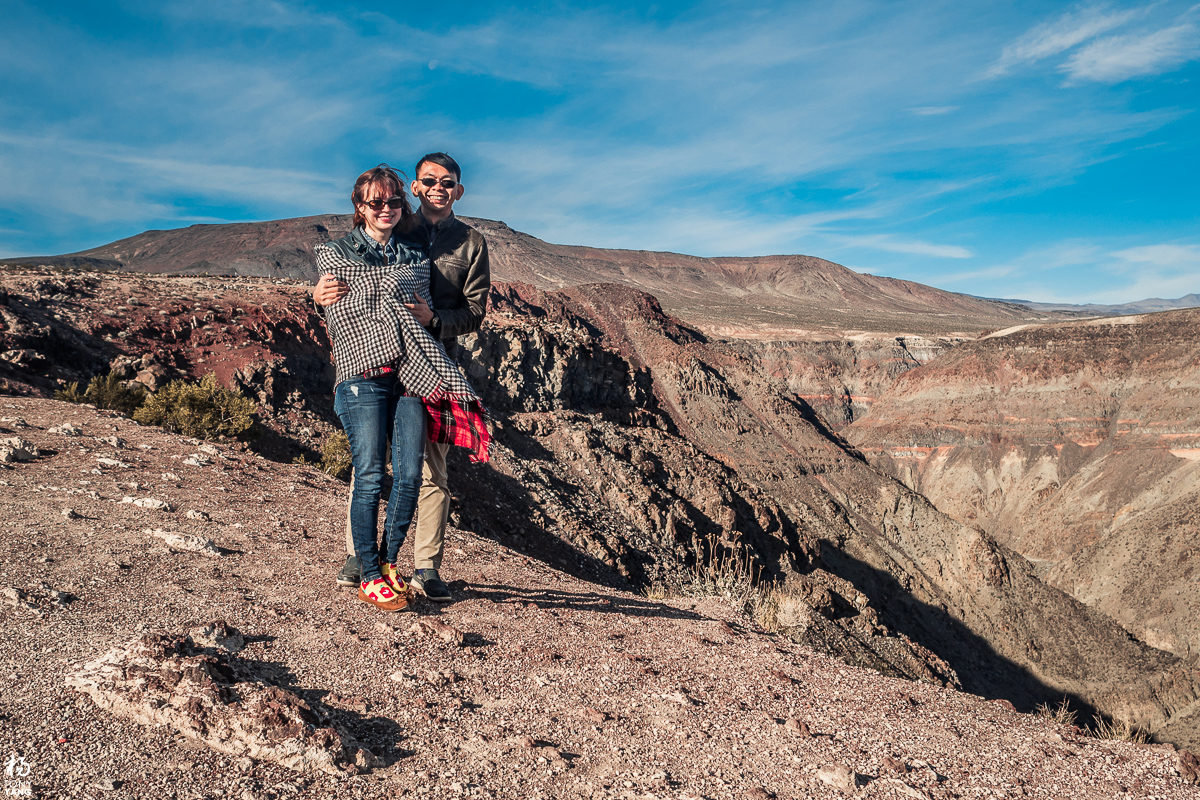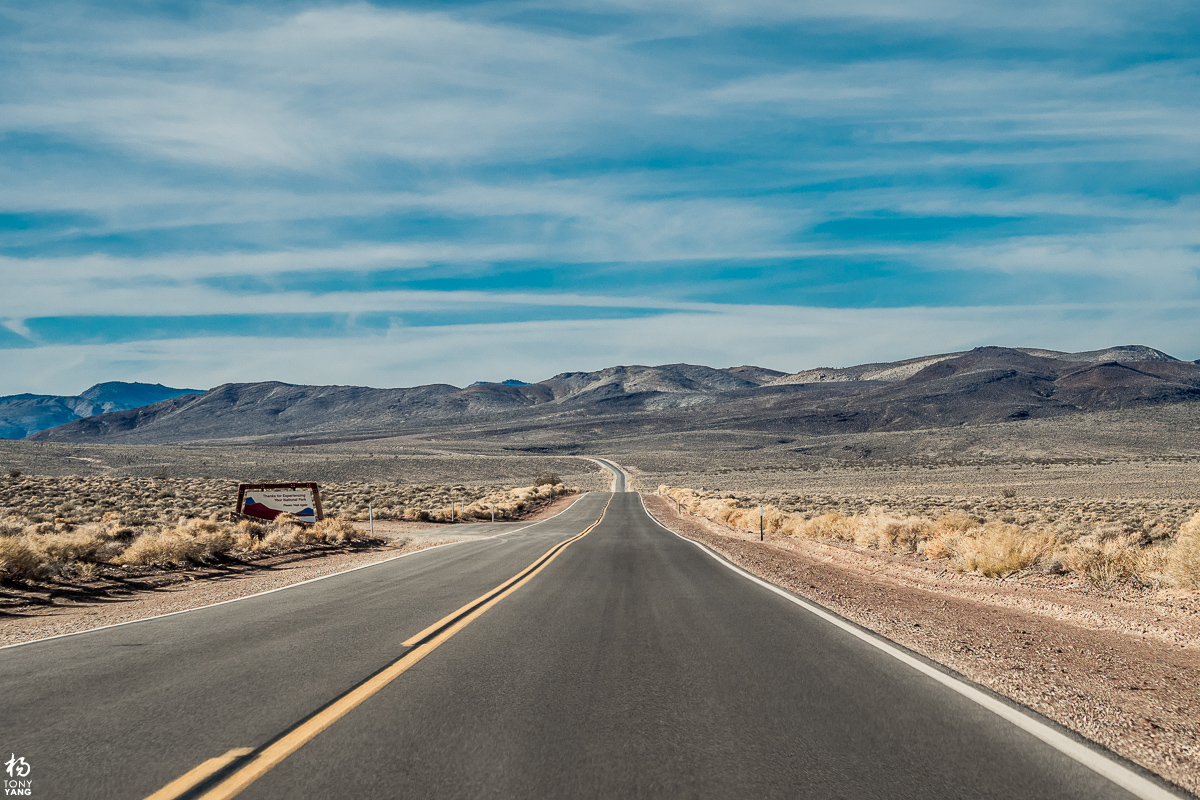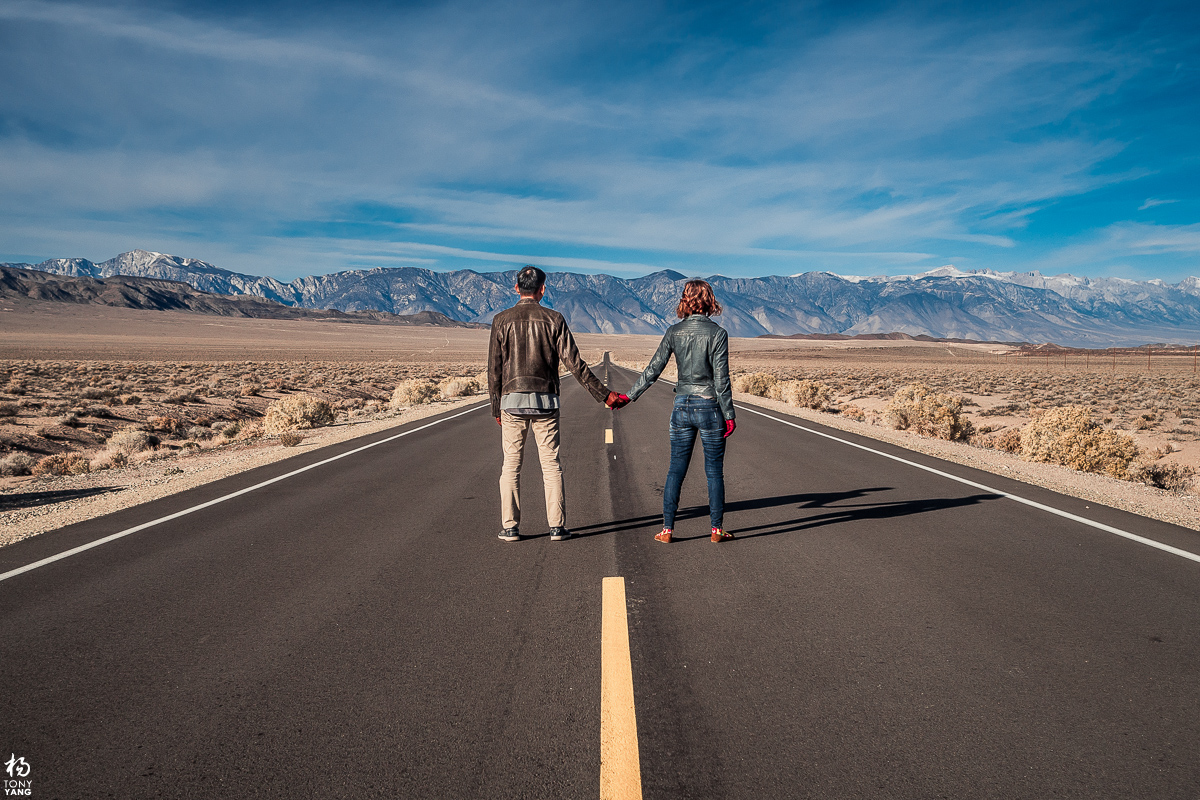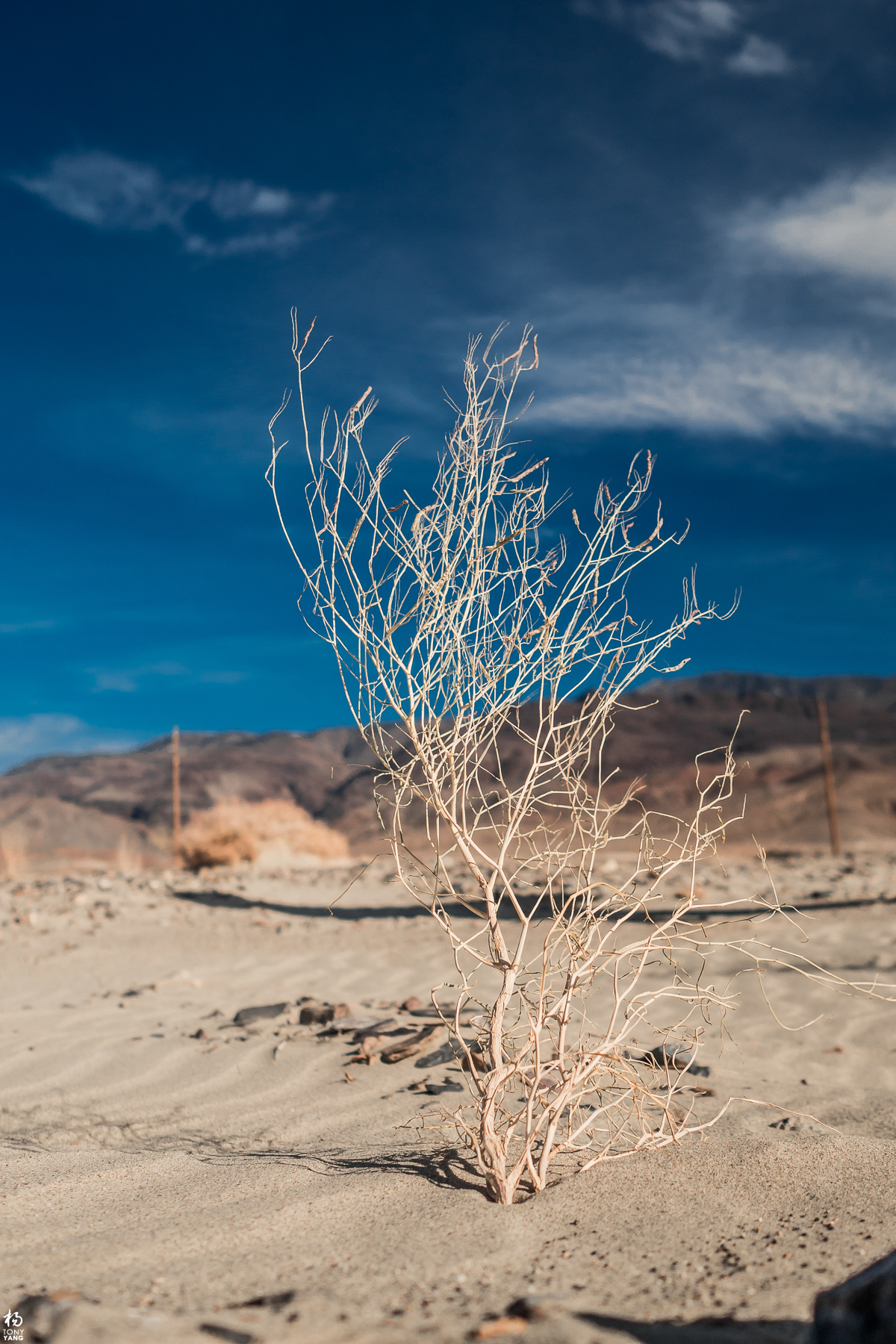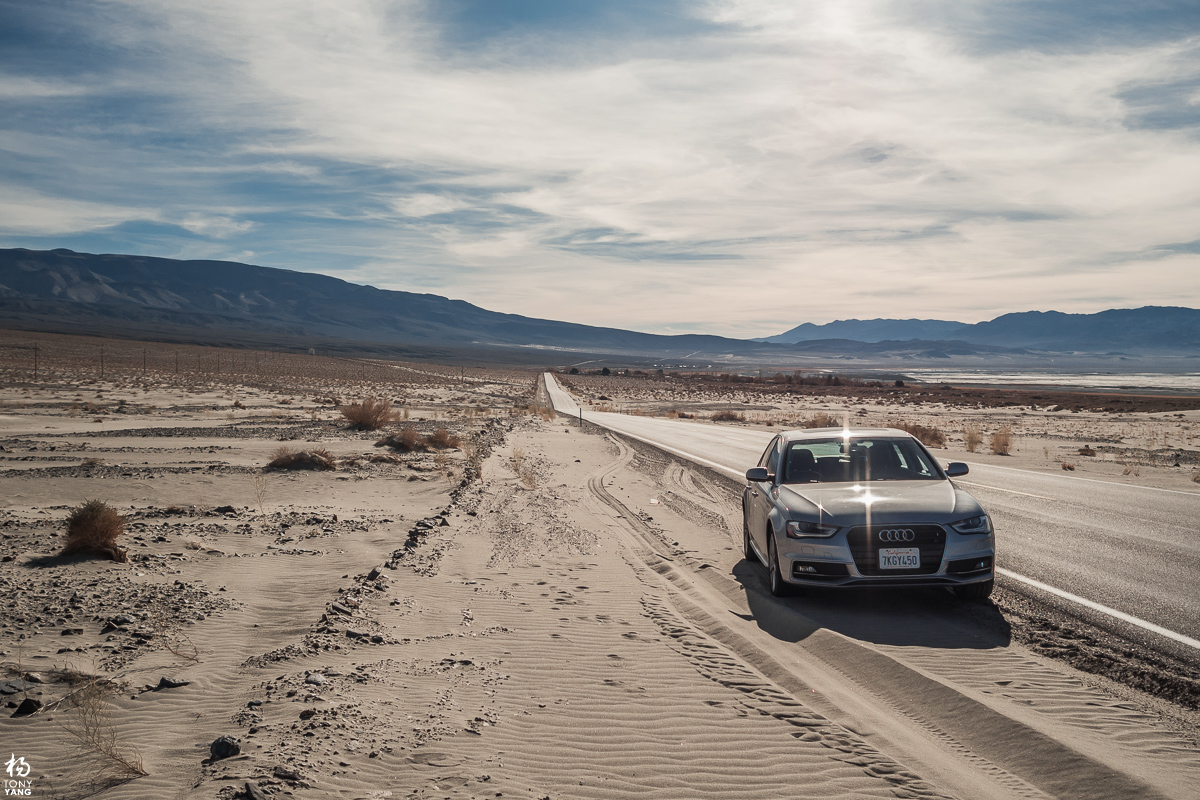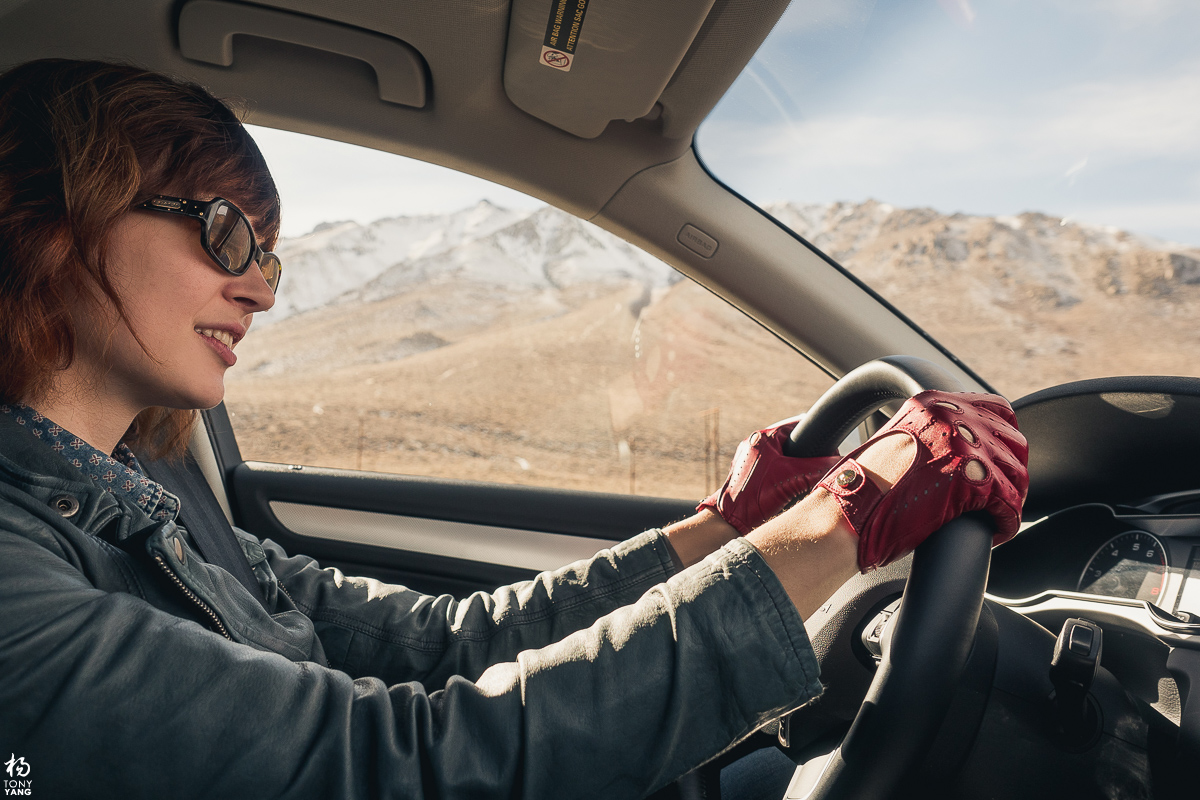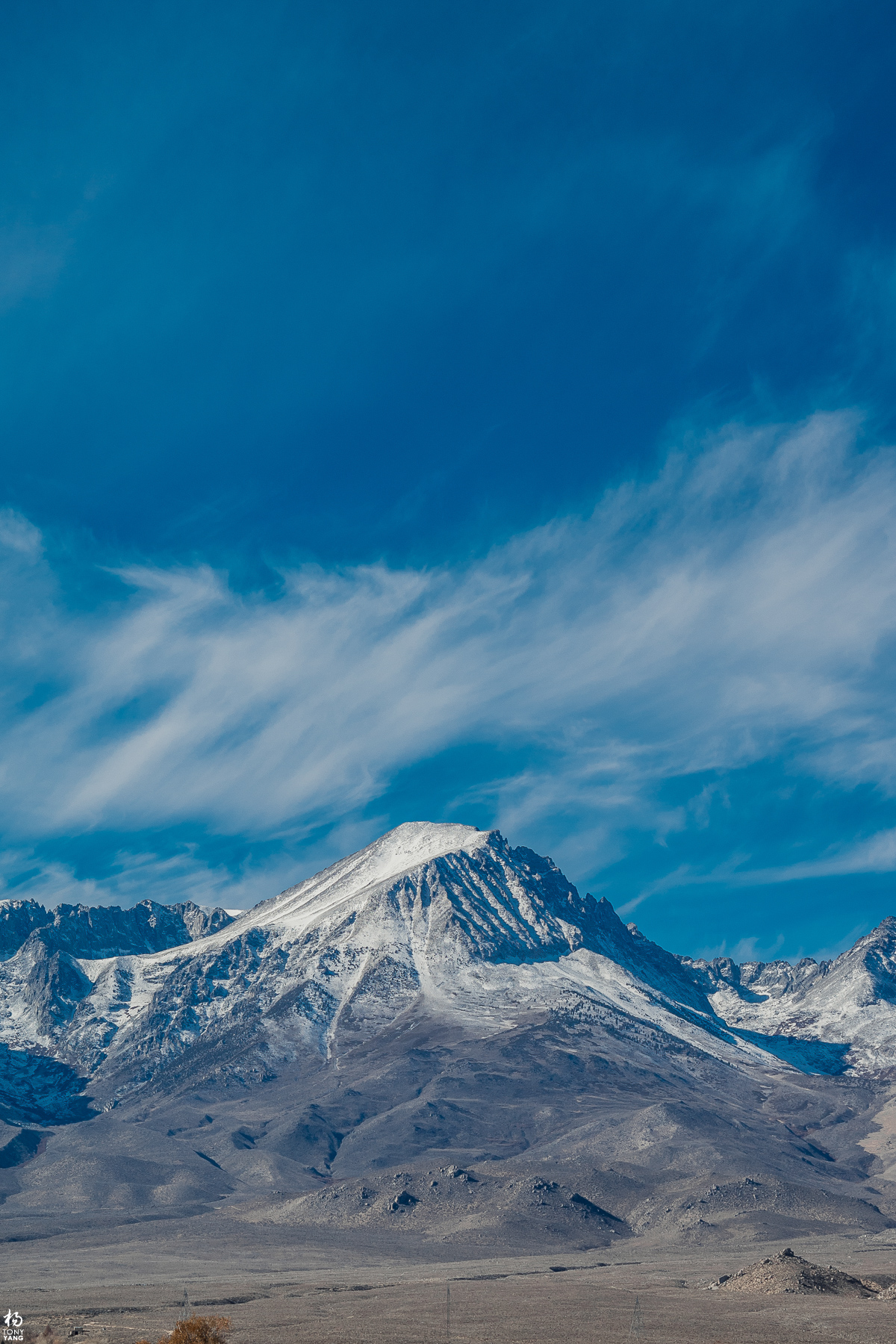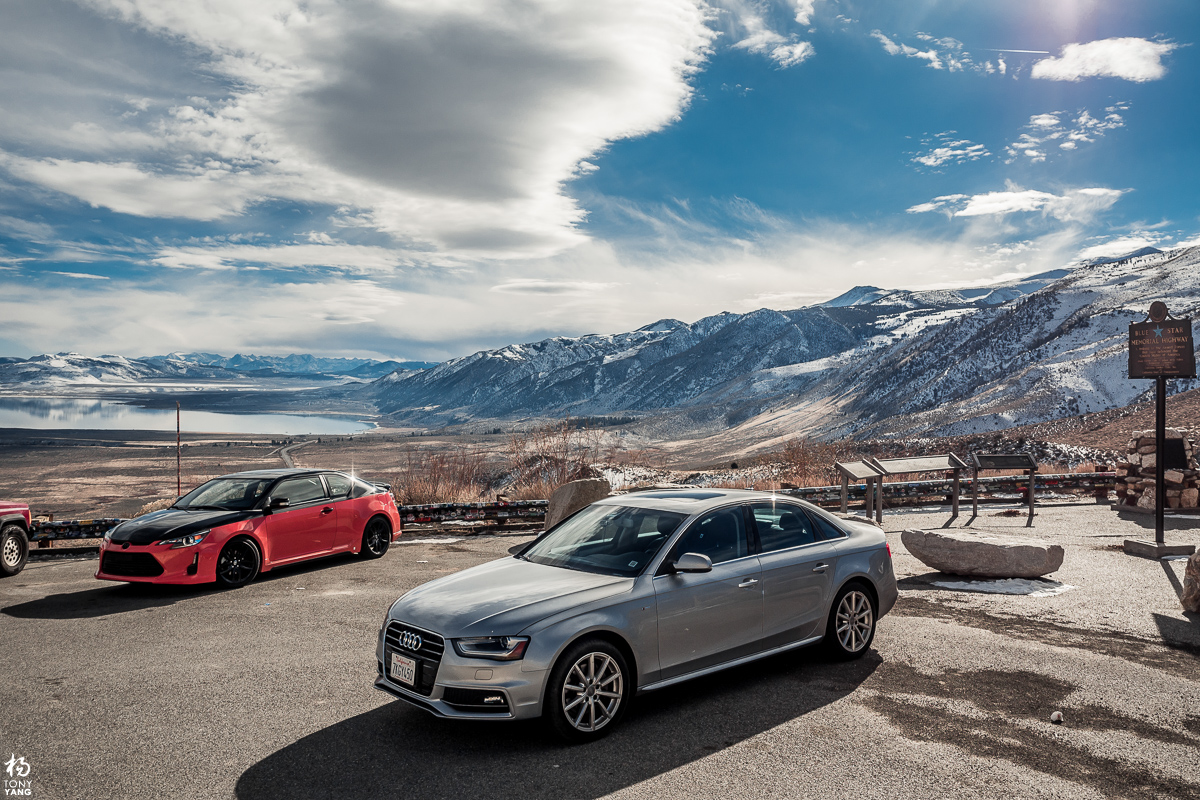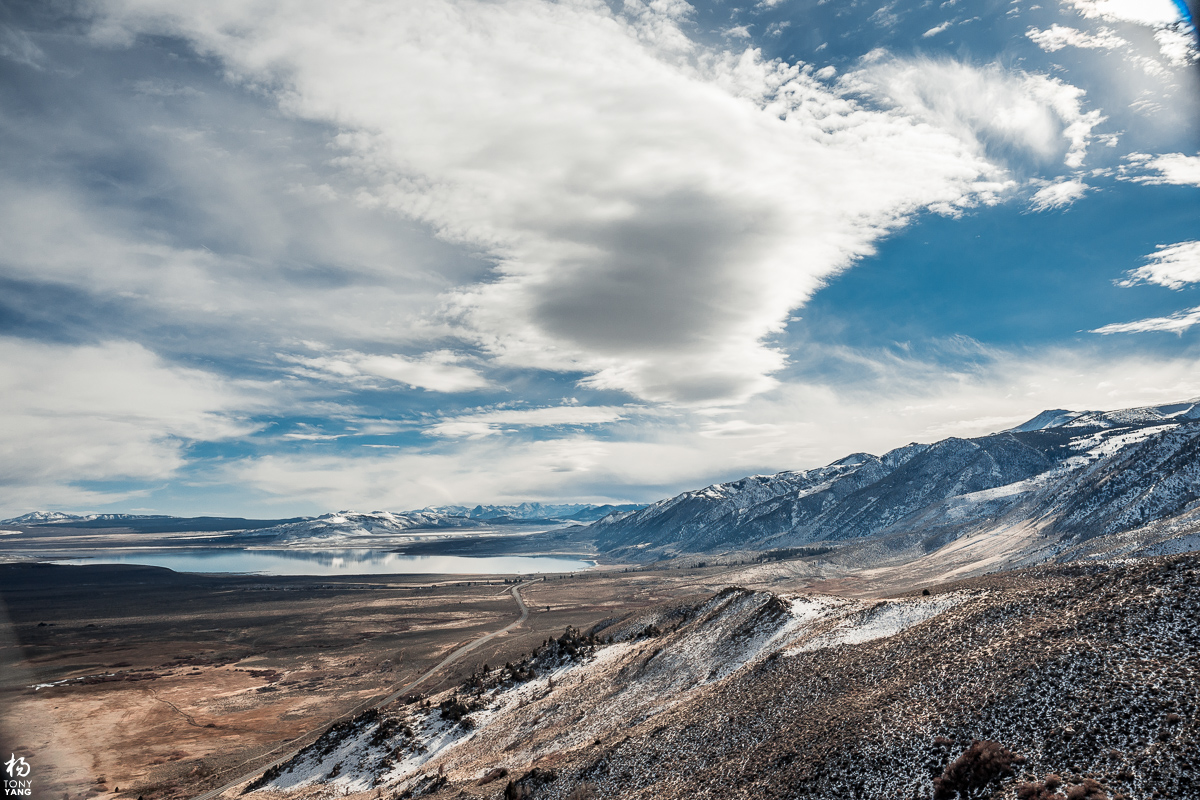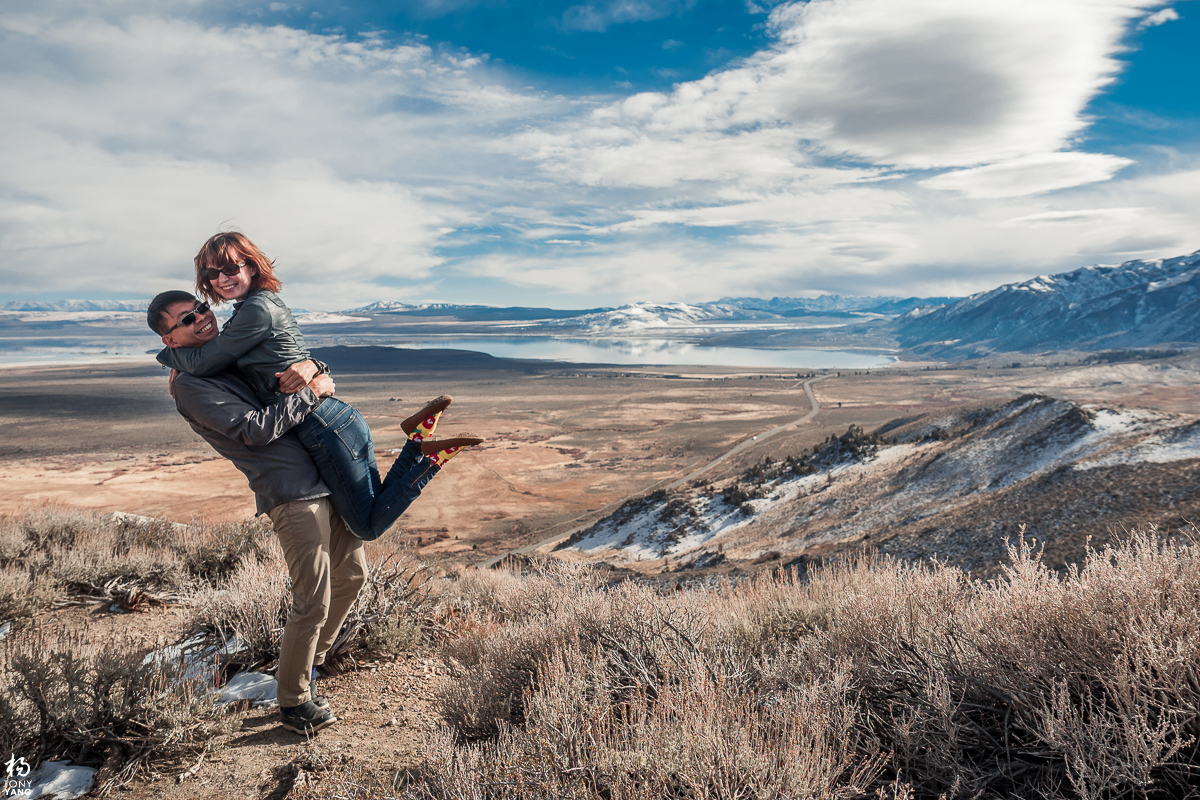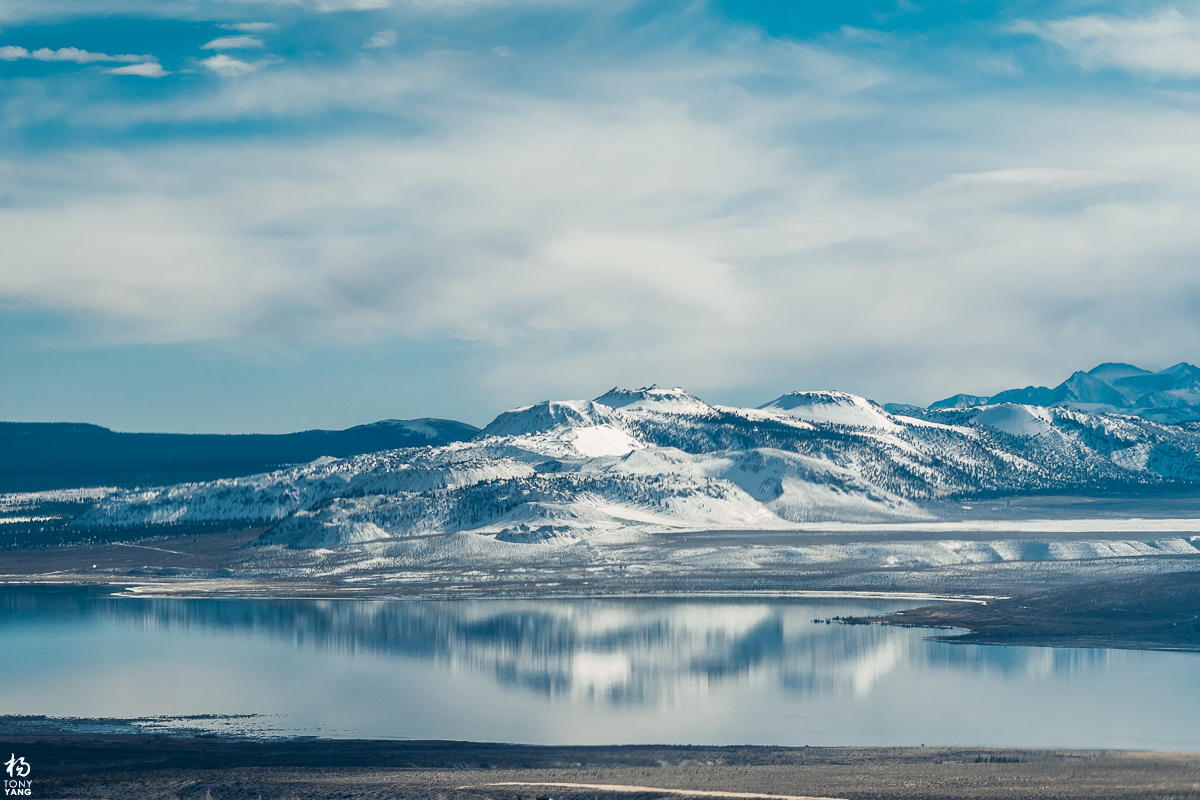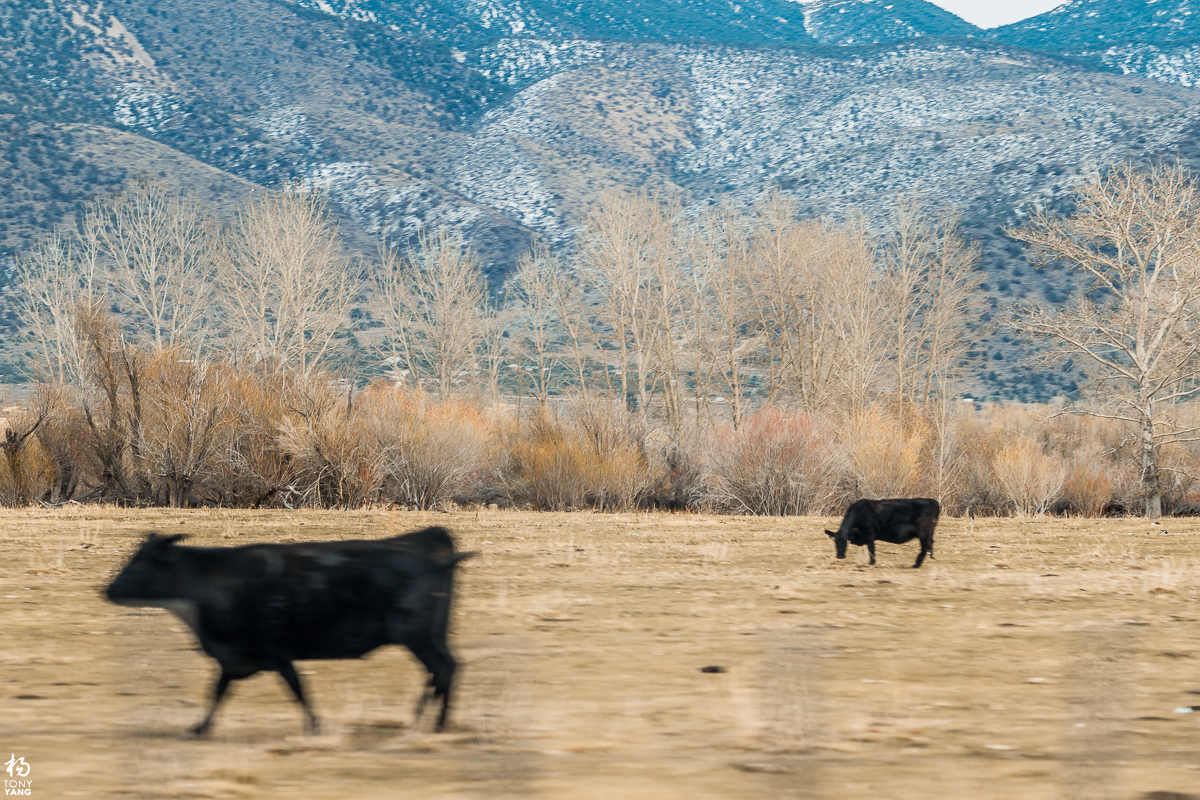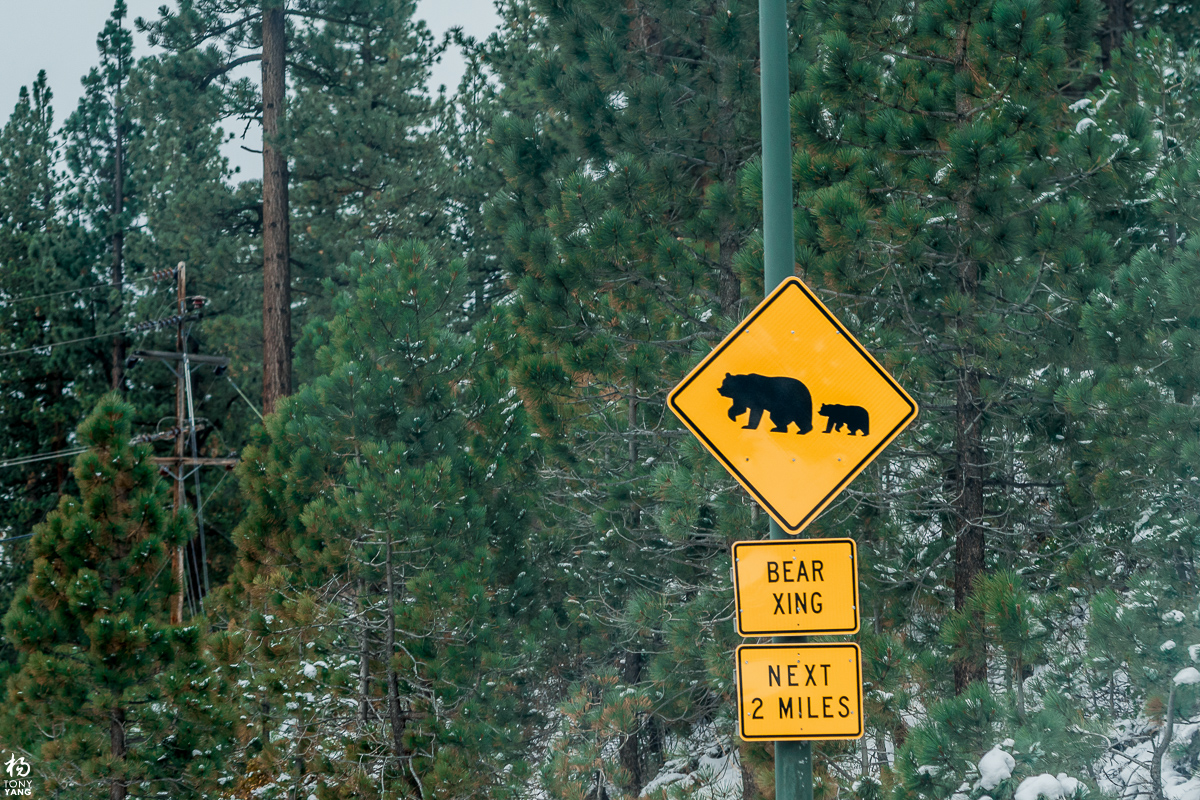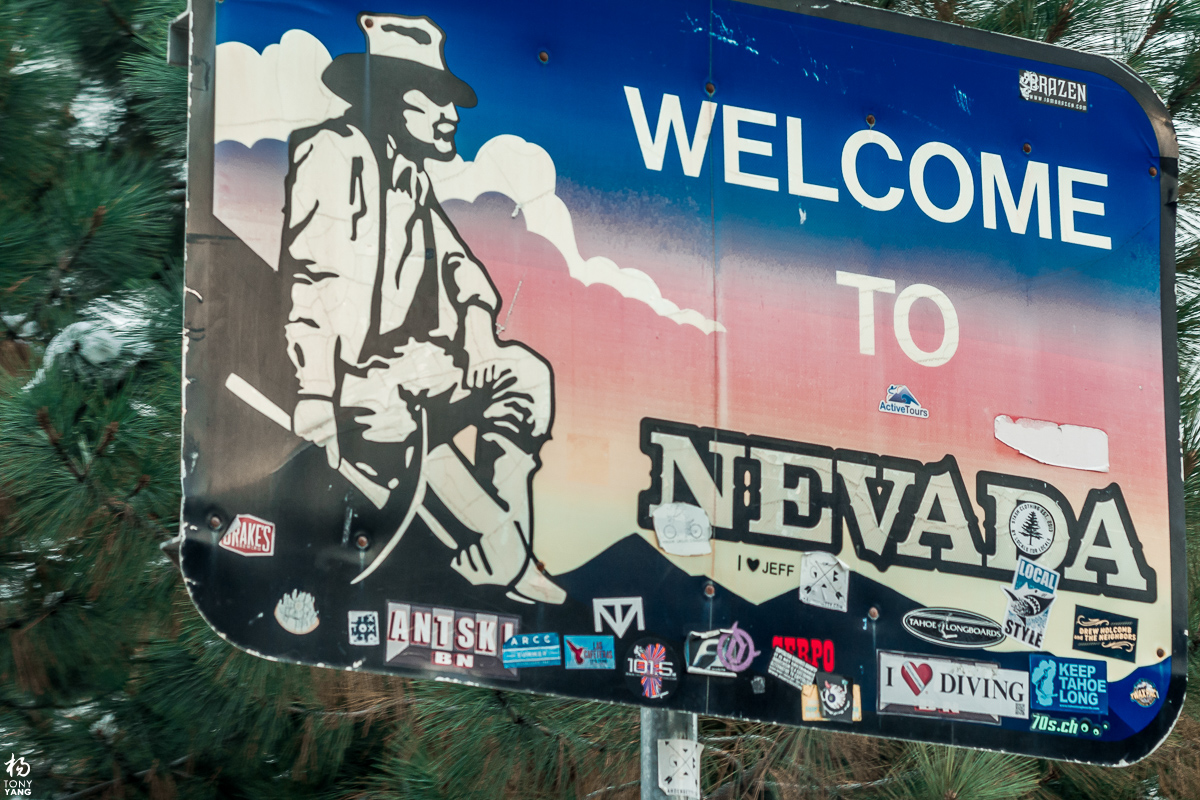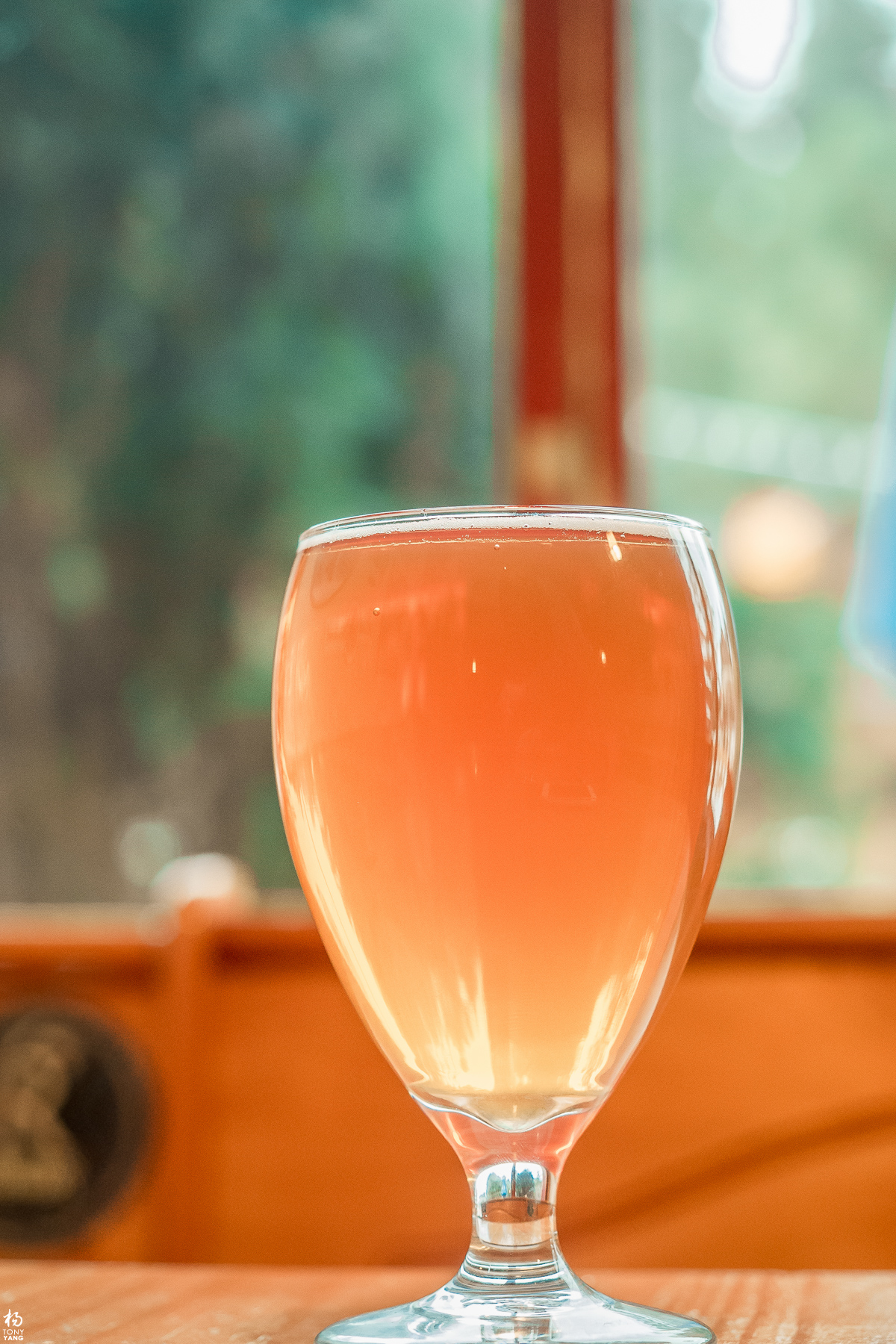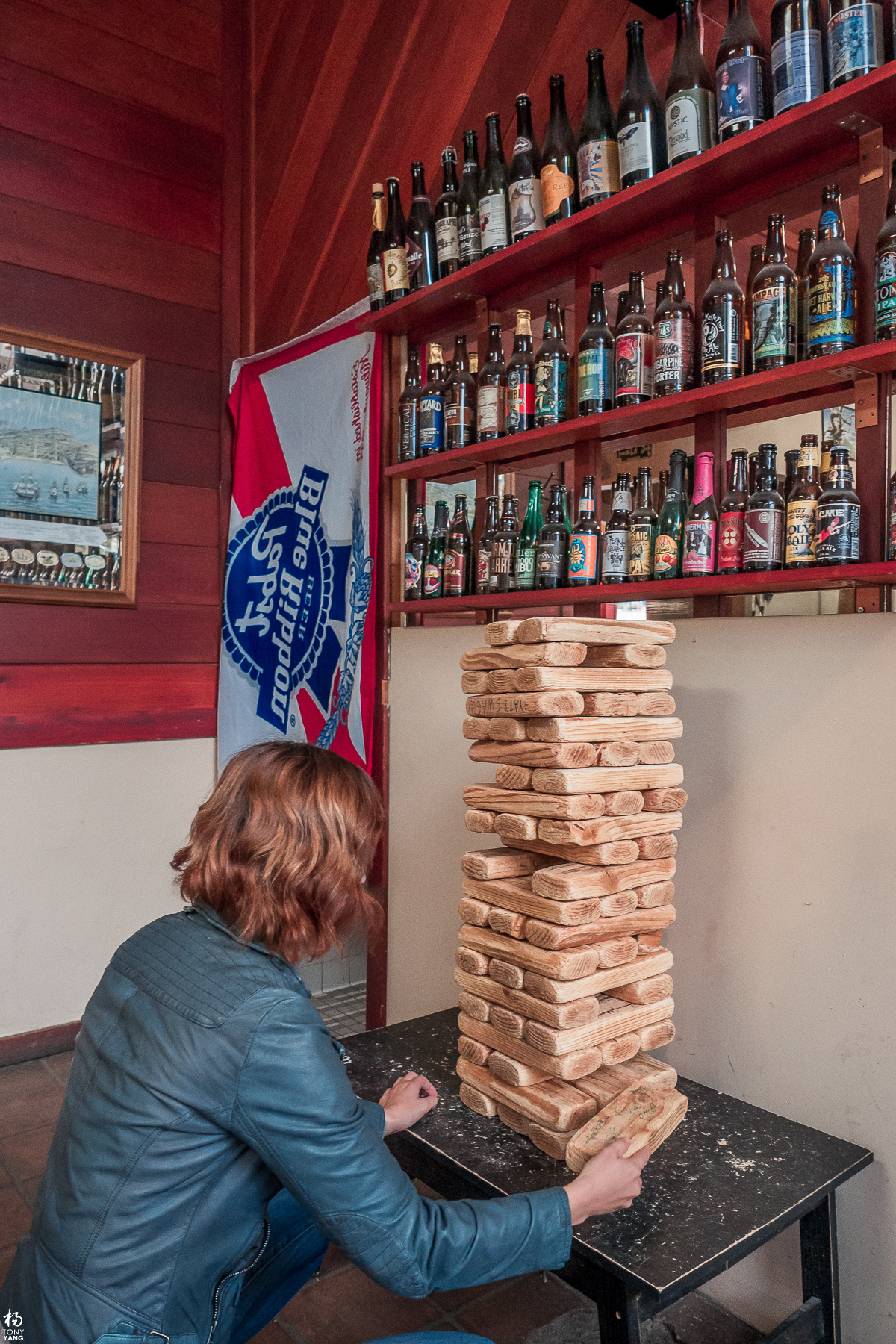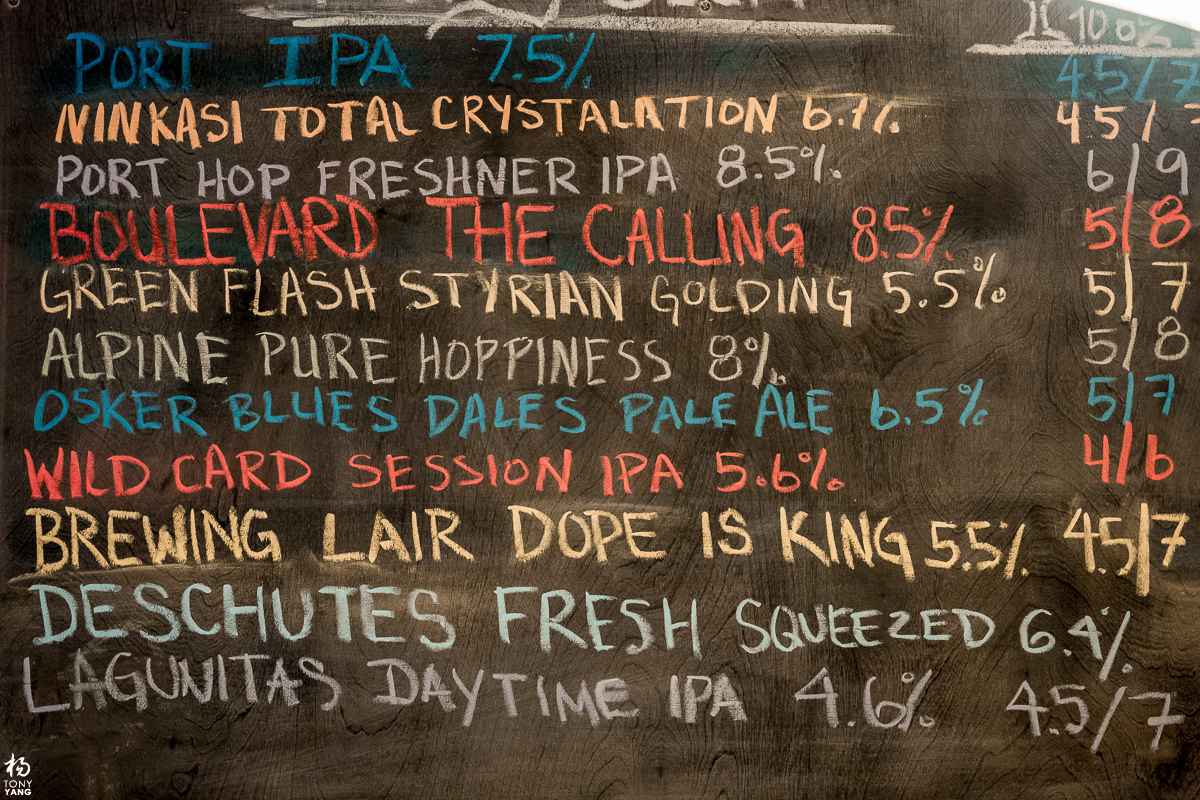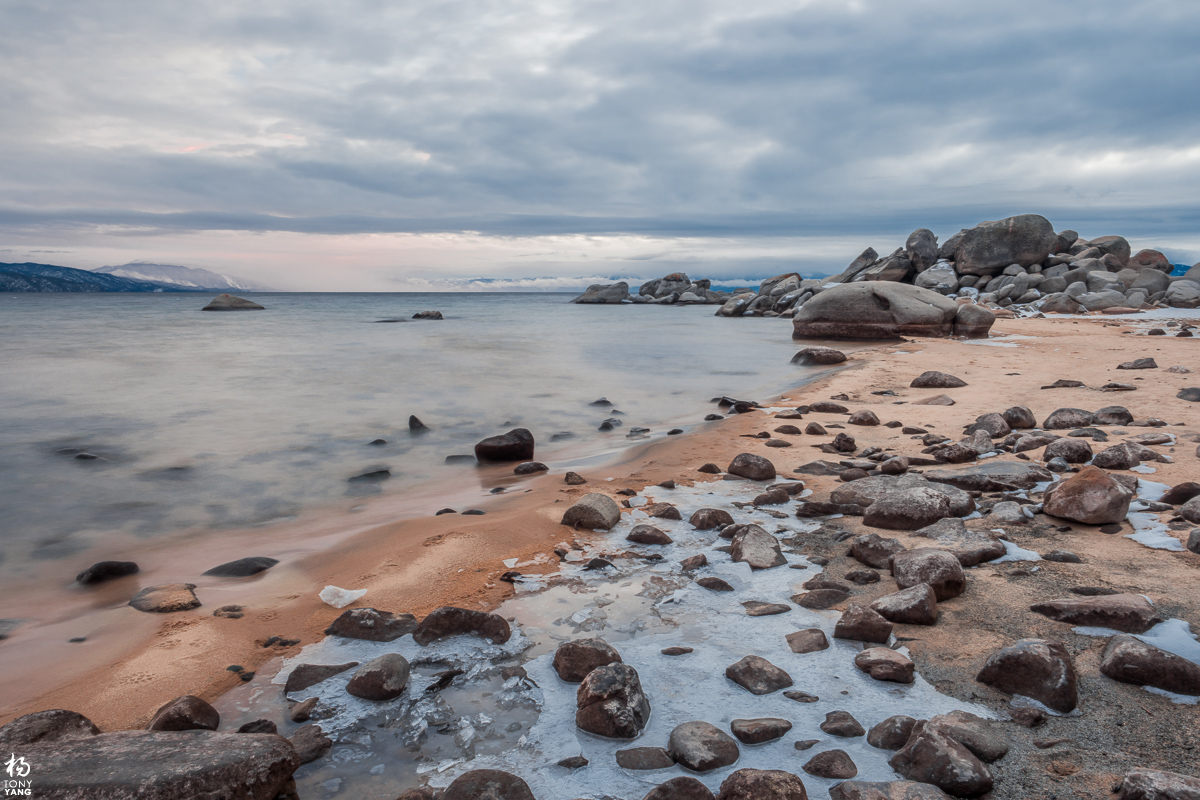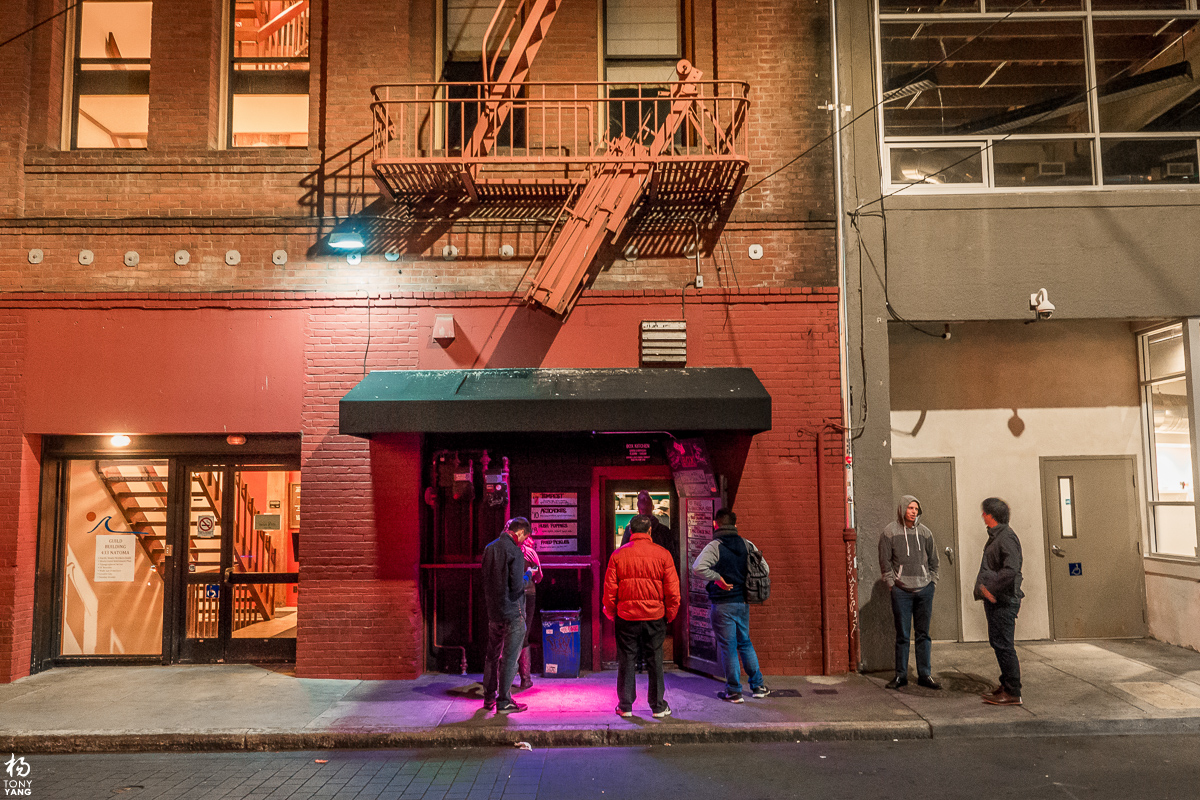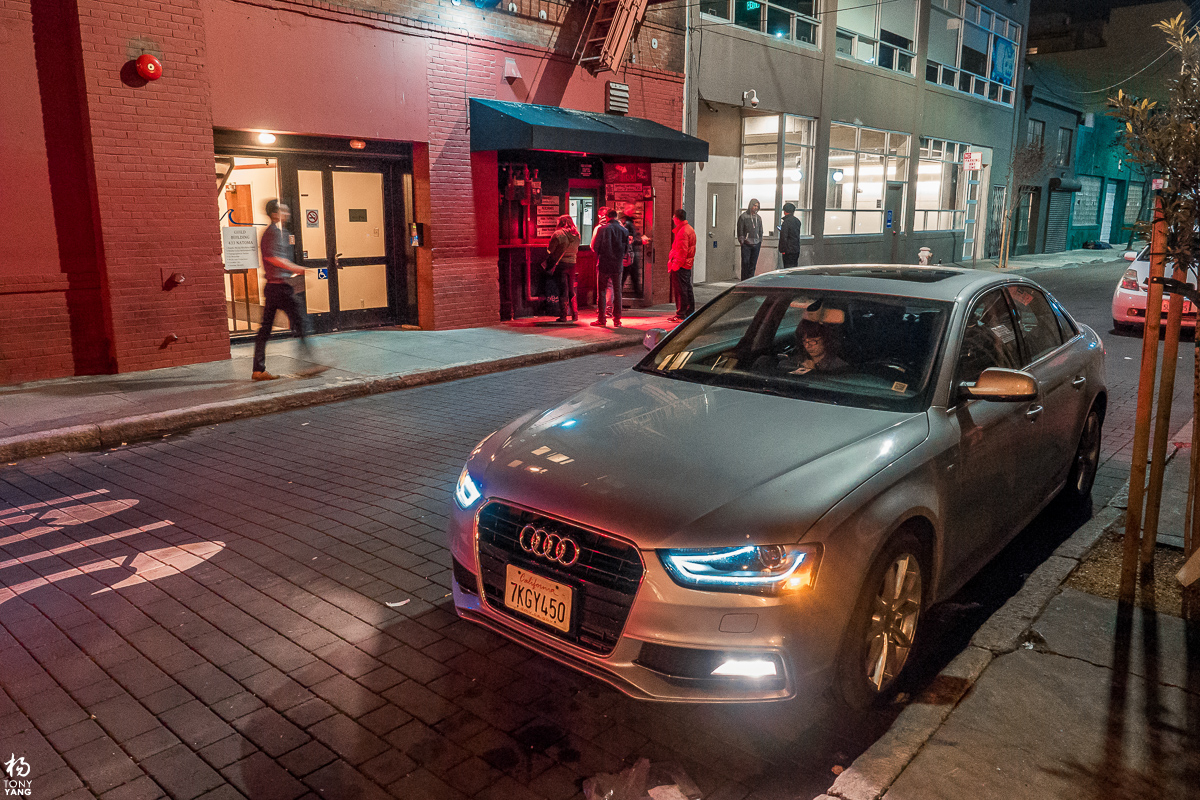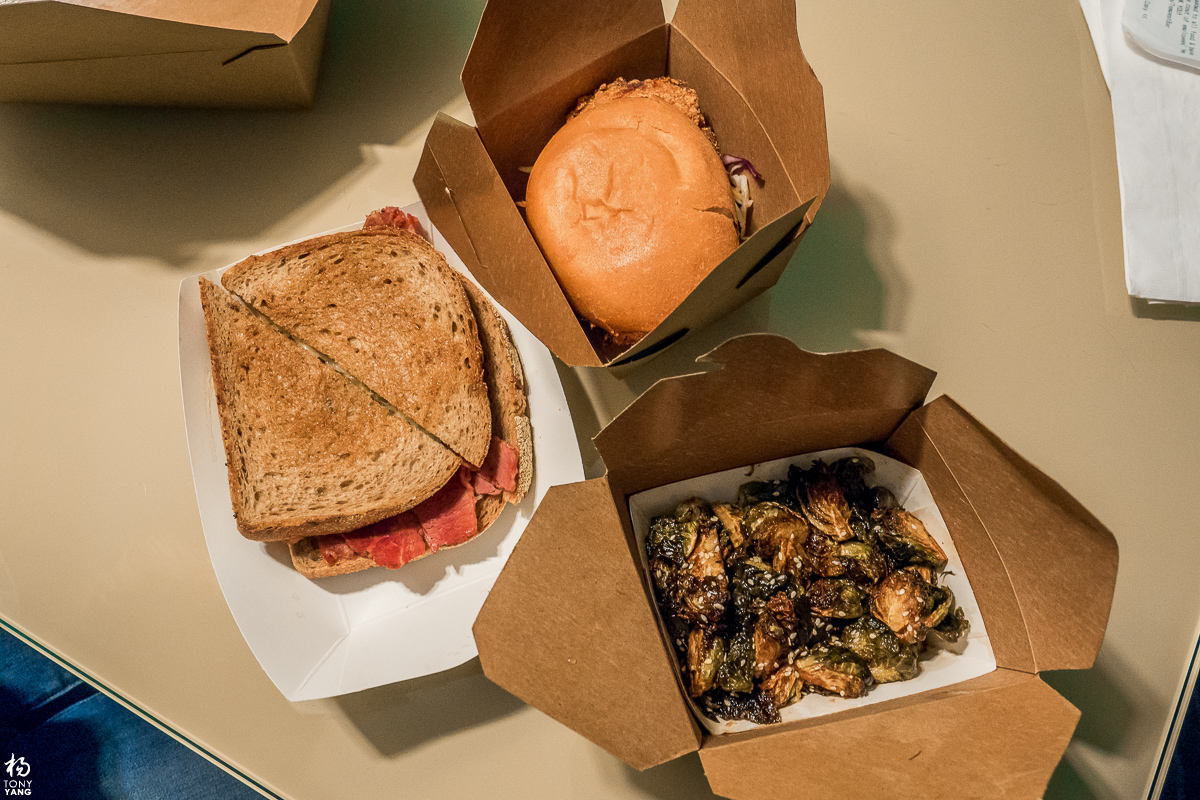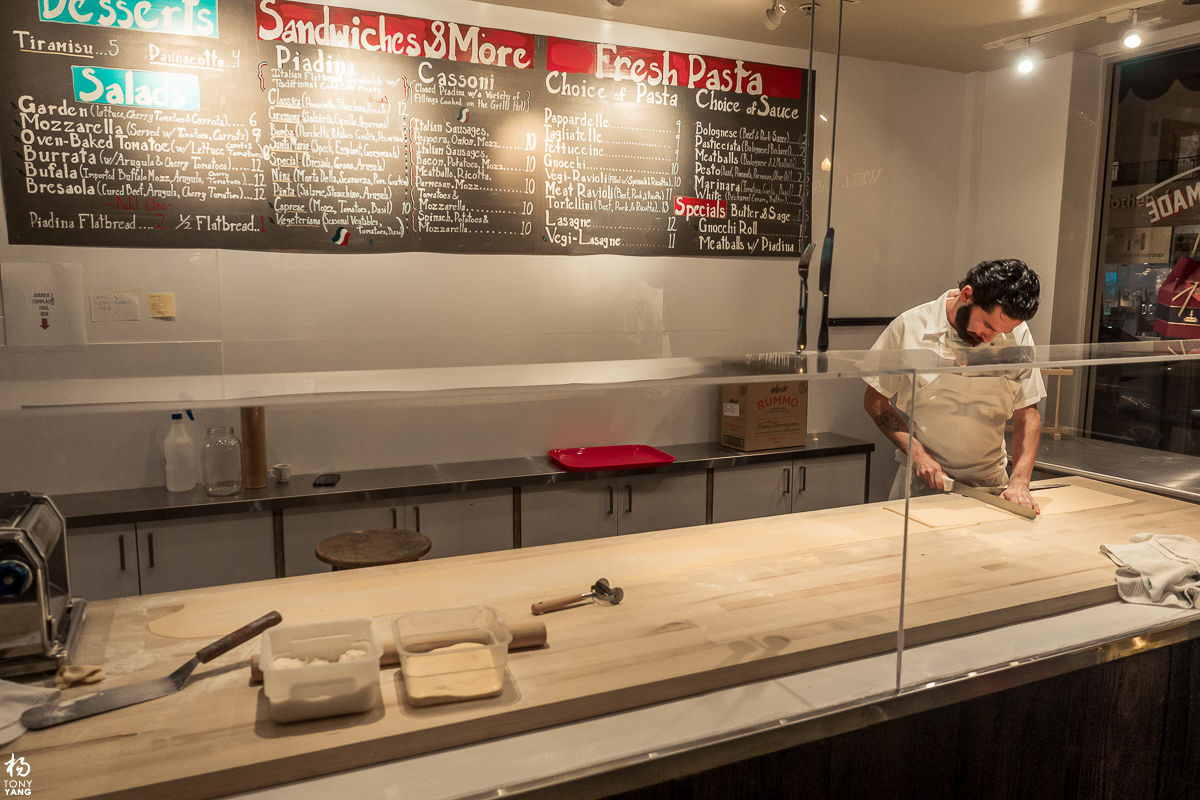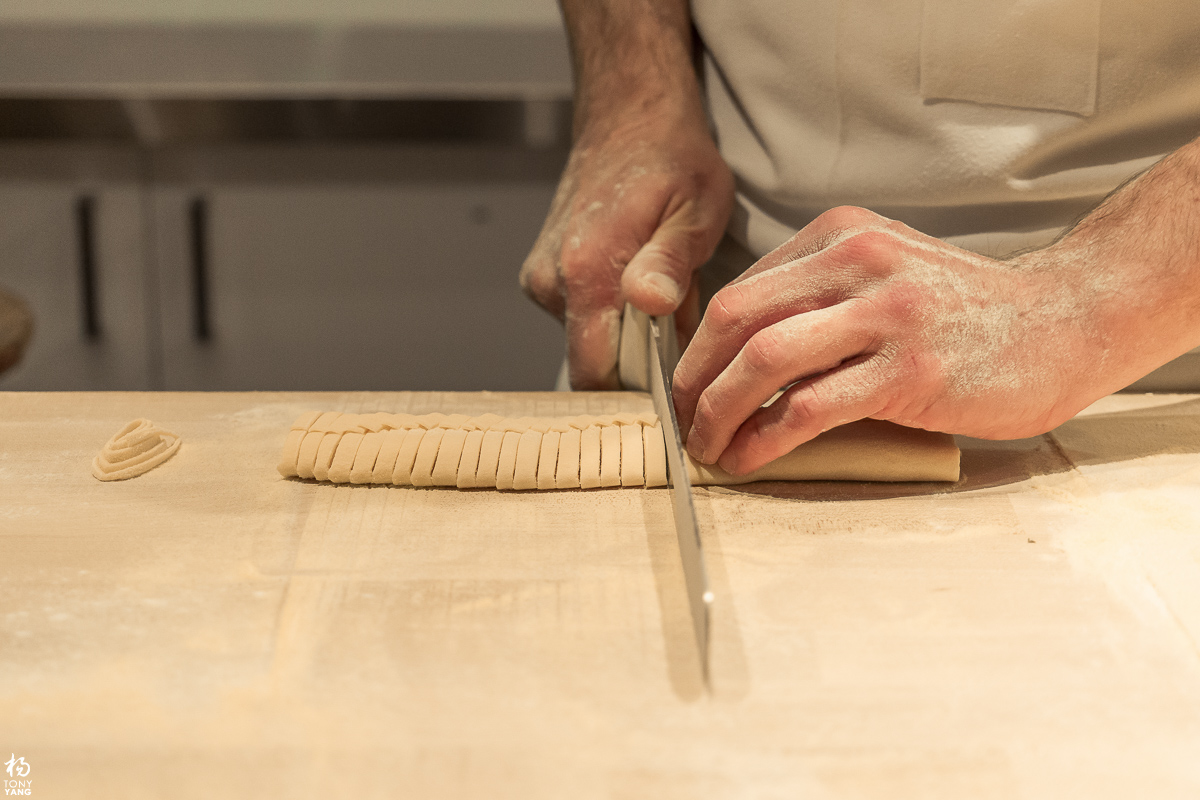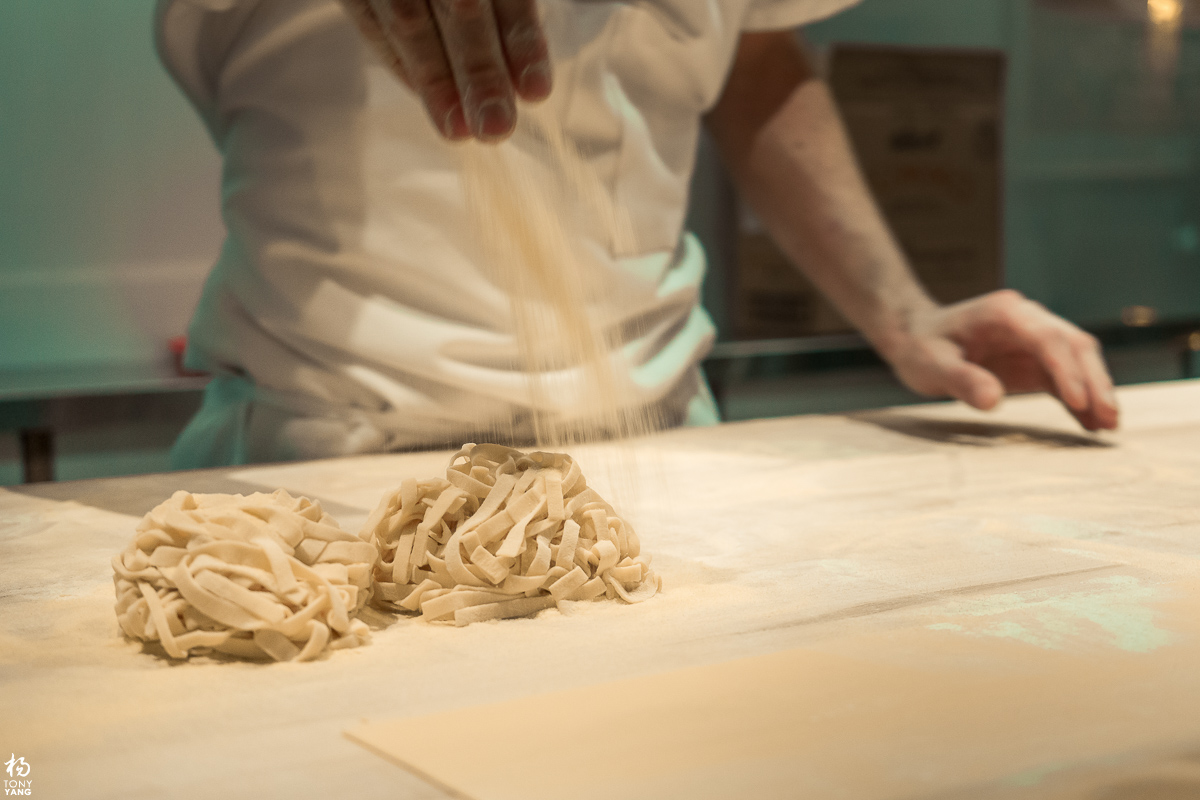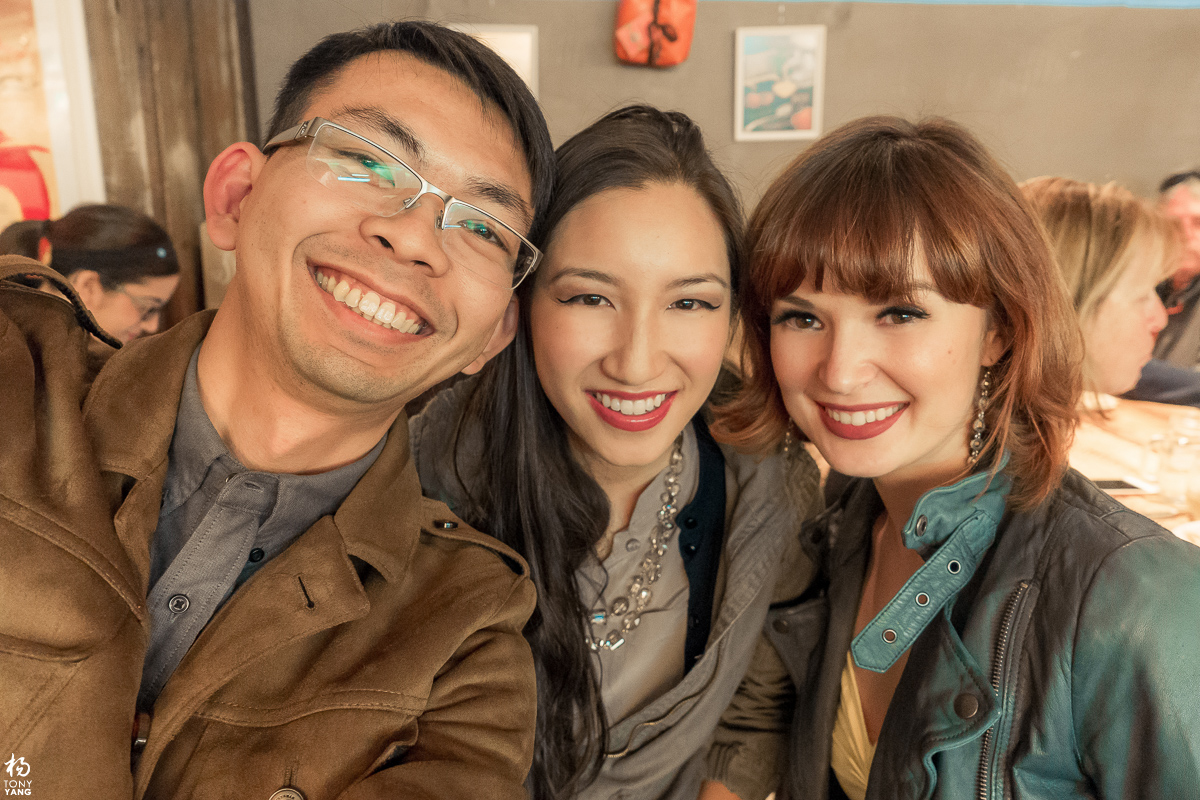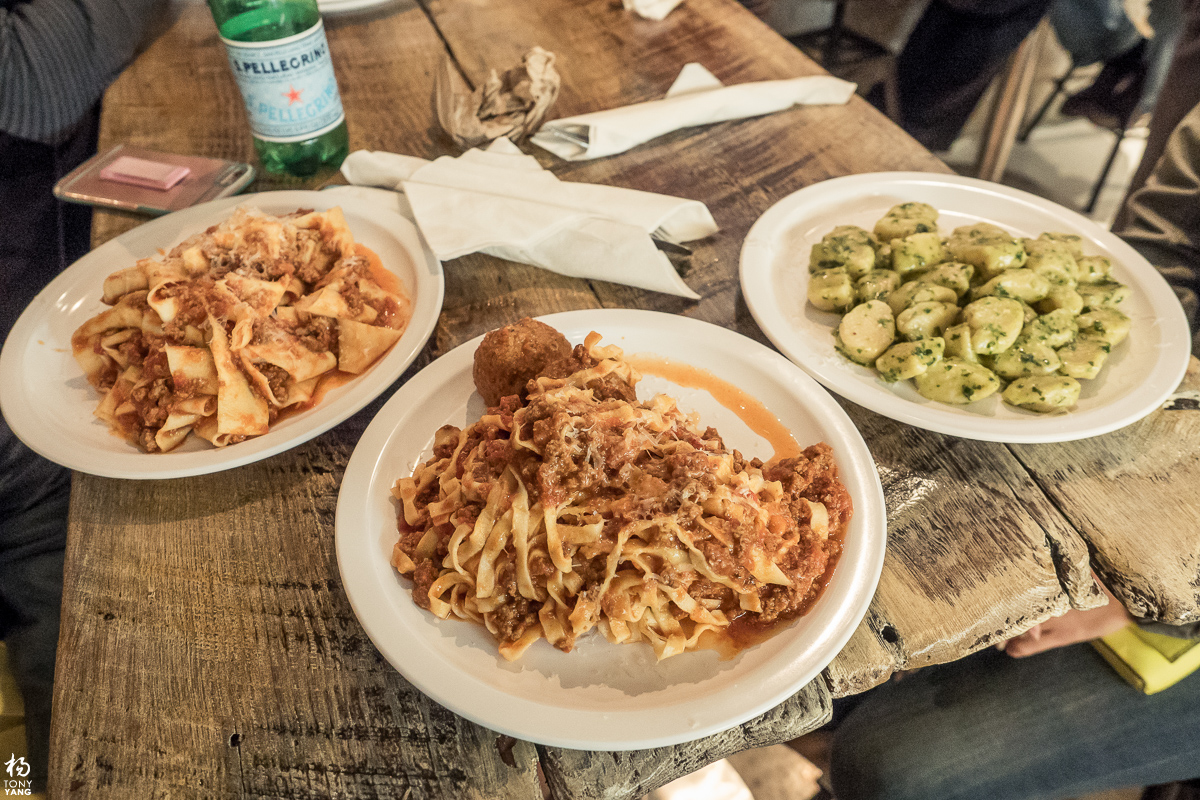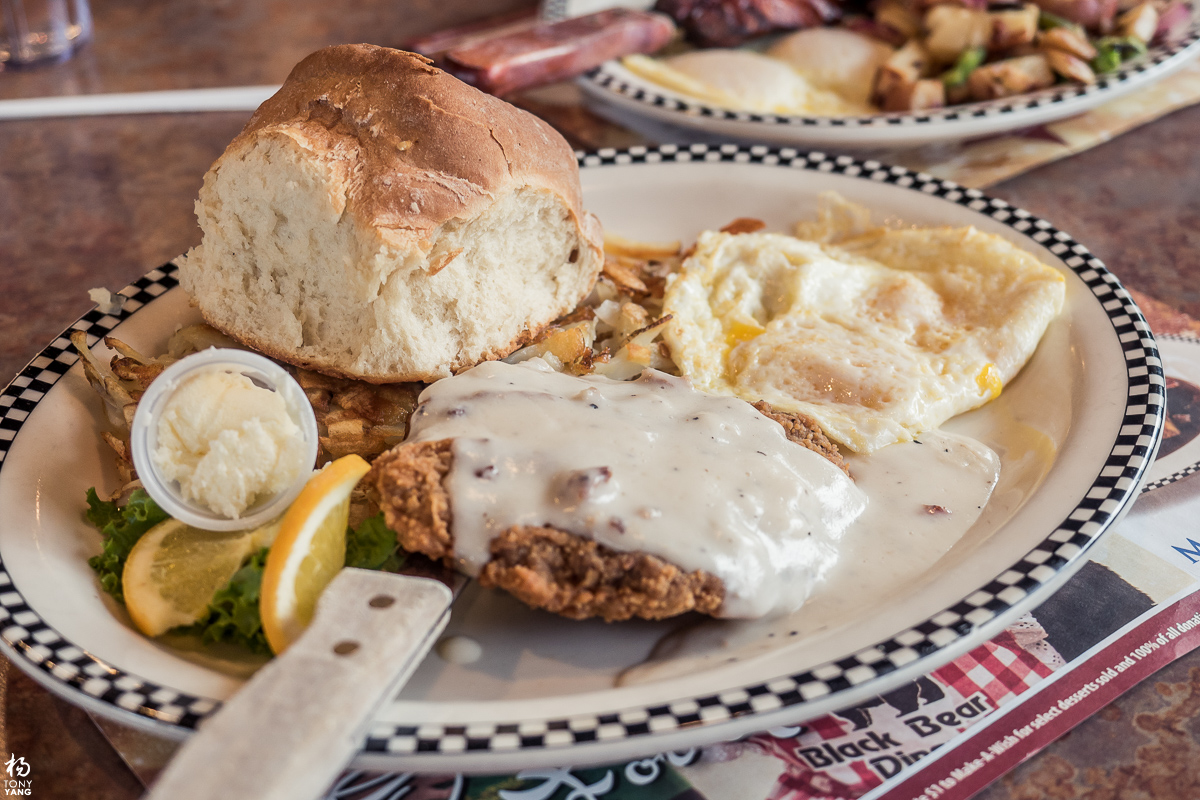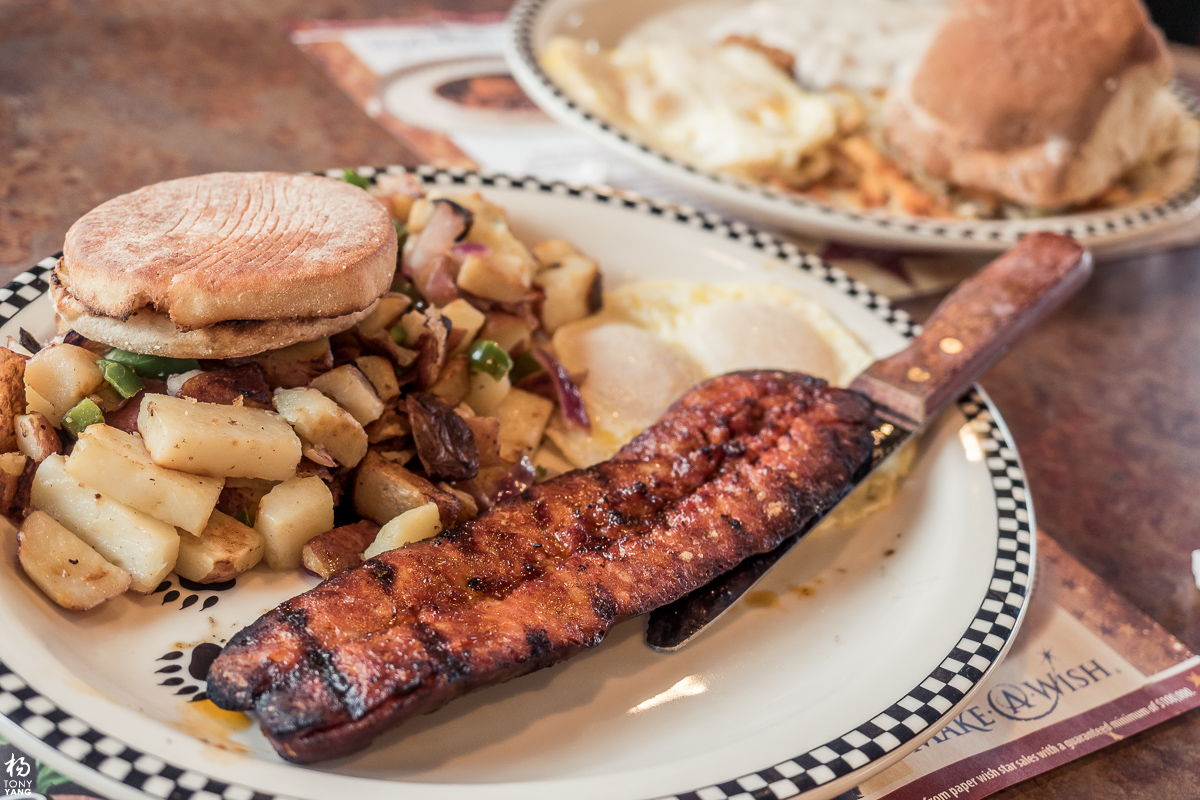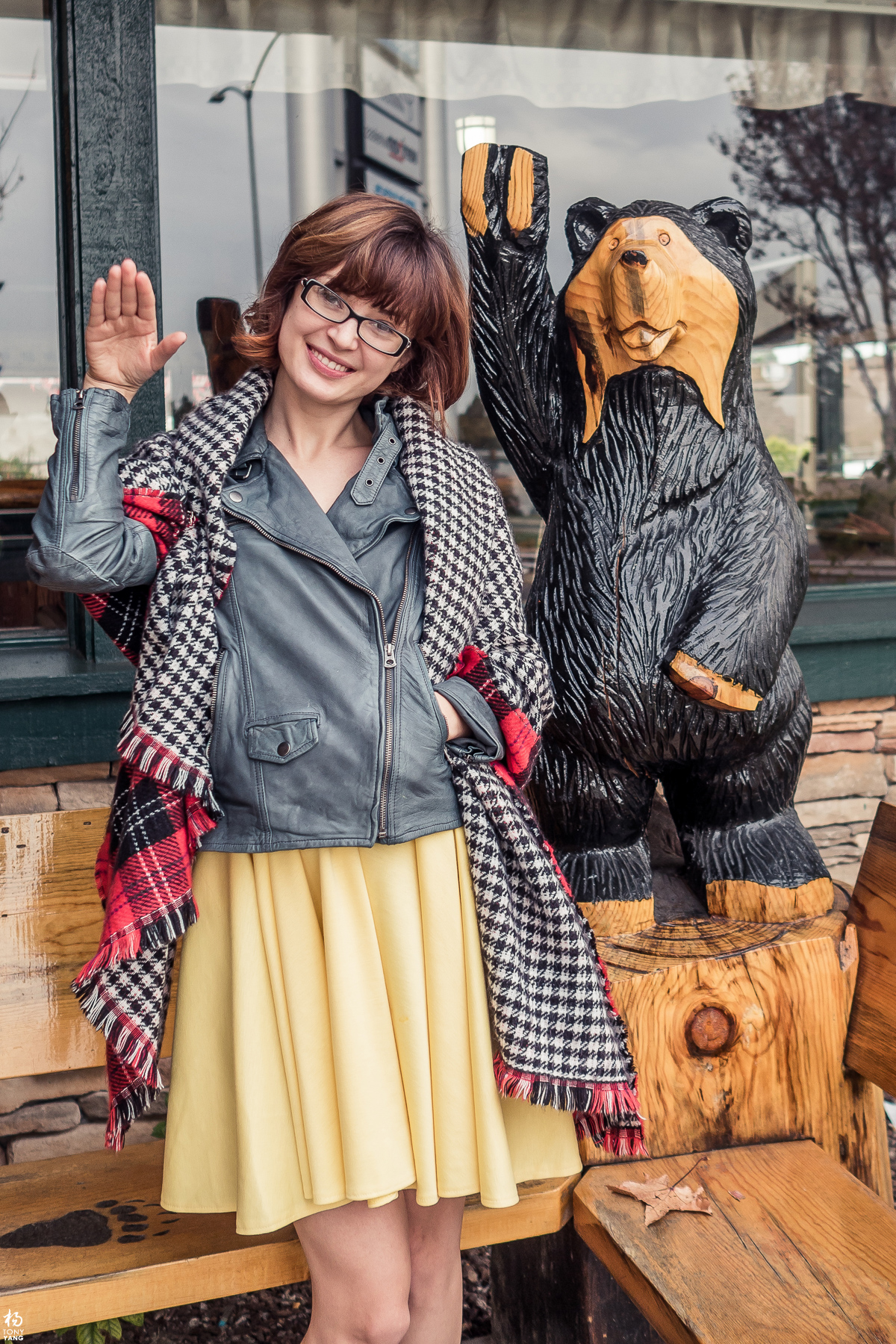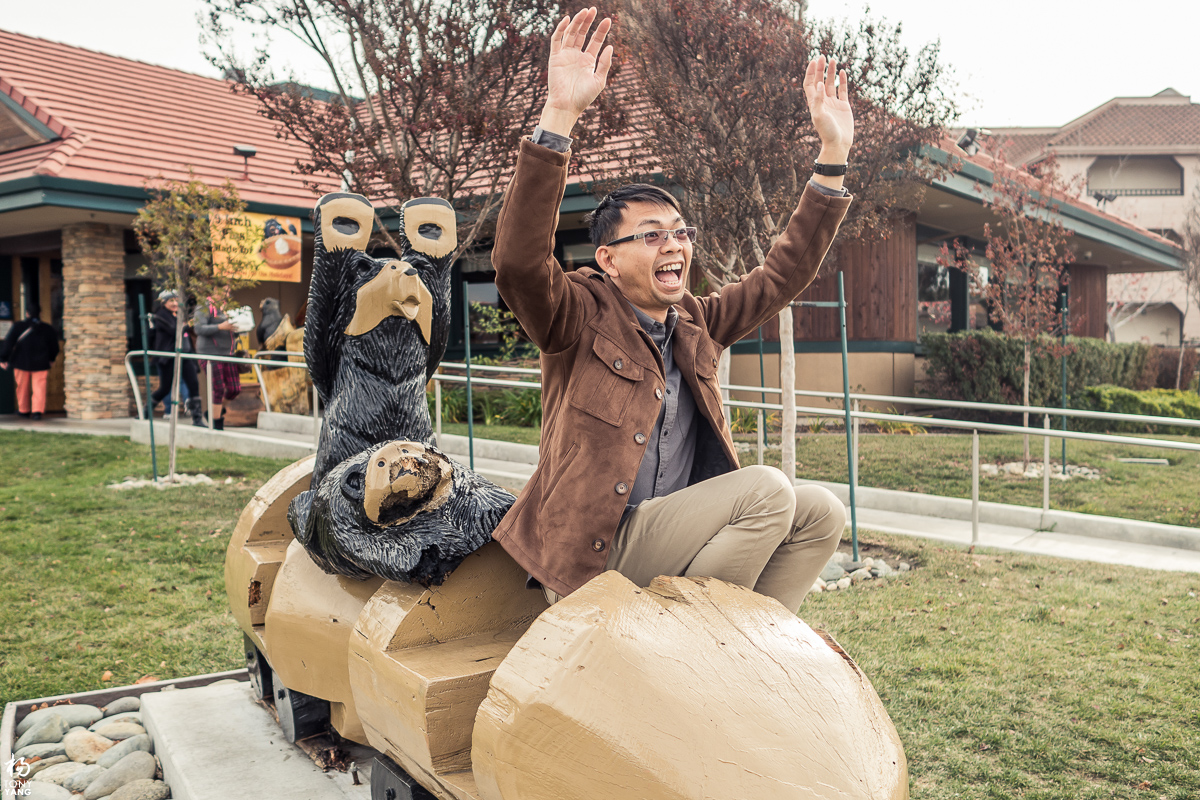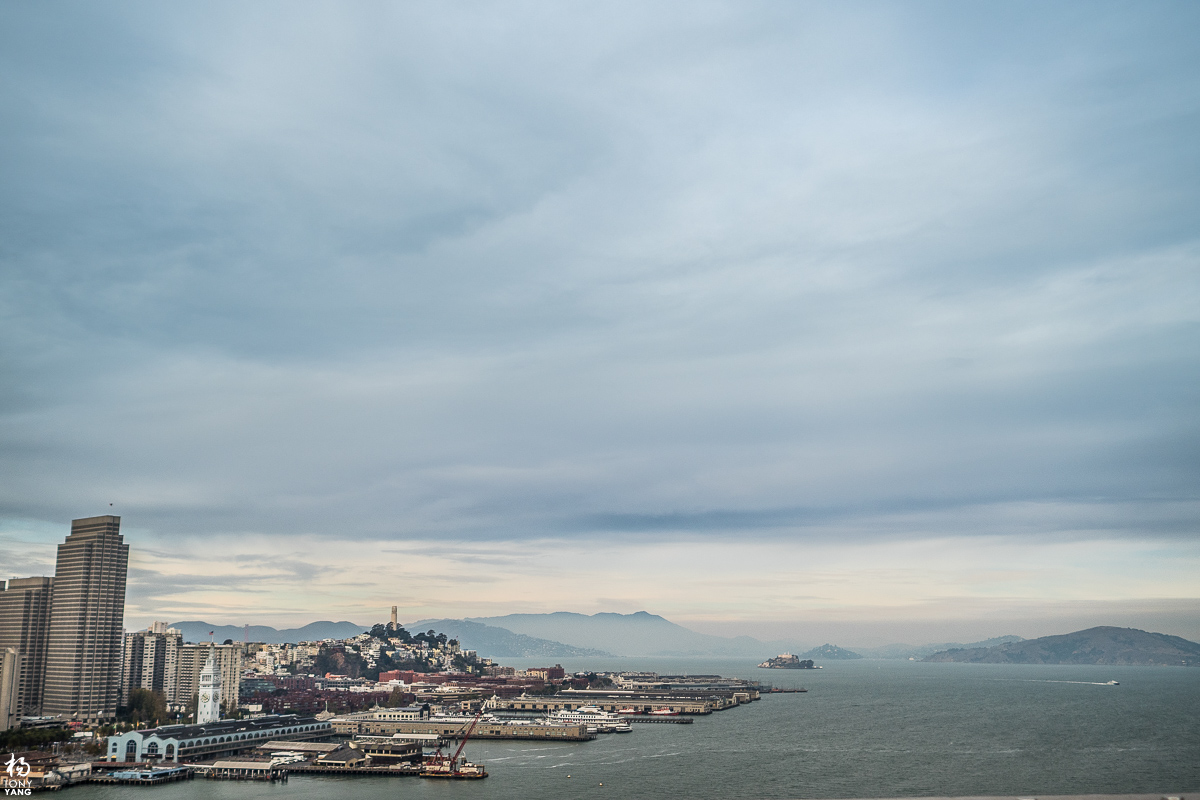 Our adventure through the West Coast was really amazing, visiting a foggy romantic city, driving through an enchanted forest, catching some sun in a beautiful and warm beach town, and surviving a frozen desert in a massive 1,700 mile loop. We made the most out of our Audi A4, growing closer to each other every mile of the journey, and I hope for a million more miles on the road together with amazing photos to remind us of the journey.