Our trip to Greece was made possible by my wife finding a great deal through The Points Guy. She purchased the tickets last year for our March trip, which is low season for Greece. We planned to stay on the mainland for most of the time, and a few nights on Santorini island. My initial hesitation came from not being too excited about Greek food or knowing what the sights would be like – I'm not much for archeology and manmade sights. I was excited, however, about flying my DJI Mavic Pro outside of the country for the first time after a few months of practice.
We did our research for flights to Santorini from Athens, and decided to purchase through Ryanair. They are one of the most popular budget commuter airlines in Europe, and everything goes smoothly as long as you do your due diligence reading the restrictions – or prepare to pay hefty fees. We learned the hard way with our first budget airline experience with WOW Air going to Iceland. Make sure your personal or carry-on meets the exact size requirements to the millimeter, and it's worth paying extra for the priority boarding and carry-on bag. Boarding passes must also be printed out on your own – they charge extra for e-tickets issued on your mobile!
Our experience in Greece was not what we had expected, although we did not have much to expect at all. The first item on the itinerary on any trip is to pick up our rental car, a BMW 1 series diesel. Efficient and comfortable little guy with solid driving dynamics compared to the cheap econoboxes we usually get. We reserved this car for 4 days at a whopping $83 USD. That was the first clue that this trip could end up pretty inexpensive! Except for the hotels in Santorini that were pre-booked, we would book all of our accomodations in Greece last minute so we could drive and explore wherever my little drone would take us.
Once we started driving, we also noticed how lax the driving rules seemed to be from other drivers, so I followed suit, every man for himself! First stop, a local ATM machine. I also highly recommend immediately going to a Vodafone store to get yourself a cheap data SIM card. Getting around with Google Maps and Trip Advisor are our resources. Now, time for coffee! Greece is apparently known for their frappes, which Olya fell in love with. I stuck to my iced coffee black. Unfortunately we didn't speak a lick of Greek, and fortunately all the places we went to were very friendly English speaking staff. There is Metro in Athens, so even without a car, getting around the city is very easy. Just be careful what kind of ticket you purchase. We were fooled once by asking for an unlimited ticket, but it had a time limit of 90 minutes.
The food. Loved the food! Dishes in Greece were pretty cheap, and all the ingredients were incredibly fresh. Most of the time we decided to eat gyros, either beef or chicken – sometimes chicken was the better choice. They're cheap, they're filling, and they're absolutely delicious. When some people told us their whole trip was eating gyros, we thought it was a bad thing, turns out, we wish we had more days just to eat them! I'm not kidding when I say I was waiting for the next meal to come so I can go  back to the same gyro vendor again and again.
When it came to filming and flying my drone in Greece, I was worried in the beginning not knowing how the locals would react. Just like driving in Greece, nobody gives a damn what you do! The tourist spots have no security at all – fly at will. There aren't even security bag checks at the Parthenon. The whole country was a free-for-all, so I had a ball getting some amazing aerial shots. While there were plenty of "No Drones" signs in Santorini, it was low season so I don't think there was anyone to enforce the rule, and there weren't even enough people there for my drone to disturb. I did limit the flying time due to extremely high winds and cloudy days.
Most of my filming was done with the GoPro Hero5 on a Zhiyun Smooth Q gimbal, and a DJI Mavic Pro. The two pairs well since they both have wide angle lens filming at 2K. Olya took photos with the Sony RX100 Mark III.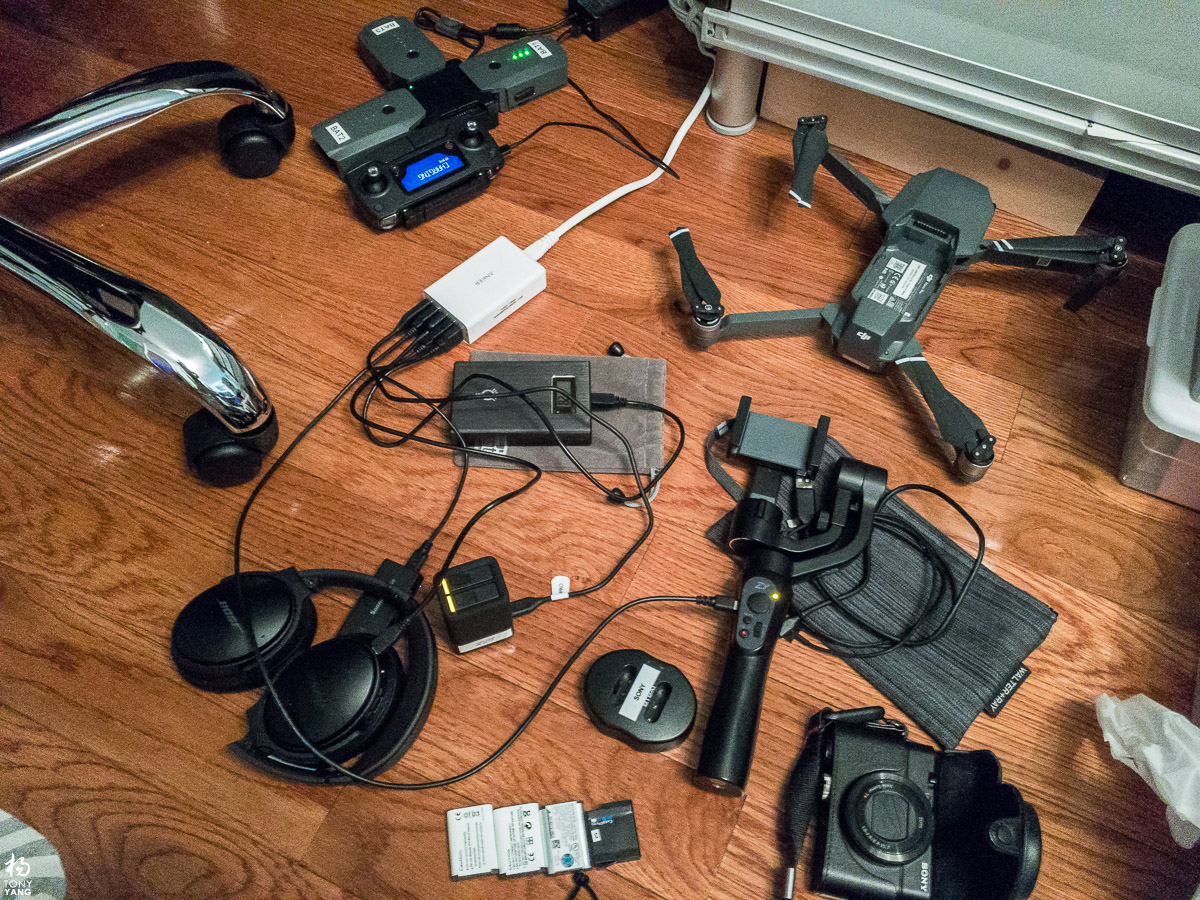 Our affordable BMW 1 series diesel in manual transmission! Lots of fun, I disabled the auto-start-stop feature as it got really annoying in city driving. Change the menu to English [check], pair Bluetooth [check], install magnetic phone mount [check], adjust optimal driving position [check], load Spotify [check], Greece, here we go!
I don't think I ever drink as much coffee as when I'm traveling. Americanos for me and Frappes for Olya.
Our first meal was Kabul, an Afghanistan restaurant, similar to Indian food and just as delicious. Not some fancy fine dining, but good ol' cultural food in the middle of where the locals eat, walking distance from our hotel.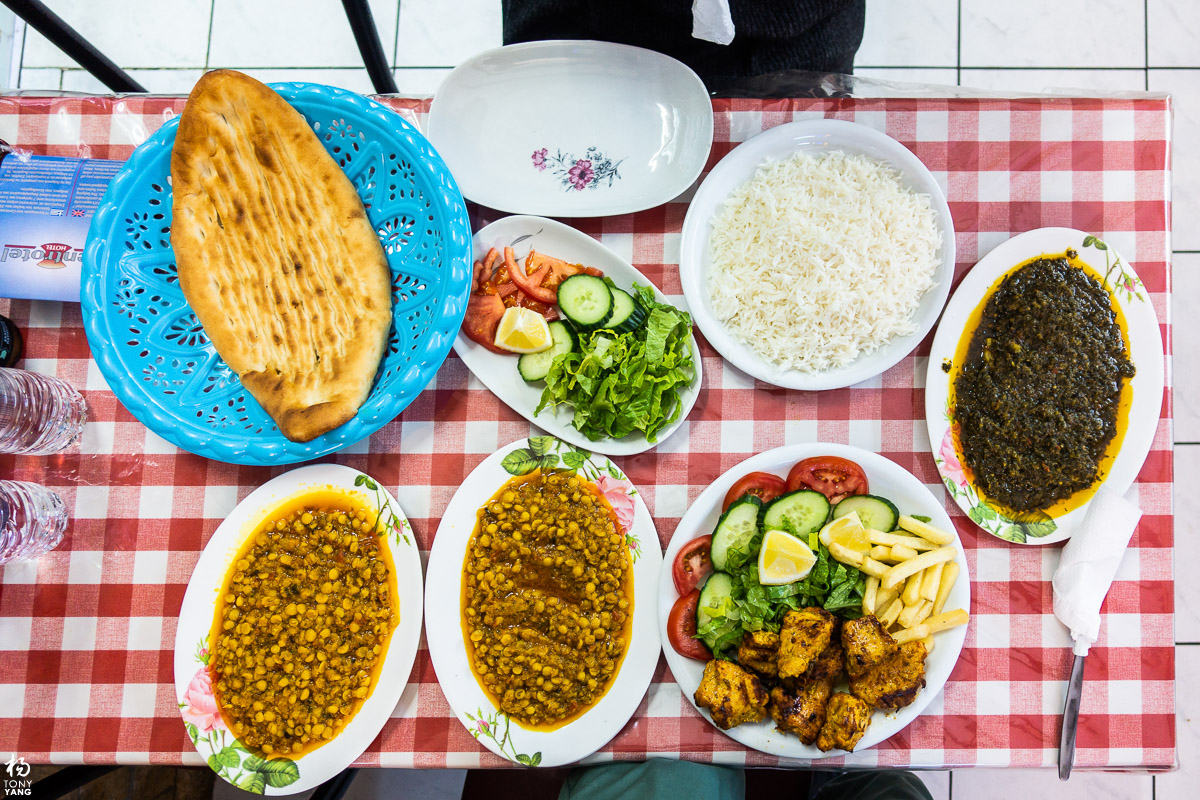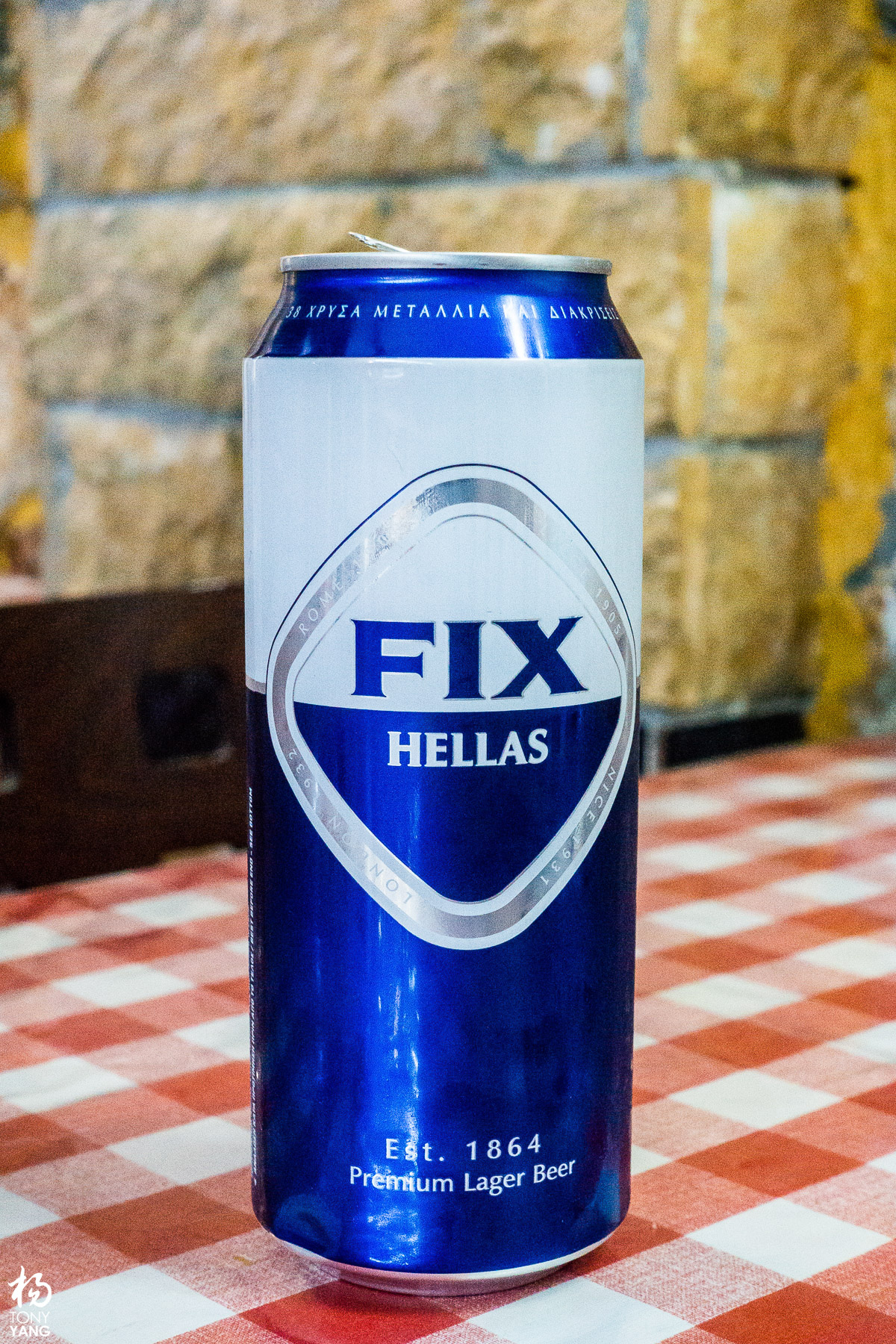 We drove around the first night, scouting the city and getting familiar driving around so we can plan where to go the next day. We stopped by a random hill with a view of the Parthenon, so I took some long exposures with the Sony and Gorillapod.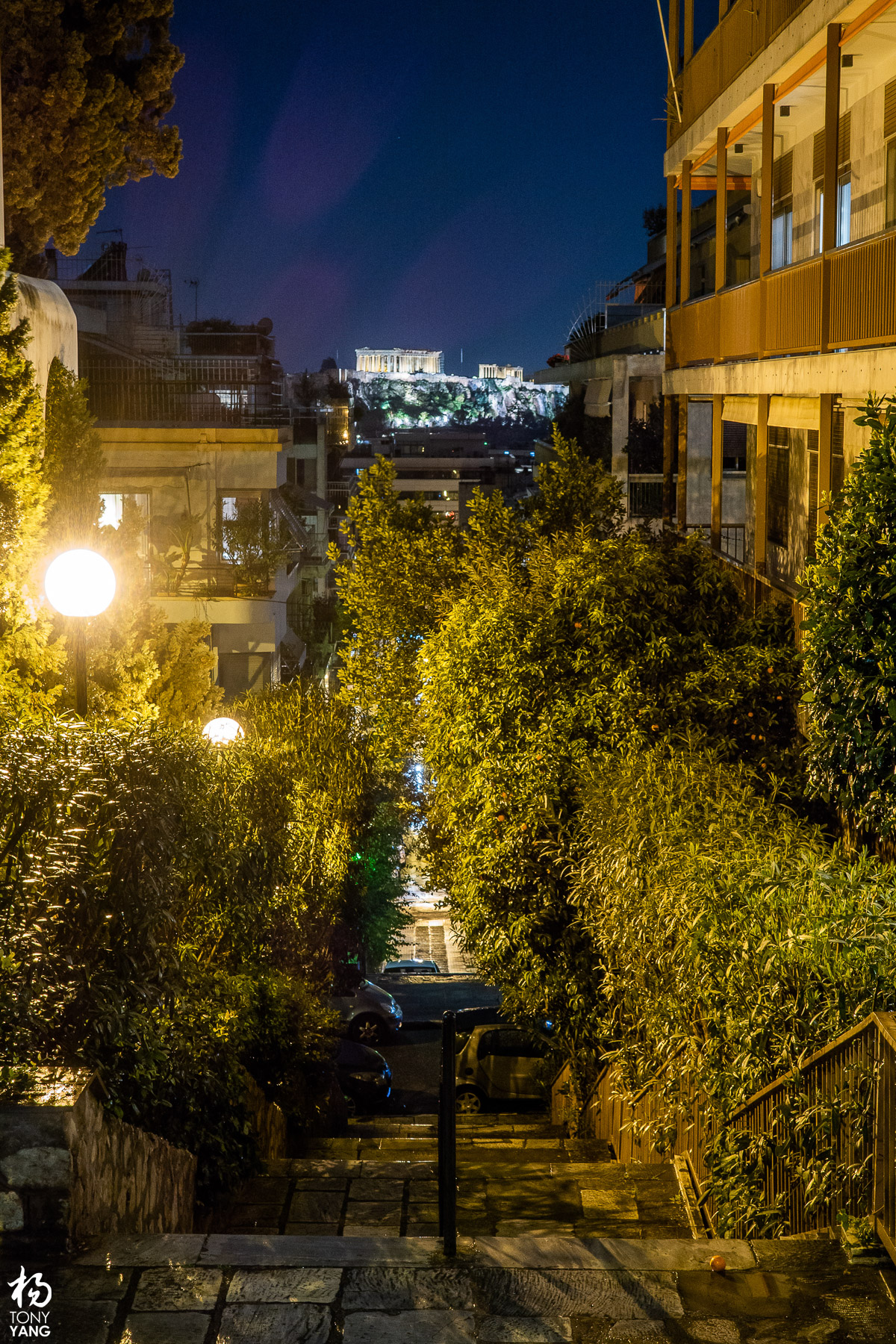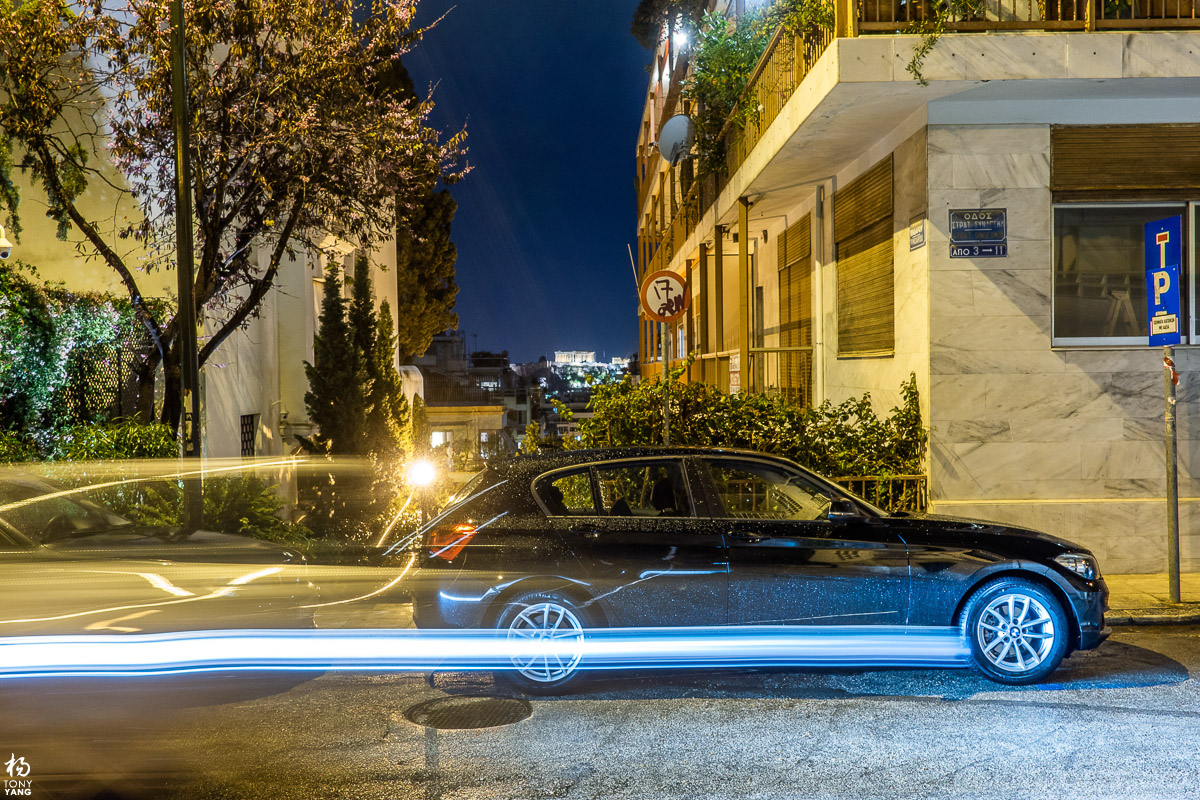 Early next morning I was so excited to film, I got up myself at the crack of dawn while my wife slept soundly and drove to the outer streets of Areopagus Hill (Mars Hill) to hike to the hill on foot. It's a beautiful and easy hike to see the city of Athens, the Parthenon, and Mount Lycabettus. After I got my sunrise photos and videos, I went back to pickup my wife to enter the actual Parthenon. Even in low-season, the earlier you go the less crowds you'll have to fight through. We made it just in time, on our way out the entrance became packed with tourists and class trips.
A peek of Odeon of Herodes Atticus.
Snack break! This was our first time trying the Greek dessert bougatsa, and it was to die for! We were addicted to these things, not too sweet but a soft chewy morsel of happiness that pairs perfectly with iced coffee.
Guess what Olya's middle name is?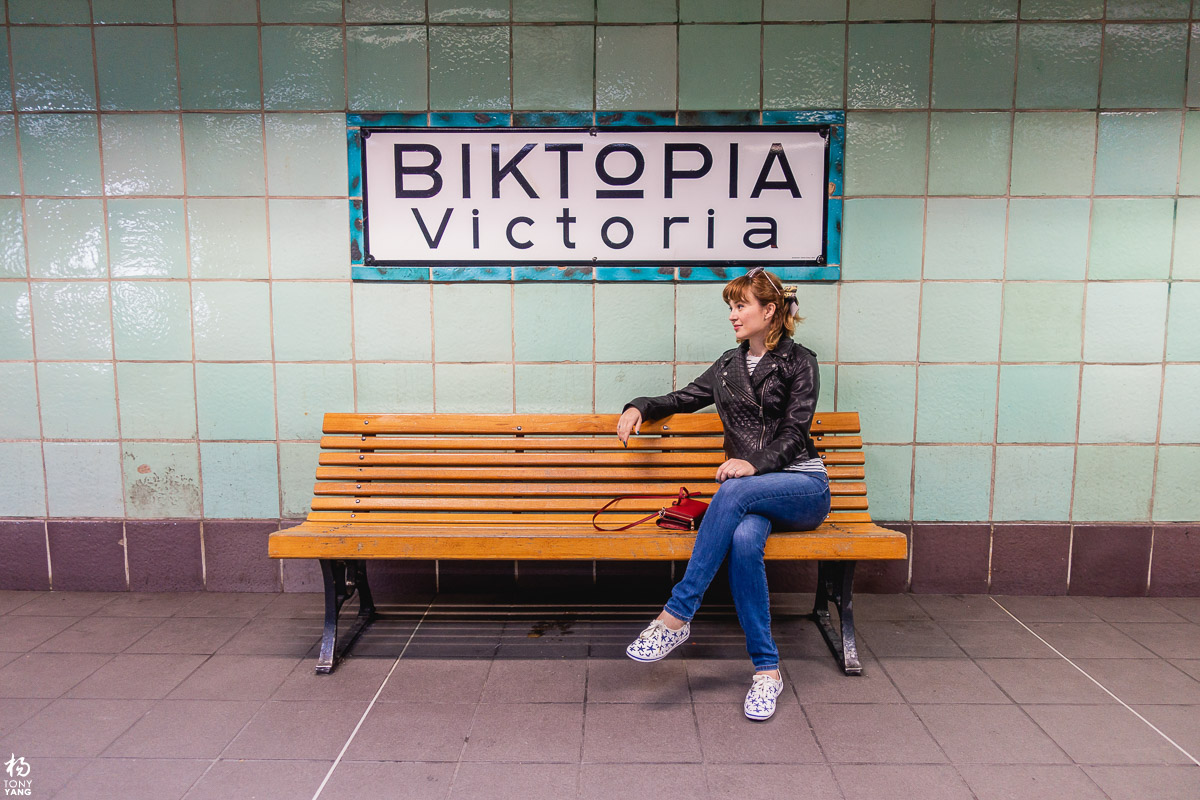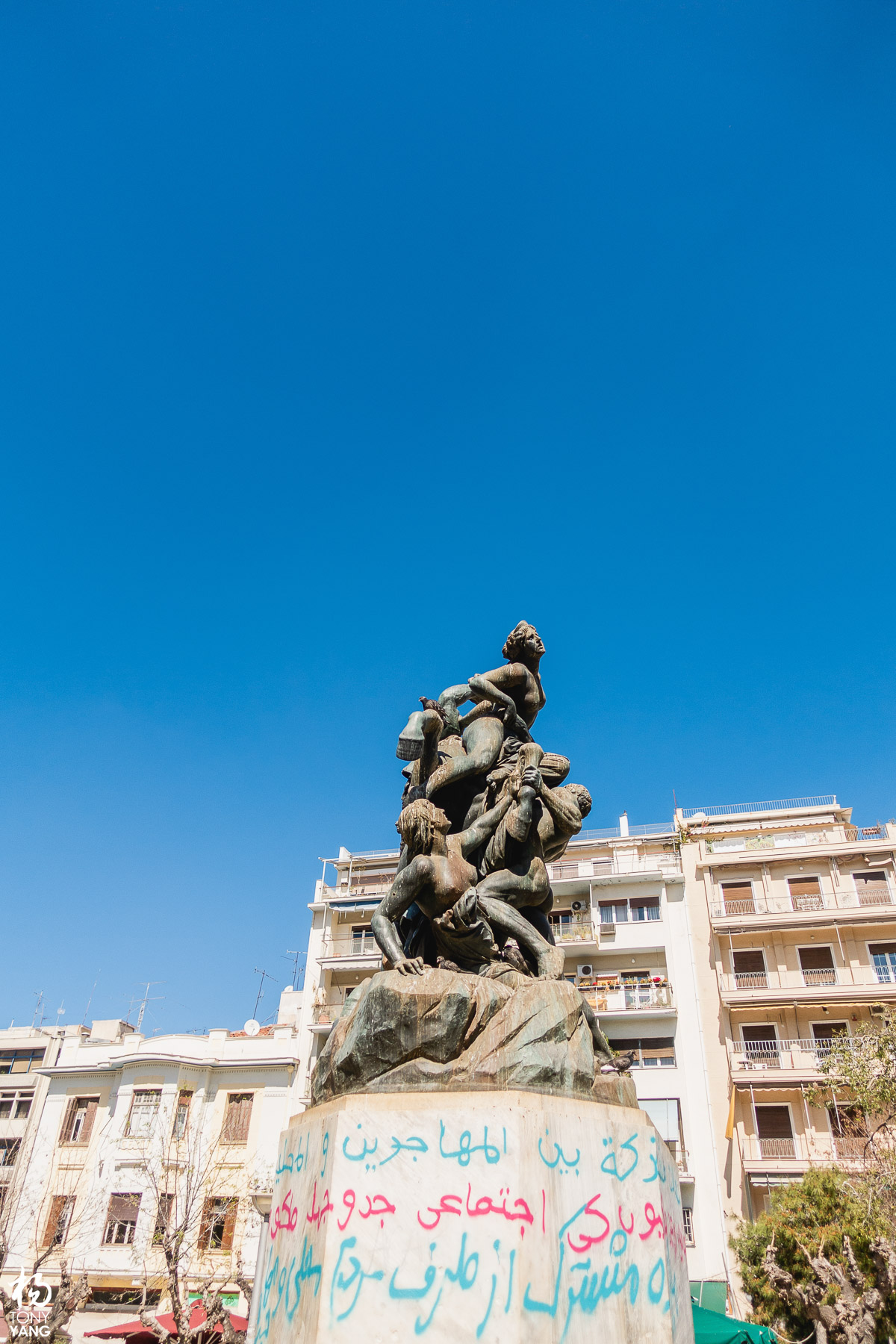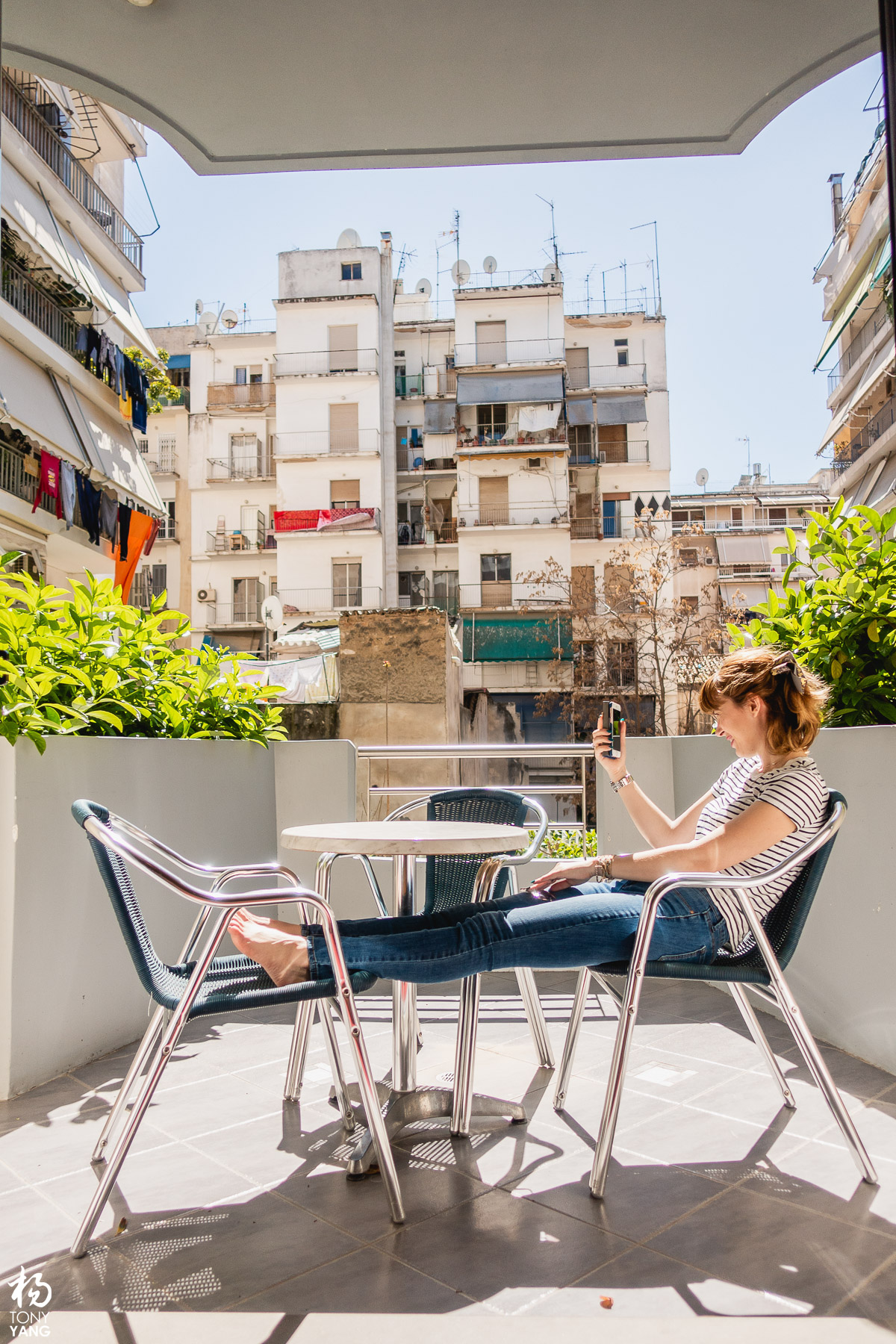 A delicious lunch at Ouzeri Tou Laki with outdoor seating. Fresh seafood that was on display for us to choose for our meal.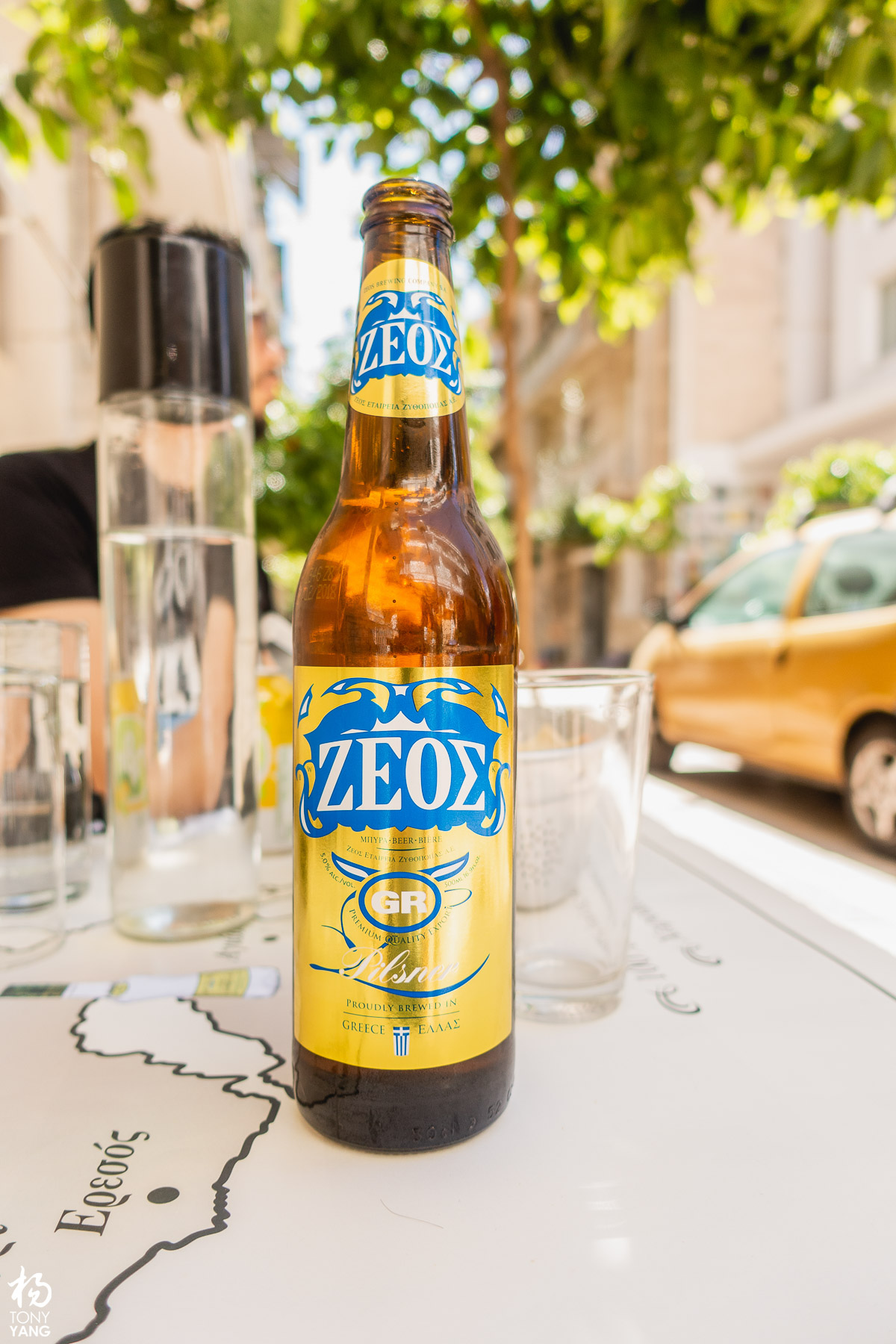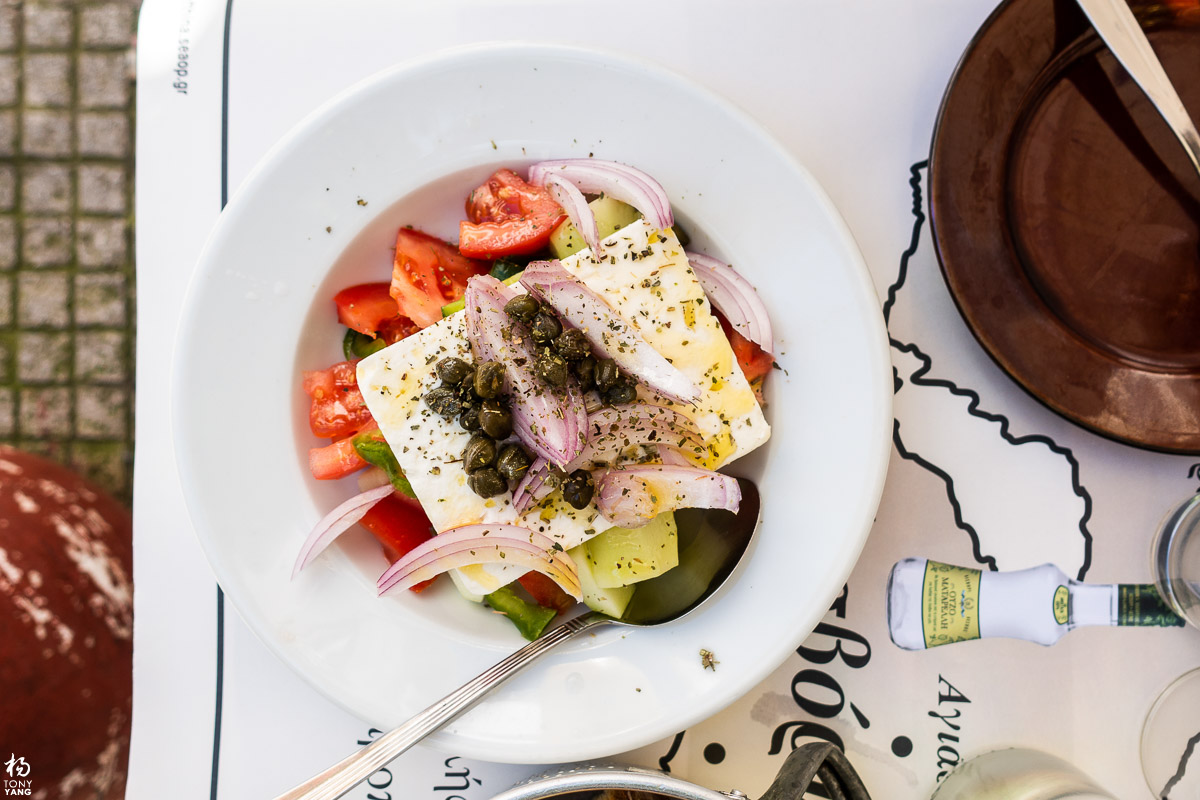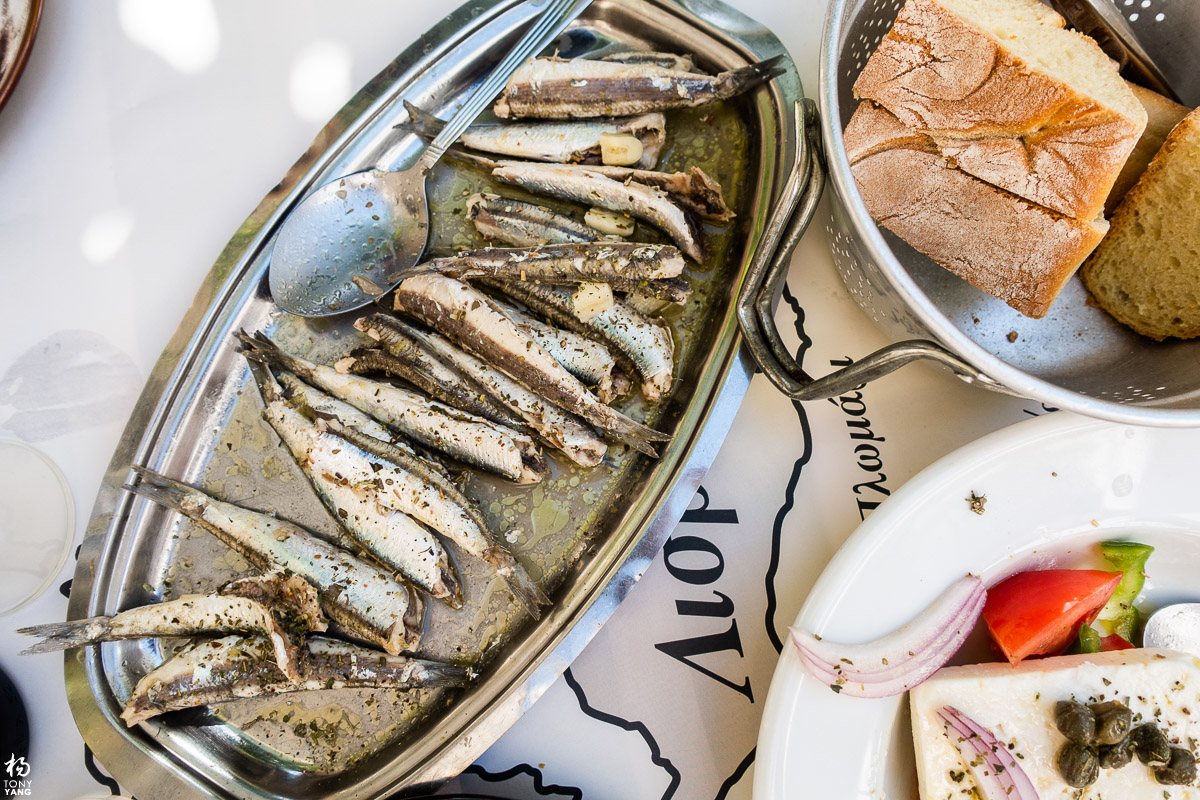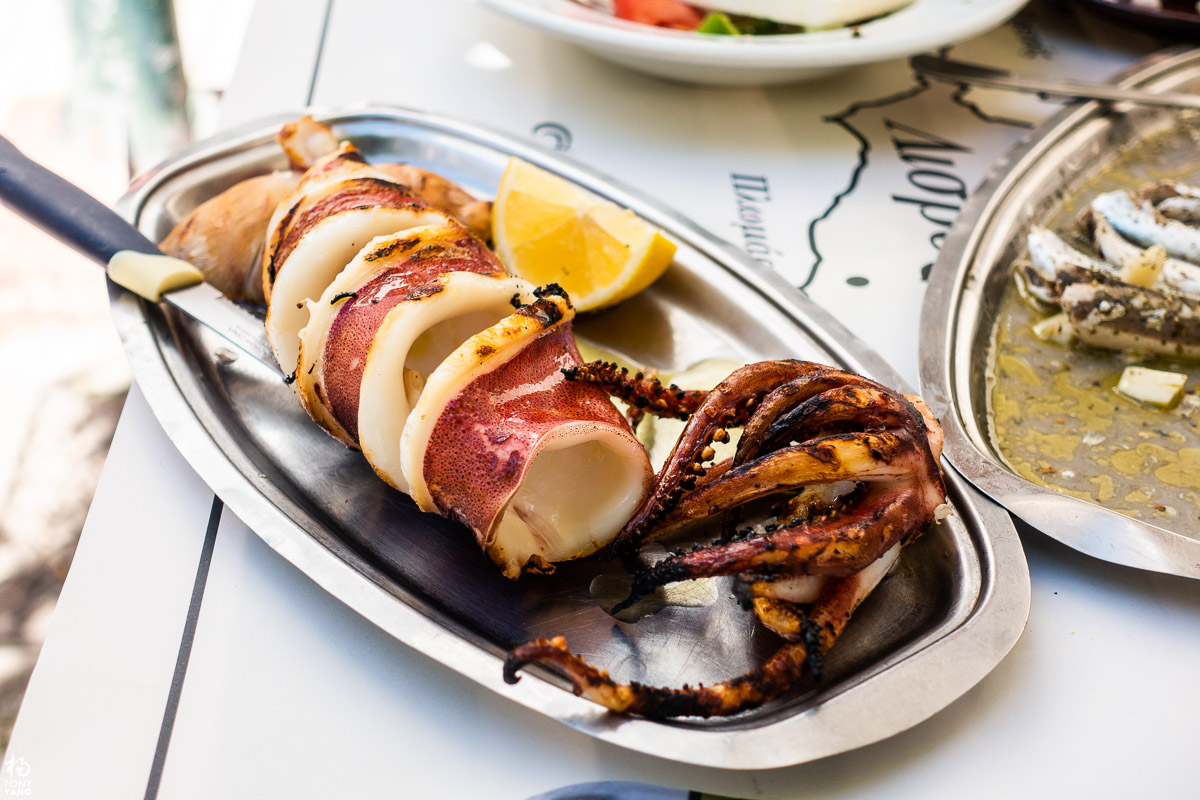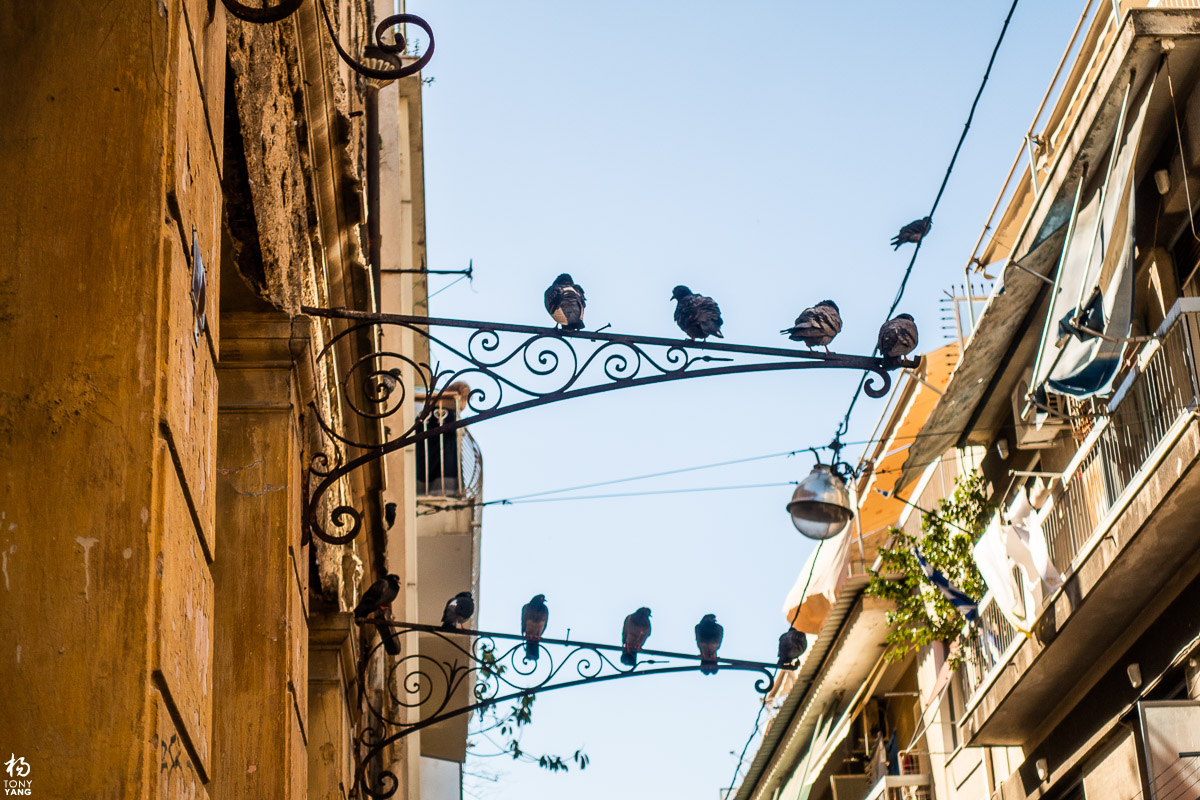 Olya found this famous Greek sandal maker at Melissinos that customized a pair just for her. I think it cost less than $50.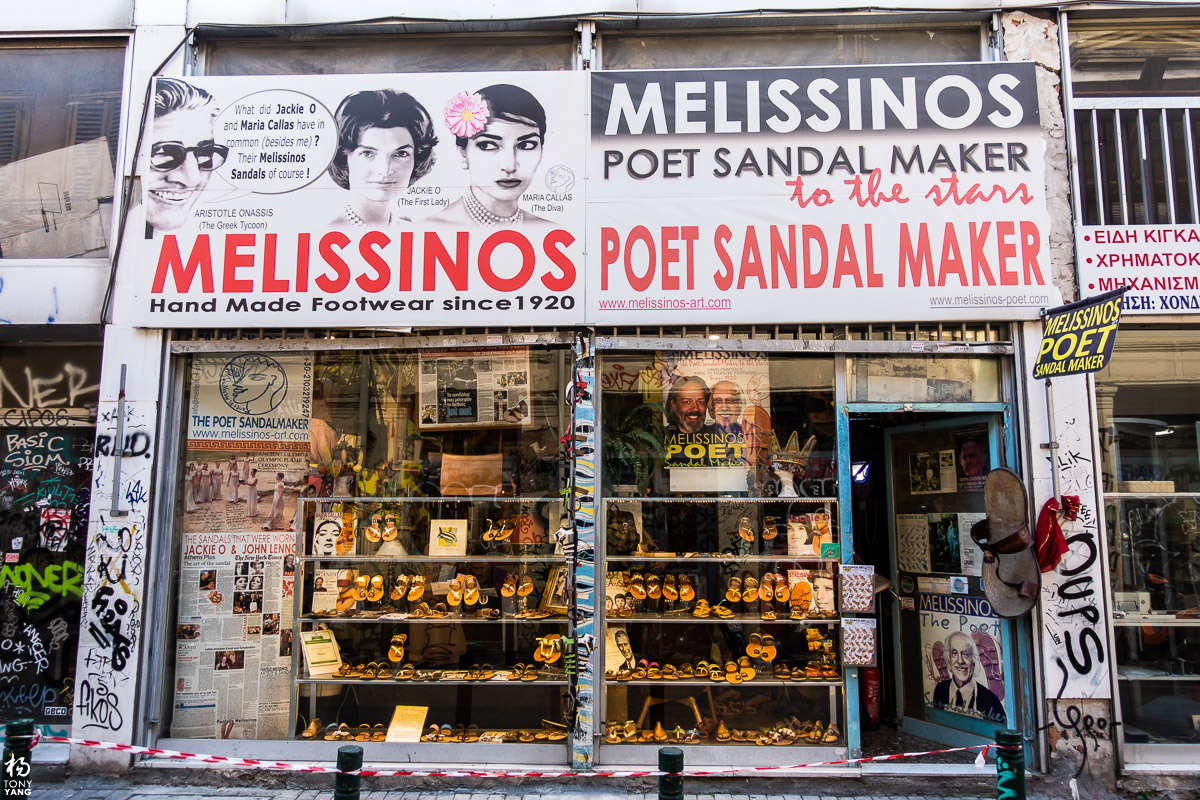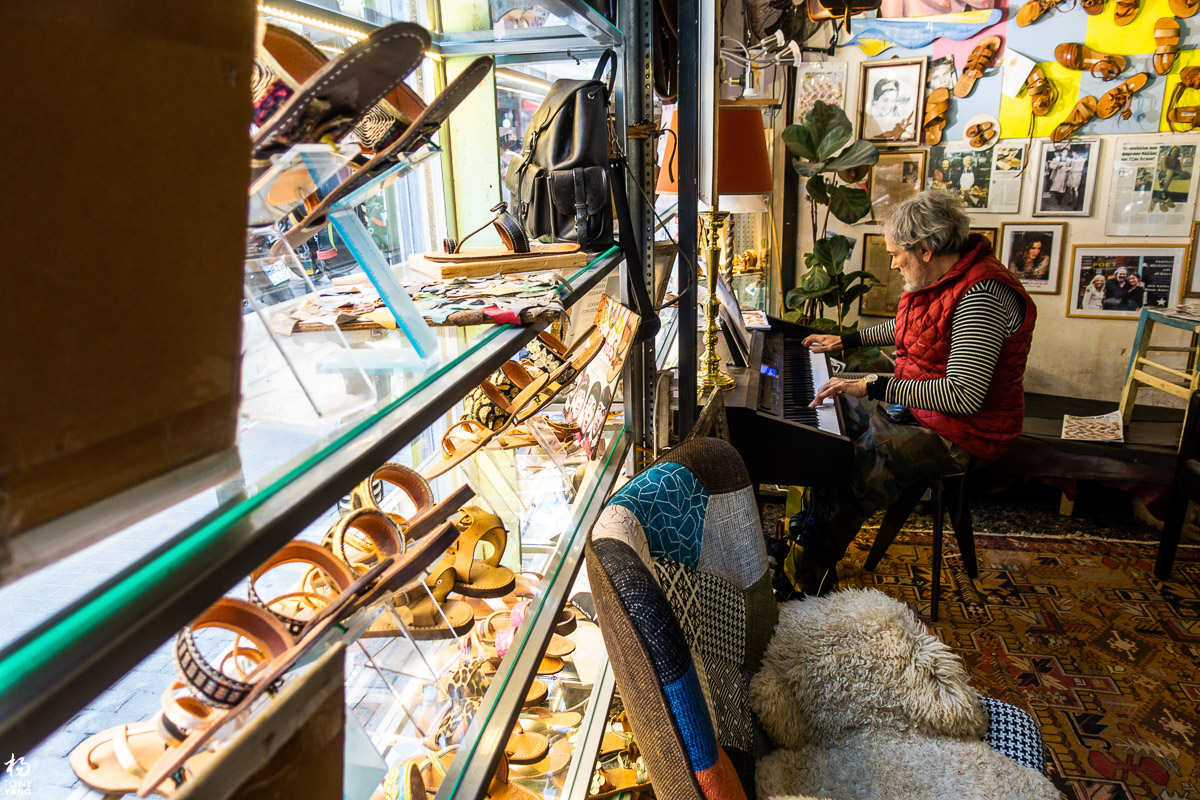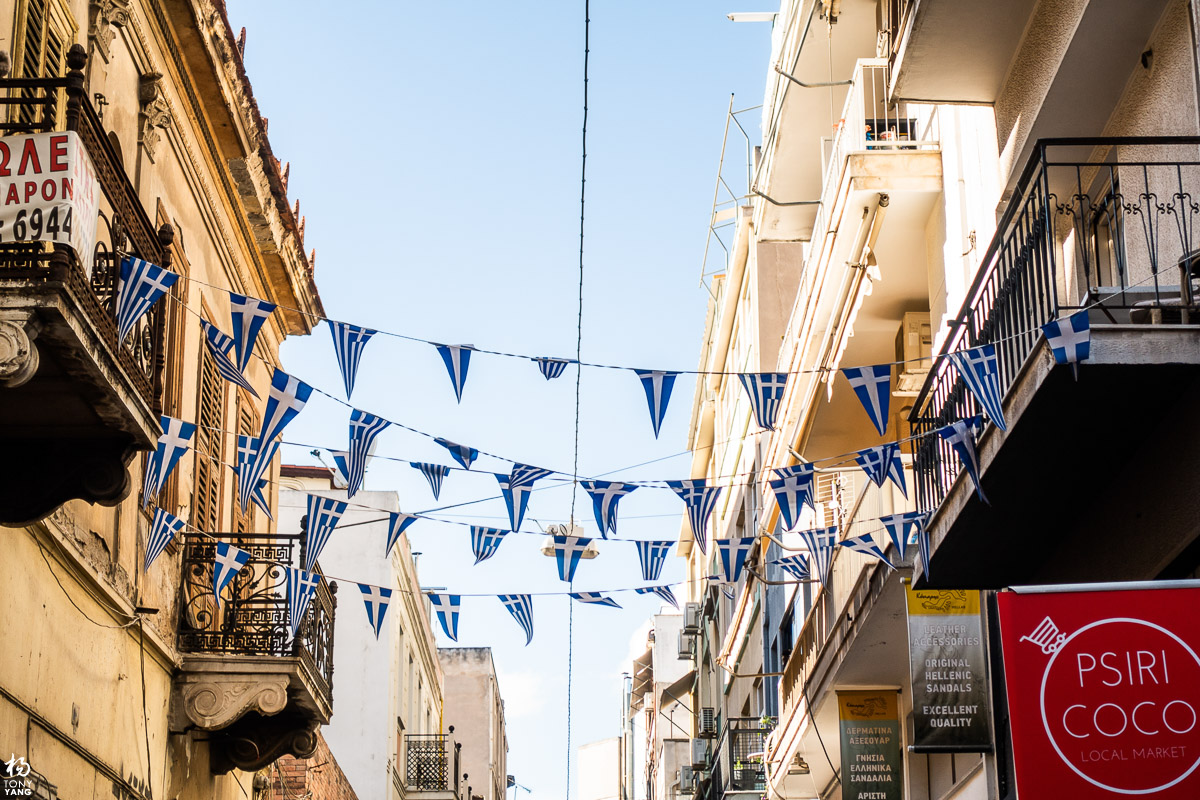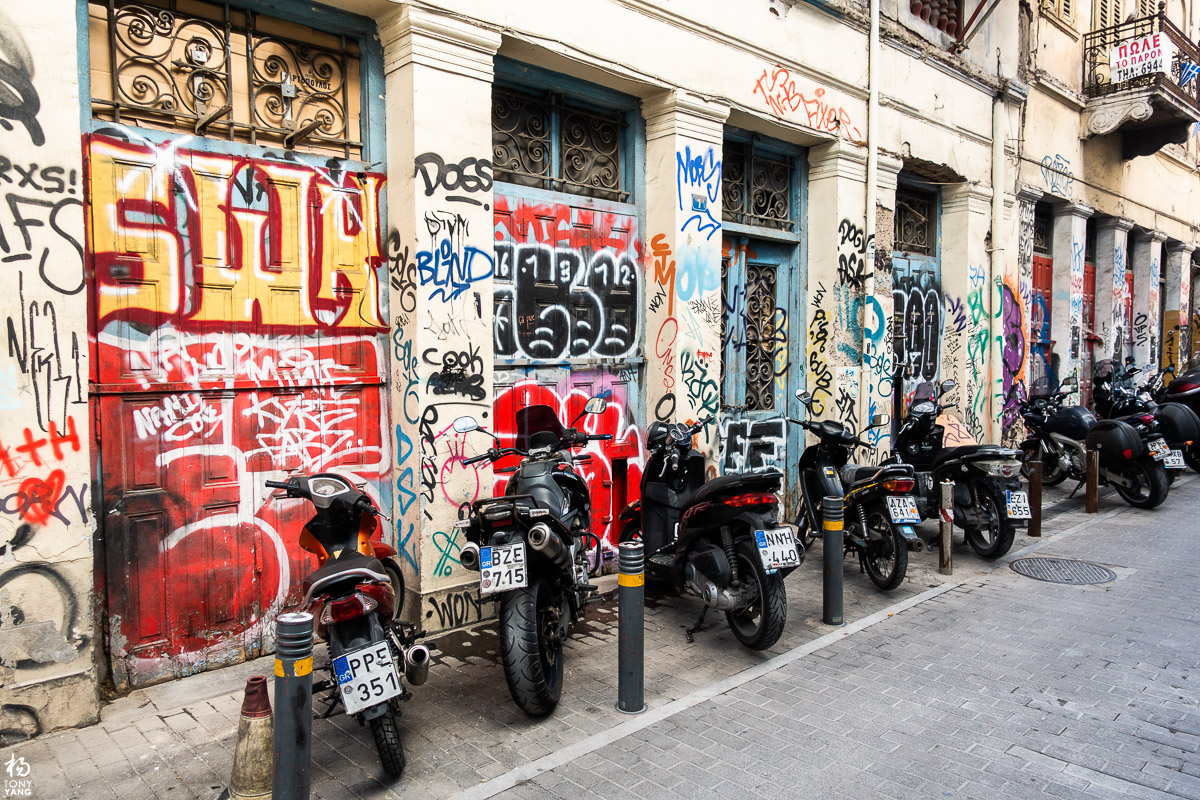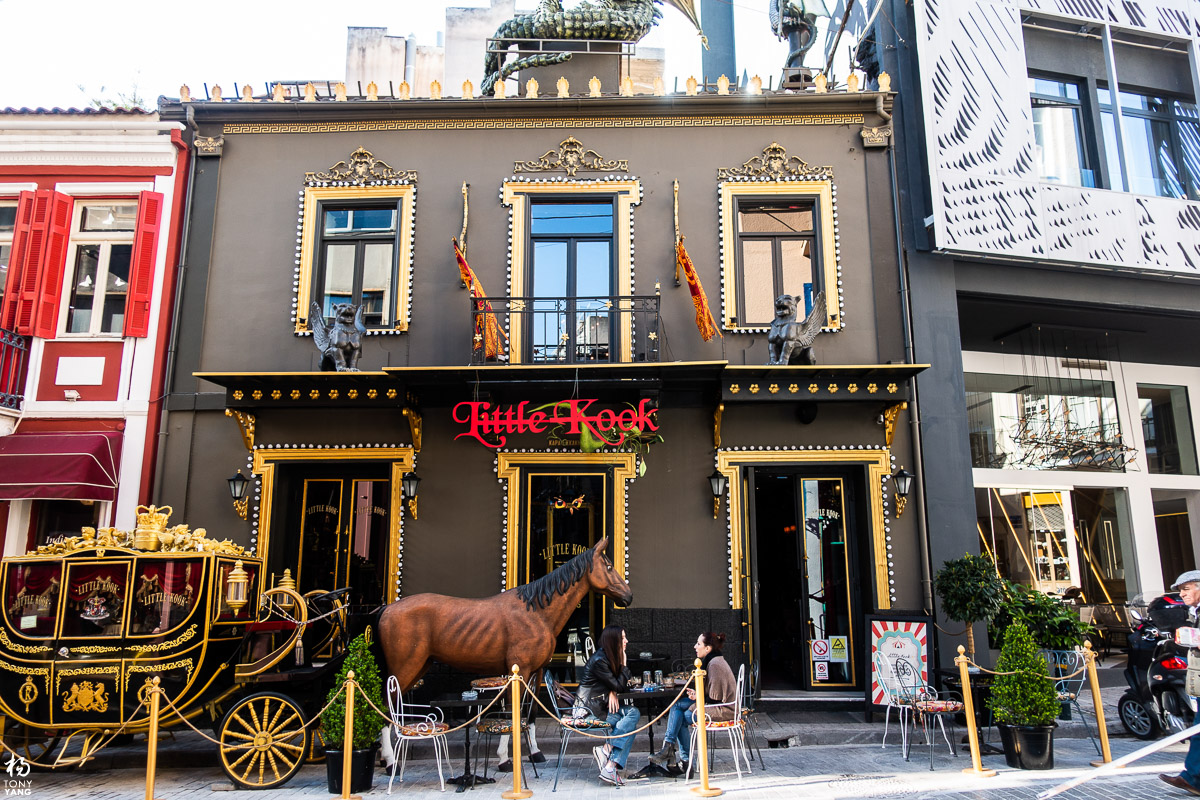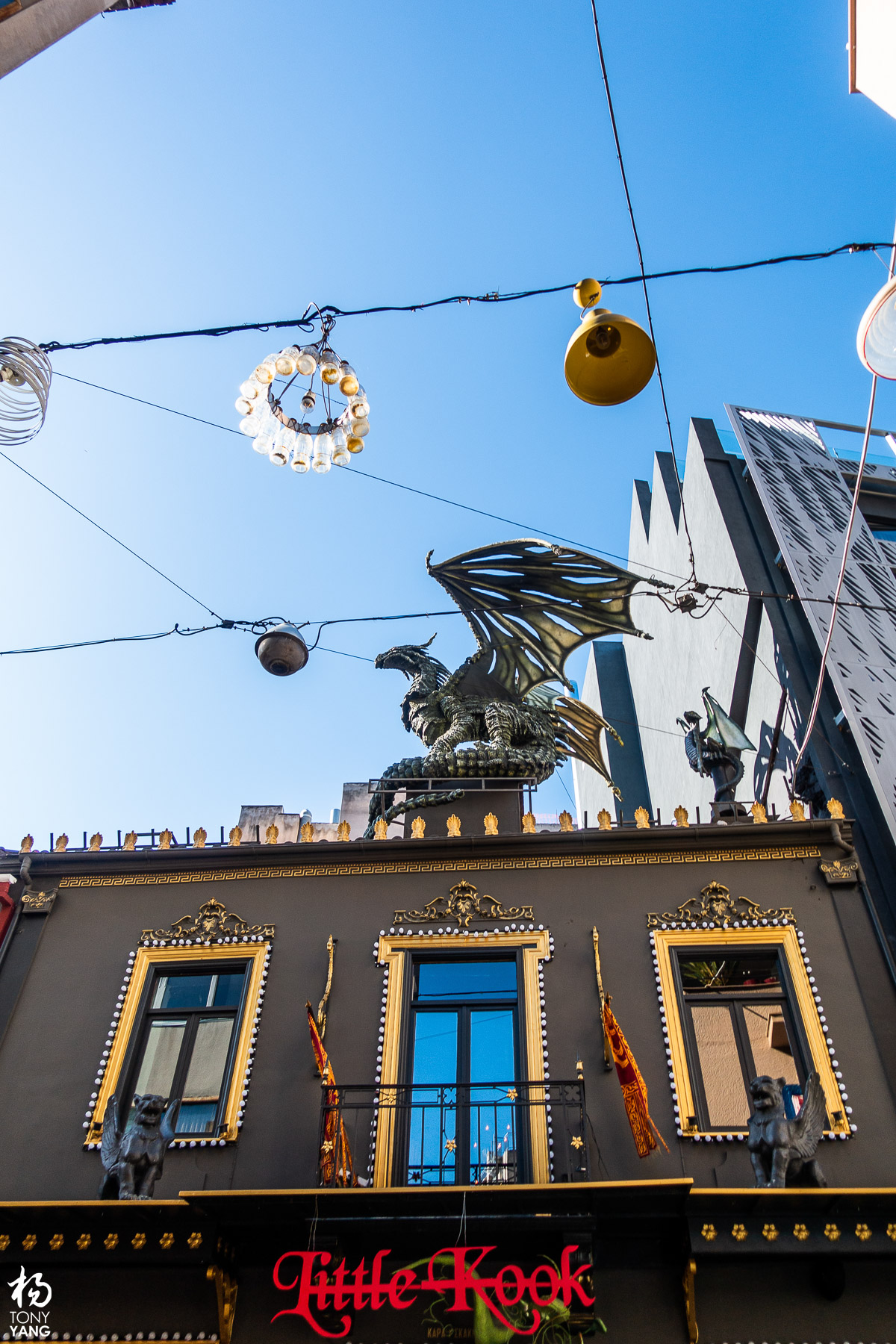 We had enough of the city for one day, so we decided to drive 30 minutes to Glyfada Beach through the beautiful ocean side highway. The beach is next to the abandoned Olympics stadium, which is kind of a sad sight to see. So much wasted resources and land just for a few athletes to show off their skills. Next to the abandoned stadiums is also an abandoned airfield with a few Olympic Air Boeing jets. What a unique drone opportunity to fly so close to other airplanes and over a runway too!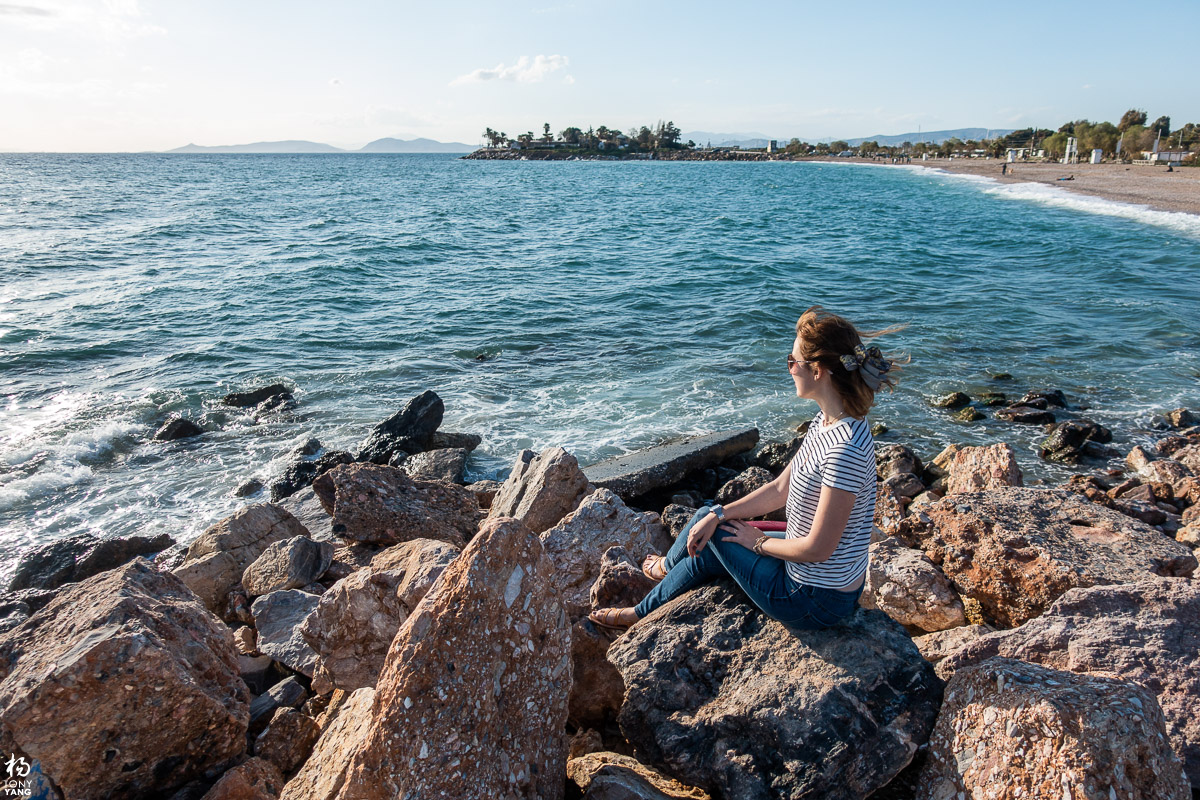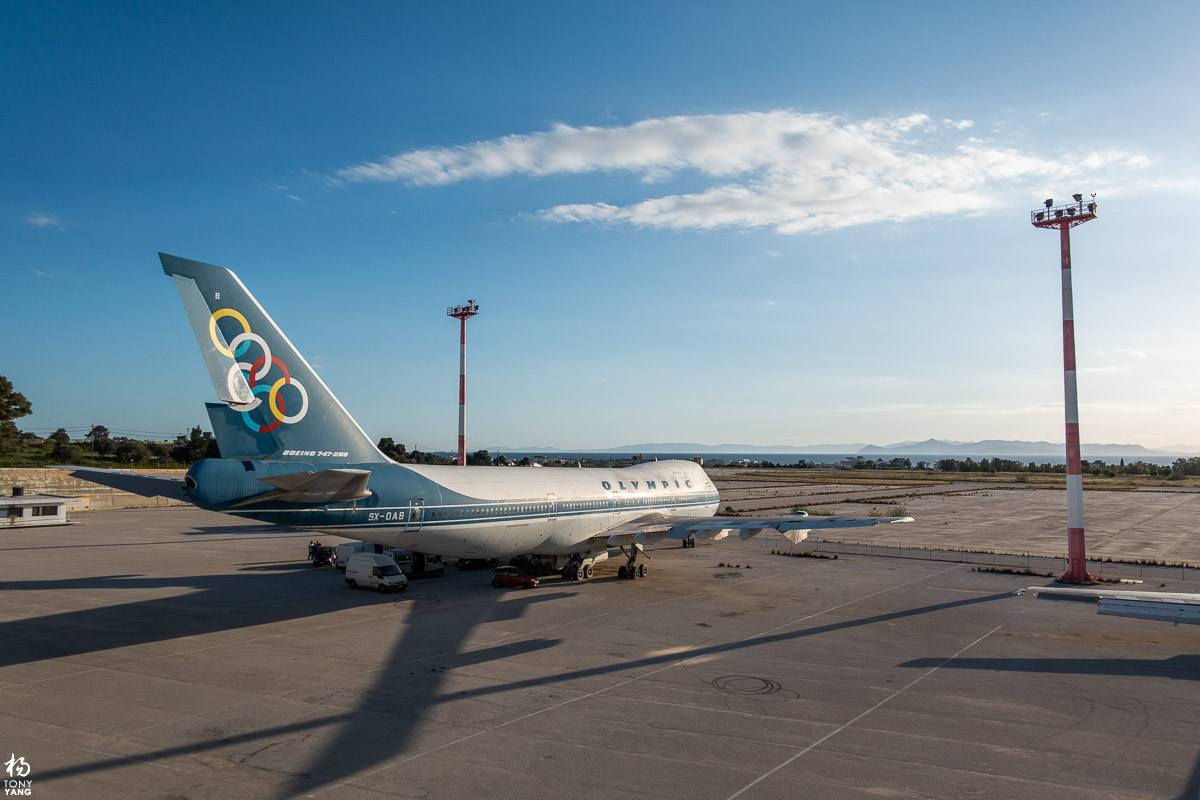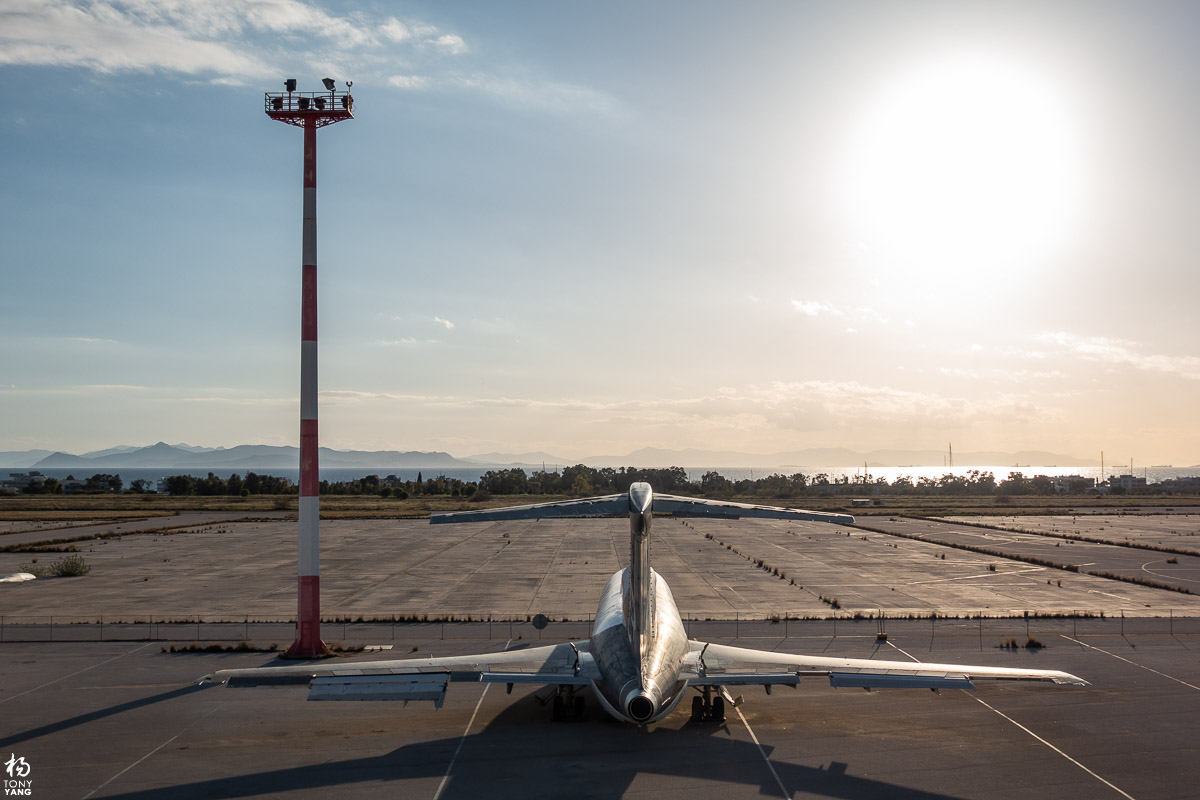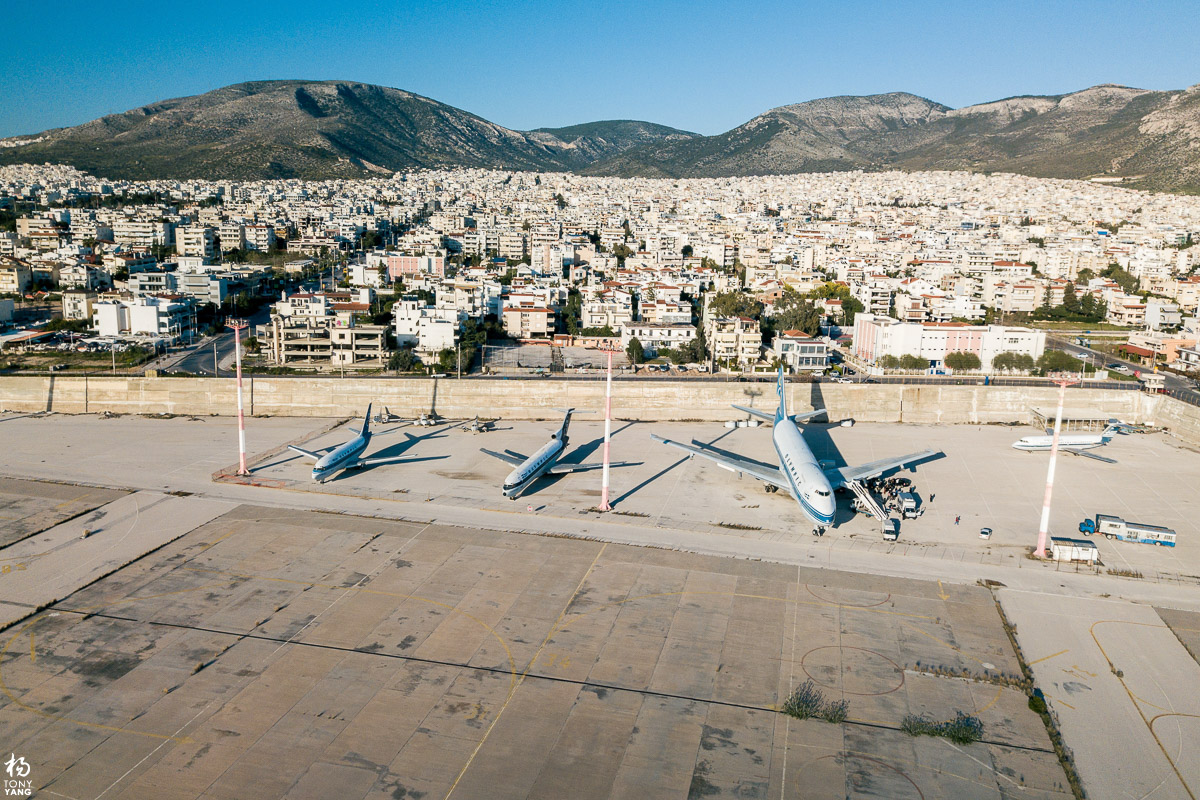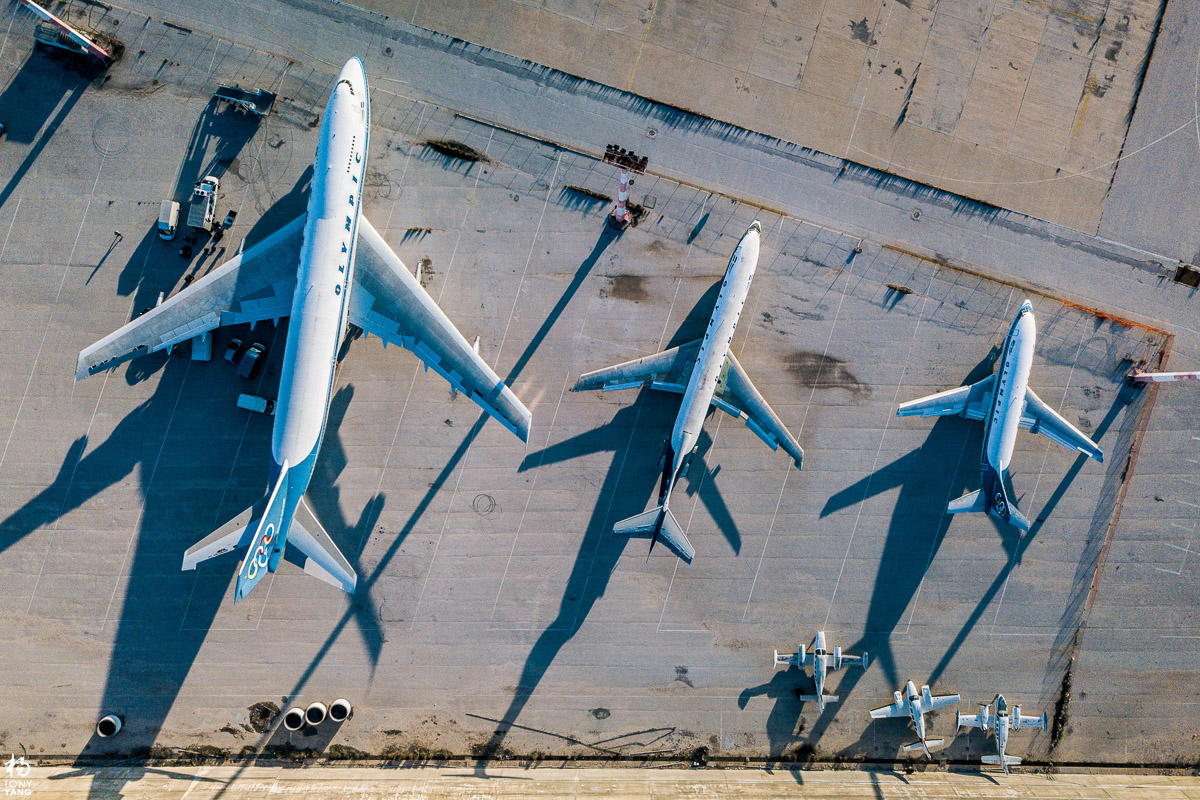 We drove up to Mount Lycabettus to catch a beautiful sunset over the city and had a few drinks before finding dinner. We had more cheap eats, gyros at Souvlaki Gyros, the name of the hole in the wall says it all.
Our plan on the third day was to drive north through Delphi, and towards Meteora and stay at Metsovo in the mountains. Thanks to Google satellite maps while driving north on E75, I spotted a random dirt road next to lake Limni Iliki, and decided to pull off. No signs, no paved road, just a path that could lead us anywhere. The path was a beautiful trail of floral landscapes with lakes and hills in the distance. We continued towards Delphi on E65 along the beautiful sea that was crystal clear, Olya drove the car while I chased it with the drone. It was fantastic! I was really excited about being in Greece with so much landscape photography opportunities.
While driving on highway 48, we pulled off to a vista point and saw the town of Arachova from a distance. It was quite breathtaking to see all the mountains and hills that the towns are built on. This is also where we spotted the busses of Chinese people, probably on their way to Delphi too!
Our first stop at Delphi was a restaurant Taverna Dion. The town was mostly empty due to low season, and so was the restaurant. The staff was incredibly friendly as he invited us in for a seat. The food was very delicious and once again we had a chance to eat more bougatsa. We walked around the empty town taking some more photos and flew my drone. At this point, I had removed the altitude limit of my drone and went up over 1,500 feet above Delphi for an awesome 360 panorama. We headed back to see the ruins at the Delphi Archaeological site, hiking amongst dozens of Chinese and Korean tourists. The museums and tourist spots in Greece all close around 3pm even though there is still plenty of daylight, so make sure you start your day early if you plan on taking museum and site tours.
Scroll below on the 360 panorama, or double click for full screen. [Requires Adobe Flash]
[pan0 740×480 https://www.knsaber.com/wp-content/uploads/2018/05/DELPHI-PANO2.jpg]
If you look at satellite images of Greece, the land is spotted with olive trees. One can really appreciate the vastness of the fields when flying above it.
We arrived at our hotel in the evening and didn't get to see the beautiful view until morning. The Grand Forest Metsovo is a scenic resort on the mountains with a view of the town of Metsovo. Our dinner at the restaurant was a fancy meal that was delicious, but we probably would've been just as happy with some gyros! Our brunch the next day was in Metsovo, a cute little touristy town with lots of restaurants, cafes, and shops. The town was on the other side of the mountain from the resort and driving on the endless windy roads took a while, we spent the time listening to podcasts on the history of Greeks. We found a restaurant Tzáki, which made amazing souvlaki in your choice of chicken, beef, or lamb. It was a rainy day and our drive to see the monasteries in Meteora were spoiled. It would've been one of the most amazing places to see, listed as a UNESCO site. Our journey to Metsovo ended up just to see beautiful snow in the mountains before heading back south to Athens where it was summer weather.
Stay tuned for our trip back south to Santorini!