Our latest adventure took us to Germany, for the main reason that we were going to Ukraine for a family wedding event. Ukraine is somewhere we go often, and I highly recommend visiting the large historic city of Lviv someday. So why Germany? United flights allow a free stop-over when booking your flight with points, so after careful consideration of which EU country to visit, we finally chose Munich. I've been there once in the past for an engagement session (and a few laps on the Nurburgring!), so a personal vacation there with my wife would be an extremely different experience and more memorable.
I hope this post provides a good guide for a different experience in Germany if you prefer a more scenic and relaxed vacation, and not a schedule full of tours. Some of the most useful tools we've used during this trip was an unlimited international data plan from our carrier T-Mobile, Google Translate app, Rick Steves Germany book that my wife loves and swears by, a rental car, and the Hotels.com app. That's really all we needed to plan our trip on-the-fly. This was probably the first trip we've ever taken where I did not create a detailed Google Sheet. Looking at videos, books, and photos gave us a general idea of what we'd like to see or do in Germany, but being flexible and planning on the go really helped us get the most out of the trip.
We love having the freedom of having a car on vacation because we aren't strictly city people, and we love scenic drives and going off the beaten path. Our first two nights were at a quaint hotel inside Munich, only minutes away from city center. This provided easy access to see everything we wanted to in Munich in the first two days upon arrival, before we headed out to explore the rest of Bavaria.
We were starving getting out of the airport, so we found our first little biergarten on our way to Munich. We really enjoyed the famous German drink radler, half lemonade and half beer. Thinking about it makes me want more.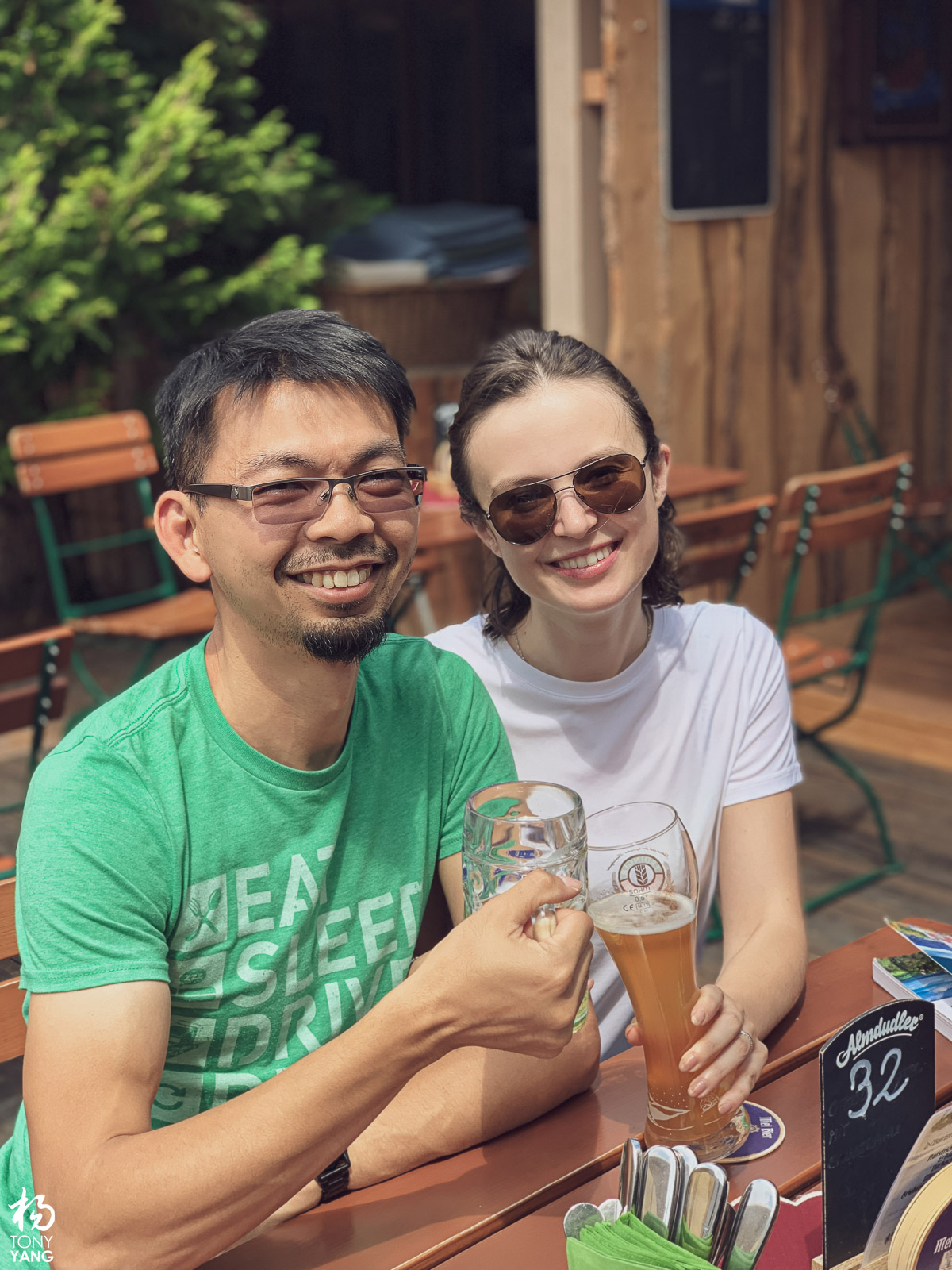 Our first tourist spot was the BMW Museum, you know, just to get it out of the way. I really enjoyed seeing the history of the manufacturer and the evolution of their vehicles. Call me biased but I think the E46 and E85 generations of BMW were some of the best ever made.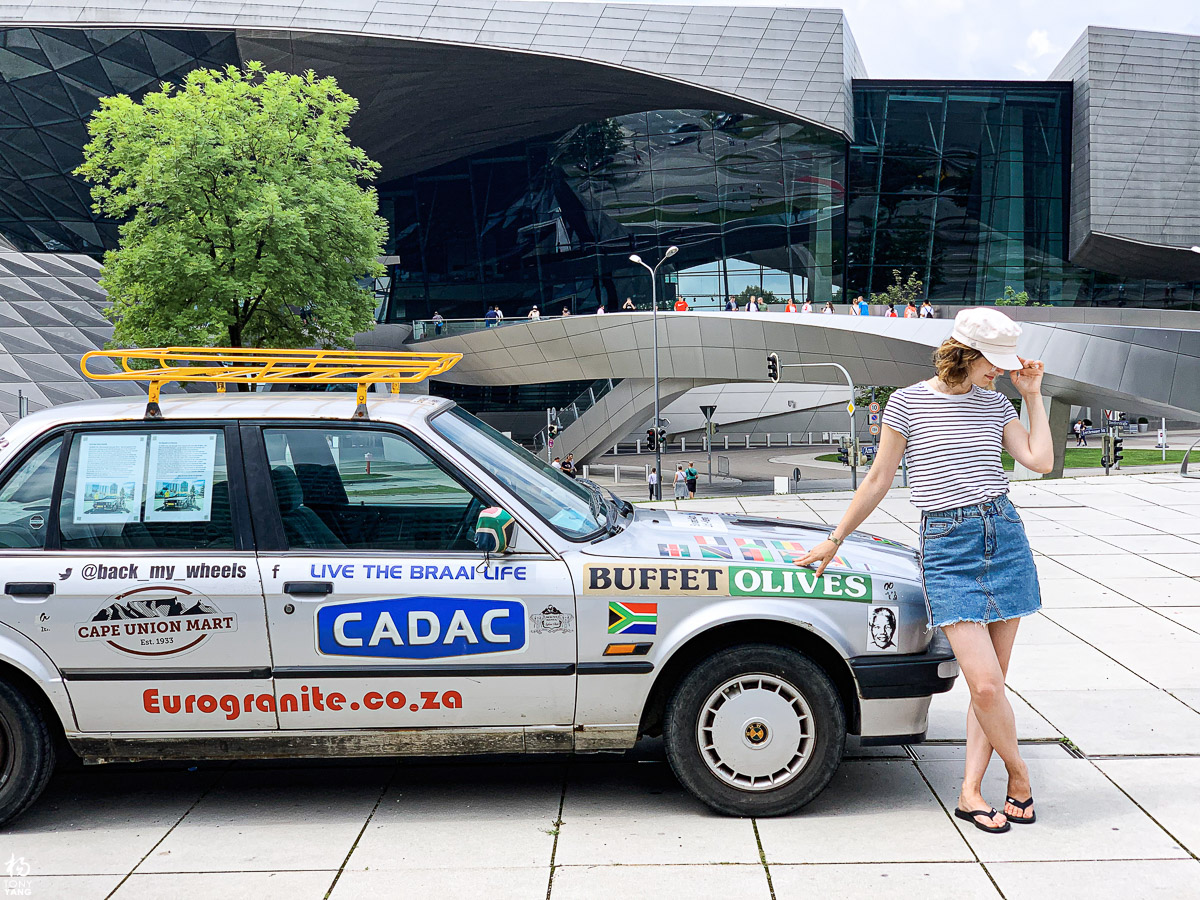 St. Paul's Church below, only a few blocks from our hotel and also across the street from the Oktoberfest park. You can see the array of enormous biergarten tents getting ready for a crazy month!
There are plenty of public transportation available in Munich, including an array of trains, buses, and light rail which allows easy access with one day pass ticket. My research recommended getting a group (2 or more) unlimited day pass that can be purchased at any station in case we wanted to see more of the city. Sounds basic enough, so we walked to the nearest train station by our hotel and proceeded to purchase some passes. This proved to be a greater challenge than I had anticipated. While there was an English button on the ticket machine, it only translated the navigation buttons (Next, Go, Back, Cancel). They do not translate the name of the ticket types. I'm not sure how the German language works with transportation tickets, but I was frustrated why they had over a dozen types of tickets and none of them could be translated to English words. I had to click on each button's information icon to read a paragraph description of what that particular ticket provided. After 20 minutes navigating around the machine, we finally bought our day pass, and we would be on our way to the city center.
My personal recommendation, just buy a two way ticket from your nearest station to city center and rent a bicycle for the rest of the day to explore.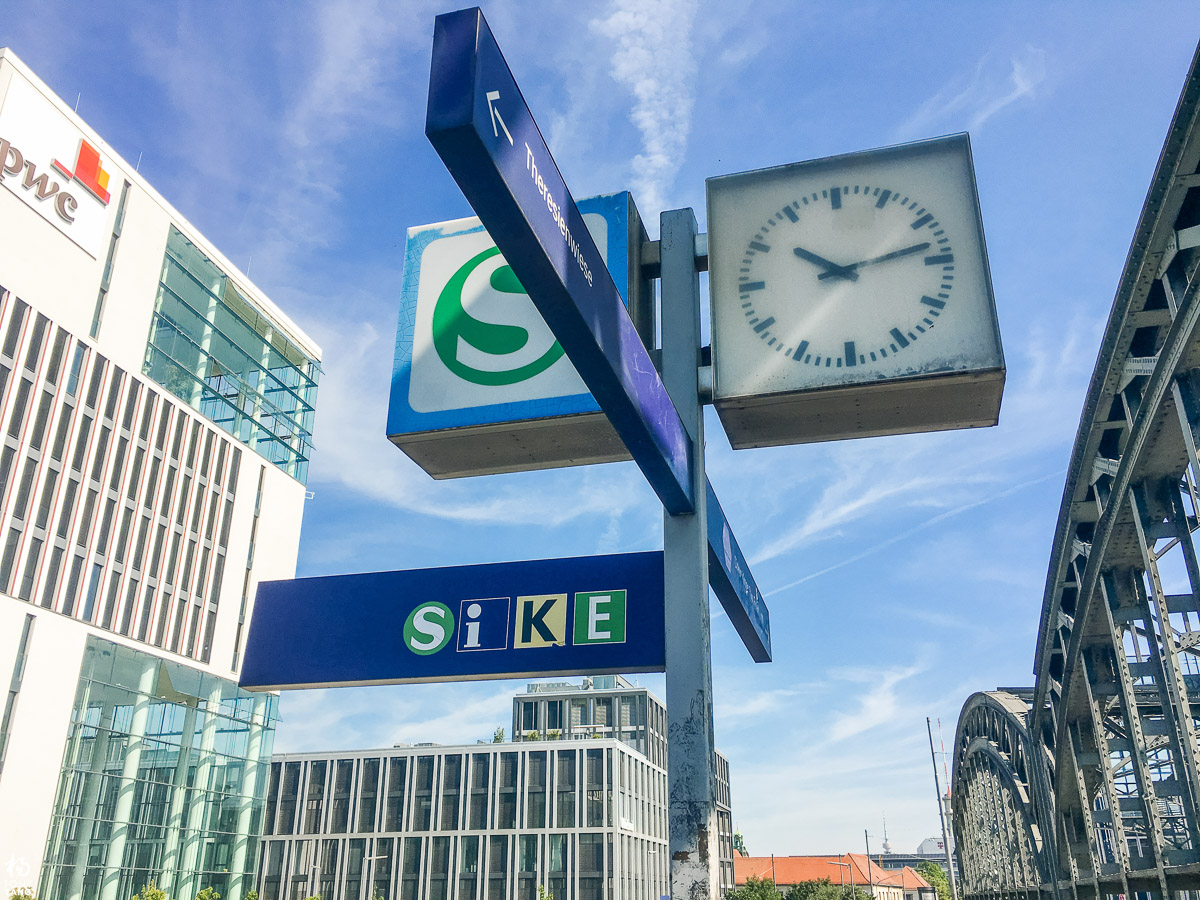 The Metro station stops directly under the famous Marienplatz, a good starting point when exploring the city center. Germany and the rest of Europe was experiencing a heat wave, so avoiding the sun and going from store to store was the game – felt like I was in Taiwan sans humidity. The only good thing about the heat was how much better it felt when we had a nice cold drink. When in Germany, you gotta drink beer or radler! We went to one of the most well known biergartens in the center, Hofbräuhaus. With over 40,000 reviews I don't think you can skip this place.
One of our favorite activities in any city is to rent a bicycle. We can see much more of the city than we ever could by walking or even a car. It's really convenient when the bicycle culture is huge in a city, we don't need to worry about a lack of bike lanes or bike theft. We rented from Munich Bike Rental, right in the city center. The rental was pricey because it wasn't a bike sharing program where you can pick up and drop off the bike at a station, so make sure you spend as much time as you can with the rental before you return it.
Our first stop was Residenz München, the largest city palace in Germany with over 130 rooms. It was impressive to see how the royalty lived back then, however I think I am just happy with my 4 bedroom house, thank you.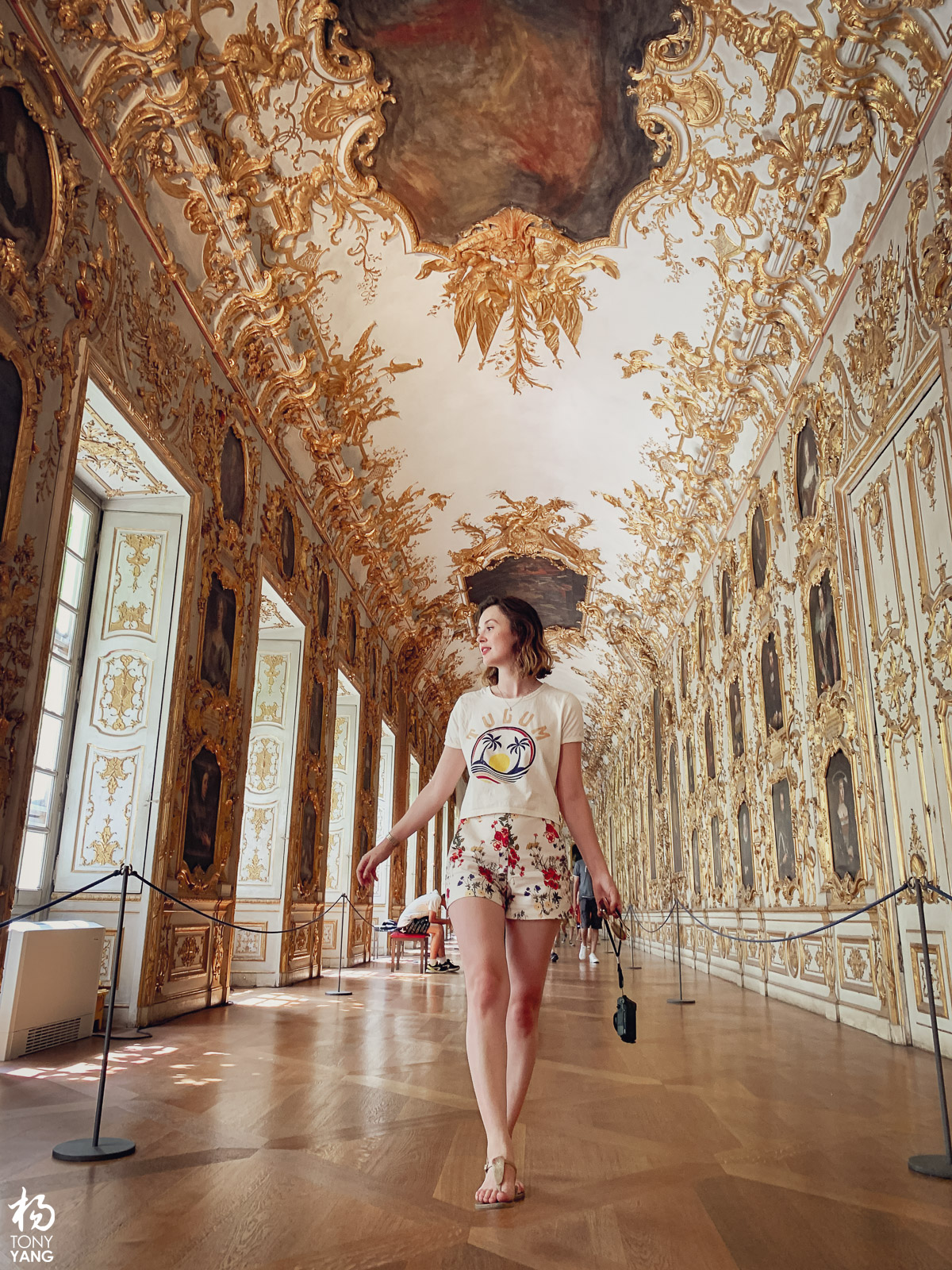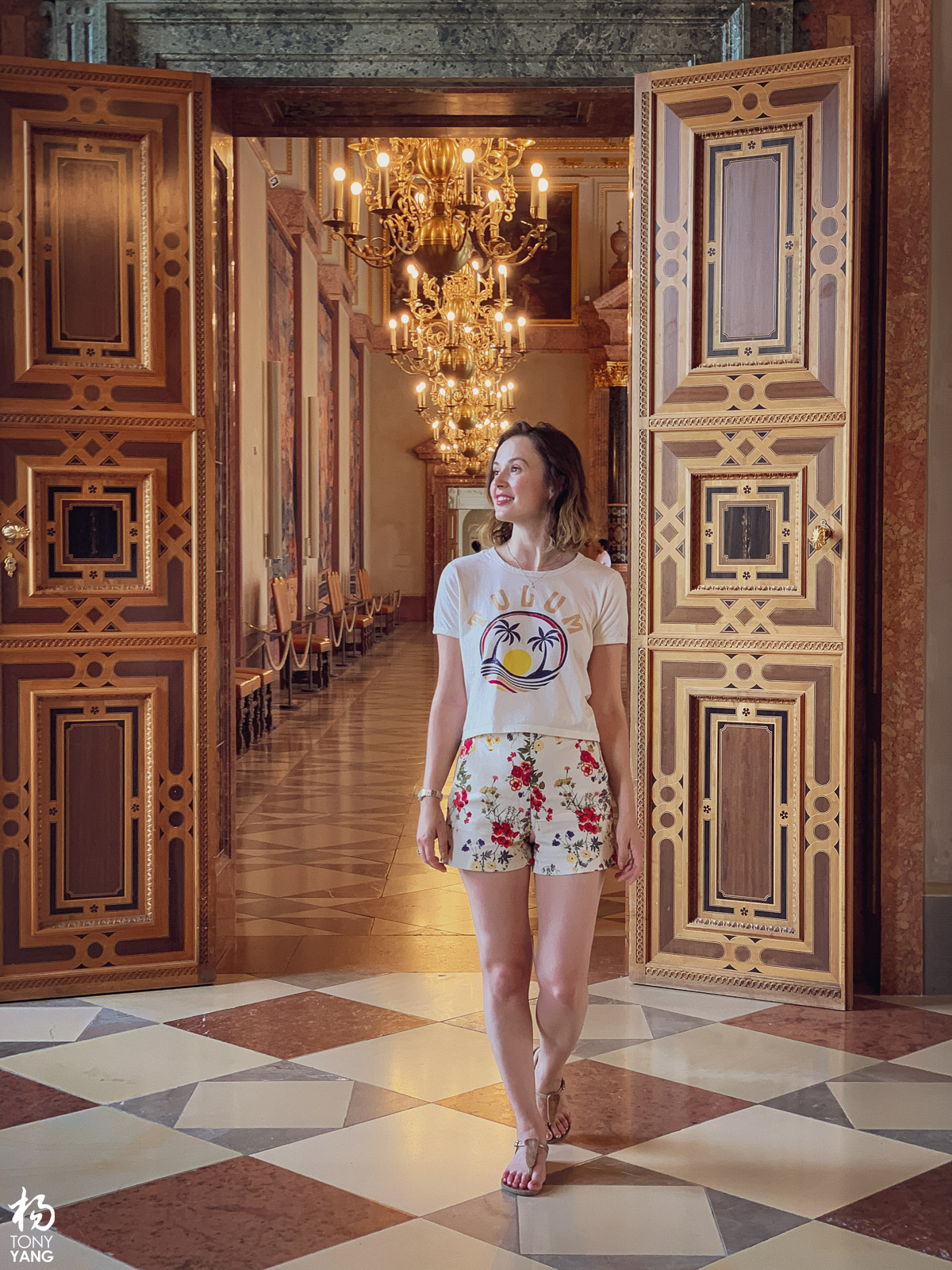 We continued our ride north into the Englischen Garten, well known for the locals who swim and relax in the rivers, and get their tan on in the green fields (imagine Central Park in the summer). We made it halfway and stopped at the biergarten inside the park for a hearty lunch. Their large 1 liter beer mugs require a deposit in case you don't return it, however the deposit is all of 1 Euro. I think it's safe to say you can take one as a souvenir if you're able to bike home with it.
After a long day out we were ready to head back and return the bicycles. We found an awesome hidden cafe right next to Marienplatz thanks to Google Maps. MONACO Café was on the top floor of the shopping mall with very little to almost no traffic, where we cooled off with some cold brew coffee with a great view.
Our first two nights at a small hotel had no air conditioning and we had a hard time sleeping or even cooling off, so we looked for hotels specifically with air conditioning all over Munich and Bavaria region. We learned that most of Germany stores and hotels do not have air conditioning, and we would have to find a "business class" hotel if we want the comfort amenities we're used to in the States. I'm glad we didn't just book one hotel for the whole week in Germany only to find out we had to suffer in this heat. I looked on Hotels.com app for over an hour until I found the perfect place for us. Business style hotel with free parking, free breakfast, and air conditioning! Finding all three for a decent price inside Munich was impossible, so we found a place on the outskirts of the city. This was perfect because we were done seeing the city and planned to see the scenic parts of Bavaria. The remainder of our trip would be beautiful sight seeing south of Germany along the Bavarian Alps. Summer time is a great time for sight seeing because of the long day light hours, with the sun setting closer to 9pm. We felt like we couldn't head back to our hotel until the sun went down, but we had already exhausted ourselves being out all day.
I did not expect our trip to Germany to have seen so many different lakes in a few days. I think one of the best things to do in Germany is to drive the amazing roads along the Bavarian Alps, which is called the Romantic Road, and to stop by all the lakes along the way. Germans love to swim and picnic by the lakes, so that's what we did, just like the locals. We woke up bright and early to catch some free breakfast, then off to our first stop, Neuschwanstein Castle. This major tourist stop was packed with cars, pedestrians, and tour buses. Since we had a hard time finding the right bus going up the castle (again, Germany was not English friendly), we decided to take the 30 minute hike up – luckily it was a mostly shaded path. We walked right past the castle and continued until we got onto Marienbrücke, the pedestrian bridge where the view of the castle was even more stunning. We had to squeeze through tremendous amounts of tourists, and patiently waited for our turn for a few photos.
Now we were really done with the tourists spots, and time to visit some lakes! Since the lakes were quite a drive from each other and the hotel, we visited one per day, had our picnic, and went back to the hotel for the evening to cool off. We grabbed coffee and ice cream along the way too. REWE is the recommended grocery store to visit in our opinion, with a great selection and fresh bakery section for delicious pastries.
Our first lake was Plansee in Austria, only 30 minutes south of Neuschwanstein. Border crossings in the EU was no different than crossing states in the U.S., no passport control, just a sign indicating you are now in the Republic of Austria.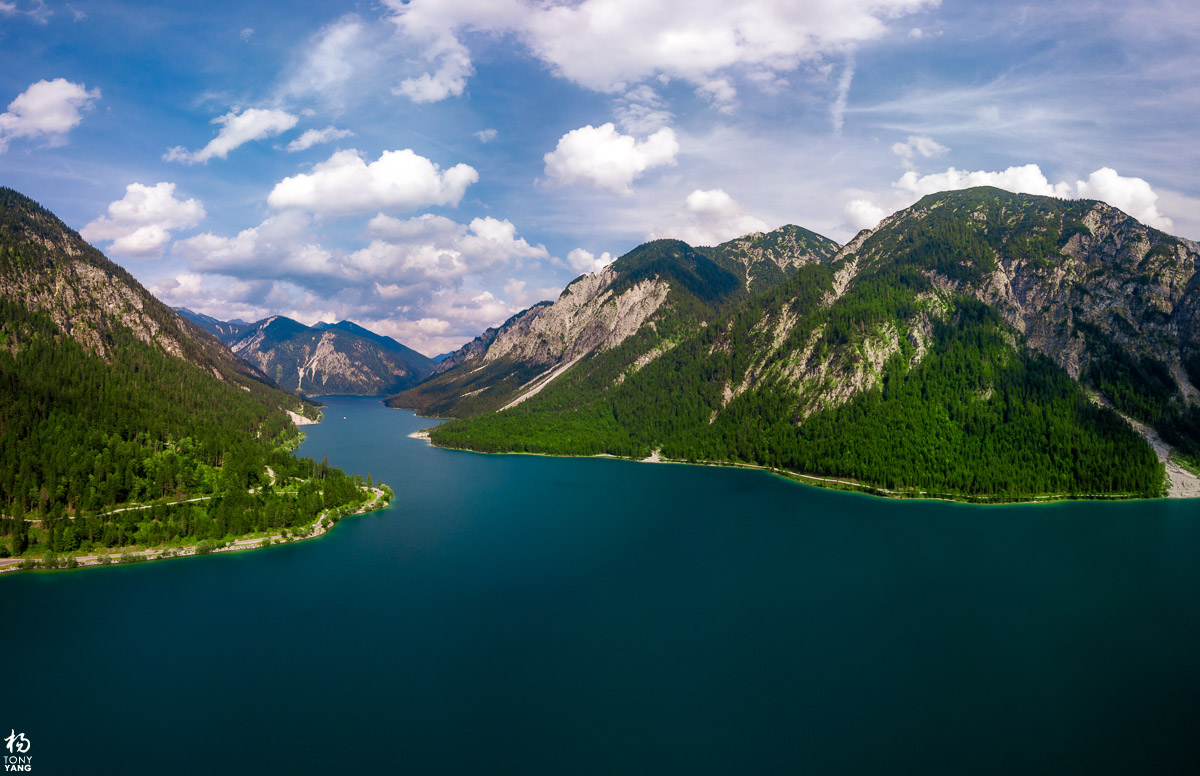 Our next destination was Salzburg, Austria, a beautiful but high traffic city. The biergarten Augustiner bräu is highly recommended with outdoor seating and like many other biergartens, you can bring your own food. I think this is one of the best ways to travel on a budget in Germany and Austria. A little further away from Salzburg was lake Mondsee. This beautiful lake had boat rentals, restaurants, and of course an amazing view. It was a lot of fun renting an electric motor boat to venture towards the middle of the huge aqua colored lake and feel the breeze.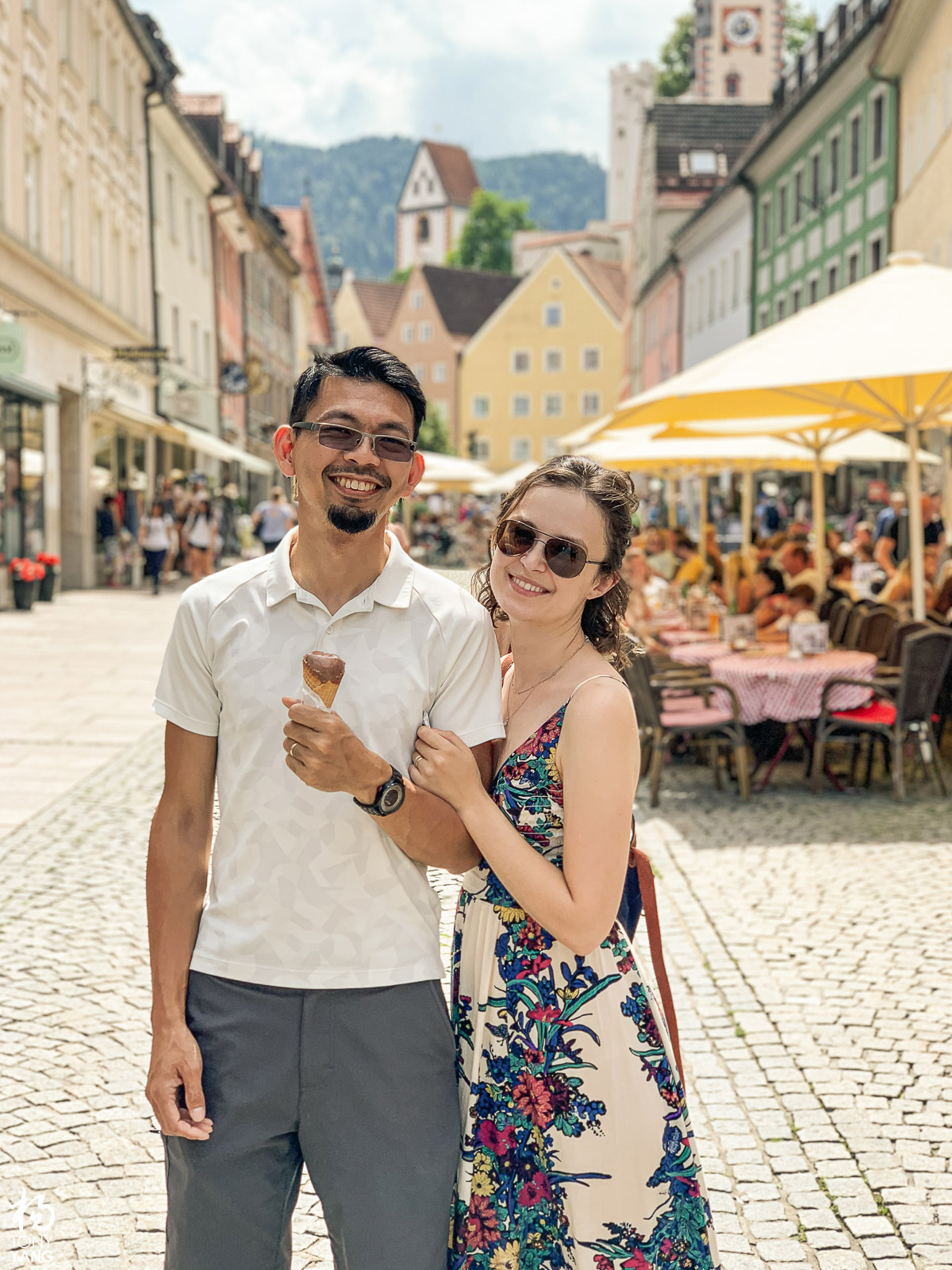 The third lake was Walchensee in Germany. The reason I chose this lake was for the windy roads that lead up to it. Everywhere I drove on a scenic route there would be endless motorcycles racing through the windy turns. On our way back we decided to check out a popular photo spot at Sylvenstein bridge. We got there right after sunset and the view was spectacular from the air.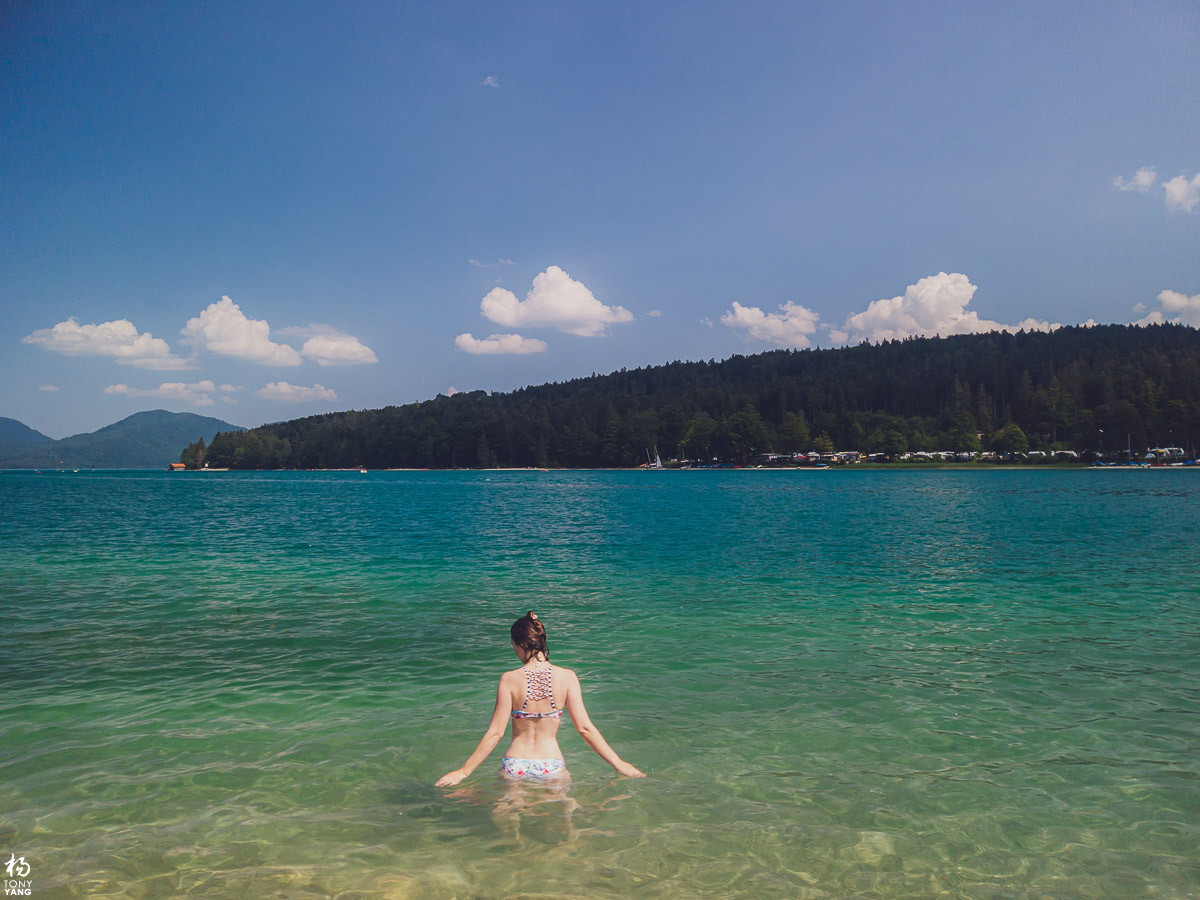 Finally, our last biergarten stop would be at Würmseestüberl on Lake Starnberg. As usual on our trips, I was finally able to order everything I wanted on the menu in German on our last day of the trip, "Hallo, eine brezel, ein radler, zwei Helles. Danke." I wanted to get a photo of Zugspitze, the highest peak in Germany, so we drove to the Austrian side to capture an amazing angle at just the right time of day.
As much as I loved the lakes, radler, pretzels and wursts in Germany, the long trip made me miss my home comforts and air conditioning. It was a great new experience for me in Europe to visit a handful of beautiful crystal clear lakes. I still find it fascinating that we can just hop into a metal tube that flies us through thousands of miles in the air, to land in a completely different culture and landscape to experience a different world. Now I just need to save up enough points to take another free stop over trip.